If you're looking for the right digital marketing course, you should consider the following points:
1. Course fees: Ask whether you can afford the course fee at the current moment. Is it worth the cost?
2. Placement assistance: If your goal is to land a high-paying job, check out whether the training program provides internships or job placement.
3. Trainers' expertise: Are there trainers with enough experience in the digital marketing field?
4. Rating: What others are saying about the course.
5. Course curriculum: What topics and modules are covered in the training classes?
6. Teaching mode: Depends on whether you prefer online courses or classroom training classes.
Based on these factors, I have considered 9 top digital marketing courses in Pune.
Here is a quick comparison of top digital marketing training programs for Pune:
| | | | |
| --- | --- | --- | --- |
| Course Name | Price | Rating | Highlights |
| 1. GrowthAcad | ₹ 25,000 (6 weeks) | 4.9/5 | Highly qualified faculty, server space, and access to premium platforms (Google Search Console, Google Analytics). |
| 2. LIPS INDIA | ₹ 30,000 | 4.8/5 | Expert faculty, practical sessions, 100% placement assistance, internship opportunities, and use of premium tools. |
| 3. EduPristine | ₹ 36,000 | 4.2/5 | Supportive faculty, collaboration with Google and Microsoft, suitable for various individuals, 24/7 support. |
| 4. Digital Dnyan | ₹ 25,000 | 4.9/5 | Suitable for beginners, preparation for Google certifications (AdWords, Analytics), specialized training in SEO and Python. |
| 5. Victorious Digital | ₹ 20,000 (approx) | 4.9/5 | Expert faculty, practical sessions, 100% placement assistance, internship opportunities, use of premium tools. |
| 6. Digital Trainee | ₹ 25,000 | 4.8/5 | Practical training, 44 comprehensive modules, focus on hands-on experience with live projects. |
| 7. Alive Digital | ₹ 15,000 | 4.9/5 | Comprehensive curriculum, latest trends and skills, tailored to contemporary marketing needs. |
| 8. SIM Pune (School of Internet Marketing) | ₹ 19,000 | 4.9/5 | Thorough training programs, practical learning with 30+ premium tools, immersive approach to digital marketing. |
| 9. Webclincher Digital Training | ₹ 19,500 | 4.9/5 | Various learning modes, informative blog section, 100% practical training, simplified teaching for all backgrounds. |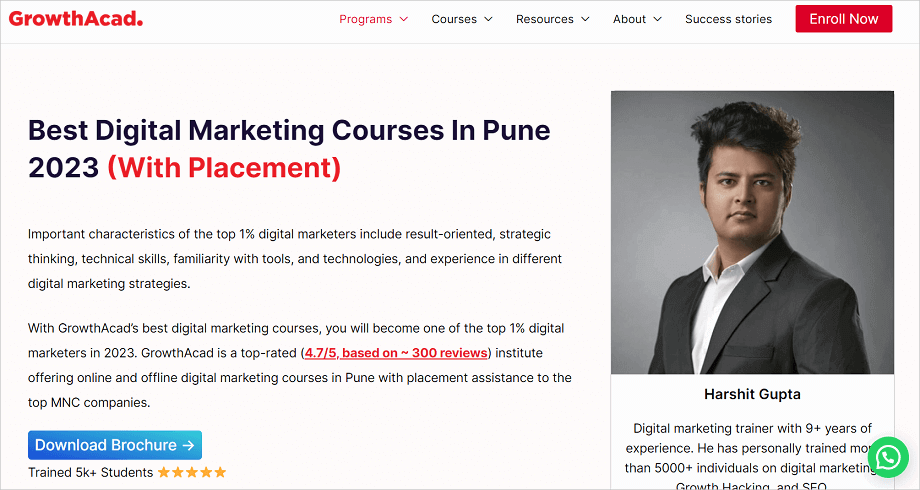 Price: ₹ 25,000 for 6 weeks (contact for scholarship and offer)
Rating: 4.9/5
Teaching mode: Online and Offline both
GrowthAcad's Pune Address: 6th Floor, Corner Stone Premises, near Deccan Gymkhana, above Irani Cafe, Deccan Gymkhana, Pune, Maharashtra 411004
If you're confused about which digital marketing stream you want to specialize in, GrowthAcad is your best option. One of Pune's top digital marketing institutes, GrowthAcad, offers comprehensive training in various topics. As of now, they've trained over 5,000 students and helped them successfully get placed at top companies, including Accenture, Disney Hotstar, and others.
Furthermore, at GrowthAcad, students get the opportunity to work on practical projects and get hands-on training, ensuring they have the experience and are ready to start working on live projects as soon as they start working. GrowthAcad also provides its students with globally recognized certifications from the likes of Google, Facebook, and Hubspot.
To stay current and updated, the GrowthAcad course also offers its students education about the latest AI trends and data analytics in marketing.
Here are some of the reviews about GrowthAcad:
Price: ₹ 30,000
Rating: 4.8/5
Lavenir Institute of Professional Studies, known as LIPS India, is a renowned institution specializing in digital marketing education. With an impressive track record spanning 8 years, LIPS India has established itself as a prominent name in education.
At LIPS India, students benefit from highly qualified faculty, including individuals with backgrounds from prestigious institutions like IIT and IIM in India. This ensures that students receive top-notch education and expertise.
In addition to exceptional faculty, LIPS India provides students with valuable resources such as server space for creating and hosting WordPress and website page campaigns. Students also gain access to premium platforms, enabling them to utilize tools like Google Search Console, Google Analytics, and real-time Google AdWords data. This combination of expert instruction and practical resources makes LIPS India a leading choice for those seeking to excel in digital marketing.
Price: ₹ 36000 for Classroom training and ₹ 24000 for Online training
Rating: 4.2/5
EduPristine, a prominent Digital Training Institute in India, offers a range of courses, with their flagship program being the Digital Marketing Course. This course is tailored to benefit various individuals, including newcomers, marketing and management professionals, budding entrepreneurs, and those looking to re-enter the workforce after a hiatus.
EduPristine boasts a highly supportive faculty available 24/7 to address doubts and questions. Their instructors bring ample online sector experience to the table, shaping students into skilled digital marketers. Notably, this course is offered in collaboration with industry giants Google and Microsoft. Join EduPristine to embark on a rewarding digital marketing journey.
Price: ₹ 25000
Rating: 4.9/5
Digital Dnyan, a leading Digital Marketing Course provider in Pune, is your gateway to a dynamic career in digital marketing. Whether you're seeking a job in this field, aspire to explore freelancing opportunities, or wish to enhance your existing skills, Digital Dnyan has you covered.
Enrolling in their course allows you to upgrade your skills with various online marketing modules and prepares you for Google certification exams, including Google AdWords and Google Analytics.
What sets Digital Dnyan apart is its commitment to helping individuals become proficient in Digital Marketing, even without prior experience. All you need is basic computer knowledge and a determination to succeed.
In addition to its renowned Digital Marketing Course, Digital Dnyan offers specialized training in SEO and Python. The comprehensive curriculum covers fundamental and advanced digital marketing modules, encompassing over 30 facets of the web marketing process.
Price: ₹ 20000 (approx)
Rating: 4.9/5
Victorious Digital, a leading institute in Pune, offers top-notch Digital Marketing Courses for both students and professionals. With expert faculty, they've trained over 2,500 students, providing an advanced, up-to-date curriculum aligned with current industry trends.
Their unique focus on practical sessions equips students with hands-on experience in implementing Digital Marketing strategies. The faculty's vast project experience ensures a comprehensive understanding of the field.
You'll have 24/7 support, 100% placement assistance, and internship opportunities post-course. Working with 40+ premium tools, you'll gain practical skills to excel in Digital Marketing campaigns. Join Victorious Digital to elevate your digital marketing career.
Price: ₹ 25,000
Rating: 4.8/5
Digital Trainee, a leading institute in Pune, has earned a stellar reputation thanks to rave reviews from former students. Established in 2016, it was the first institute in Pune to offer practical Digital Marketing Training.
Their premium Digital Marketing Courses cover a comprehensive curriculum of 44 modules, ranging from basics to advanced topics, making you a proficient digital marketer.
What sets them apart is their focus on hands-on experience with numerous live projects, boosting your confidence in applying Digital Marketing concepts in real-world scenarios.
Price: ₹ 15,000
Rating: 4.9/5
Alive Digital stands out as one of Pune's premier Digital Institutes, recognized for its exceptional training programs and comprehensive curriculum that covers a wide spectrum of Digital Marketing components. In an era where the marketing landscape is constantly evolving, Alive Digital has tailored its Digital Marketing Courses to cater to the specific needs and demands of contemporary marketing professionals.
Alive Digital's courses are curated carefully to ensure students are able to comprehend and retain what is being taught to them. Also, their courses include the latest trends and skills related to the industry to help students always be ready to execute their knowledge when they start working professionally.
Price: ₹ 19,000
Rating: 4.9/5
The School of Internet Marketing, commonly known as SIM, distinguishes itself as a top-tier educational institution in Pune. It has gained widespread recognition for its thorough training programs in Digital Marketing, covering various crucial topics. This respected centre has earned remarkable standing due to its outstanding teaching staff and robust assistance network.
At SIM, practical learning takes centre stage, with students gaining hands-on experience using over 30 premium tools for Digital Marketing. This immersive approach allows students to become proficient in utilizing various tools, including but not limited to Google Adwords, Hootsuite, and Moz.
By enrolling in SIM's Digital Marketing courses, you acquire knowledge and develop the practical skills and expertise necessary to navigate the dynamic world of online marketing effectively. SIM is your gateway to mastering the digital landscape and unlocking a world of opportunities in digital marketing.
Price: ₹ 19,500
Rating: 4.9/5
Web Clincher, an esteemed institute specializing in digital education in Pune, provides an extensive program in Digital Marketing crafted to equip you with the expertise and understanding essential for thriving in the online domain.
With Web Clincher, you have the flexibility to choose from various learning modes, including online Digital Marketing and Digital Marketing workshops. What sets it apart is its informative Digital Marketing blog section, which covers crucial aspects of Digital Marketing and provides a comprehensive knowledge base.
The standout feature of this course is its 100% practical training approach, delving deep into techniques, processes, and tools to provide hands-on exposure through live sessions. The teaching is simplified, ensuring that even individuals without a technical background can grasp the concepts clearly.
Web Clincher's ultimate goal is to transform you into a proficient Digital marketer capable of tackling complex challenges and offering effective solutions in an organization's Digital Marketing strategy and planning.
Related resources:
Key takeaways
Consider course fees and affordability.
Check for placement assistance opportunities.
Evaluate trainers' expertise in the digital marketing field.
Review course ratings and feedback from others.
Examine the course curriculum and topics covered.
Decide between online and offline teaching modes.
Perform your due diligence to double-check
Top 3 Digital Marketing Courses in Pune:
GrowthAcad: Comprehensive training, practical projects, global certifications, and a focus on AI and data analytics.
LIPS INDIA: Highly qualified faculty, access to premium platforms, and a strong track record in digital marketing education.
EduPristine: Suitable for various individuals, 24/7 support, and collaboration with Google and Microsoft for industry-aligned training.
True to its reputation, Pune maintains its name as the hub for digital marketing education, with many choices among the city's top 9 digital marketing training institutes. Together, these institutes offer advanced courses taught by teachers who are experienced in the industry.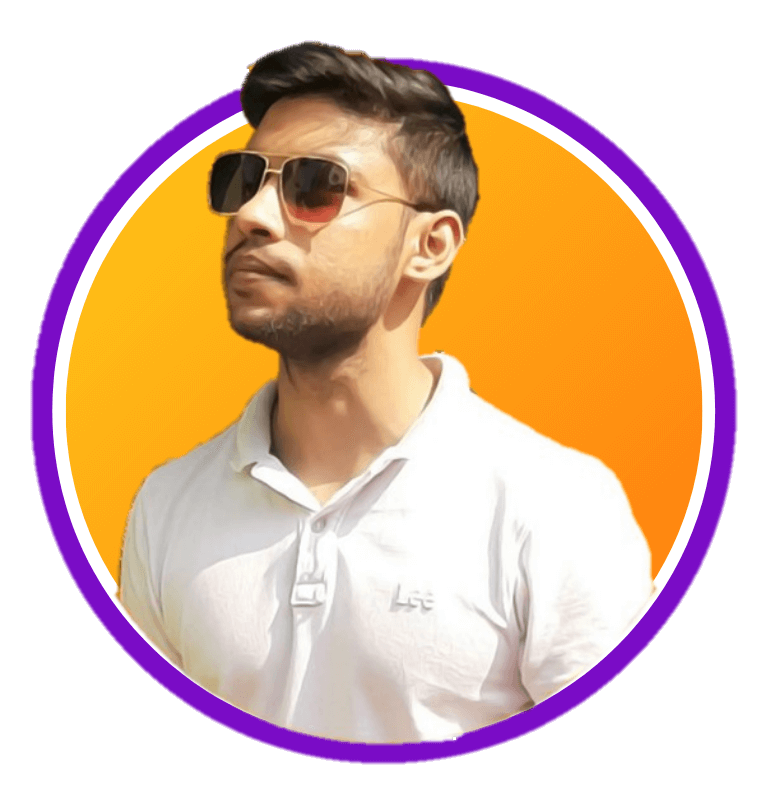 Sk Rafiqul Islam is a content marketing practitioner with 3+ years of practical experience. He spends most of his time helping businesses to build a loyal audience with content marketing. He is also running a tech career blog called 10Pie and content marketing VIP, a bi-weekly marketing newsletter. In his free time, he loves reading books and playing football.