Digital Marketing Jobs Report 2020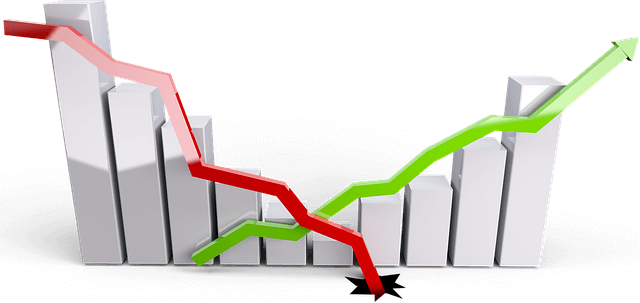 After analyzing 10,935 job openings, I get to know the current state of digital marketing India even better.
This research is entirely based on the data of two major job portals of India:
Before diving into the report, let me share you the reason for creating this research-based blog post on the jobs report.
A few weeks ago, I got an email from Brian dean (backlinko) about his latest blog post.
In that post, Brian analyzed the SEO jobs industry. But unfortunately, there were hardly any statistics about the Indian jobs scenario.
That's where I got the idea of making one from scratch.
It took me a whole week to complete the blog post, but I am confident that this will add lots of value, especially to those who are looking for digital marketing jobs in India.
So, Let's start exploring all of the interesting outcomes of this research.
[Important note: The number of jobs varies depending on the need for research.]
In some cases, the statistics from both of these job portals are combined to get an average value]
This report will give you answers to the following questions:
Locations that pays you the highest salary

What's the average salary of digital marketing jobs?

What are the most in-demand skills for digital marketing jobs?

Where is the most job opportunities?

Which Industries are most interested in hiring digital marketers?

What's the average education level for job openings?

And many more…
Key Findings Of The Digital Marketing Jobs Report In India: ​
The average salary for digital marketers in

Bengaluru is 50,000INR

, which is highest as compared to all other locations. Though the average salary is dependent on the job experience,

Bengaluru still ranks top in most of the categories

.

Myth busted. A qualification degree of MBA is not the most in-demand job qualification in India.

18.5 % of total job openings are for the Be/B.tech

, which is most by any qualification basis.

MBA ranks fifth in the list

with 13.4% of entire job openings.

 SEO is by far the most in-demand skill.

Every 1 out of 4 recruiters has specifically stated the demand for SEO knowledge

in the job description.

Among all the social media marketing channels, Facebook is the most popular. Out of all Recruits who have mentioned social media skills in the job description,

31.8% has also referred to Facebook marketing as a must-have skill

.

HTML is by far the most popular coding skill digital marketers

, at least from recruiter's point of view. Almost

10% of total job opening

has mentioned the need for coding skills. And, Out of all job descriptions that listed coding skills as a must-have,

30.24% are specifically stated HTML

as the top priority.

Forget about fancy SEO tools like Ahrefs, Semrush or Moz.

Google Analytics

is the most in-demand tool for digital marketers. The second most popular tool is SemRush.

Another myth busted. There is a vast scope for newbie digital marketers.

18.75% of total job openings are for the newbie with 0-1 year

of experience, whereas the almost

25% of total jobs are for the people who have 2-5 years of working experience

.

IT, ITES, BPO

are three industries that hold nearly

41% of entire job

openings in India. The

travel industry is in the 2nd bottom

in the list, maybe because of the global pandemic.

And few others…
Want a good salary? Bengaluru might be the right place...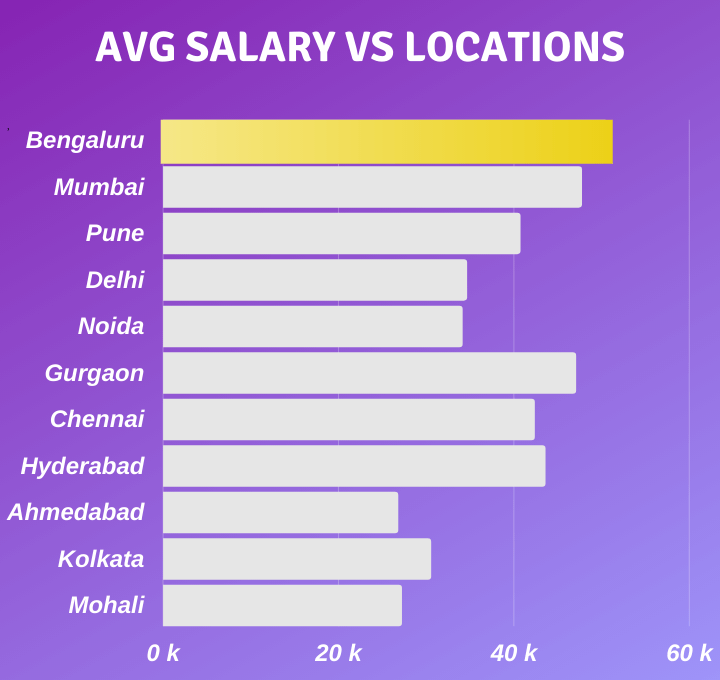 Bengaluru offers the highest average salary to digital marketers with 50,000 INR
The salary analysis is done with the data of MonsterIndia and Indeed.
For this result, I have analyzed 9514 jobs.
And, here's what I've found.
The data shows the result based on location, where Bengaluru sits at the top with an average salary of 50,000 INR.
But if you think that 50,000 INR is not lucrative at all, then here's another fact for you.
The average salary increases by at least 1.8 times when the average work experience is 6.5 years or above.
The data shows that all the job opening that offers at least 90,000 INR/month requires an average of 6.5 years of work experience.
Thus before hoping for a hike in your salary, get some experience first.
If you look closely at the above chart, you'll find that Mumbai is just behind Bengaluru with the average salary of 47,700 INR.
[Scope of error: I also found that almost 13 % of job openings has not listed the salary offer in the job description. As a result, I had to exclude all of these results from the list]
Which Industries are offering the most number of job openings in India?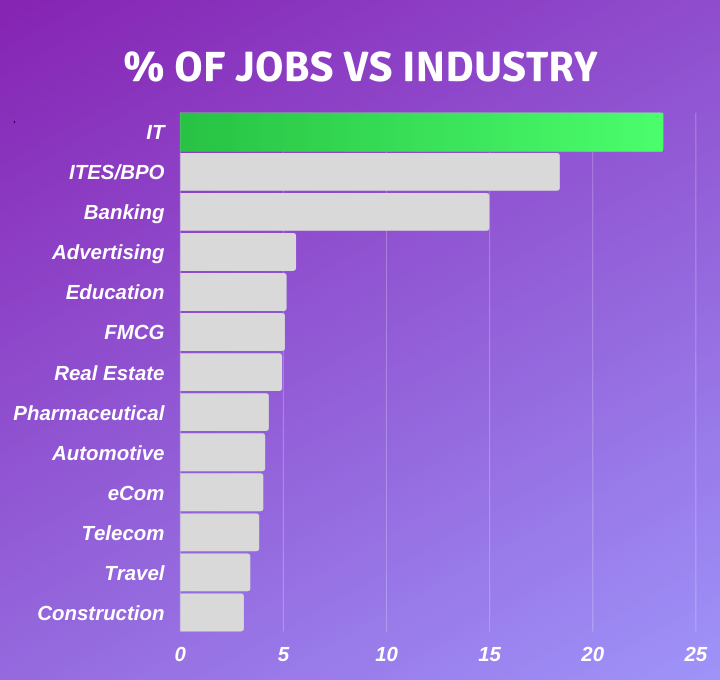 It is estimated that the IT sector in India will reach a whopping $ 350 billion target by 2025.
So, It's no surprise that the IT industry ranks first for investing more in digital marketing than any other sector in India.
It is found that out of all the jobs openings, 23.39 % of jobs belong to the IT industry.
Even the ITES and BPO industry is not far behind the IT sector.
After combining the data of IT, ITES, and BPO sector, I found that 41% of total job openings belong to these sectors.
Another no brainer fact is about the travel industry.
Due to the global pandemic, the travel industry is far behind the top sectors of India.
Only 3.37% of total job openings belong to the travel sector.
It is assumed that these numbers will improve for the travel sector after the pandemic period.
MBA is not necessary to become a top-level digital marketer. Here's the proof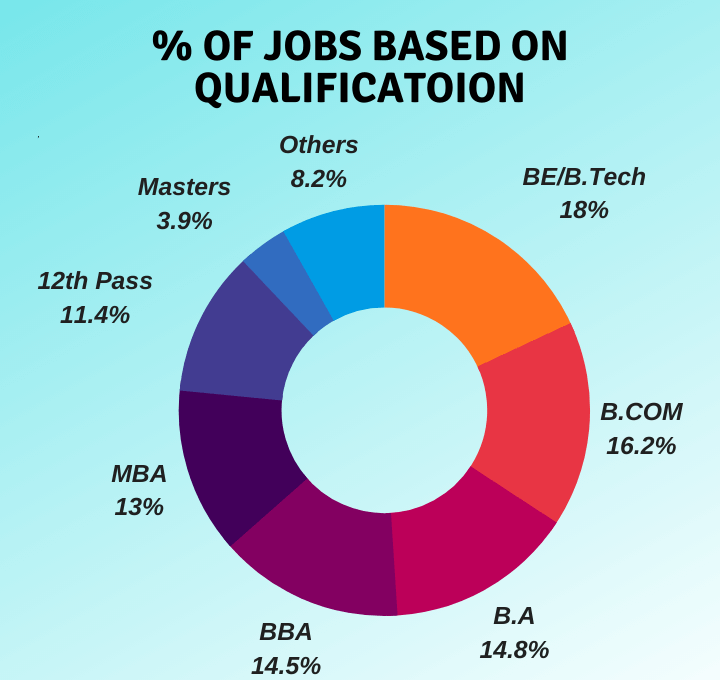 Now, this is my favourite chart.
Especially in India, most of the people judged by either income level or by education level.
And these statistics will give hope to all the aspiring digital marketers with no MBA background.
Here's the fact.
18.5 % of total digital marketing job openings are offered to BE/B.tech qualification which is most as compared to any other qualification.
BE/B.tech degree is again at the top of the list and like every time the list is not linked to the engineering field at all.
Another good thing is that you don't even need a graduation degree to start your digital marketing career.
11% of digital marketing jobs are also there for 12th standard qualification. Even though these are mostly internship jobs where you won't get paid that much, it is a great place to start learning in this field.
The good news for all the beginners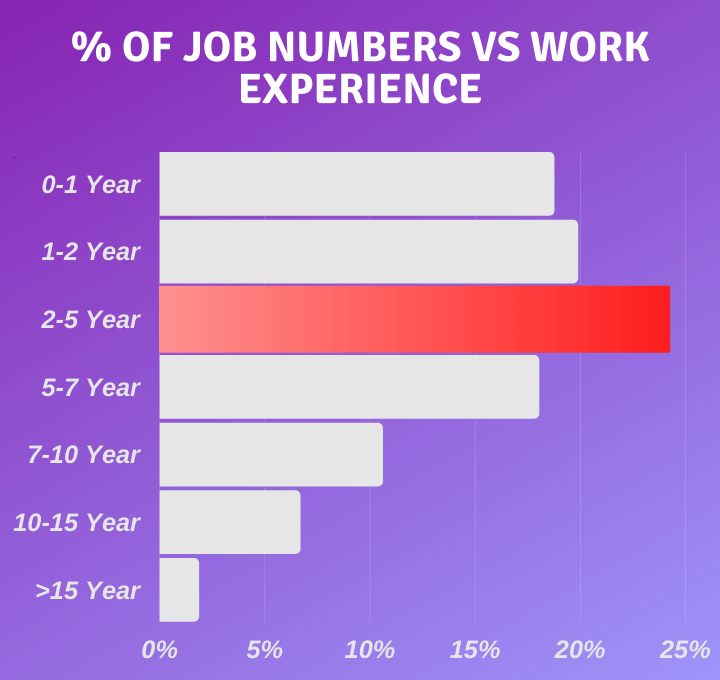 I have already stated that the average salary of at least 90,000 INR/month offered to those who have an average experience of 6.5 years.
But this doesn't mean that there is no room for newbies.
I found that people who have 0-1 year of work experience are eligible for 18.75% of total job openings.
I also found that people with 2-5 years of experience have the most numbers of jobs opportunities in India.
24.18 % of all job openings prefers the experience range from 2-5 years.
Since digital marketing is not a traditional concept like engineering, the experience graph is quite favourable for beginners.
My prediction is that over the next five years, the % of job opportunities for the beginners (0-1 year) will decrease.
I am not talking about the number of jobs which is obviously going to increase, but people will more likely to get experienced candidates.
At the current time, the percentage of digital marketers with more than 10 years of work experience is very less (Maybe because digital marketing itself is not that old enough)
That is why only 6.68 % of total job openings require 10-15 years of experience.
And over the time this percentage will likely to increase.
Where is the biggest job opportunities in India?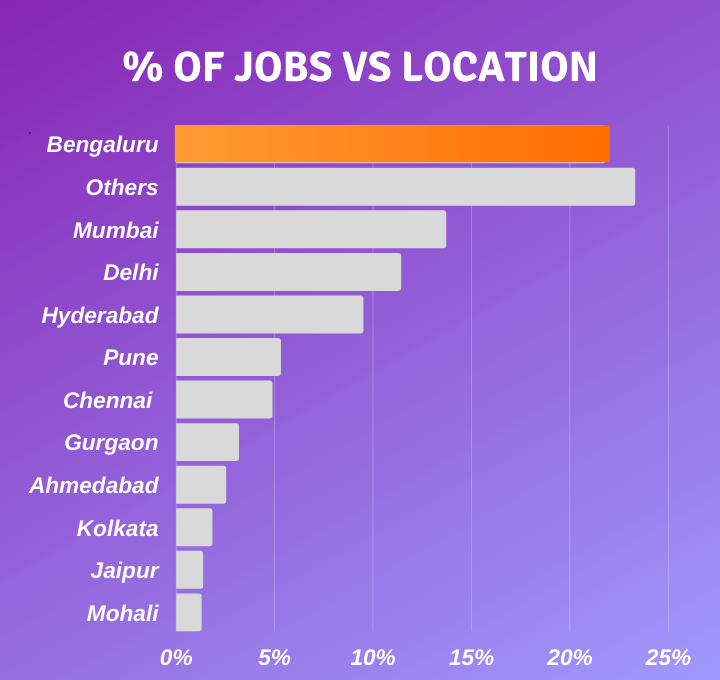 It's Bengaluru again.
The city offers 21.8% of total job openings, and no other location is even closer to this.
Just like the graph of average salary, Mumbai is again on the second spot in this list with 13.7% of total job openings.
One crucial detail I noticed that out of all metropolitan cities, Kolkata has one of the lowest numbers of job openings.
Whether it is about the number of jobs or the average salary, the fact remains the same.
The 'others' in the above chart indicates the % of total jobs in locations other than this list.
'Others' section might seem to have a significant impact with 23.30 % of all job openings, but in reality, it is the result of combining data of all the other locations.
SEO is not dead, even in 2020. Here's the proof...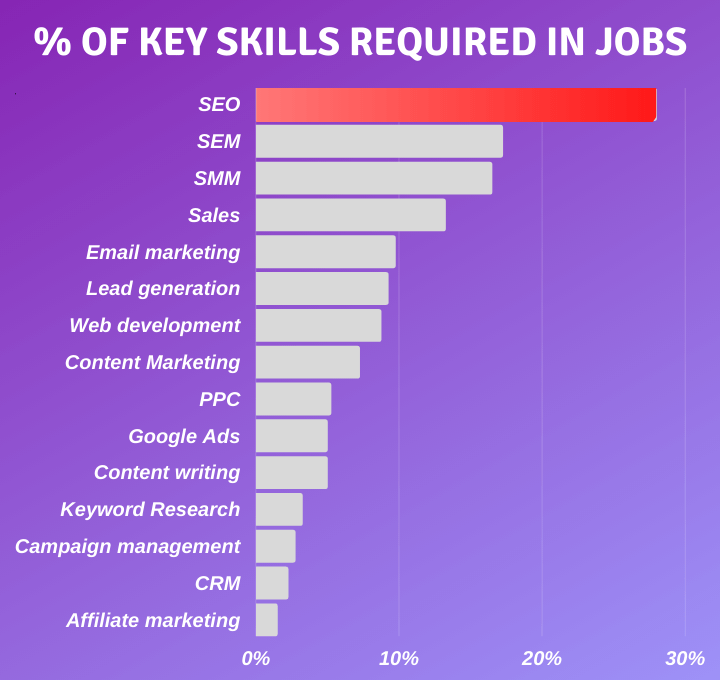 There is always a debate When it comes to answering the most in-demand skill for digital marketers.
I analyzed 10,935 jobs from Indeed and MonsterIndia, and I found that SEO is the most in-demand skill that recruiters are looking for.
The most interesting fact that I discovered is:
1 out of every 4 digital marketing job descriptions looks for SEO as a must-have skill.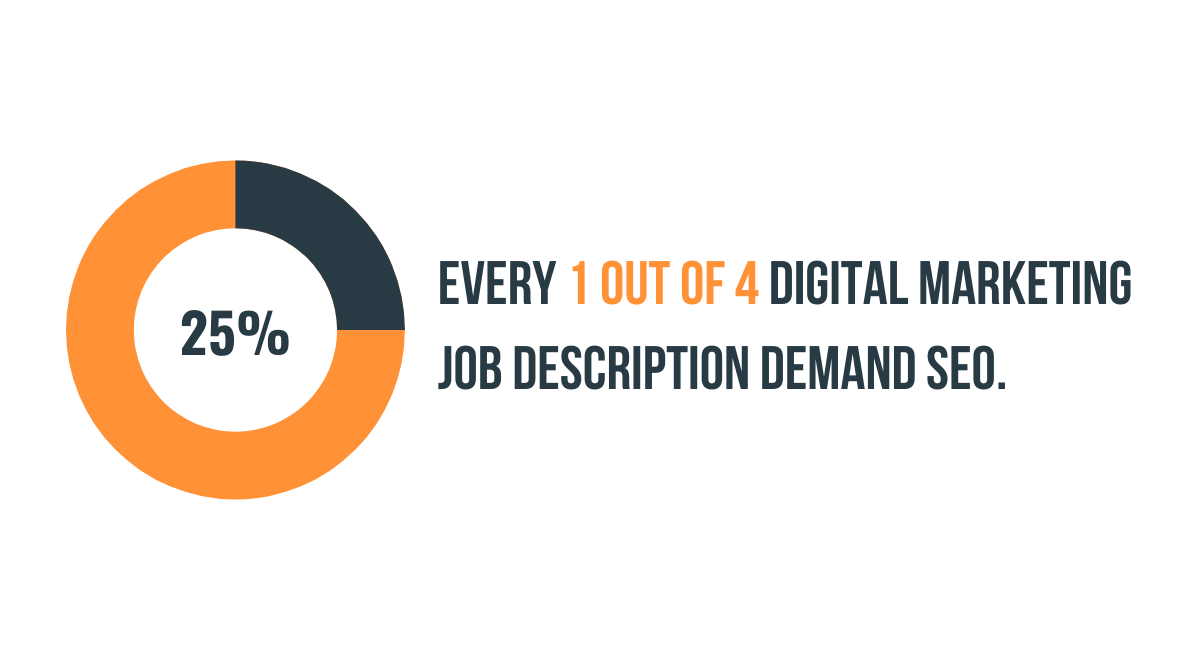 I found that 28% of total job openings have mentioned SEO as a primary skill for digital marketing jobs.
Even Search-engine-marketing is next to SEO. 17.25 % of all job openings SEM is explicitly mentioned, whereas SMM is on the third spot with 16.5 %.
Scope of error: I noticed that 13.25 % of jobs had mentioned sales as a skill set for job openings. The most obvious reason for including sales in the job description could be the skill of generating sales through online marketing skills; second is about sales. And in many cases, I didn't get much information about the 'sales' term in the description.]
Hottest social media marketing platform?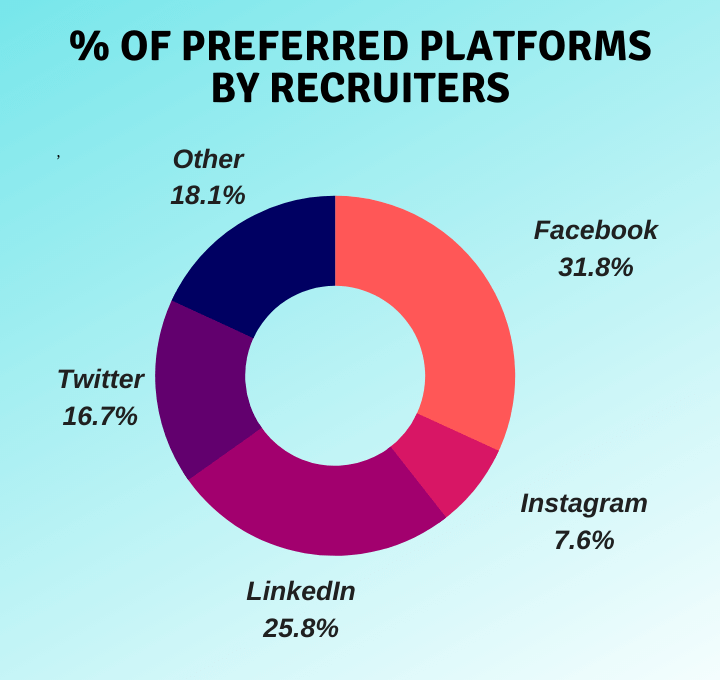 Many social media channels can be counted for SMM.
But what I found is Facebook is by far the most popular as compared to other platforms.
Before diving into the data, let's understand how this study was done.
First, I have collected the percentage of jobs that specifically mentioned the skill of social-media-marketing (SMM).
Second, out of every social media skill mentioned in the job description, I analyzed the popularity of some platforms.
Here's an example to understand this result.
A total number of jobs- 1000.

Only 250 number of jobs demand SMM skill that is 25% of entire job openings.

Out of these 250 jobs, 125 jobs have specifically mentioned Facebook marketing, that is 50% of total jobs that demand SMM skill.
Now, let's understand the real data.
31.8 % of total jobs that demand SMM skill has specifically asked for the Facebook marketing skill.
So, if you're social media marketer and looking for a job, then you cannot afford Facebook marketing for your career.
Also, not to forget that Facebook Ads also include Instagram marketing.
LinkedIn is second popular among all of the SMM platforms with a result of 25.8%, and Twitter comes third with 16.7%.
Let's understand this chart by ranking each of these platforms based on the popularity among recruiters.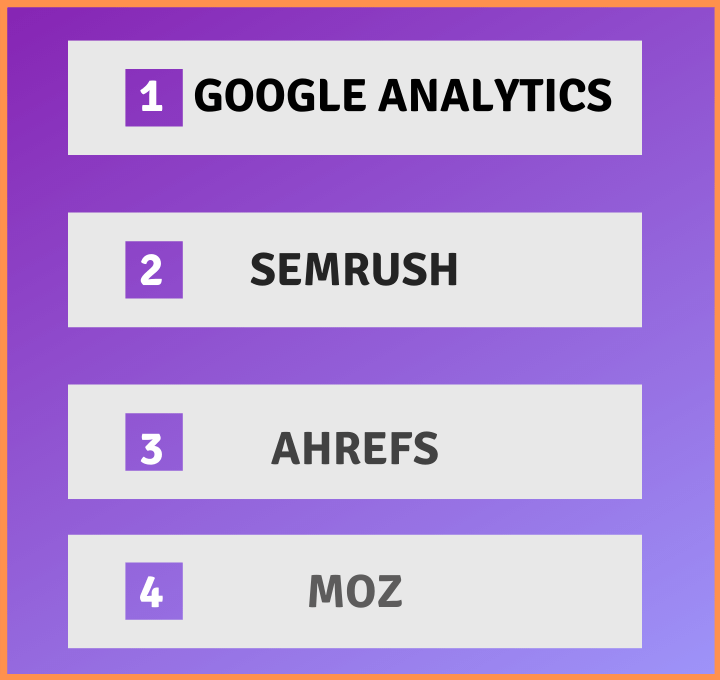 The debate is over. Neither Ahrefs nor Semrush, Google Analytics is the most popular tool.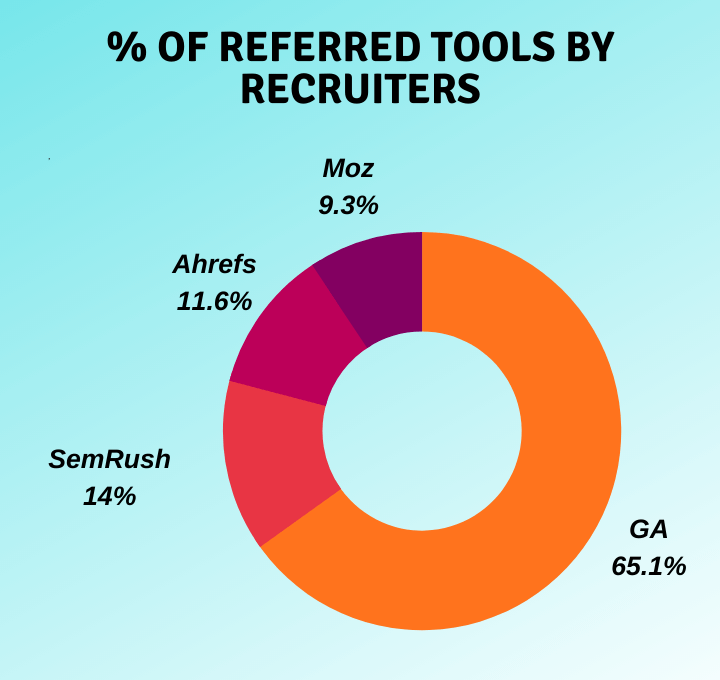 The study is similar to the above one. The data are collected from the jobs that mentioned at least any of these tools.
This is what I've found:
65.1% of total jobs openings that demand a specific tool or software has mentioned Google analytics as their primary requirement of the tool.
But in reality, it is one of the most underrated tools among marketers.
Semrush and Ahrefs both come closer with 14% and 11.6 % respectively.
Do you really need coding skills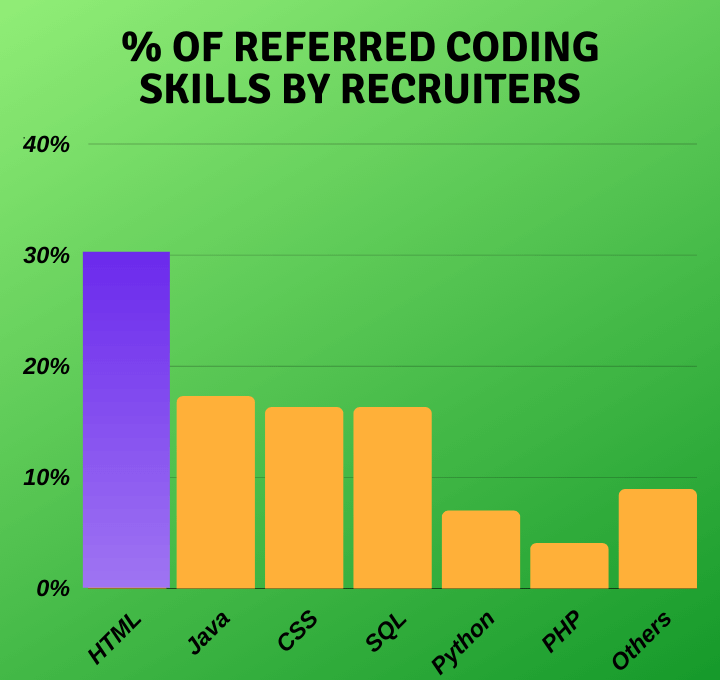 I found that only 10.75% (1175 jobs) of job opening has mentioned coding skills. The number is obviously not so significant, but I didn't get any relation between average salary and coding skills.
But what if you don't want to avoid this 10% in your resume?
By knowing the most demand coding skills, you may know how to start working on those fields.
Out of 1175 jobs, 30.24% of recruiters have preferred HTML more than any other coding skills.
Java, CSS, and SQL are just behind the HTML skill with the result of 17.28%, 16.28%, and 16.27% respectively.
This study is to help all the marketers to help with understanding the current state of digital marketing jobs, especially in India. 
Also, People who are looking for a job or interested in starting a career in this field may find this study quite valuable.
That's all from this report.
Please share this article to those people who're looking into digital marketing jobs.