This is the ultimate guide for SEOs to understand what is EAT in SEO and how you can prepare for it without loosing authority.
But, before that Imagine this for a moment:
This is 2015 and you're in-charge of managing SEO for your website.
What else would you wish to perform well in search engine rankings?
Quality content (unique too) and a strong link profile of the site. Anything else?
Probably not.
But in 2020 and beyond, Google will also consider:
Expertise of the content creator
Trustworthiness and authoritativeness of the website, main content itself and the content creator
Before we deep dive into understanding E-A-T and how it may impact your search visibility and ranking, you should consider quality raters guidelines (QRG), officially published by Google.
Quality raters guideline is a 175 pages document (latest edition) designed for highly trained quality raters with one primary purpose of rating websites.
Here's a brief on how it helps Google to improve the search performance:
Quality raters from all over the world are mainly responsible for rating different web pages using extensive guidelines (a.k.a QRG).
QRG trains these quality raters with a complete set of characteristics that differentiate a high-quality webpage from a low-quality web page.
In the end, feedback from the rating of thousands of quality raters is used to improve the search algorithm.
Point to consider that those quality rater's ratings on different websites and webpages don't have any direct impact on the individual's search rankings.
Instead, these ratings help Google to understand whether Google is already showing high-quality pages on SERP results. If not, then Googlers work on improving the algorithm.
Some of the key highlights that make QRG a must-read for all SEOs:
Characteristics of high-quality pages
Why certain webpages will be considered as a low-quality page
Understanding copied content
A ton of examples of high and low-quality pages
Page quality criteria
Important factors for page quality rating
And E-A-T
So If you're serious about your site's SEO and don't want your search visibility to get killed by Google's E-A-T algorithm, then consider analyzing the 'quality raters guideline' as a homework for you.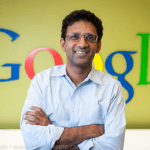 "You can view the raters' guidelines as where we want the search algorithm to go. They don't tell you how the algorithm is ranking results, but they fundamentally show what the algorithm should do."

— Ben Gomes (Google VP search)
Download the Quality raters guideline (Oct 14th, 2020 updated)
Let's get going.
In this definitive guide, you're going to learn:
What is E-A-T
Why you should care about E-A-T
Understanding quality raters guideline
Measuring E-A-T for your brand, clients, or even yourself
Guide to improving your E-A-T
Schema implementation
And, insights from SEO experts
Download this Guide as a PDF and learn what is E-A-T in SEO and how to improve it for your site.
What is E-A-T?
In the SEO industry, E-A-T indicates:
The expertise of the main content creator-
Authoritativeness of the creator or the main content (MC) itself-
The trustworthiness of the creator or the main content (MC) itself-
That means Google is trying to find out whether a person behind any content/web page has enough level or expertise, work-experience in his/her niche or not.
In fact, the latest edition of Quality raters guideline has mentioned E-A-T 137 times. That clearly indicates it plays a crucial role or going to be a more decisive factor in search rankings.
So E-A-T must be a direct ranking factor, right?
Well, the official answer is NO.
But even though E-A-T is not a direct ranking factor, it still helps a lot in improving your search visibility.
Here's what officials of Google have to say about the importance of it.
"For all other pages that have a beneficial purpose, the amount of expertise, authoritativeness, and trustworthiness (E-A-T) is very important."
Since E-A-T is more about providing users with trustworthy and accurate information on Google, QRG has mentioned that certain websites will need to focus more on E-A-T information than others.
These special kinds of sites/pages are also known as YMYL pages.
YMYL stands for "Your Money or Your Life" that refers to pages that may directly impact a user's health, safety, and even financial stability.
Some of the examples are:
News and current websites
Finance
shopping
Health and safety
That means if your site belongs to YMYL pages, make sure you're providing enough E-A-T information to Google to be considered as a source of high-quality pages.
Here's what QRG has to say on YMYL pages:
"We have very high Page Quality rating standards for YMYL pages because low-quality YMYL pages could "potentially negatively impact a person's happiness, health, financial stability, or safety."

Source: Quality raters guideline
(we'll also understand how to improve your E-A-T in this guide)
Now, it's time to understand how Google measures E-A-T?
Watch this below video and learn more about the basics of E-A-T and why it is so important.
Measuring E-A-T
In May 2020 PathInteractive has analyzed 550 websites to understand the impact of Google May core updates (consider the quality of the page and E-A-T as well) on different industries.
And, one of the crucial findings from the study was that most of the negatively and positively affected sites belong to the YMYL pages.
This simply implies the importance of considering QRG, especially for YMYL sites.
Let's understand the basics of E-AT measurement:
Expertise
As per the guideline, it is mentioned that content on YMYL sites should be created by professionals or organizations who have real expertise in the topic.
Now, to understand whether your organization's E-A-T profile is one a positive side or nor, you need to check your author's profile.
Here are some of the questions you need to ask yourself?
Do your authors have formal expertise in their niche?
Are they practising what they are talking about?
If the answer is no, then you may need to reframe your approach regarding content creation.
But make sure that you're not trying to fool Google's algorithm by adding fake expert's on your site.
In 2020, Google has filed a patent called "Generating author vectors" that will help them to identify authors throughout the web even if the name of the author isn't mentioned on the page.
My point here is to try to focus on content that not only indicates the expertise of the content creator but also provides trustable content to users.
Check out this tweet on Google patent.
Based on a patent granted this month -> Author Vectors: Google Knows Who Wrote Which Articles

"Google is telling us with this new patent on author vectors that they may be able to identify the authors of unlabeled content." https://t.co/YQWp6TrhWE via @bill_slawski pic.twitter.com/nrplRY3p0f

— Glenn Gabe (@glenngabe) March 30, 2020
Authoritativeness
My authors have academic degrees and expertise in their field, but still, my site's ranking isn't improving.
If you're also having similar kinds of questions, then you need to understand that only E of (E-A-T) isn't going to give you enough advantages.
Now, having authors with medical degrees is one thing and getting recognized as an expert online is another thing. One of the easiest ways to understand the authority of your author's profile,
In most of the cases, link building from trusted and authoritative sites may have a positive impact on this factor. But when it comes to the authoritativeness of the content creator, it's better to assess your author profile.
Here's a quick way to do this:
Go through your articles on your site and copy the author name.
Next, search for "Author Name + topic". This topic will be the niche of your site.
Here's one example.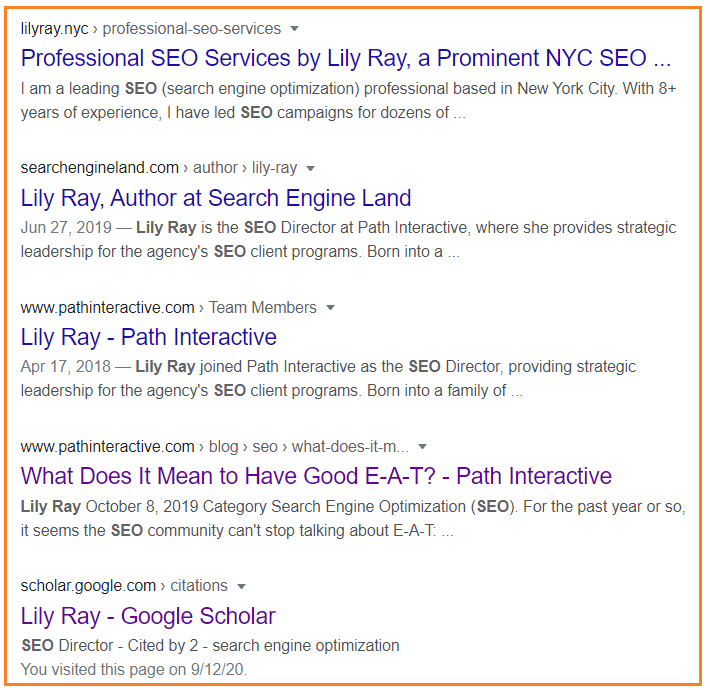 SERP results will then indicate to you whether the author is already recognized by any other trusted and reputable sites or not.
When you're doing author research, you may also consider mentions from Google News, Google Scholar and other major publications within your niche.
Relevant read: Top content marketing newsletters to follow
Trustworthiness
Trustworthiness isn't only related to the content creators but also with the site itself.
In the raters guideline, you'll find some quick ways to check the reputation of any site.
For example, you could search on Google with queries like:
"Company name"
"Company's website"
"Company name + reviews"
But in all of these above queries, you need to consider all web pages except the company pages.
In short, what others are saying about your brand, what about the reviews, and mentions from different publications- all of these matters a lot.
Refer to this example from raters guideline:

E-A-T Audit
E-A-T assessment will help you determine where your website is lacking to meet the quality standard proposed by quality raters guidelines (QRG).
Here is a list of activity that you may perform:
Who your site is referring to
As per the guideline, the trustworthiness of the main content is also considered as a rating criterion. And, one of the ways to make your content trustworthy is by adding evidence of your claim.
The idea here is to identify whether your content is adding evidence on your pages or not.
In short, you can look for the external links from your domain because most of the time, we do include source URL to the original study or facts.
That's is why auditing for your external linking profile is important in this context.
Here's an easy way to assess the source URLs that your site is referring to:
1. Go to Ahrefs webmaster tool, which is FREE to use.
(Don't have an account yet? Create one)
2. Go to the Site audit section from the top bar


Now, if you have already done a site audit in Ahrefs webmaster tools, then make sure that the report is not older than 1-2 weeks.
Mainly because we do want to check the external link profile with the latest URLs.
Once your site audit report is completed, click on Link explorer from the left-hand side.

Next, you can add some filters to get a more clear and simple report for this purpose.
This is what I do to get a list of External URLs along with the Sources.


Next click on manage columns.


Since we're only looking for external links (domain), we'll only select target domains as shown in the below image:
That's all for this. Now, you'll see what the domains that you are actively linking to are.
In my case, here is the list: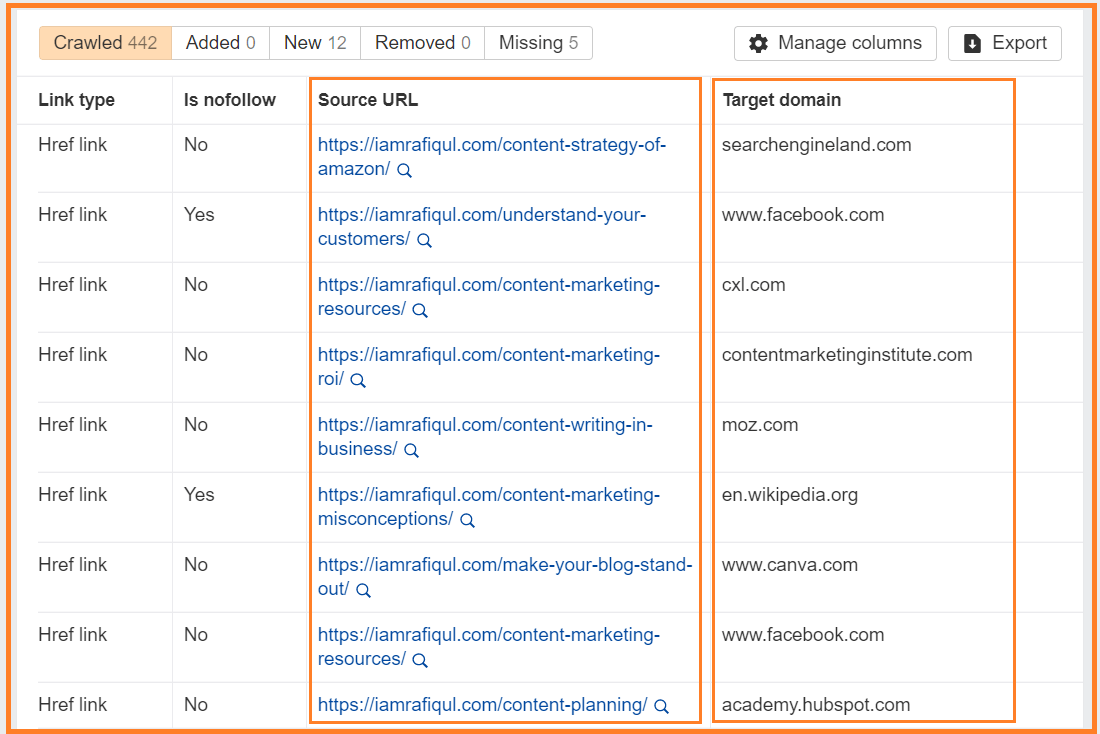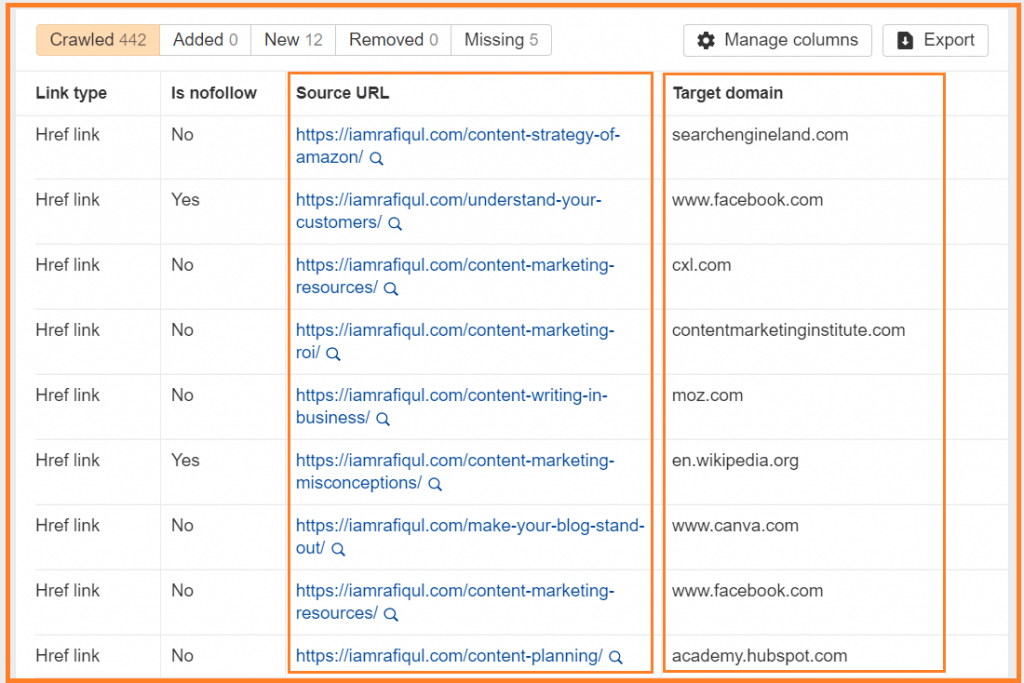 Also, don't forget to ask yourself these following questions:
Are these external links trustworthy?
Do they have expertise in their respective fields?
Are people referring to these sites for trustworthy information?
Well, if your answer is NO, then consider reframing this approach. Otherwise, Google may not
Consider your site as a trustworthy source on the web.
Check for headlines of your articles.
Google mentioned in the QRG that a shocking or misleading headline is one of the signs of a low-quality page.


Especially if you're into YMYL sites, this is something you shouldn't ignore. Here's an example referenced in the guidelines as a misleading content title.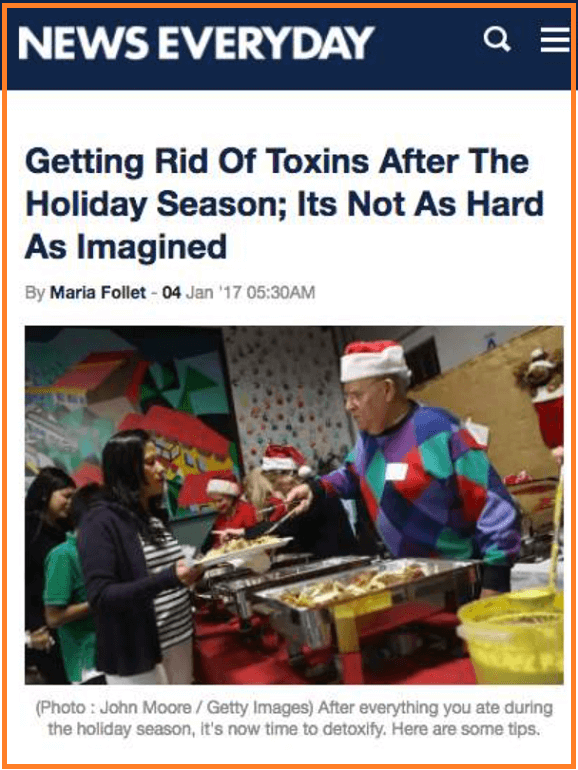 The title and the main content of the pages mismatch in many ways. As a result, the page will be considered as a low-quality page.
While checking for misleading or shocking headlines on your site, don't get overwhelmed with high CTR.
Usually, shocking headlines get higher CTR because of the human nature of curiosity. Even if the CTR is above average, make sure to check for the main content of the page as well.
If you found titles completely irrelevant to the MC or claim something without such evidence, then consider this to either completely change or edit the titles.
Reputation research
"Stop Assuming, Start Researching"– This is what raters are told while understanding the brand reputation of any organization or website.
Also, raters must evaluate a brand's reputation research for every website that they encounter.
Disclosing who is responsible for the website and the main content
Even if your sites don't belong to the YMYL (Your-Money-Your-Life) category, it is mandatory to showcase the person behind any website or even Main Content.
While assessing your E-A-T information, make sure you've considered these guidelines.
For example, look for information about us, contact us, and customer services information. These are the pages that should be primarily used to flash your credentials.
Though not all of your users will be interested in knowing your achievements, awards, education, interview, press mentions, it is always a good practice for E-A-T SEO.
If you're familiar with schema markup and structured data, then I recommend checking structured data of your existing web pages (especially about us, contact us, service and home page).
That way, you'll understand what information Google has about your website.
Here's how to check your structured data:
Go to Google structured data testing tool and click on Fetch URL (as we're currently testing existing pages).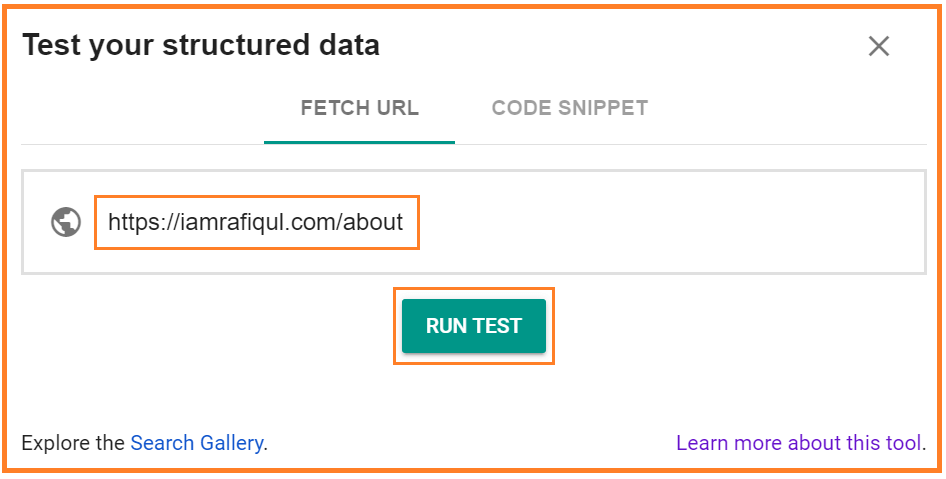 Click Run Test.
Now, you'll get to see the structured data that Google has about your webpage.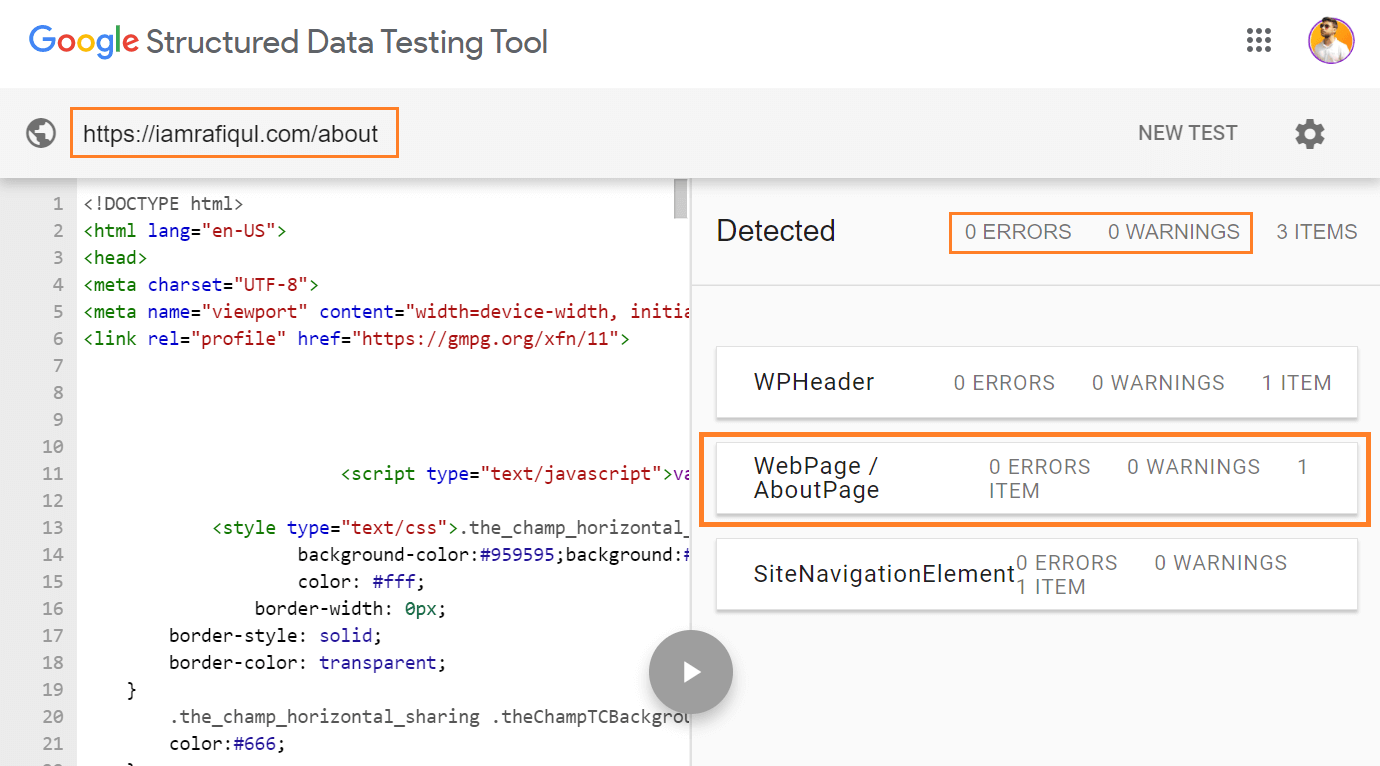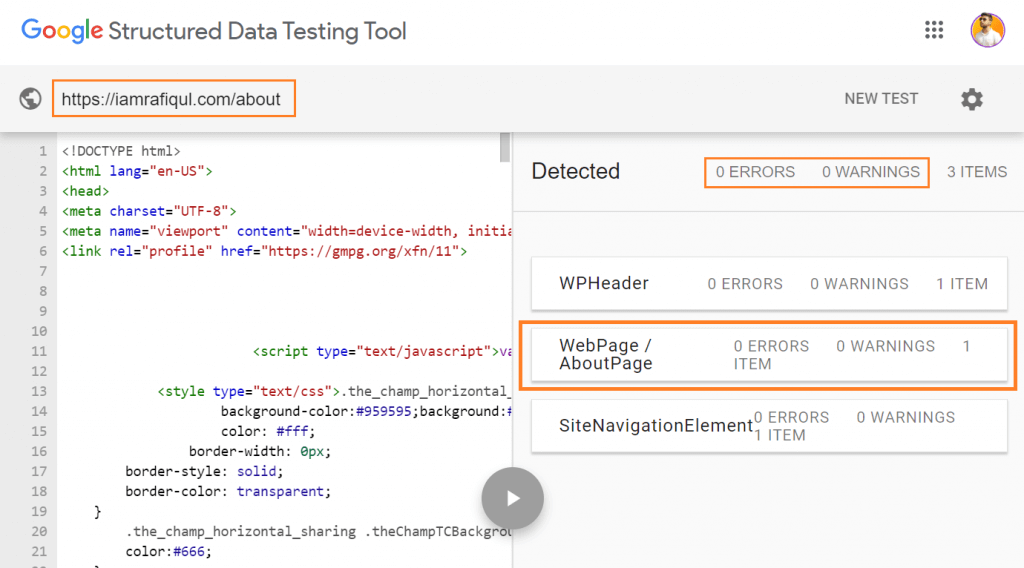 First, you should look for warnings or errors detected by this tool.
Here's an official guide on most common errors in structured data and how to fix them.
Next, you need to look for the list of information that Google has about your specific page.
Mostly, you need to click on the webpage.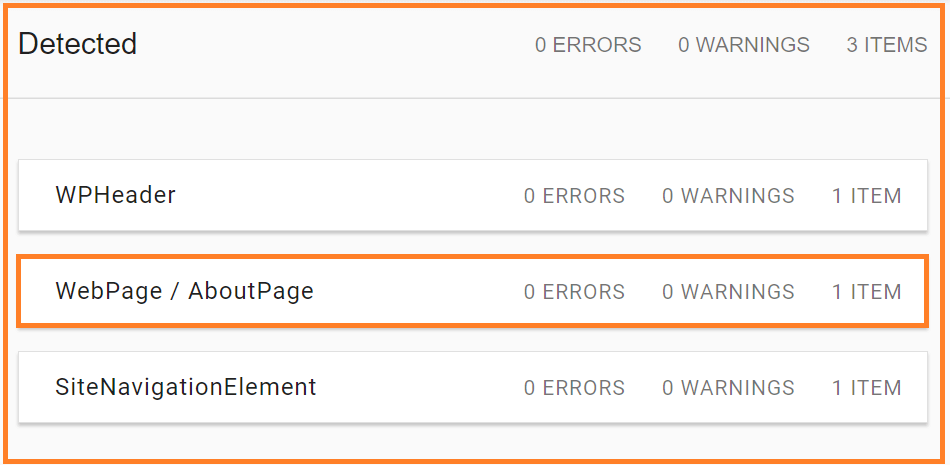 On the left-hand side, you'll see the JSON-LD Schema of the page, and on the right-hand side, you'll see a whole bunch of information about your web page.
While checking this information, look for any misleading or even incomplete information about the property.
Some of the possible issues are:
Wrong or incomplete name of the publisher of the site
Incomplete information (description) about the webpage
Lack of information about the author (if your web page is blog or article)
Once you know the issue, you can work on helping Google to understand the complete and right information.
Here's an infographic to help you understand more about E-A-T signals and Schema implementation.

How to improve for E-A-T?
Reviews and recommendation
When it comes to reviews and reputation of a brand, website, it is important to understand the content of the review is as important as the number of positive reviews.
If you're representing a large brand then consider having lots of good reviews as a small number of positive reviews isn't considered as a high reputation, according to the quality raters guideline.
Another tactic that may be used to work in the past is writing reviews by company employees or the brand itself. But in the last few years, Google has focused more on the reviews or recommendations written by any individuals.
Here are some of the most common questions and answers regarding reviews and reputation:
From where should I get reviews for my brand/website?
There is no hard-and-fast rule for this question, though it is advised to look for sources like:
News-articles
Expert's recommendation
Yelp
Business bureau
Google My business (especially for local business)
What if my local business has little to no reviews on the web?
Obviously, some businesses are highly dependent on word-of-mouth or local customers. In this case, less amount of reviews will not be considered as a low-quality page.
But if the majority of the reviews are negative about the brand, then this might go against you. In short, having less or no reviews is pretty much safer than getting lots of negative reviews.
Showcase author expertise
The easiest and fastest step that you can take right now to improve your E-A-T?
It's adding authors' profiles on the page showing information like who is the author, what expertise do they have, etc.
This is what John Muller is suggesting on showcasing your authors' profile on your site.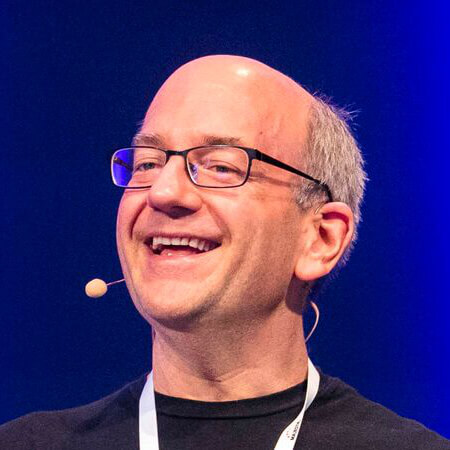 "With regards to author pages and expertise, authority and trustworthiness, that's something where I'd recommend checking that out with your users… how you can best show that the people who are creating content for your website, they're really great people, they're people who know what they're talking about, they have credentials or whatever is relevant within your field."

– John Muller (Sr. Webmaster Trends Analyst, Google)
Especially if your site belongs to the YMYL category, this is one of the most basic characteristics of a high-quality page.
Pro tip: It's always better to have a dedicated author page for each of your authors showcasing achievements, schooling, interviews, press mentions, etc.
Even though it is recommended to have content written by experts, let's face reality.
You can't hire certified doctors or financial experts (examples) to write for your blogs, and it's okay.
Then what should be done to make sure that Google is considering your content even if real experts do not write it?
This is where Schema plays a pretty important role.
First thing you can do is collaborate with any industry experts (must be credible and trustworthy authors) not to write content but to review your content.
For example, if you're running a website on healthcare, then you may hire content writers with a little background of a medical study.
In this case, your content/article should be reviewed by the expert (here it could be any certified doctor).
Here's a great example of this idea.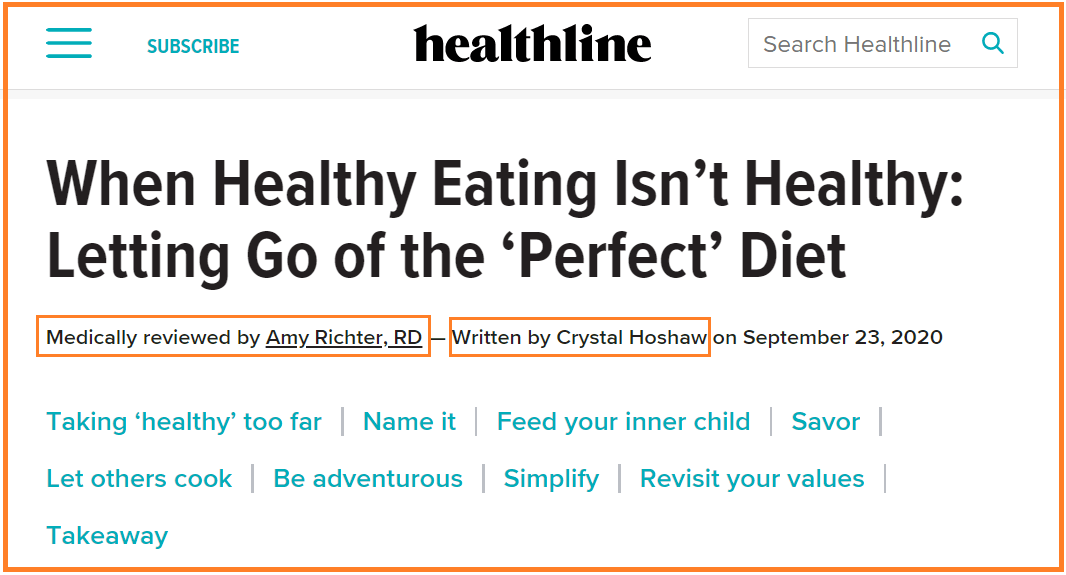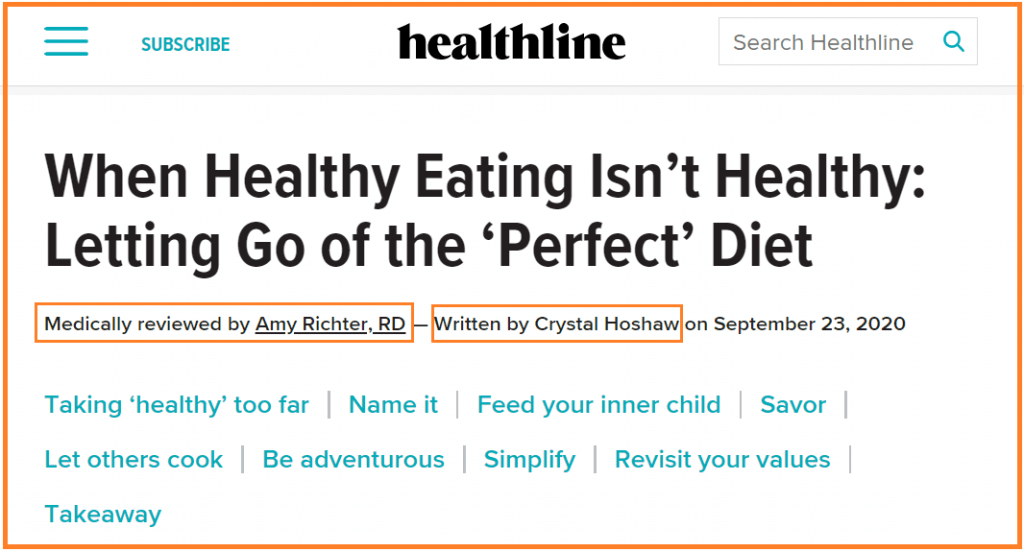 As you can see from the above image, the article is written by one person and reviewed by a medical advisor.
That gives Google and most importantly, users about the trustworthiness of the article.
Therefore, if you're also having a similar kind of issue in hiring experts to write for you, get your content reviewed by an expert.
To implement this more accurately, you can leverage schema markup to inform Google about the writer and reviewer of your content.
Let's understand what Healthline has done in terms of Schema for their medically approved articles:
First go to the Google structured data testing tool, to understand the schema implementation of a specific URL.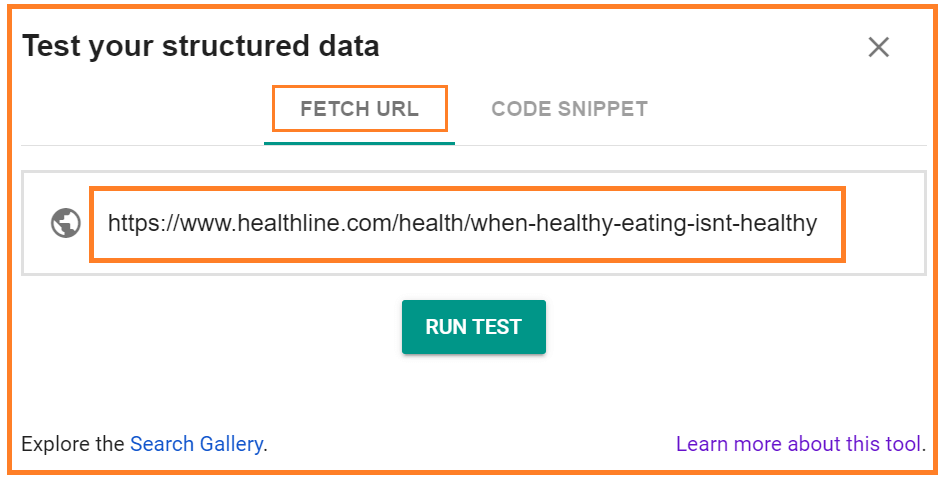 With this tool, you can see the schema markup used for reviewing any article.
That way, you can also implement the same technique.
I'll also discuss some of the common types of Schema that you too, can implement in this guide.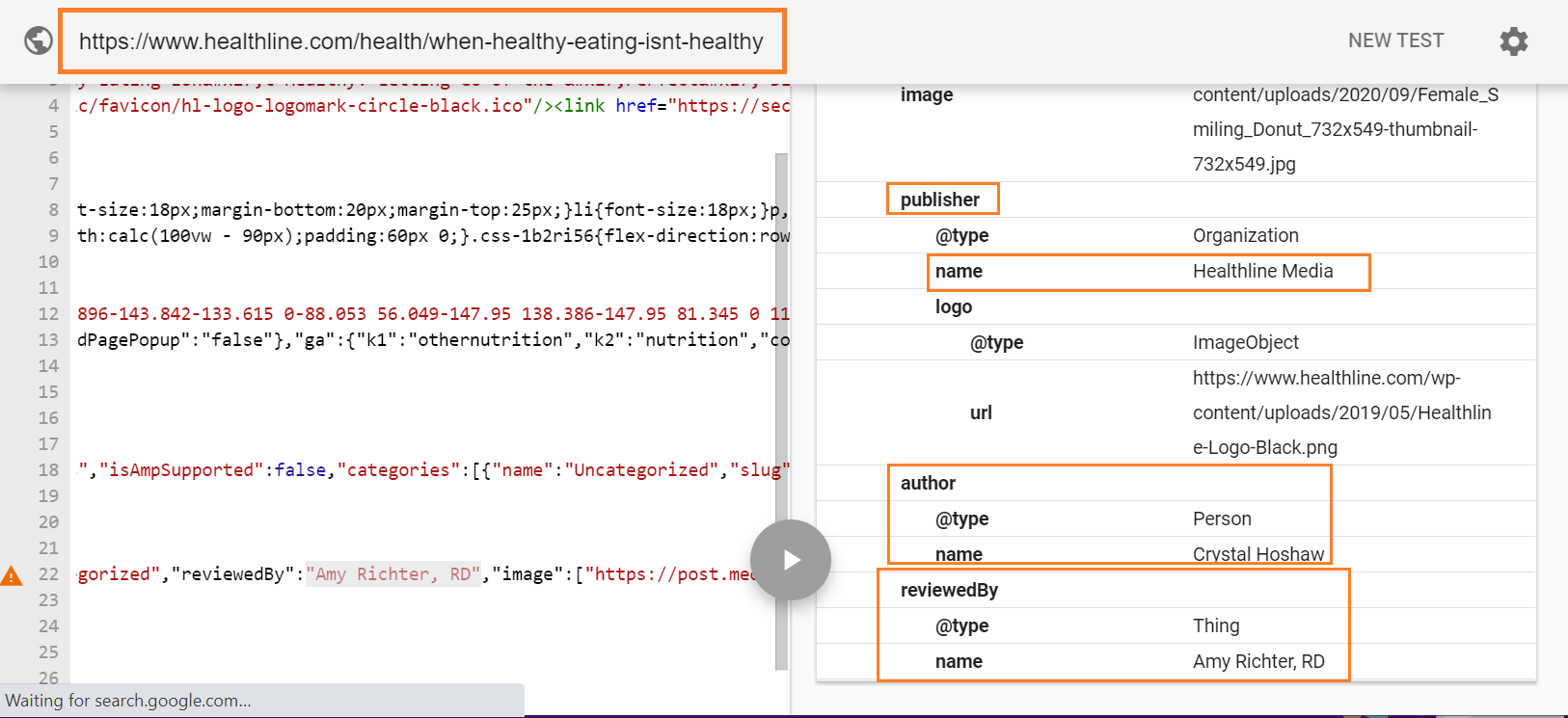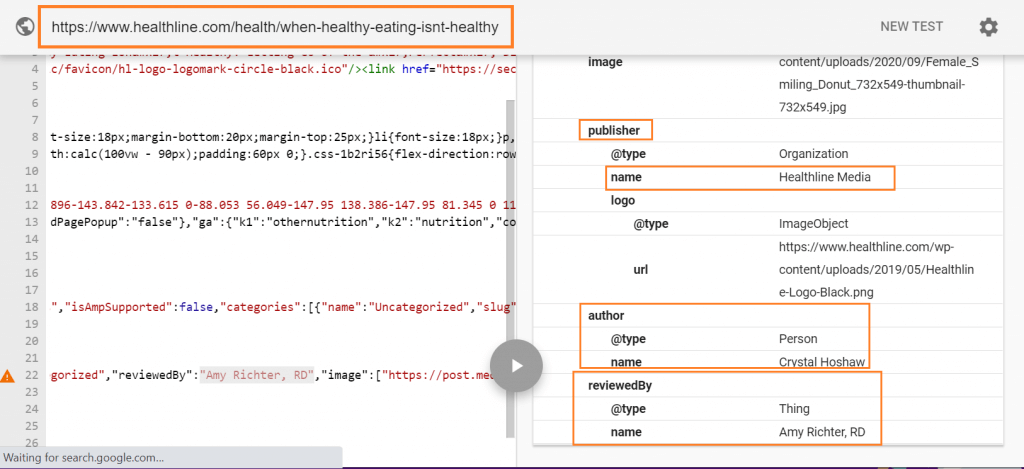 Check out this guide to learn about schema implementation to boost your SEO
Get mentioned by others
Maybe the first thing that comes to your mind is "Guest posting". But there is much more that you can leverage to build your online reputation and authority.
Yes, guest posting on authoritative sites is one of them, but we're not talking only about link-building or increasing domain authority.
When it comes to E-A-T information, getting mentioned from interviews, podcasts, event shows also plays an important factor (even if these sites or sources don't give links back to your profile/site).
But again, relevancy should be maintained.
For example, suppose you're trying to be known as an expert in the healthcare niche (say). In that case, mentions from top medical sites, blogs, events, magazines are much more valuable than getting recommended by a business magazine.
Here are other ways that you should look into:
Good reviews are a strong signal while assessing your E-A-T information.


Even if you're not a well-known expert in your niche, then getting mentions or recommendations from YouTubers, Bloggers, Vloggers, are also considered.


Get started with schemas for structured data
When it comes to schema implementation, Schema.org is the place for people from beginners to experts.
Now, one question that you might ask is, "Do I really need to learn about schema or structured data for better E-A-T and SEO?"
Well, the clear answer is Yes.
[Note: structured data isn't only helping Google to understand the information of a web page in a more clear way but also improving your SERP results]
Google's John Muller also share his opinion on the role of structured data.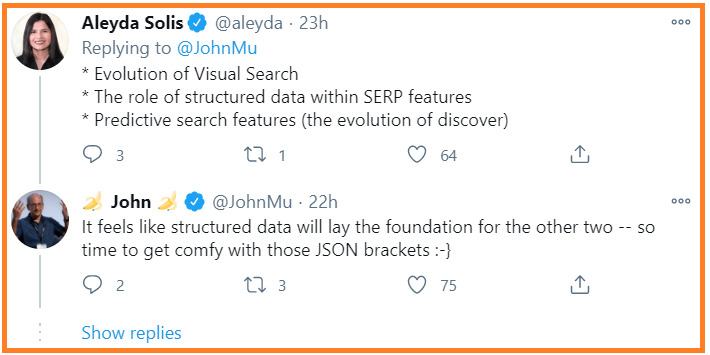 Here's the actual twitter thread of this conversation.
Another very important benefit of implementing structured data is that it helps in building relationships between entities.
What do entities mean actually?
Google defines an entity as "A thing or concept that is singular, unique, well-defined and distinguishable."
In short, Google uses entity relationships to not only understand the information of a specific person, website, or a webpage, but also identify what the people/places/organizations/events linked to those entities are.
For example, when searched about Seth Godin, Google will suggest you some personalities.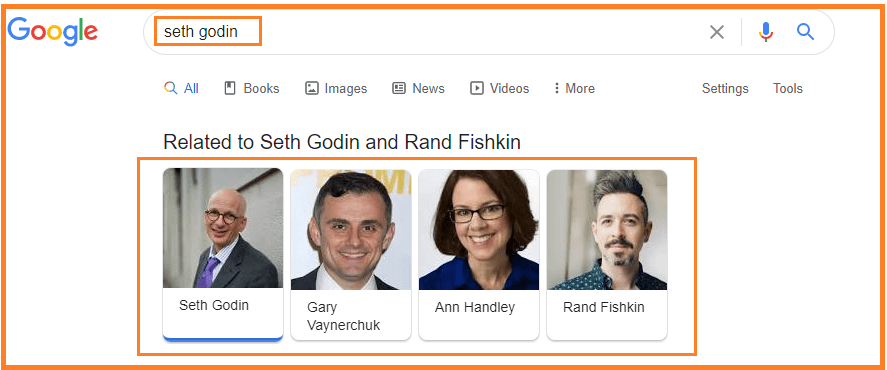 It's maybe because many articles, sites, or events in a particular category have linked or mentioned these figures many times for similar reasons or queries.
Go through this in-depth guide on entities and how Google uses them in SEO.
Common types of items for schema markups
Creative works (books, recipe, music, etc.)
Embedded non-text objects (video, audio objects, etc)
Event (concerts, meetup, lecture, etc.)
Health and medical types
Organization
Person
Place
Product
Review
Action
Here's a complete list of items for which you can use schema markups.
Again you can define many properties for each of the above items.
For example, properties of a Person could be:
Name, additional name
Address,
College, children, education, contact
Email address
Job title
Company name
Awards, achievements and many more.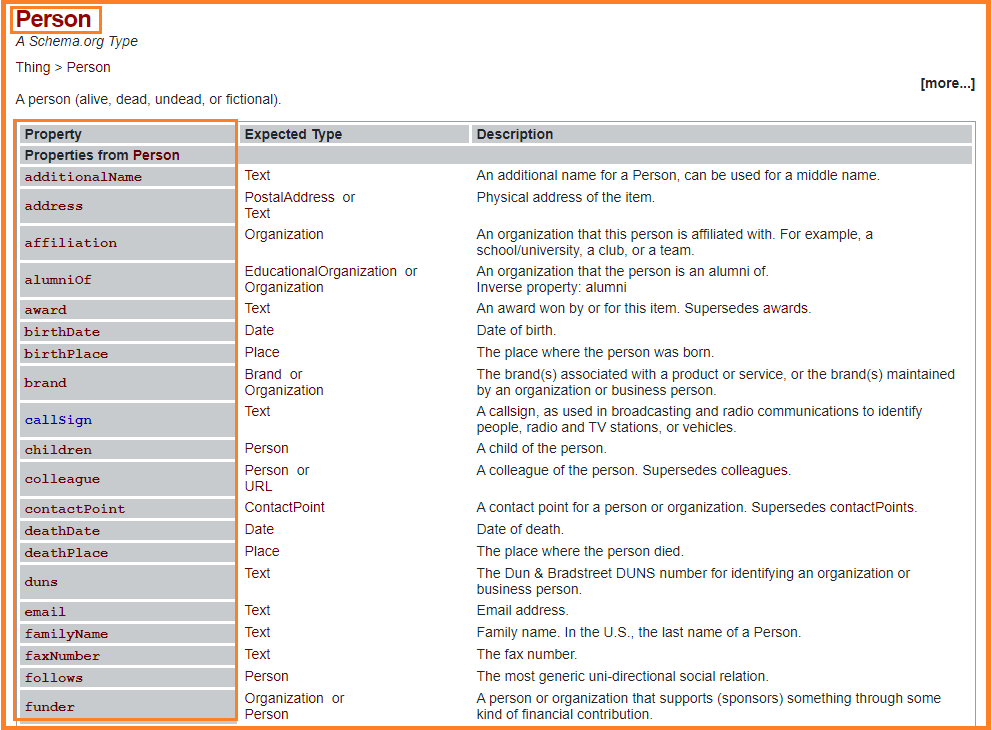 With all of these properties, you can add additional information about different items. Even though Google always try hard to understand the query, purpose and the information about web pages, it is still better to provide necessary information upfront using Schema. Again all of this additional and necessary information is going to build new and existing entities as well.
When John muller from Google gets asked about the benefits of using schema markups, he replied,
"With regard to using structured data in general for ranking, I think that's kind of tricky. So, on the one hand we do use structured data to better understand the entities on a page and to find out where that page is more relevant."

John Muller
If you're using WordPress, then plugins like Yoast, RankMath, you can implement most of the basic schema markups.
On Rankmath, you'll find a section for Schema on the right side of the dashboard. Then click on the schema icon.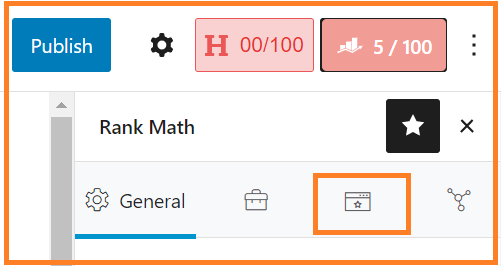 By default, it is set as an article but depending upon the web page purpose; you can use different schemas.
You'll get to see the following types of schemas on the free version.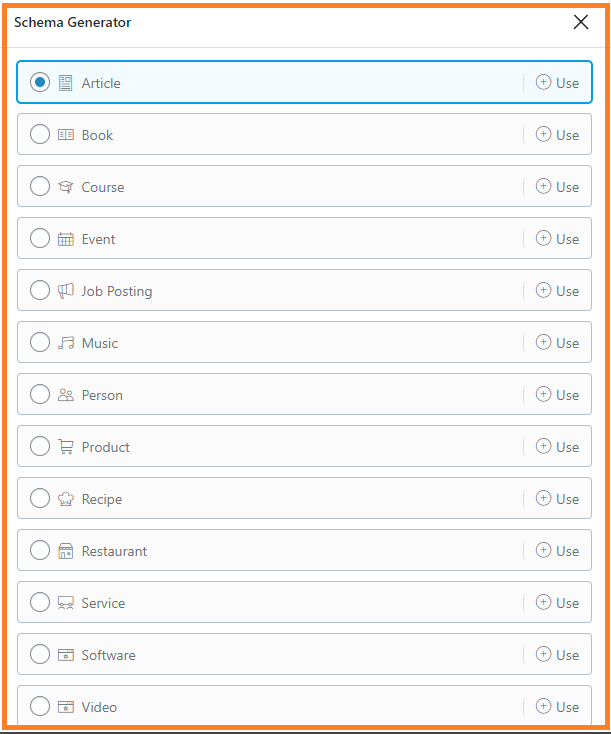 [Note: While using Schema for your site, make sure that your on-page content and type of Schema align with each other. For example, A webpage having schema markups for a person should have information about the person.]
It's nothing new that content is one of the most important characteristics for having Good E-A-T information.
Again, I highly recommend you to go through the quality raters guideline as it discloses all of the characteristics of high quality and low-quality pages so that you know what to do and what to avoid.
Some of the things that you can start working on are:
Removing thin content
Now, that doesn't mean you should create 100 words about page for your website. First and foremost is to understand the purpose of any kind of page. So don't go hard turning your contact page into a skyscraper content.
Instead, check for pages (specially YMYL pages) that either lack complete information on the topic or have misleading information.
You can use tools like readable.com. With this tool, you can check the readability of entire web pages of a website.
Here's a sample report.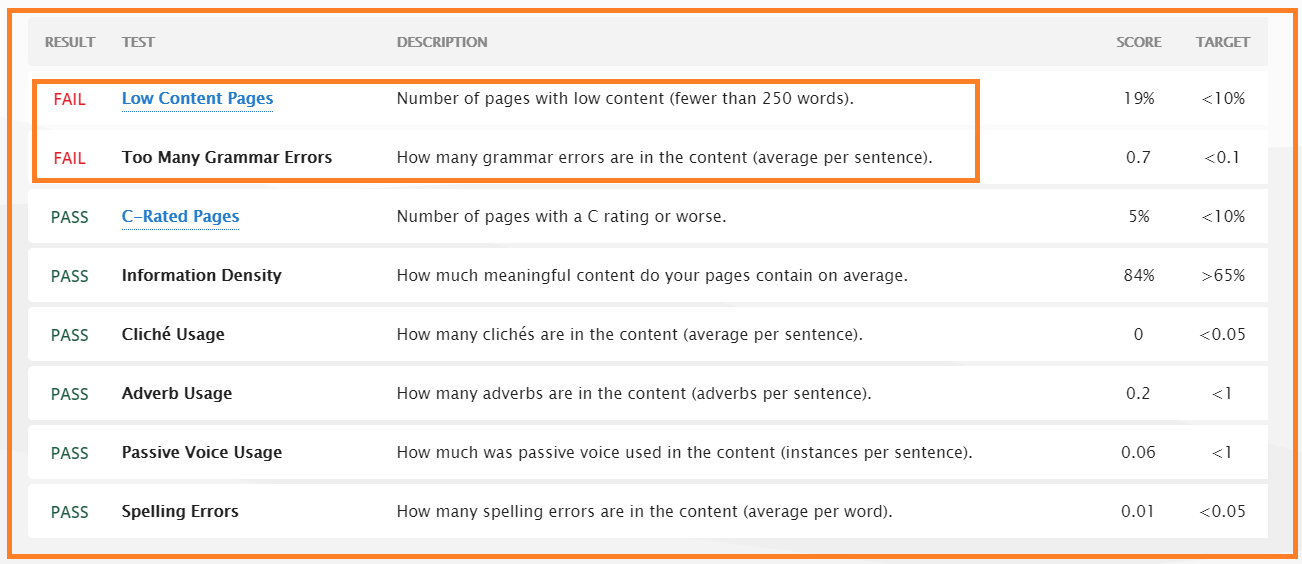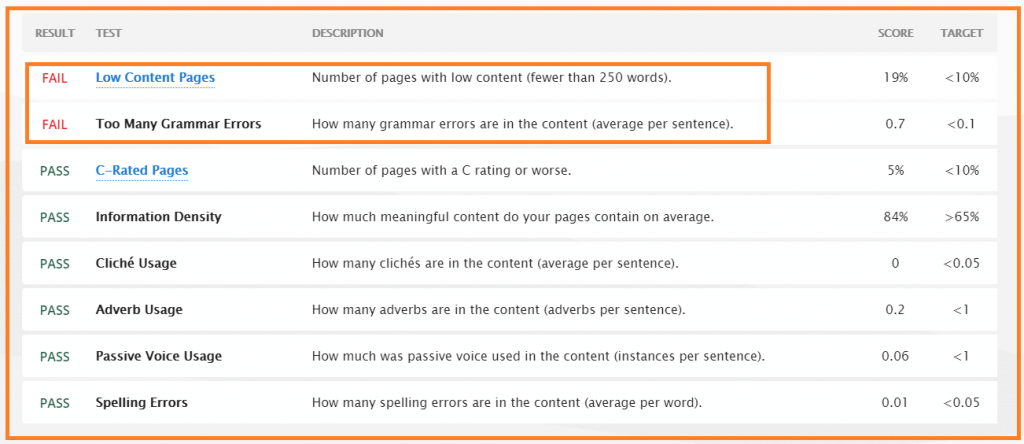 Thin pages, grammar or spelling errors, low readability are some of the KPIs you may consider here.
Creating original reporting
Sites with a background of creating original report may officially be considered as a good reputation, hence a positive sign for your E-A-T.
There are many ways that you can leverage original research within budget.
Look for references that I've worked on as an original research report.
Final words
E-A-T isn't any buzzword in the SEO industry; it is there since 2014. But after the medic update in 2018, many sites (especially health care sites) get affected due to the lack of E-A-T information.
Surely from the pattern of different winning and losing sites from the update, we can understand that the definition of quality content isn't as same as it used to be.
Nowadays, Google is focusing more on providing trustworthy, accurate information to its users, and this is where E-A-T helps.
Whether your site already got hit by the update or not, start working on making your site a source of accurate, trustworthy, and updated information.
That's all for this guide.
If you've any questions regarding E-A-T, let me know your question in the comment box.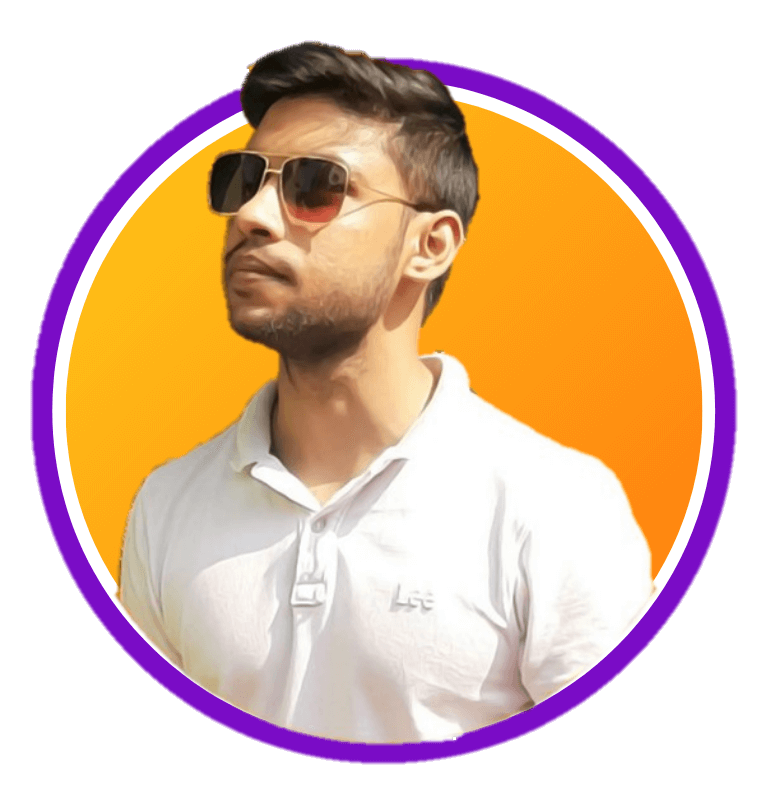 Sk Rafiqul Islam is a content marketing practitioner with 3+ years of practical experience. He spends most of his time helping businesses to build a loyal audience with content marketing. He is also running a tech career blog called 10Pie and content marketing VIP, a bi-weekly marketing newsletter. In his free time, he loves reading books and playing football.