Marketing isn't just about tactics and strategies.
Every successful marketing campaign is built upon a solid foundation.
This is why every marketer (digital marketer, too) should understand the basics.
In this guide, I have explained the key marketing features and fundamental concepts that will help you become a better marketer.
Let's dive right into this.
What Is Marketing?
First things first. There is no single way of defining the term 'marketing'.
Usually, we understand marketing as a set of activities that help businesses attract or retain an audience to increase sales or revenue.
A set of activities could be telling your brand's story through digital ads, writing educational articles, and so on.
However, marketing is useful for selling or buying products and plays an important role in making positive changes in society and adding value to the core audience.
Here are some definitions of marketing →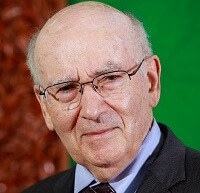 "Marketing is about identifying and meeting human and social needs. One of the shortest good definitions of marketing is meeting needs profitably."

– Philip Kotler.
"Marketing refers to activities a company undertakes to promote the buying or selling of a product or service."

– Investopedia.
"Marketing is the activity, set of institutions, and processes for creating, communicating, delivering, and exchanging offerings that have value for customers, clients, partners, and society at large."

– American Marketing Association.
Relevant Read: Important Digital marketing statistics
What Are The Features Of Marketing?
In this section, I will share 10+ marketing features that will help you strengthen your marketing foundation.
Let's get started →
1. Marketing Mix
Marketing mix refers to the set of activities or marketing tools that aim to promote the brand, product, or service.
This has been one of the most common concepts in marketing that helps develop a strategy and improves the brand messaging. One key element in the marketing mix is the Four Ps which will be discussed in the next section of this article.
2. Four Ps of Marketing
Traditionally, we can classify the marketing activities into four parts such as:
Product: It includes the design, features, branding, packaging, quality of the products.
Price: Price includes the list price, offer a discount, etc.
Place: Physical locations, online mediums, inventory, and transport channels, are key for selecting the right place.
Promotion: Promotion happens through PR activities, advertising, word of mouth, etc.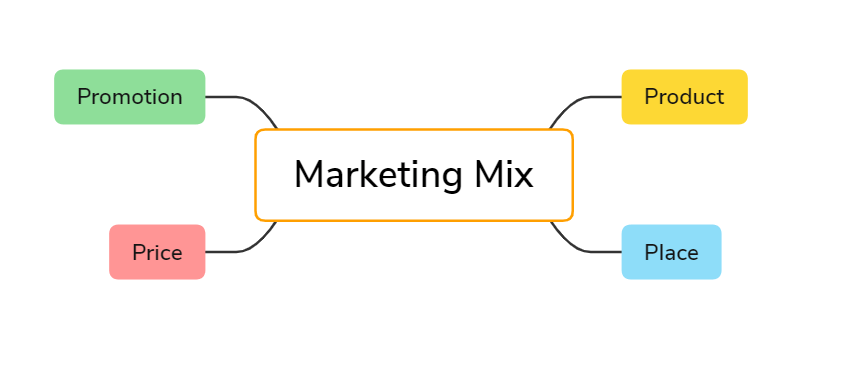 But here's the key thing to know:
The traditional approach of the Four Ps isn't the best way to classify marketing activities. This is because of the complexity of marketing activities, different forms of content channels, the arrival of digital products, and others.
This is why we needed a better approach that could complete the traditional approach of the Four Ps.
Here is the modern marketing management Four Ps:


People: This defines the people within the organization, such as employees, team members who are critical to marketing success.
Processes: instead of making random decisions or executions without planning need to be avoided. A better approach is to have processes for every task.
Programs: It includes all the consumer-driven activities (online or offline) such as product distribution strategies, pricing, offerings, etc.
Performance: Measuring the performance of marketing activities leads to a better decision-making process for the betterment of the product, offering, and even for the company's culture.
Relevant Read: Content marketing examples in India
3. Four As of marketing
One of the key reasons behind marketing failure is not understanding the audience. Therefore companies need to look into consumer research and determine their needs, motivations, pain points, etc.
The Four As of marketing gives you a framework to make your marketing campaign customer-centric.
Here are the four elements →
Acceptability: It deals with the product design, features, or even the benefits for the end-user. Exceeding the customer expectation helps you make your product more acceptable.
Affordability: Once you understand the core audience, you'll be aware of the extent that the audience is willing to pay for your solution. Two important factors to consider are 'willing to pay' and 'able to pay' that determine the product's affordability.
Awareness: Before promoting your product directly, you need to be aware of your audience about the product and its solution. This is why it is important to segment your advertising campaigns by brand awareness and product awareness.
Accessibility: This has to deal with the accessibility of buying or hiring your product or service. Nowadays, having online accessibility for the audience is equally or more important than having offline accessibility for the audience.
4. Marketing Management
Marketing management refers to the process of organizing, planning, or executing marketing activities with the goal of meeting customers' demands and reaching business goals.
In simple words, you'll execute the marketing tasks directly to the end-users without involving any middleman.
The process may includes →
Creating the marketing plan
Conducting audience research
Planning product offerings, brand positionings, etc.
5. Direct Order Marketing
Direct marketing involves marketing activities that rely on one-to-one communication with the consumers.
Examples are:
Door to door sales
Telemarketing
Email marketing
Internet selling through advertising, etc.
Not every business is suitable for direct marketing channels. Though direct marketing can be cost-effective, it is also difficult to scale (offline activities).
Benefits of direct marketing →
1/ Easy to scale: with the help of online direct marketing channels, it is easy to reach many targeted audiences.
2/ Form relationships with the people: Thanks to direct marketing channels, companies can focus on building healthy relationships with their audience.
3/ Measurable: Online channels give you enough data and performance metrics that shape your decision-making process. You can double down on the activities that are generating more profit.
4/ Personalized message: Since you're communicating with the end users directly, you get a chance to customize and personalize your messages. This improves the conversion and relevancy to the audience.
Relevant Read: Ultimate guide to mobile content marketing
6. Marketing Research
Performing marketing research helps identify new market opportunities, understand the strengths and weaknesses of competitors, understand market trends, etc., but knowing how to conduct effective marketing research is tricky.
Here are some of the steps you can follow:
Forecasting market demand: Forecasting the total market demand is essential, whether it is a product or service.
In simple words, you need to estimate the demand of products or services for a specific group of customers in a given time period and within a defined geographical area.
Another important part of marketing research is estimating total market potential.
Total market potential: This indicates the market size under a specific environment for a specific geographic area. By knowing the market potential, companies can
Here's an example: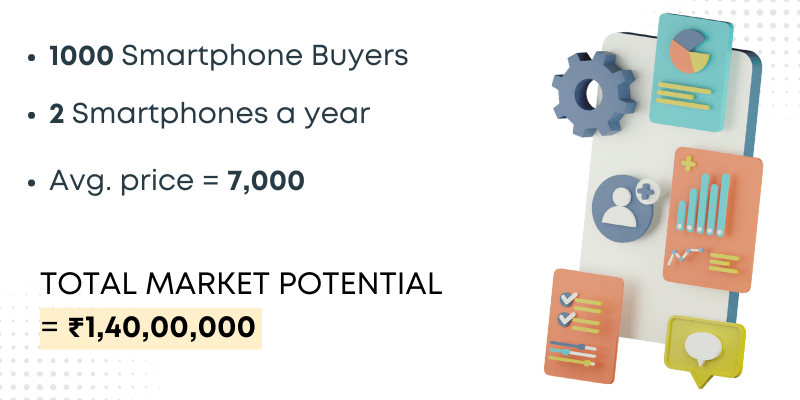 If 1000 people buy smartphones each year, and the average buyer buys two smartphones a year at an average price of ₹7,000 rupees, then the total market potential for smartphones is ₹1.4 crores (1000 * 2 * 7000 = ₹1,40,00,000).
Here's a step-by-step process of conducting marketing research: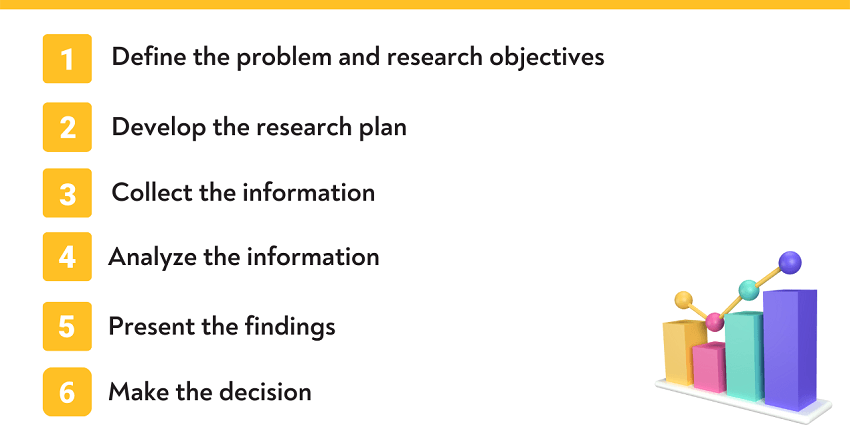 7. Marketing Plan
Once you're done with the marketing research, it's time to note down the gathered insights in the form of a plan.
A marketing plan is a written document that showcases the market opportunities, core audience, and other important aspects learned from the marketing research.
It also highlights the business objectives along with the strategic plan to achieve the goals and objectives in a given time period.
Some of the most important elements of a marketing plan are →
Executive summary
SWOT analysis report
Marketing mission statement
Risk analysis report
Business goals
Target markets
Market demographics
Competitors analysis
8. Value Chain
The value chain is a set of tasks a company performs to deliver its products/services to the target audience (specific geographic area). This is an important marketing feature that allows brands to increase customer value.
There are multiple activities that could be performed to improve the value chain process.
Two of them are:
Inbound logistics
Outbound logistics, etc.
The best way to choose the value chain strategy is by analyzing the cost, expense, and effectiveness to deliver a product to the defined groups of audience.
9. Customer Value Analysis
Customer value analysis is a method of understanding a customer's perspective on the strength and weaknesses of the companies and their products.
In this method, customers are asked a different set of questions to identify:
How customers rate the products
Importance of different product features and benefits (from competitors too)
How the target audience rates one company's performance against its competitors.
10. Customer Satisfaction
In this competitive market field, marketers need to look beyond the sales and revenue number. They should also aim for customer satisfaction and the customer lifetime value, market share growth, etc.
To improve the overall performance of a company, managers need to start with employee satisfaction as this will lead to a healthy and positive customer relationship.
Several ways to measure the customer satisfaction level on a regular basis are:
Conducting online and offline surveys
one on one phone calls
customer interviews
email questionnaire, etc.
However, it is important to understand the risk of running continuous surveys or meeting customers. To maintain a good customer experience, a company should not conduct multiple surveys that are complex and take a long time to complete.
Instead, looking for simple ways of collecting data and even offering survey rewards is also a great way of encouraging existing customers to participate.
Read this guide to learn how to measure customer satisfaction.
11. Marketing Funnel
A marketing funnel is a way of visualizing a prospect's journey going from a stranger to a repeated paying customer of a brand.
It highlights the process and different stages that a prospect goes through.
In a simple way, we can categorize the whole marketing funnel into four buckets such as:
Awareness: when the prospect is not aware of the brand or their problem.
Consideration: the prospect is now solution aware
Decision: It's time for the prospect to make the final purchase
Retention: when the customer makes a repeat purchase from the same brand
Let's get a step further, where you'll see many more stages that a prospect goes through in the buying journey.
Here's the visual illustration of the marketing funnel (with examples) →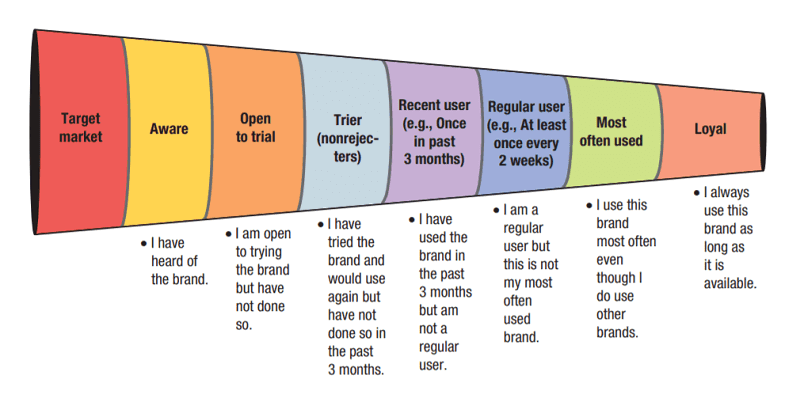 Start measuring the performance of your marketing funnel by the conversion rate of each stage. This way, you can also identify the funnel stages from where customers are exiting the most.
Key learnings here are→
As a marketer, your goal should be to focus on customer acquisition and retain the existing customers because increasing customer retention by only 5% can lead to a profit increase by 25-95%, according to Bain & Company.
The end goal is to get as many loyal customers as possible. And, to this, you need to take consumers as deeply as possible within the funnel.
Or, try to extend the funnel for your prospects. This may decrease the conversion rates but can improve customer loyalty.
Relevant Read: Content marketing for startups
Core Marketing Concepts
Whether you're an online marketer or follow the traditional approach, these marketing concepts will help you build a solid user-centric marketing strategy.
1. Needs, Wants, Demands
One of the core marketing concepts is understanding the customer's needs, wants, and demands.
| | | |
| --- | --- | --- |
| Concepts | Description | Example |
| Needs | Basic requirement for all human beings. | Foods, clothing, etc. |
| Wants | Wants are desires needed for human beings, but these are not the must-have things for survival. | Education, entertainment, etc. |
| Demands | "Demands are wants for specific products backed by an ability to pay." | iPhone, Expensive cars, etc |
By knowing these concepts, marketers can map their product and brand strategy with the end consumer. In fact, the strategy may also include tactical guidelines on how to influence the demands and wants of consumers.
For example, you'll see many products that come with multiple versions—one with basic features and another one with premium features, support, and additional cost too.
2. Target Markets and Segmentation
It has been said that "Marketing to Everyone is Marketing to No One." That means every product or service should be built for a specific group of people to solve their specific problems or meet their desires.
This is why you, as a marketer, need to narrow down the core audience as much as possible to identify the actual target market.
One way of identifying the target market is through market segmentation.
Market segmentation includes categorizing the total audience by age, group, culture, demographics, psychographic details, etc.
Once you're done with market segmentation, now's the time to find the market segment with the highest opportunities.
In this way, you will not have an engaged and specific core audience, but you can also personalize your marketing strategy based on the segment.
3. Brand Or Product Positioning
Positioning can be the foundation of your marketing strategy as it leads to improving the product positioning and its offers to the end-users.
Regarding brand positioning, you need to have a close look at the following:
Competitors
Core audience
Unique value delivered by the product
Market category, etc.
Watch the below video to learn positioning in a crowded market:
4. Offering And Branding
Don't get confused with the terms 'branding' and 'positioning.' Both are different.
"Branding is endowing products and services with the power of a brand.
It's all about creating differences between products.
Marketers need to teach consumers "who" the product is—by giving it a name and other brand elements to identify it—as well as what the product does and why consumers should care."

– Philip Kotler
If the consumers cannot differentiate your product from ten other competitor products, it's important to focus on this area first.
So the first step of developing a successful brand strategy, marketers need to think about differentiation.
Let's have a close look at the different stages of branding.→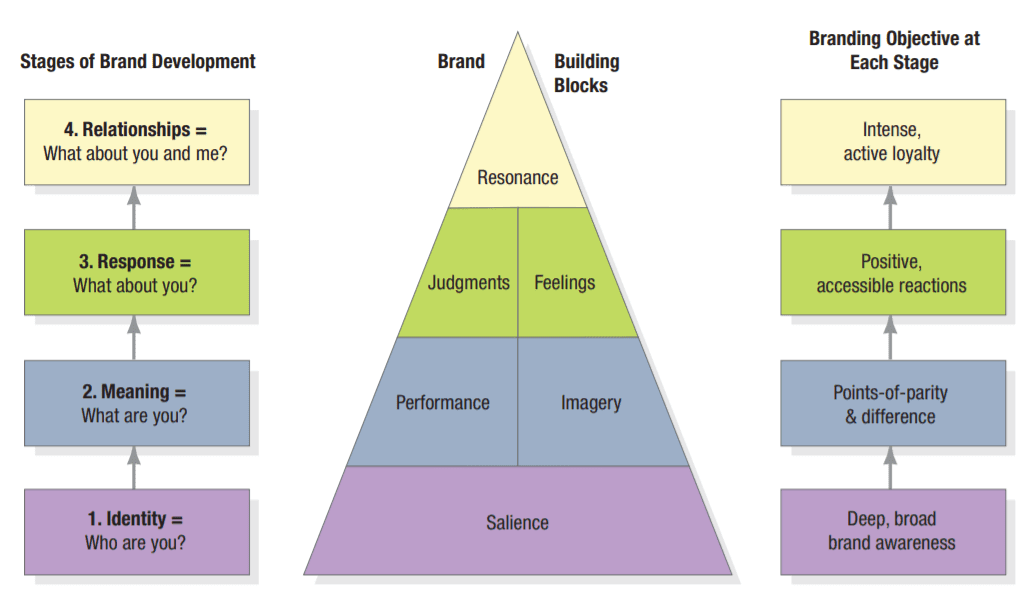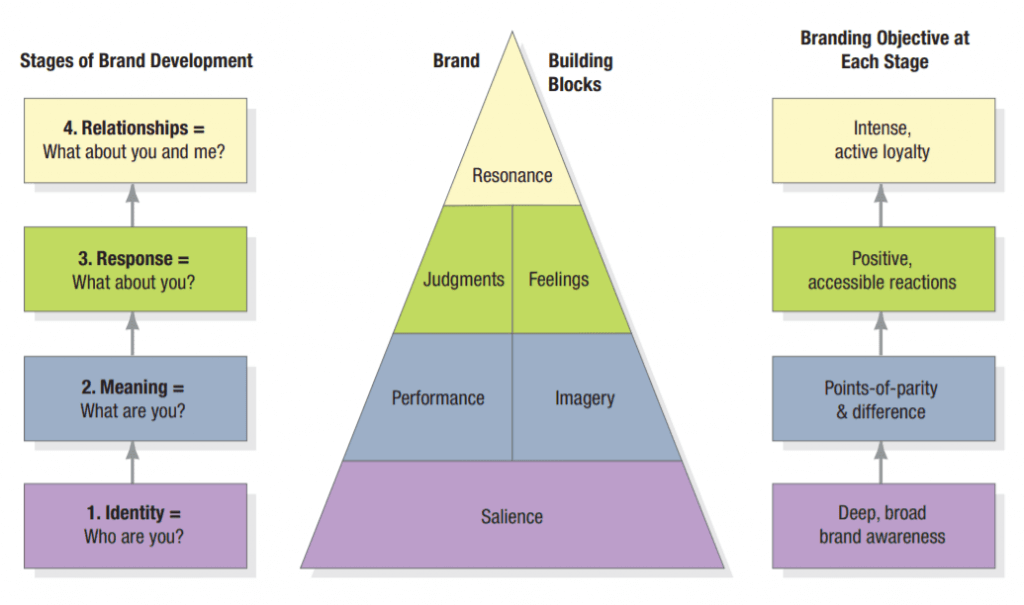 5. Marketing Channels
There are mainly three types of marketing channels such as:
Communication channels: These channels are necessary to communicate with the consumers. It could be on offline or online mediums. Examples are newspapers, magazines, blogs, social media, etc.
Distribution channels: every product needs a distribution strategy to make the product or service available for the end-users. For a physical product, distributors, retailers play an important role. Otherwise, online channels like email, video platforms work well.
Service channels: this includes all the services related to transactions, transportation, banks, etc.
6. Supply Chain
The supply chain is a systematic journey of conceptualized products going to the hands of the end consumers through manufacturing, distribution, and selling.
You need to consider three core elements; manufacturers, wholesalers, and sellers.
On the other hand, the supply chain process looks very different for a digital product. In this case, manufacturers or creators can directly reach out to the end-users, eliminating the distribution channels.
7. Holistic Marketing Concept
Holistic marketing is a marketing strategy under which all organizational departments work to achieve a common business objective.
For example, there might be multiple departments within a company. But when they work together to achieve a common goal (e.g., building an energetic brand image), it's called the holistic marketing approach.
Here are four important elements of a holistic approach→
Internal marketing: From the upper level to the bottom of the hierarchy, every employee or team member shares the same goal and marketing principles.
Integrated marketing: Various departments must ideate, develop, and even execute marketing campaigns.
Relationship marketing: Forming healthy relationships with customers, employees, and other marketing partners.
Performance marketing: Understanding and measuring the business return of the marketing efforts and programs.
8. Product Life Cycles
Marketing, branding, and even product strategy must comply with the change in the company because the products or services offered by a company might change in the future. Or, the product life could be shorter as compared to other brands.
Here's the chart that illustrates the growth of a usual product life cycle.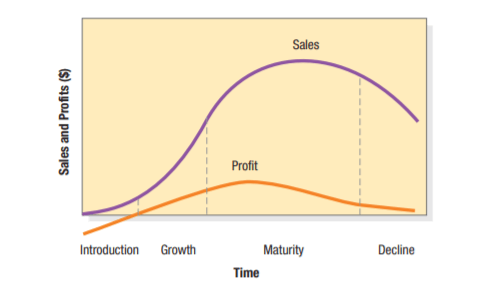 Initially, the product gets less traction as it takes time for people to trust and distribute the products to the market.
Then the product starts getting growth (if it is good enough and the audience sees value in it).
Next comes the point where the product hits a certain threshold.
Looking at different stages of a product, it is important to consider changing the product, marketing, and positioning strategy (if needed).
Marketing Concept that everyone should learn
Learning and taking advices from experienced marketing professionals can really make the journey easy for you.
This is why I've asked marketing professionals over Facebook about one key element that everyone should study and understand in marketing. Here are some of the answers:
Here are the some of the answers:
Behavioral Psychology – one of the most important skillset recommended to acquire as a base knowledge is understanding how the consumers think, feel, reason, and make decisions. Understanding different cognitive biases is a good way to start.

– Harshit Gupta
Marketing is doing hypothesis testing at its core. You assume this will sell, attract, and get more clicks. You do it and then measure to see if you were right or wrong?

If wrong, then why? If right, then also why? This will help you identify a winning idea.

– Zain Siddiqui
Marketing is understanding, analyzing and solving the problem with a solution and getting paid at the end. Not only materialistic things but solutions for emotions, ego, jealousy, curiosity etc.

– Prasad Karthik
Understanding the concept of complementarity and how it applies to marketing.

– Mohtashiem Khaan
Final Words
That's all, folks.
Marketing is a vast field, and it takes years to understand and become better at it.
However, learning the basics and fundamental concepts is always the best approach to start with.
I hope this will guide you to do the exact job for you.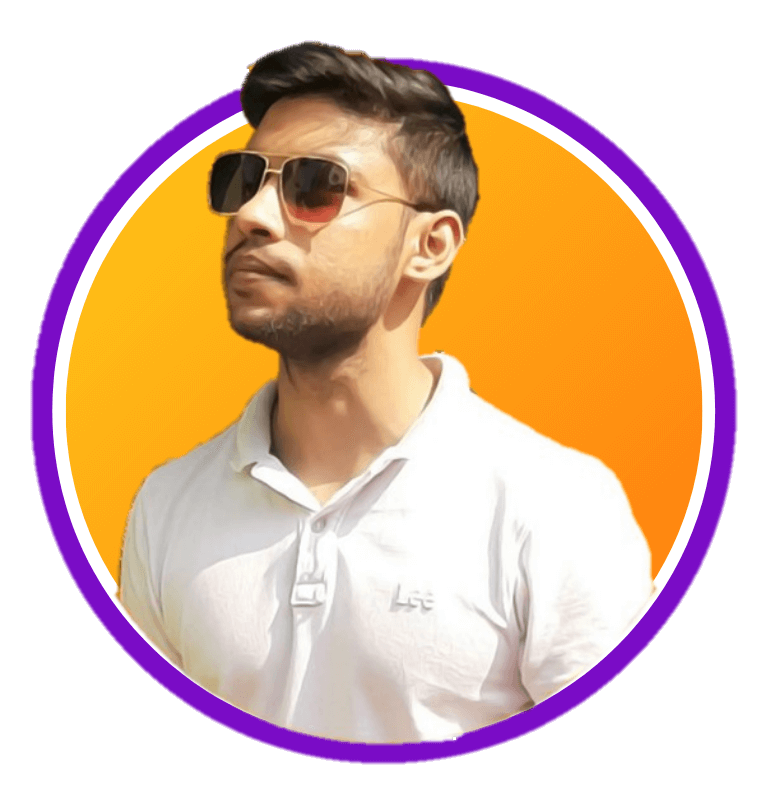 Sk Rafiqul Islam is a content marketing practitioner with 3+ years of practical experience. He spends most of his time helping businesses to build a loyal audience with content marketing. He is also running a tech career blog called 10Pie and content marketing VIP, a bi-weekly marketing newsletter. In his free time, he loves reading books and playing football.