In this complete guide on mobile content marketing, I'll explain:
What and why of mobile content marketing
5 actionable mobile content strategies to implement in 2021
Strategies to optimize mobile content
How to improve mobile conversion rate
And many more…
Without further ado, Let's get started. →
What Is Mobile Content Marketing?
Mobile content marketing is the practice of optimizing your content marketing strategy, especially for smartphone and tablet users. This includes optimizing websites for mobile SEO, enhancing the user experience on smartphones, content readability, mobile-friendly emails, and so on.
Why Is Mobile Content Marketing Important?
Usually, the ultimate goal of content marketing programs belongs to any of the following:
Brand awareness
Traffic growth
Lead generation
Increasing sales
Or customer retention
And, the mobile content strategy plays an important role in improving the end goals for your business.
Let's find out how →
1. Mobile Share Of Google Organic Search
Brands that are yet to integrate mobile search in their marketing strategy needs to know the fact that:
The majority of online searches are coming from mobile devices.
In fact, 59% of the entire Google organic search comes from mobiles and smartphones.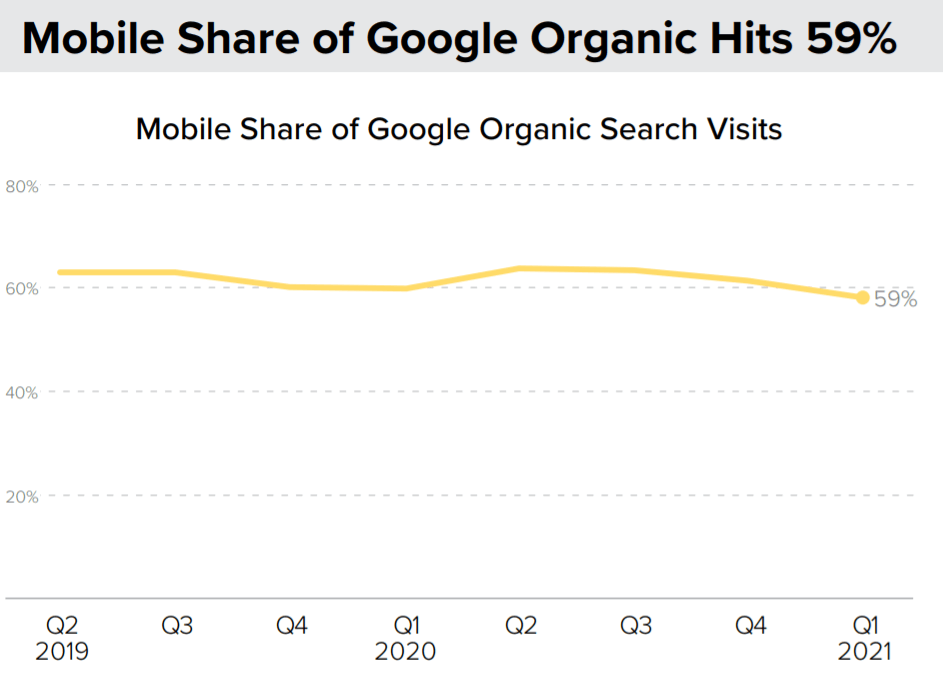 Not just that.
For some specific industries, the mobile share of organic searches is more than 70%.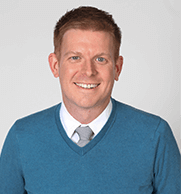 "Marketers who think there is time to prepare before the mobile tipping point occurs should take note that mobile devices already account for a majority of online searches and the time for action is now."

John Fetto (Senior Research & Marketing Analyst at Hitwise)
Since SEO is still one of the best ways of driving highly targeted traffic to your site, you should focus on mobile SEO.
Also, Google has officially announced mobile-first indexing.
That means the search engine will now use only the mobile version of the web page for indexing and ranking on Google.
Previously, the indexation and ranking were done based on the desktop version of the content.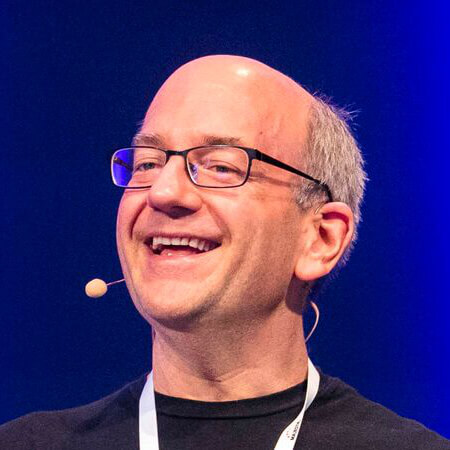 So when a site is shifted over to mobile-first indexing, we will drop everything that's only on the desktop site. We will essentially ignore that. …anything that you want to have indexed needs to be on the mobile site (PubCon 2020).

– John Muller
This strongly indicates how important it is to optimize your site and content for SEO.
2. Mobile Devices Can Fuel Bottom Line Growth
There are two primary reasons to consider social media into your content strategy:
Helps in Audience research (collecting feedback, content ideation, etc.)
Expands your content distribution effort (Brand awareness, content reach, etc.)
Nowadays, social media takes an important role in a content marketing strategy, even in the B2B segment.
Here's the thing:
84% of millennials are more likely to become paying customers of the brand they follow on social media, according to the Sprout Social Index 2020.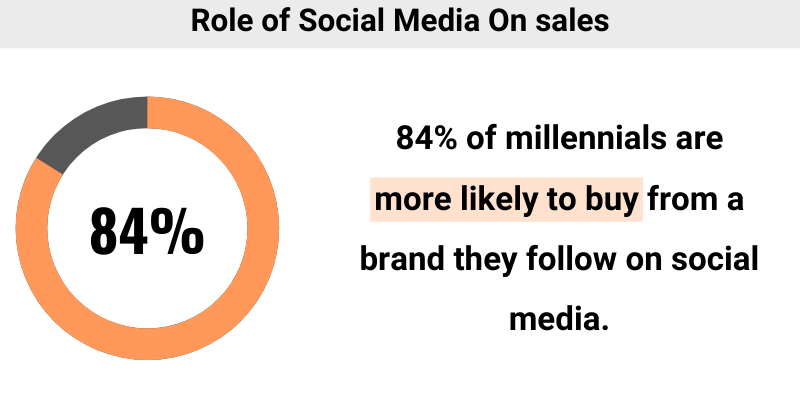 That means you have to have a solid mobile strategy for social media to fuel your overall content effort.
BUT…
Why is a mobile strategy more important for social media than a desktop?
It's because (one of the reasons):
99% of social media users access their favourite social media networks via tablets or smartphones, according to the GlobalWebIndex, WorldoMeters.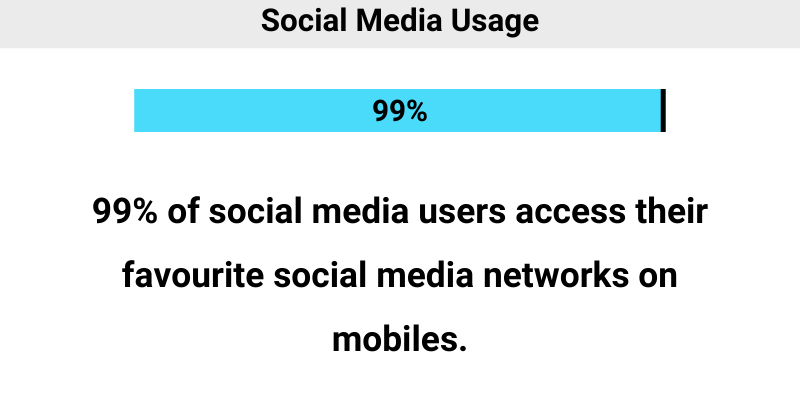 Bonus: Get access to 130+ free content marketing resources
3. Mobile Devices Can Fuel Bottom Line Growth
Marketers can no longer ignore the mobile email strategy.
The reason is super simple.
The number of email open rates on smartphones or mobile devices is increasing year after year.
In 2016, the average email open rate on mobile devices was 55%, which increased up to 81% by the end of 2020.
That's a 26% jump in just four years.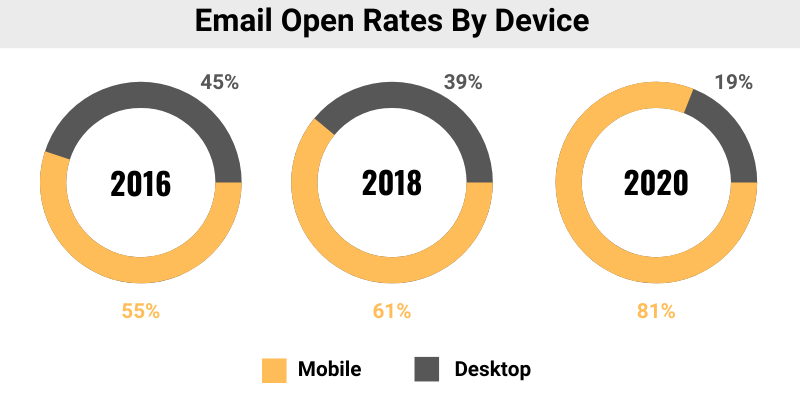 If you're a content marketer and your brand is somehow involved in email marketing or even planning to start soon, there's no alternative to mobile email strategy.
The list is not made yet.
There are a few more reasons why you should start and optimize your mobile content strategy.
Some of these are:
Mobile applications help you in geo-based marketing
Upwards trend of voice search (27 % of the entire global online population uses voice search on mobile devices, ThinkwithGoogle.)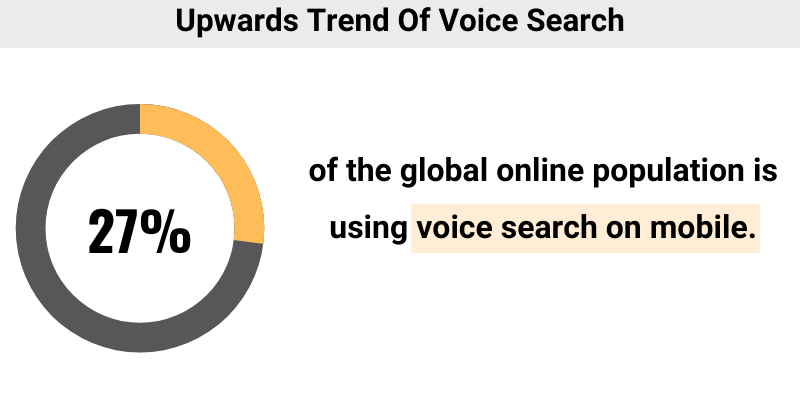 Smartphone users have high transactional intent (60% of smartphone users have contacted business directly from search results)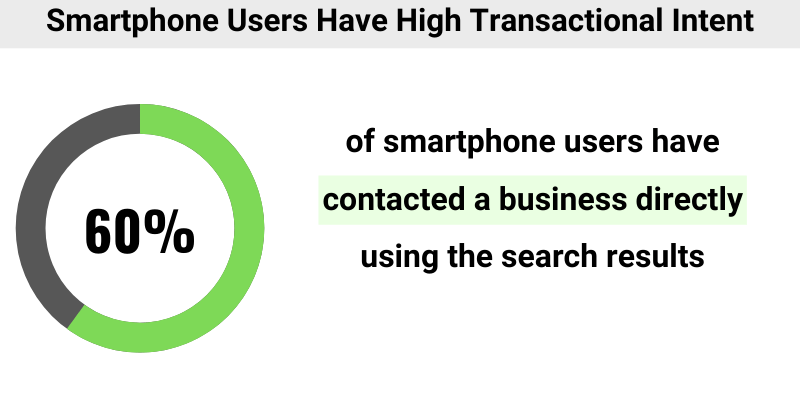 Content personalization on mobile-friendly sites or mobile app leads to more sales (63% of mobile users are more likely to buy from brands that offer relevant product suggestions)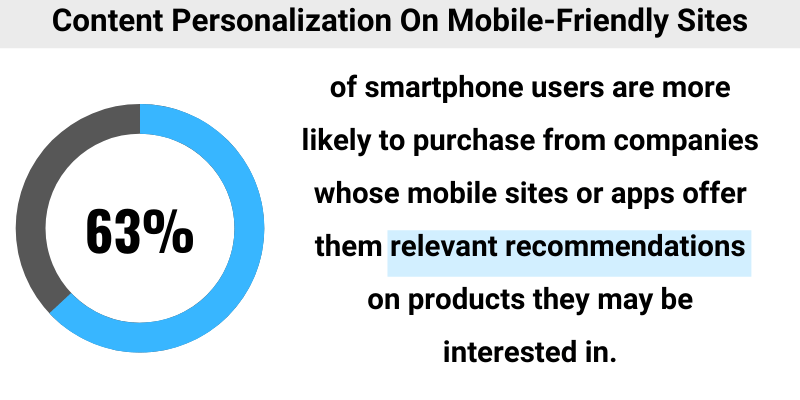 Best Practices And Strategies For Mobile Content Marketing
Now comes the actual part, where I'll show you:
How to optimize your mobile content strategy to maximize your content marketing effort.
And, the first strategy is to optimize your site for mobile SEO to maximize your organic traffic potential.
1. Optimizing For Mobile SEO Strategy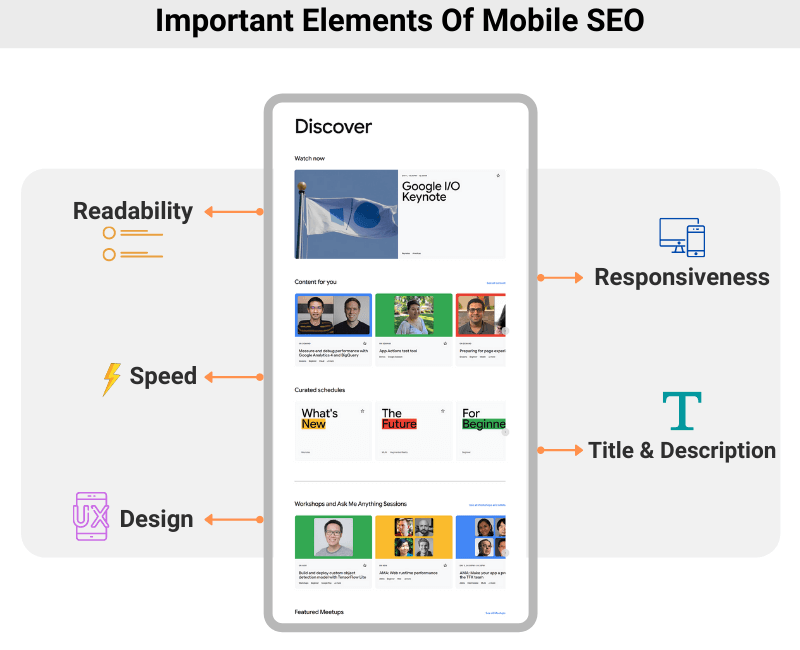 The first step is to test whether the web pages of your site are mobile-friendly or not.
To do that, simply put different URLs of web pages in to Google's mobile-friendly testing tool.
Here's an example of how the results look like: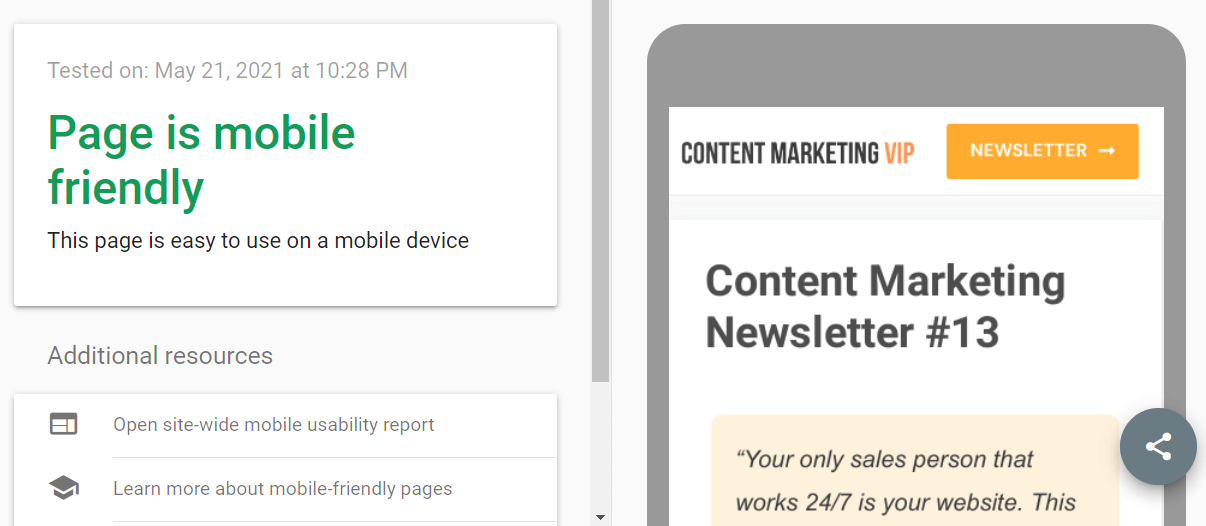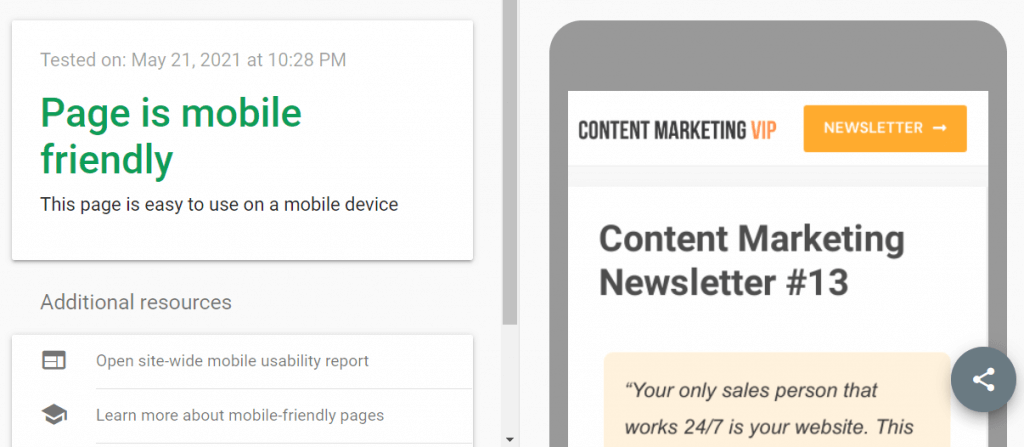 Make sure your site follows the responsive web design. That means no matter which device your user is visiting your site from, your site's design, font size, layout, etc, will adapt to their display size.
Below you'll find the visual difference between a responsive design and a non-responsive design.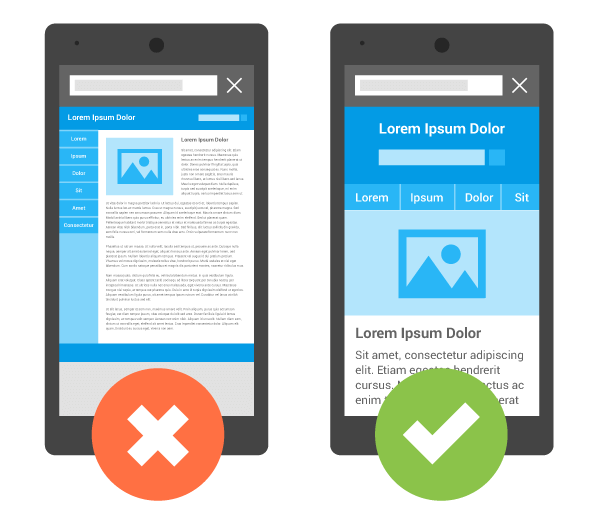 Recommendations Regarding Making Your Site Responsive:
If your site is being built on WordPress, then consider choosing a mobile-responsive theme.
Check for unplayable videos on mobile devices. To fix this, embed videos that are playable on all types of devices.
Make sure font sizes on mobile devices aren't too small. Usually, 18px is good enough to make the content readable.
Add enough between buttons, links, text, etc. This will also lead to a poor user experience.
Ensure that mobile users aren't visiting the desktop version of the web page.
Don't overdo pop-ups. In most cases, pop-ups or interstitials create a bad experience on mobile devices. Avoid whenever it is possible.
Relevant Read: Video content marketing guide
---
2. Make your site load faster on mobile

Page speed has been a ranking factor since 2010. Yes, page speed is important for both desktop and mobile users.
But you need to give special care for mobile speed insights.
Here's why:
Page loading time on mobile devices is higher as compared to the desktop version.
Mainly because of slower processors on mobile and smartphone devices, you'll find a significant difference in page speed insights.
Best Practices To Follow To Improve Mobile Page Speed Insights
Start with measuring the page speed on tools like PageSpeed Insights to measure the performance after the optimization.
Compress images to reduce the heaviness of the webpage. If you're using WordPress, I recommend using plugins like Compress JPEG & PNG images or ShortPixel.
Use CDN to boost your site speed. You can even start with Cloudfare's free version.
Caching plugin reduces your manual effort in minifying resources like HTML, CSS, JavaScript, etc. WPRocket (paid), W3 Total Cache (freemium) are highly recommended.
Try using better hosting. Sometimes, because of the poor performance of your hosting, the page loads a lot slower.
Also, watch this amazing case study by Ahrefs, where they managed to reduce page speed significantly.
---
3. Localized Content Strategy For Mobile (Local SEO)
If your business has a physical store and serves local customers, you need a localized content strategy.
The goal?
To take advantage of buying intent-based local searches.
Let me cite an example.
You'll get personalized and localized SERP results when you do local searches, such as, 'Men salon near me.'
And, these localized searches from smartphones are more likely to get converted because of the high buying intent of the users.
In fact, "76% of people who search for something nearby on their smartphone visit a related business within a day, and 28% of those searches result in a purchase."- ThinkWithGoogle.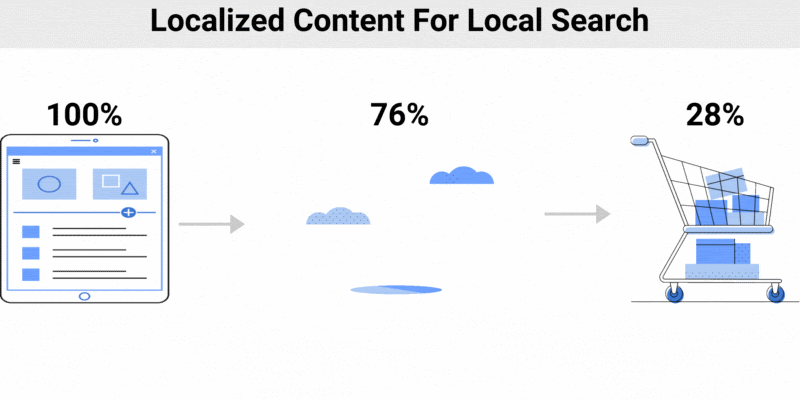 Also, it is found that 30% of all searches are location-oriented, Google. That opens up a huge opportunity for local businesses to show up on the SERP.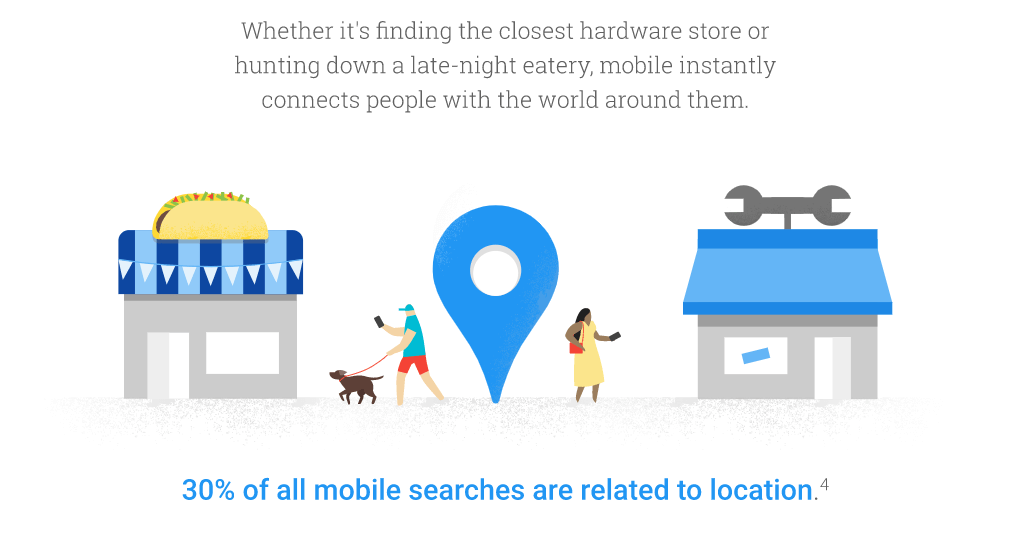 So, how do you optimize your localized content strategy?
Best practices for local content optimization
> Mention local area in the content
You can mention the local area, city name, local stores within your content and web pages a well.
Important pages like service/product pages, about page, reviews/testimonials page, and others could be possible places to reference local areas.
Don't just keyword stuff with the city or local area name. Instead, add them in a meaningful way like the below one.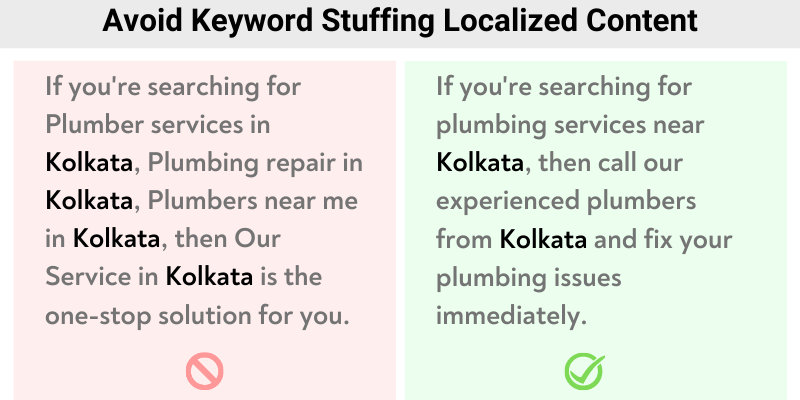 > Focus on NAP
The SEO term 'NAP' stands for Name, Address, and Phone Number. NAP citation across the web helps Google know about your local business and rank web pages based on local searches.
The first thing you have to do is include NAP information across all of the web pages. Footer is a common place for most local businesses to add this information.
Here's an example.


TIP: Whatever the NAP information of your business is, ensure that this information is consistent all over the web.
Whether it is on the service page or in any business directory, NAP should be consistent.
> Localized blog posts
Localized blog posts are also helpful in showing Google the relevancy and area that your business operates in.
So, What to write about for local businesses?
Some of the content topics for local businesses are:
Local events (are there any relevant local events or awards ceremony?)
Best in class (Who are the best service providers in your local area?)
Featuring local businesses (Interview local service providers, business founders)
Statistics-based content (Either run a survey or collect data specifically for your business area. Then, turn them into insightful content)
> Title and URL optimization
Include local keywords such as city name or an area name, or even state name in the Title Tag, meta description, and URL (if it makes sense)
Though the meta description is not a ranking factor and even it can be re-written by Google itself, consider writing a relevant meta description that matches the intent of the page.
This practice also helps to improve the CTR since the search appearance is location-based personalized.
Your goal should be to make your results helpful for relevant people in your business area.
TIP: The chances are that the title tag will contain the company name. But make sure that the company name is added at the end of the title tag.

> Get local links/ citations (Tips from Rand)
Getting mentions or links from other authoritative sites still adds a lot of value in terms of SEO visibility.
Likewise, in local SEO, links/ citations from local sites and businesses add a lot of credibilities that improve in:
Google Map visibility
Local keyword rankings
Overall domain authority
Here are some of the easy ways of looking for local mentions opportunity:
Search operator
First, make a list of businesses (your competitors + non-competitors as well).
Next, perform this google search for each of the business;
"Business Name" -site:domain + City Name
For example: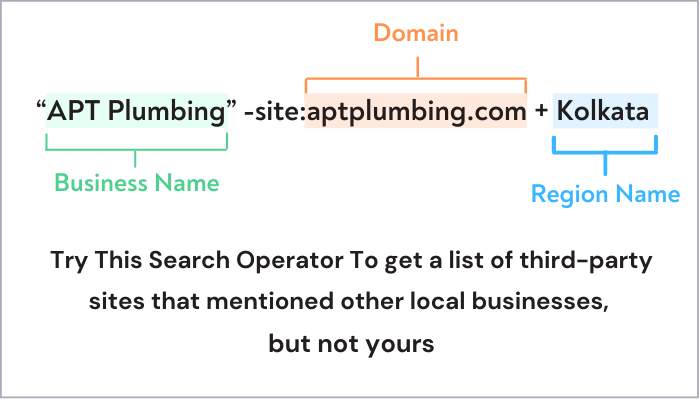 "APT Plumbing" -site:aptplumbing.com + Kolkata
This google search will now show you all other sites that mentioned the business name and the region.
Perform the same search options for other business names as well.
You'll easily get third-party places where you can also pitch to get featured or mentioned in the list as well.
Another way is using Ahrefs (or any other SEO tool) and performing a link-intersection analysis.
That will show you the list of sites that mentions your competitors but not yours.
Relevant article: What is EAT in SEO and how to improve it
> Structured Data
It's time to make structured data your best friend. Here's what John Muller from Google suggested on using structured data.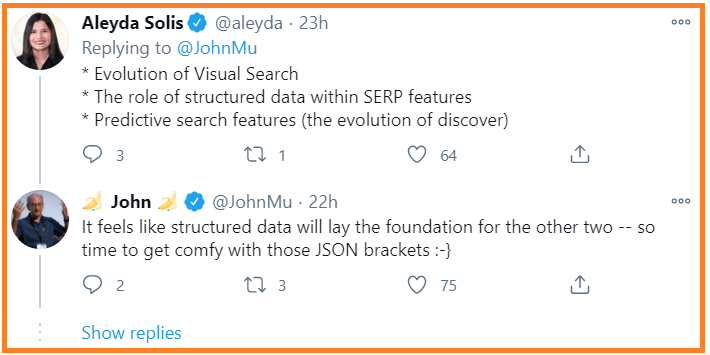 When it comes to local business, schema markup can help in providing Google important information such as business name, address, phone number, city, state, working hours, and many more.
If you're using WordPress, then plugins like RankMath, Yoast SEO, will do the job yours.
Otherwise, you can visit MicroDataGenerator and fill in the required business information as shown below.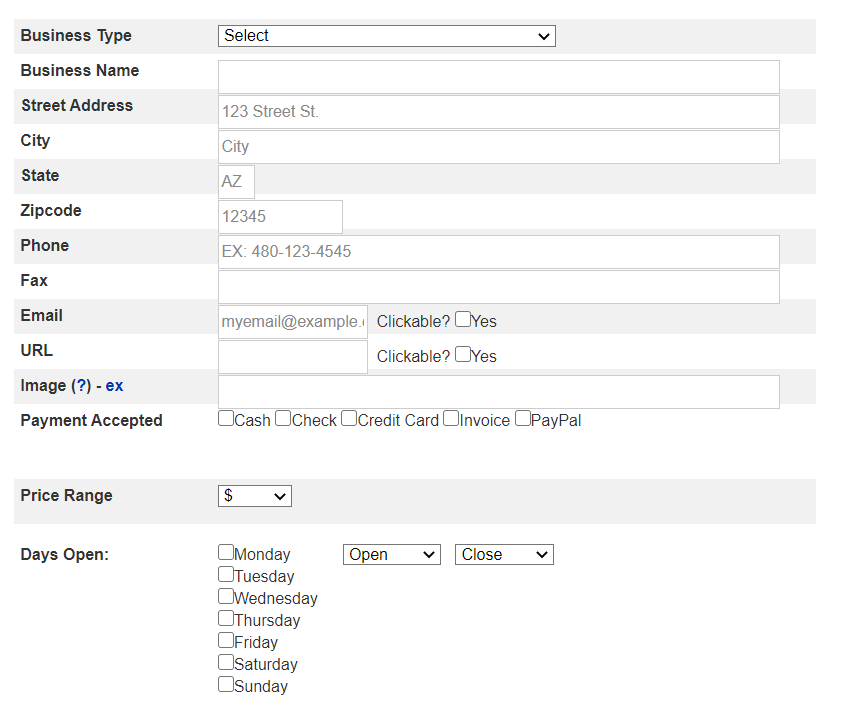 Next, copy the output in the JSON version and implement it on your site. Make sure to test your schema to avoid issues.
> Optimize Google My Business
Here's a step-by-step guide on optimizing your GMB listing.
4. Mobile Email Strategy
Most successful content marketing programs have one thing in common; that is email strategy.
The reason is simple.
"Email newsletter is the only place where individuals — not algorithms — are in control."- Ann Handley.
You own the audience, whereas building an audience on rented lands such as Twitter, LinkedIn, or Facebook never gives you the control.
But if your email marketing plan isn't optimized for smartphones, you're missing out on a huge opportunity.
Here are some of the proving facts:
"Every 1 out of 3 email clicks is registered on mobile devices."- If your email isn't optimized for mobile devices, the CTR is more likely to be decreased.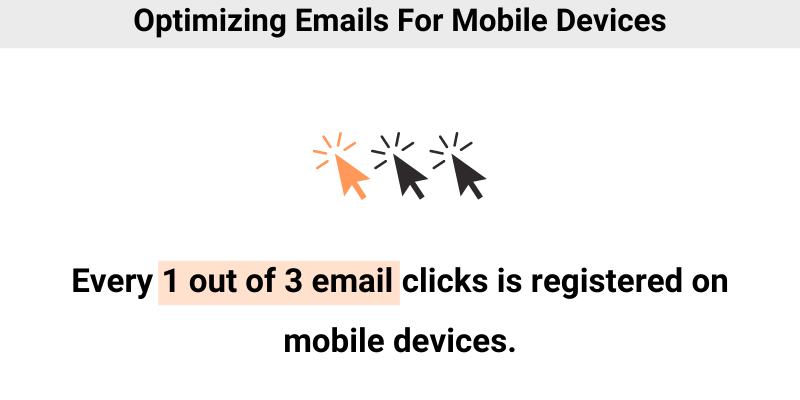 Due to poor formatting of mobile emails, 15% of subscribers unsubscribe, and in 70% of cases, the email gets deleted within 3 seconds.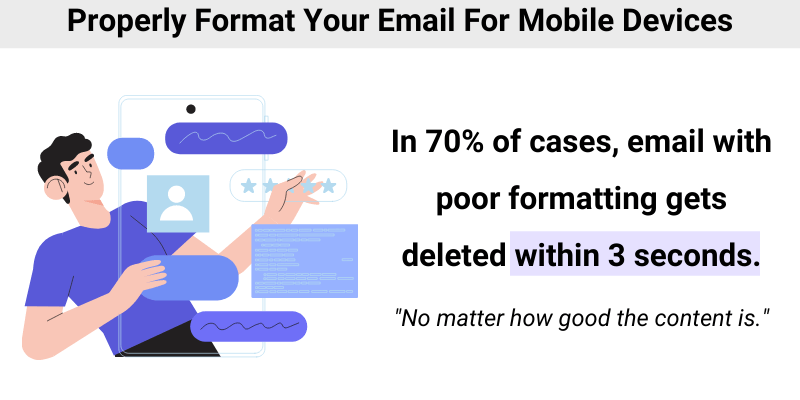 So the question is: How Do I Optimize My Mobile Content?
Here are some of the best practices to optimize mobile content for email marketing.
Email marketing tips for mobile devices
1. Optimize your email for better open rates
Because of the small display size, your email message has to be formatted properly, so it gets displayed properly.
Here are four elements you should consider:
Send emails from a person's name- HubSpot's study found that emails sent from a person's name get better CTR than emails sent from a company name.
Make your subject line as short as 30-35 characters– In Gmail, subject lines of up to 41 characters are viewable on mobile devices.
Use preheader text strategically- First, don't make the mistake of not using any preheader text. Second, making your preheader text under 35 characters can increase CTR, Litmus. If that's not possible, try adding the most important words in the beginning.
Use a person's image instead of the brand logo- Using a brand logo isn't anything wrong. In fact, that can be a planned strategy (e.g., thehustle). But a person's image makes your message more personal.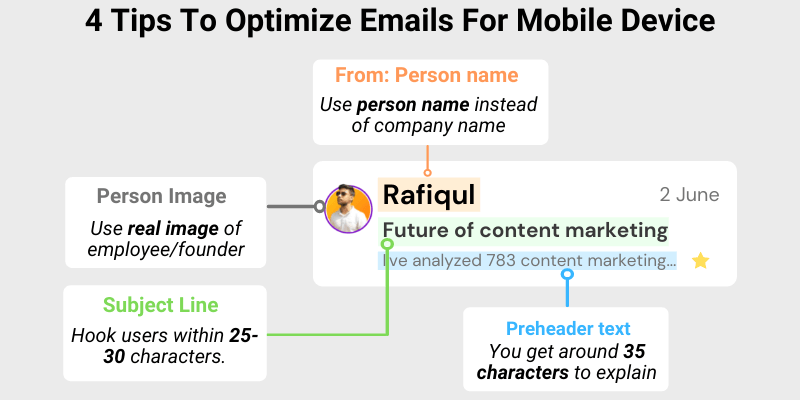 Check my article on email marketing lessons I learned from Noah Kagan
2. Place your Call-To-Actions for higher CTR
Using a mobile device is quite different from using a desktop. People usually use their thumb to navigate smartphones.
So, placing your CTA at the wrong place (hard for your thumb to reach) can reduce the CTR,
Consider the following thumb zone to place your CTA accordingly.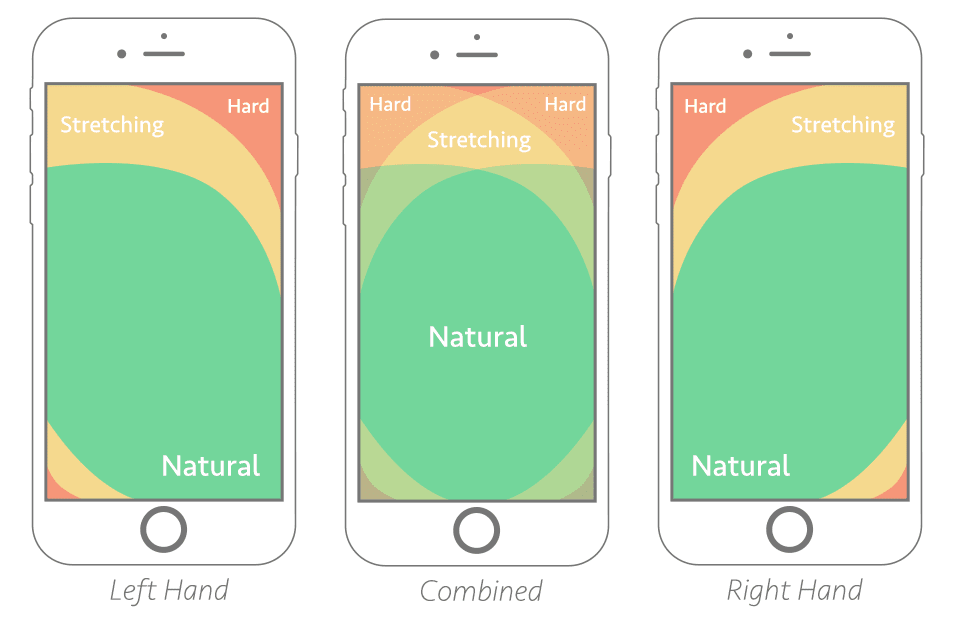 Image source: Smashing Magazine
Places to avoid adding CTAs:
| | |
| --- | --- |
| Right Hand | Left Hand |
| Top-left | Top-right |
| Bottom-right | Bottom-left |
3. Focus on Readability
Since most subscribers will use mobile devices to access your message, it is worth improving the readability of the content for a smaller display size.
Here are some of the basics to improve email readability:
Use short sentence
Paragraphs of more than 2-3 sentences make it a little difficult to read on mobile devices.
4. Timing
The first rule of identifying the best time to send a message is "never blindly trust any data or statistics that tell you to send email campaigns at a particular time."
Here's the reason:
Everyone will have a different audience set, and therefore, the geolocation and habits will vary accordingly.
Instead, test with different timings and make it permanent only after having enough data.
Plus, one common mistake is sending emails when everyone is fighting for the top spot of the email inbox.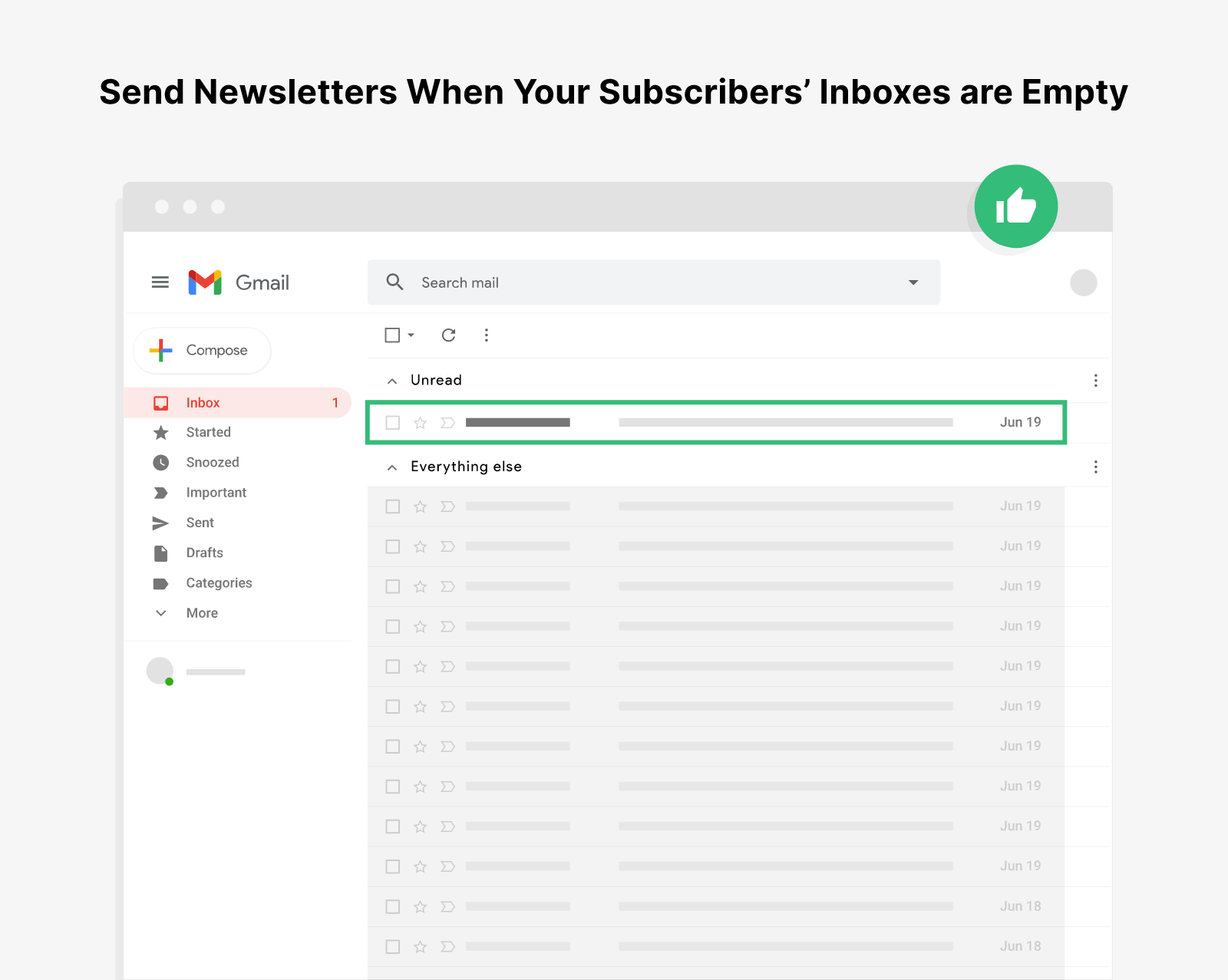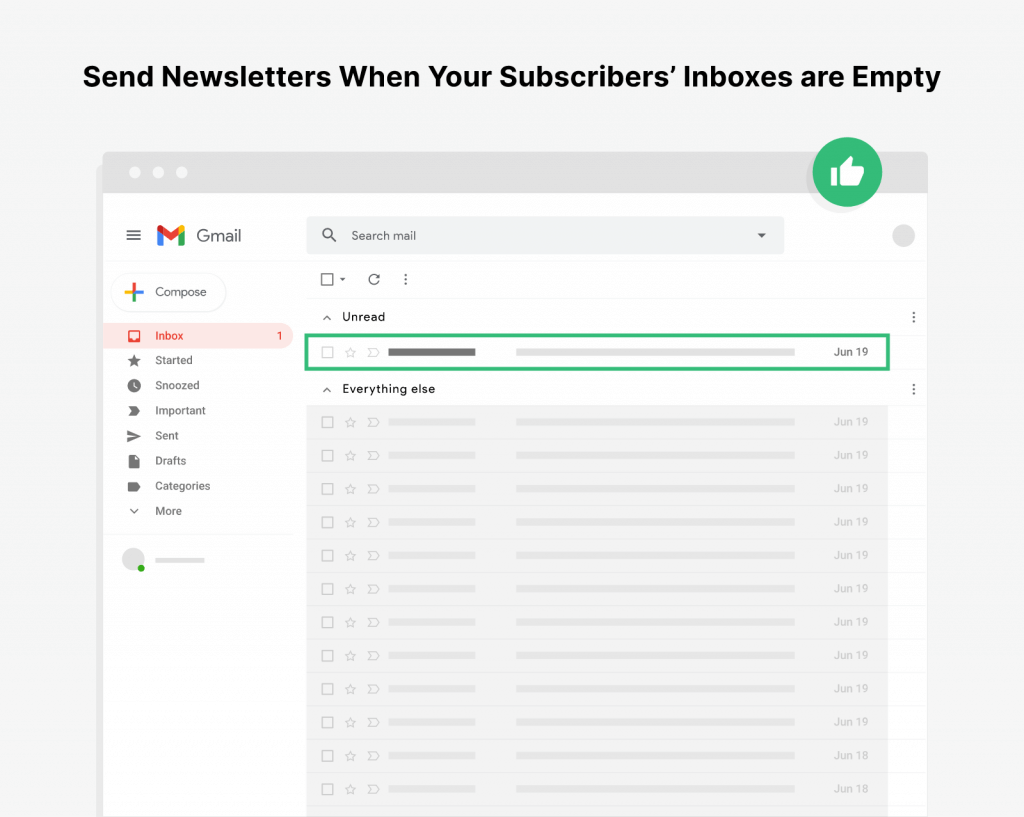 What to do then?
Do a lot of testing. There's no shortcut to getting the magic timing.
5. Mobile templates
One question that every email marketer once asked is "HTML vs. Plain Text- which one to choose."
Even though the email format depends on the brand's requirement with the content, it is safe to say that plain text emails perform better than HTML-based emails.
Marketo's experiment in 2017 found that text emails had 17% higher unique click-through rates than HTML emails.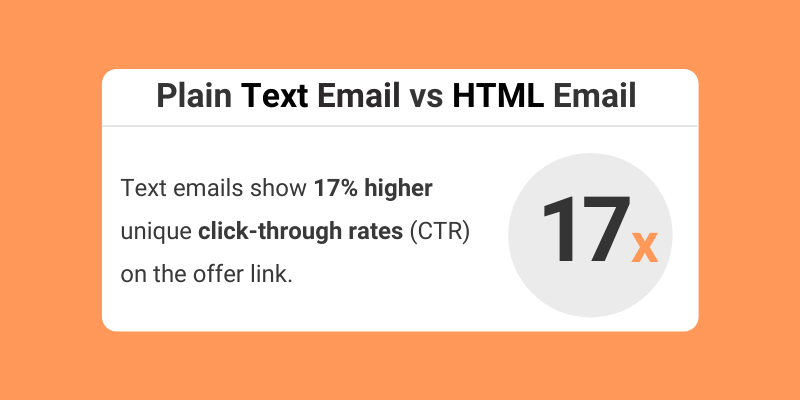 Again, it is always a better idea to test it out for your audience and content.
---
5. Conversion-Rate-Optimization for Mobile Site
One mistake that many marketers make is focusing only on the traffic when they want more conversion.
In fact, a little increase in conversion rate can boost the number of leads significantly.
Here's the math →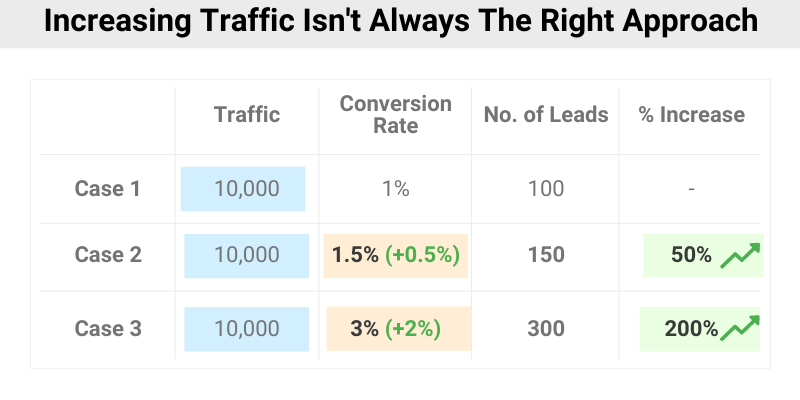 As you can see from the above example, a 0.5% increase in conversion can boost the number of leads by 50%.
And, conversion-rate-optimization for mobile sites is essentially important as most of the consumers prefer shopping from smartphones.
Here are some of the best practices of conversion rate optimization for mobile sites.
> Mobile speed
Again, page speed matters a lot to improve user engagement, reduce bounce rate, and even increase the conversion rate.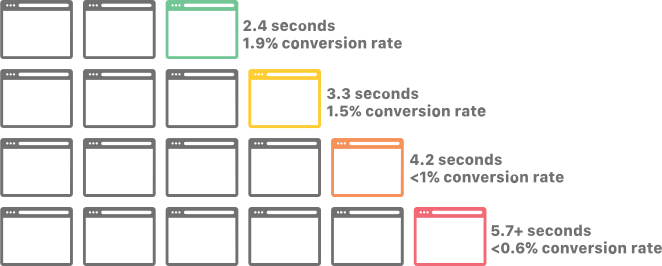 Image source: Cloudfare
Please check above, where I've shared the top recommendations to improve your page speed.
You may also like my guide on improving conversion rate using social proof.
> Less friction, more conversion
Companies who sell products through mobile sites or mobile apps need to provide a great checkout experience with less friction.
Friction indicates the number of steps or screen taps a user needs to complete a product checkout.
On average, there are 120 taps to complete by a user to complete product purchase.
And, because of this many required taps, the abandon rate is 27%.
The number of taps may include typing name, address, phone number, loading new pages, etc.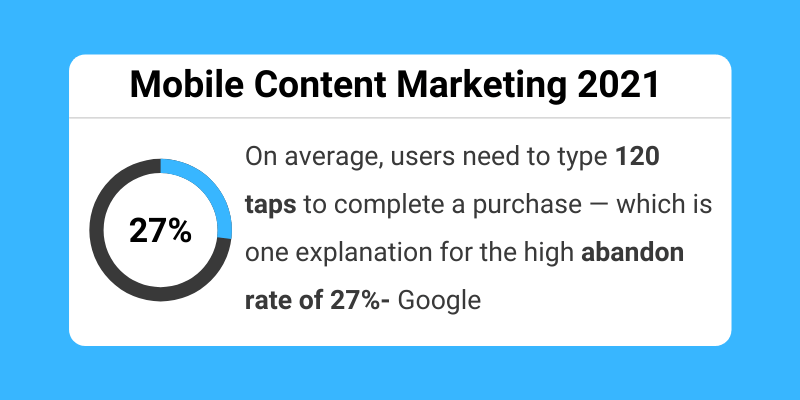 First, identify the number of steps unique visitors need to take to buy a product from your site.
Though there is no fixed rule, try to lower this as much as possible.
Possible reasons why too many taps required to complete a purchase
Lack of easiness in payment integration
Too many page loadings for a single purchase (if a user needs to open too many pages before actually purchasing the order, consider redesigning the page flows)
Not using a payment solution like Google pay (Google Pay makes the payment process super easy, and it takes only about four taps to complete the payment process)
> Find poor performing pages on mobile devices
Google Analytics is a lot more than just tracking the monthly visitors and traffic sources.
One important tracking dimension is exit percentage.
This is how GA defines exits % →
"%Exit = (Number of exits) / (number of pageviews) for the page or set of pages.
It indicates how often users exit from that page or set of pages when they view the page(s)."
Exit rates show us the pages from where users leave the site. It could be because of poor page speed, irrelevant content, or any other reason.
Let me show you how to find exit rates for mobile devices:
Follow the GA path: Behaviour → Site content → Exit pages
Next, add an advanced filter to get pages with at least 100 pageviews.
This is what you'll get.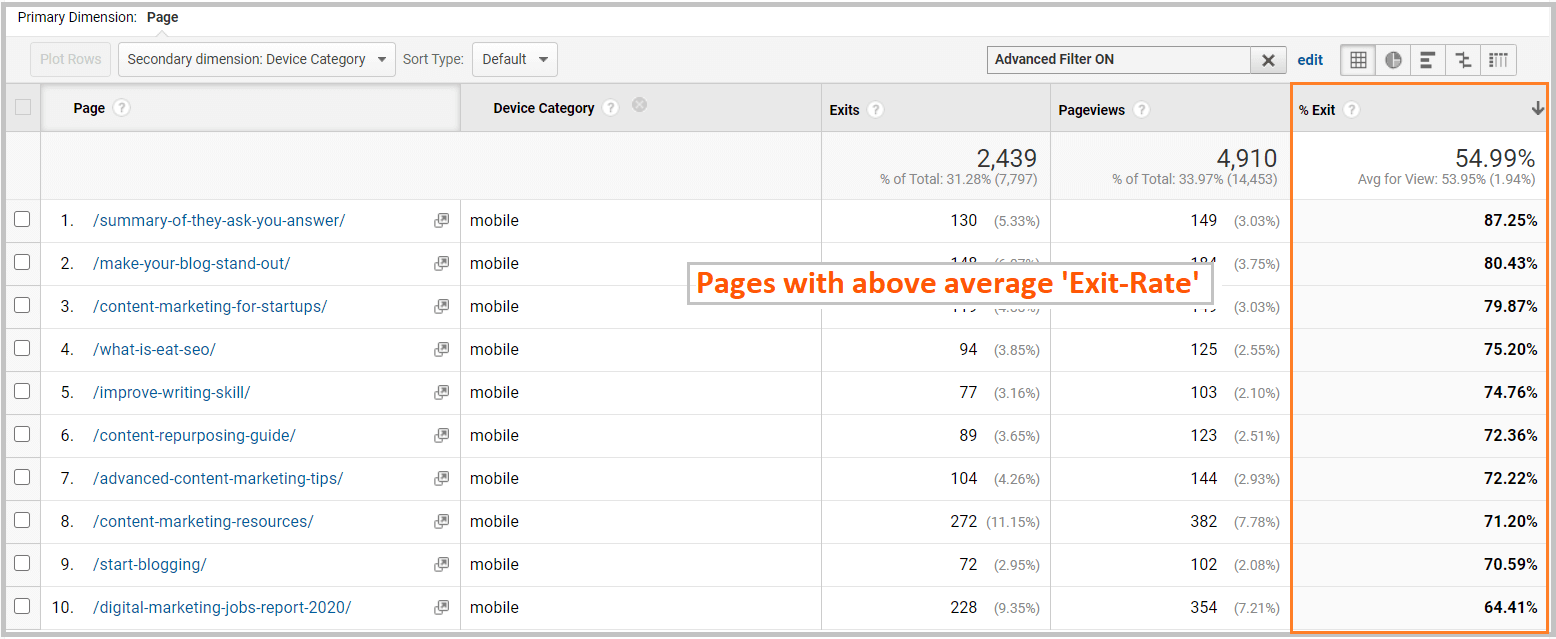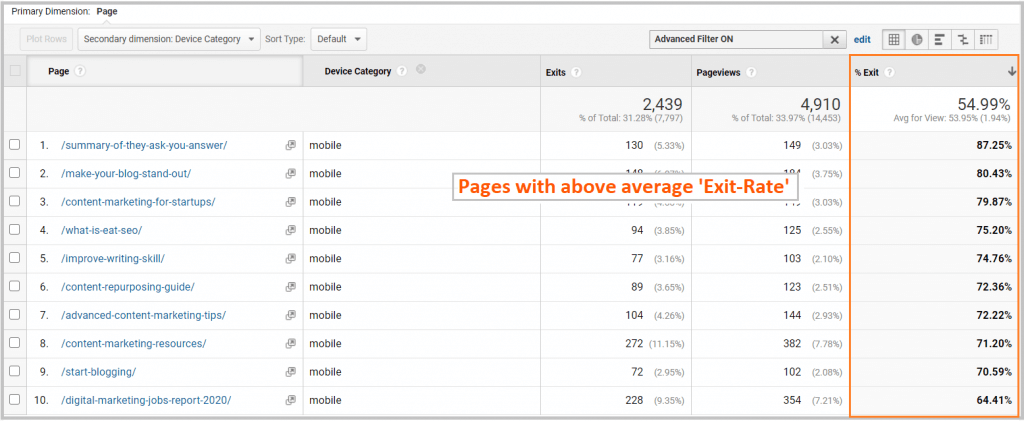 The above exit rates for all pages is 54.99%
Now, your job is to manually test the pages on mobile devices that have above-average exit rates.
A few things to test on these pages:
Look for page speed.
Is the content of the page relevant to the audience
Is there an issue of lack of necessary information like price, delivery date, payment options, etc.?
Remember that all pages with high exit rates aren't bad. Some pages like 'thank you page' or 'payment page' are more likely to have higher exits because this could be the destination of the content funnel.
Learn more about performing an in-depth content marketing audit.
> A/B tests to improve conversion
To get a higher conversion, you need to remove the online purchasing anxieties.
Here are three common stages of purchasing anxiety that may significantly affect the conversion rate, Google.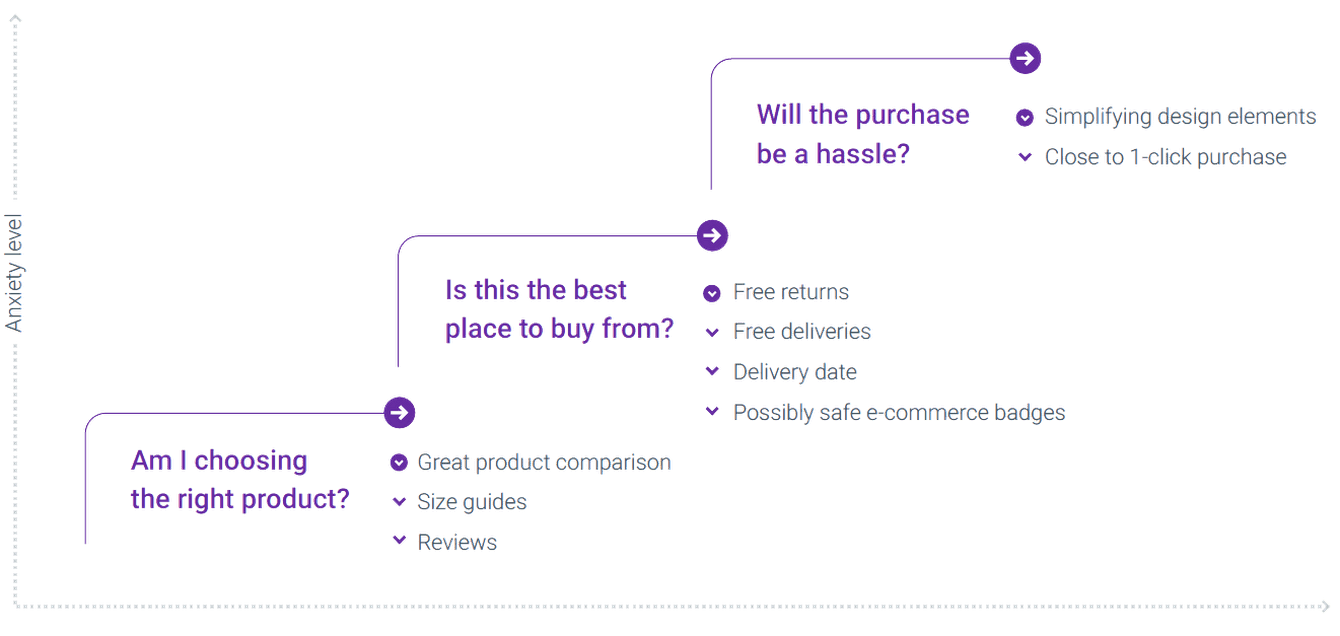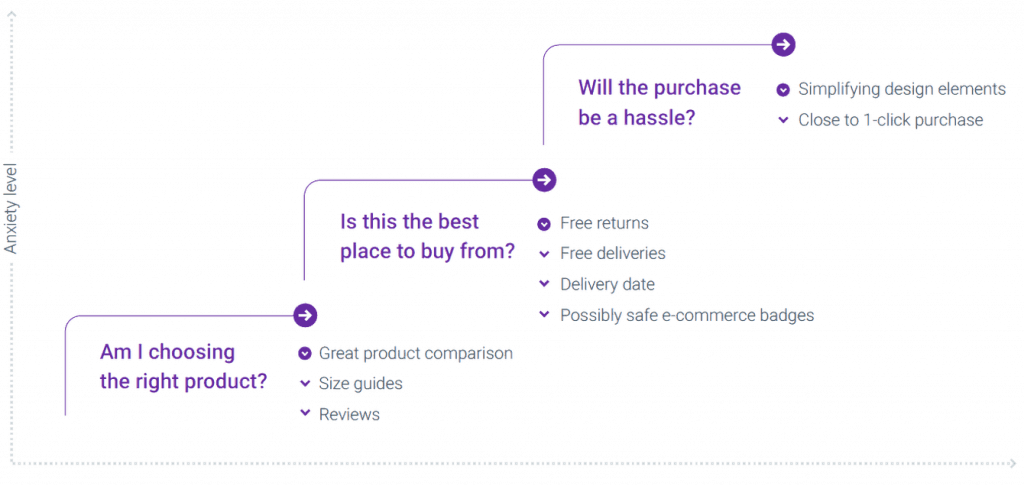 Source: WinOnMobile
In other words, clarifying or answering these anxiety levels or questions will have less anxiety on users' minds.
As a result, conversion goes up.
A/B testing ideas for a mobile site to boost conversion
1. Put important information above-the-fold
In the case of eCommerce sites, information such as discounts, free delivery, and easy returns are some of the features that reduce anxiety.
So, if your company provides these offers or discounts, try to put that in above-the-fold.
Travel-agency TUI found an 8% increase in their conversion rate when they added value proposition above the fold.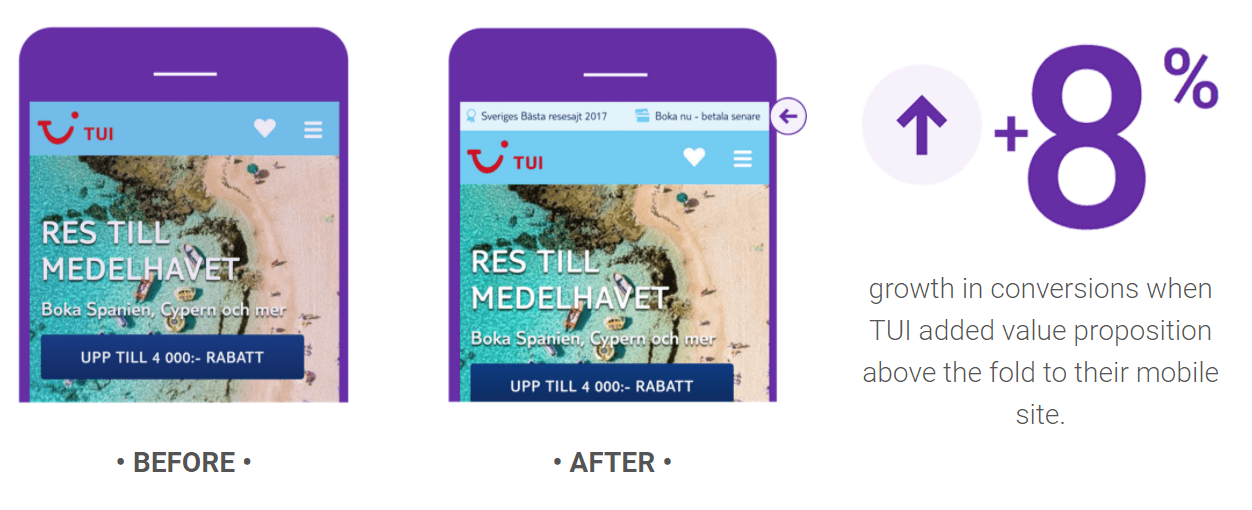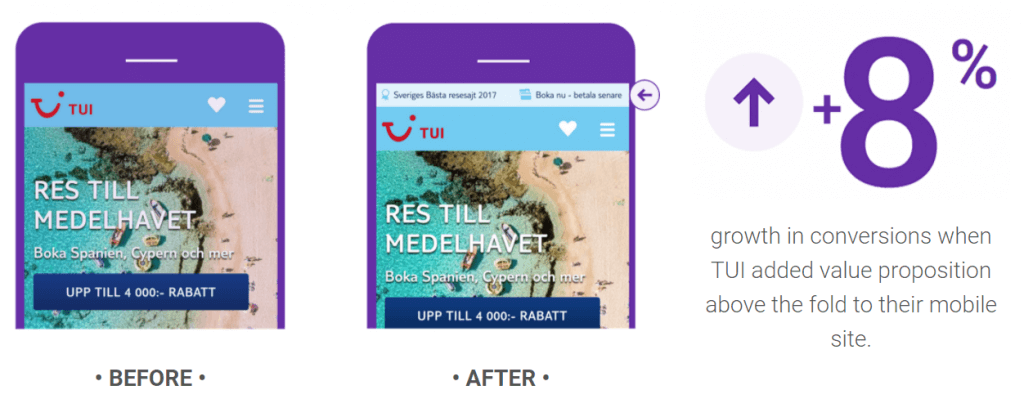 Source: WinOnMobile
Here are a few other factors you can A/B test, recommended by Google.
2. Navigation and site search
Apart from fast mobile pages, the findability of mobile sites is also important.
Giving users what they're looking for is challenging and rewarding as well.
To increase the findability of mobile sites, add popular product categories on the home page.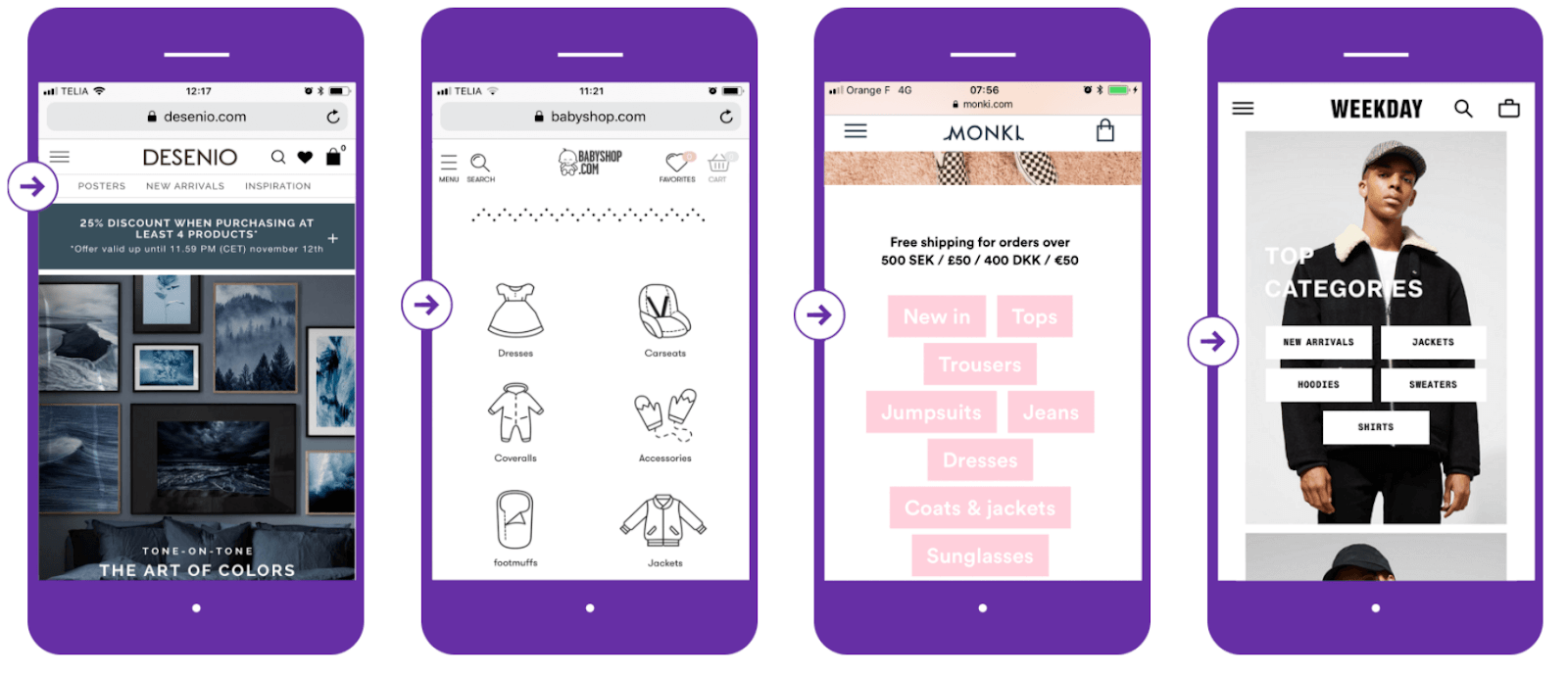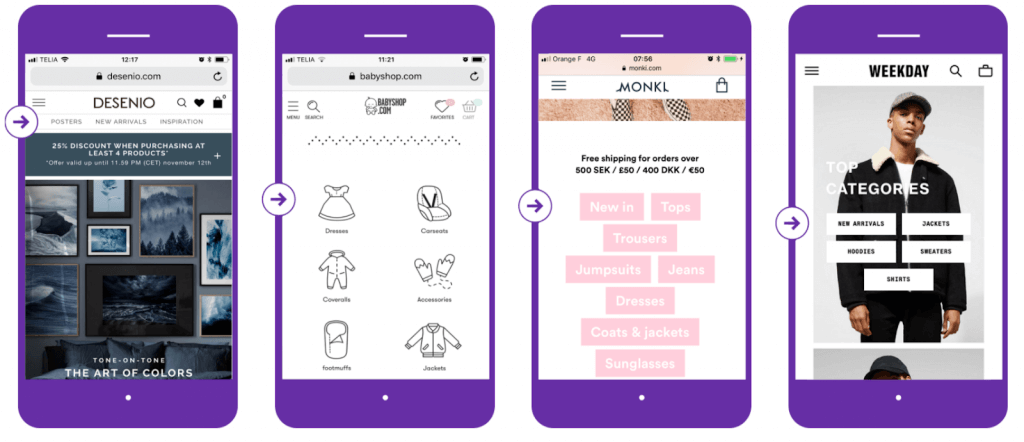 This way, visitors don't need to use the site search to find their favourite products.
3. Remove distractions and Add urgency
Urgency or FOMO plays a huge role in encouraging users to make immediate decisions on purchasing.
You can also use the same for your mobile site.
A/B test with adding labels like 'Few hours left,' 'limited stock' can create urgency and boost conversion as well.
Likewise, distractions on small screen sizes can have a negative impact on sales.
"If a visitor is bombarded with chat-bots, newsletter subscriptions and or prompts to share on social media; they will become distracted from the primary purpose – the purchase."– Google.
Distractions such as chatbots covering the entire screen, too many elements, full-screen pop-ups need to be removed.
Check out this guide on how to use product comparison and increase mobile conversion on mobile devices.
---
Final Words
The internet era is shifting from a desktop-first approach to a mobile-first. Therefore, having a desktop-first content marketing strategy isn't enough anymore.
Your website and content need to be optimized for mobile devices to maximize the sales opportunity.
And, the strategies and examples of mobile content marketing shared in this guide will help you achieve that.
Which of the strategies are you going to implement?
Let me know in the comment box.
---
Product launch update: After days of research, I curated the best content marketing stuff (over 100+ lessons) and organized it in a structured way. You can find it here.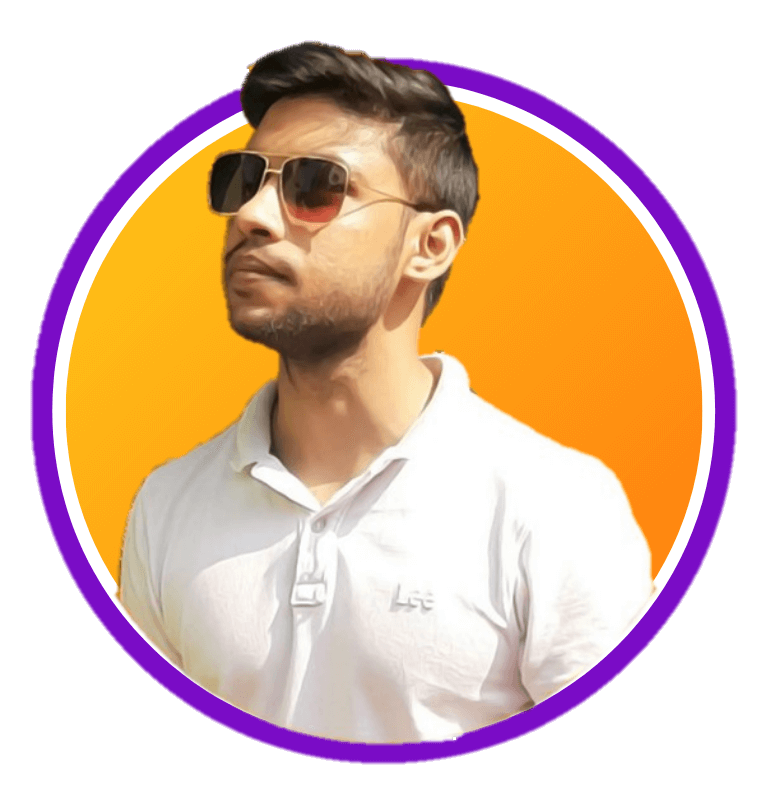 Sk Rafiqul Islam is a content marketing practitioner with 3+ years of practical experience. He spends most of his time helping businesses to build a loyal audience with content marketing. He is also running a tech career blog called 10Pie and content marketing VIP, a bi-weekly marketing newsletter. In his free time, he loves reading books and playing football.