Every startup in the early-stage struggles to reach its target audience, get business leads, and build a loyal audience.
The struggle becomes more challenging when the startup has a low-budget to spend on marketing.
This is where investing in content marketing could be an effective way to get initial traction in your startup.
In fact, 86% of marketers agree that a well-planned content strategy is a significant key to their business success.
So, the important question for startup owners like you is: Why, When, and How should a startup invest in content marketing?
And this blog post (actionable guide) is the answer to your question.
Let me be honest: Content marketing isn't the best choice for every business type.
It depends on many factors like resources, business goals, budget, deadline, etc.
Therefore it's important to find out:
💡 Why should a startup invest in content marketing?
➯ Content marketing acts as an asset
Not every form of content gets faded within a few days of the publish date. One great example is from UnBounce.
Rick Perrealut's (CEO and Founder) first hire for Unbounce was a full-time blogger. In fact, they started the blog almost a year before the launch of the product.
He also added:
"Our content still drives customers. Something we wrote in January 2010 still drives customers today."
This is the actual difference between paid advertising and content marketing. When you stop spending on ads, your result will fall, opposite to the content marketing.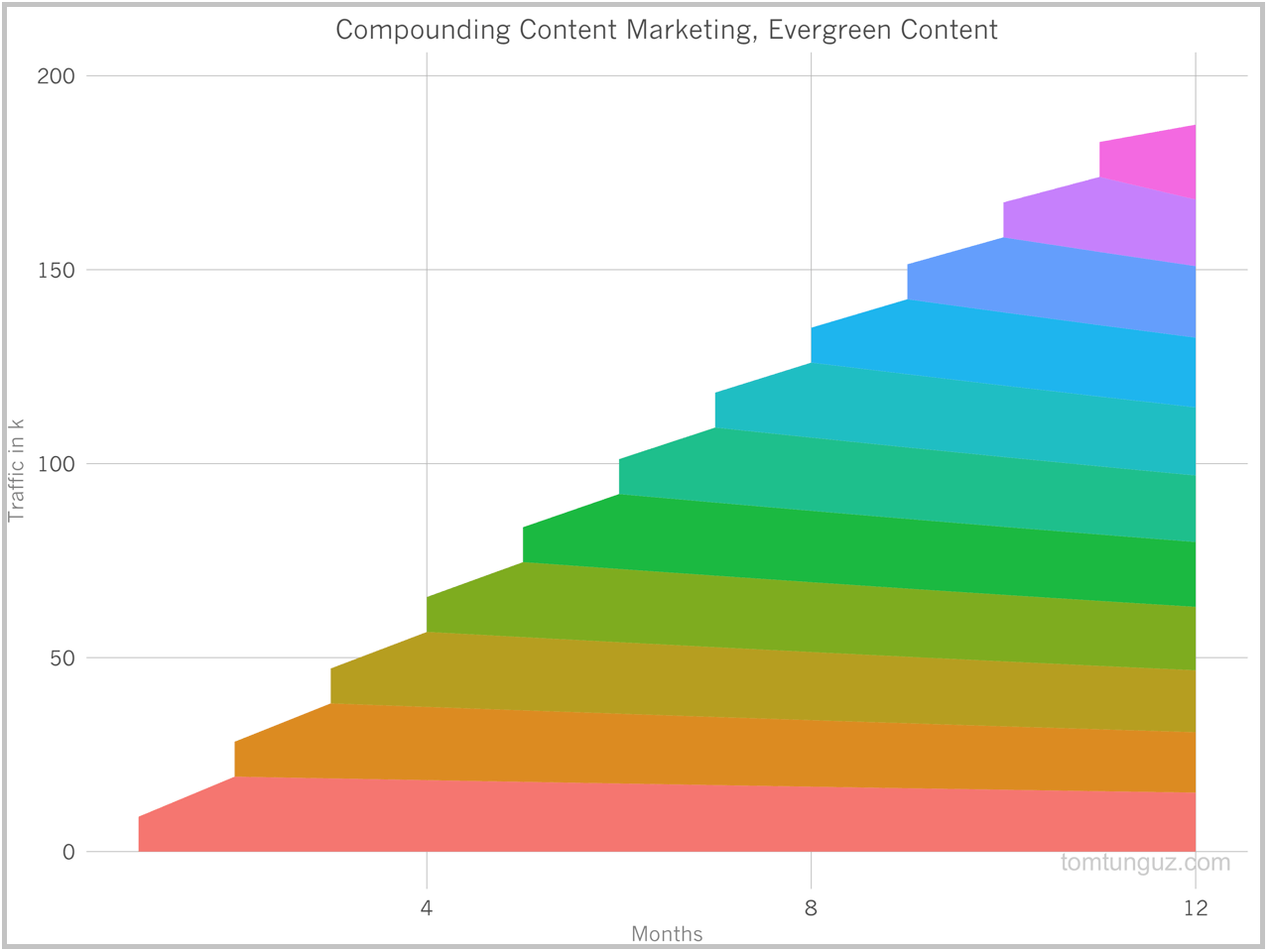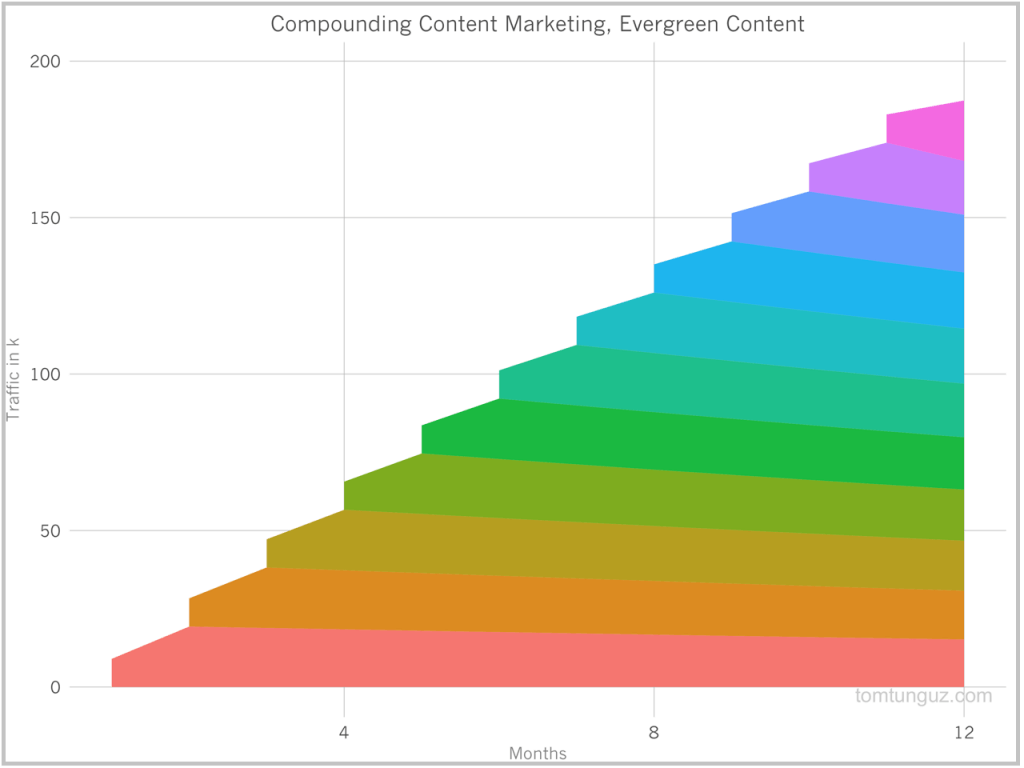 Source: Tomtunguz
💡 Download your content marketing checklist and a 50 page eBook [PDF copy of this guide] packed with actionable content marketing insights that will show you how to build awareness, audience, and earn links for your startup 🔰
➯ Content helps to close more sales
Yes, content helps to get more leads and close more sales for businesses in many ways.
Here's the first one.
Almost every business website has a 'contact us' form or a 'request a quote' form. That means a prospect fills up a form, and your sales team contacts them for further business requirements or queries.
But using a CRM can be a goldmine for your sales team.
Wondering why?
Using advanced analytics, you can now see the prospect's behaviour on your site before filling the form.
In that way, your team will get to know:
How many pages a prospect visited before contacting the team
How often do they visit your website?
Which pages do your prospect have visited the most, and more insights like this?
🚀 CASE STUDY
Using the same way has helped River Pools and Spas (swimming pool company) to discover an amazing fact.
They found that, On average, a successful customer visits thirty pages of their website before ending up doing business with them.
Yes, Thirty is a lot.
Considering the fact, the founder decided to quality leads by providing more content to them.
Here's the process.
Every prospect who fills out a 'Request a quote' form gets an ebook and a video (related to the product and working process of River Pools) from the team.
As a result, the conversion rate from leads to becoming a paying customer increased significantly.
➯ less expensive but takes more time
Comparing content marketing with traditional marketing approaches indicates two simple things.
The paid advertisement gives instant results in terms of leads, sales. And, content marketing usually takes at least a year to show significant value.
While researching the Content Inc book, Joe Pulizzi (Founder of CMI) found that usually, it takes 15-17 months of consistent effort in content marketing to achieve great results.
Depending upon your goal deadline, you may decide which option will be the right one for you.
Also, it is important not to limit your definition of content. Initially, you don't need to outsource writers, video editors.
Simply start with whatever resources you have currently and always think of this as a long term process so that you can get better every time.
➯ Building an audience
If your startup's plan is long-term planning, you should start thinking about building a loyal audience that loves to hear your brand. And, this is what content marketing best at.
This works only when your brand creates consistent content to either educate or entertain the prospects.
Joe Pulizzi recommends that the process of building a profitable business should start from building an audience even if the brand has nothing yet to sell.
Content marketing started this way, building their audience (via newsletter), and after reaching the minimum viable audience, they started to diversify their products.
Once you're clear with the advantages and the right expectation from the content marketing approach, you're more likely to make a better decision for your startup.
Let's move forward to the next part of the guide that is developing a content strategy.
💡 How do you develop a content marketing strategy for startups?
Strategy less content marketing seems like a great move in the beginning and little to zero effect in the end.
Let me explain.
[Taking reference from Rand Fishkin's presentation on why startups fail with content marketing]
Many startups start their marketing campaign by creating a business blog (aka SEO). Next, they start researching content topics using modern SEO tools, writing good content. When getting no results from the content effort, they shoot for the link building campaign.
Buy links, submit to listing directories.
Yay! Traffic has increased.
But the conversion?
It is falling.
So the next possible step is to change the CTAs on blog posts, web pages, etc. Or, maybe adding more 'Buy buttons' on the page will increase the conversion rate.
Result?
Still, Disappointing.
Next step?
Let's quit content marketing and try paid advertisements.
This is how the content marketing journey goes like in many organizations.
Now, every startup should aim to not getting trapped by "strategy less content marketing."
Instead, you need to start from the basics.
Here's how.
Business goals
Who is your audience
Where is your audience
What type of content will grab their attention
List of experts who influence your audience
If you're starting with content marketing, then there is no way you can avoid these five factors.
Let me give an introduction to these steps.
➯ Business goals
Chances are your business goal will belong to one of the following:
Traffic generation
Lead generation
Conversion from leads to sales
Customer retention
Understanding your marketing goal will help you craft a better content strategy (which I'll show later in this guide) and write a clear content marketing mission statement.
Content marketing mission statement addresses the core audience, what value will be delivered to the audience, and what benefits the audience will get, referred by Joe Pulizzi.
Example:
Iamrafiqul.com is a marketing blog for content marketers and business owners (core audience) that delivers actionable content marketing strategies & tips (value) to build a brand audience and grow the business.
[TIP: Use SparkToro to get quick insights on what your audience reads, watches, and follows. Below added screenshots of the same]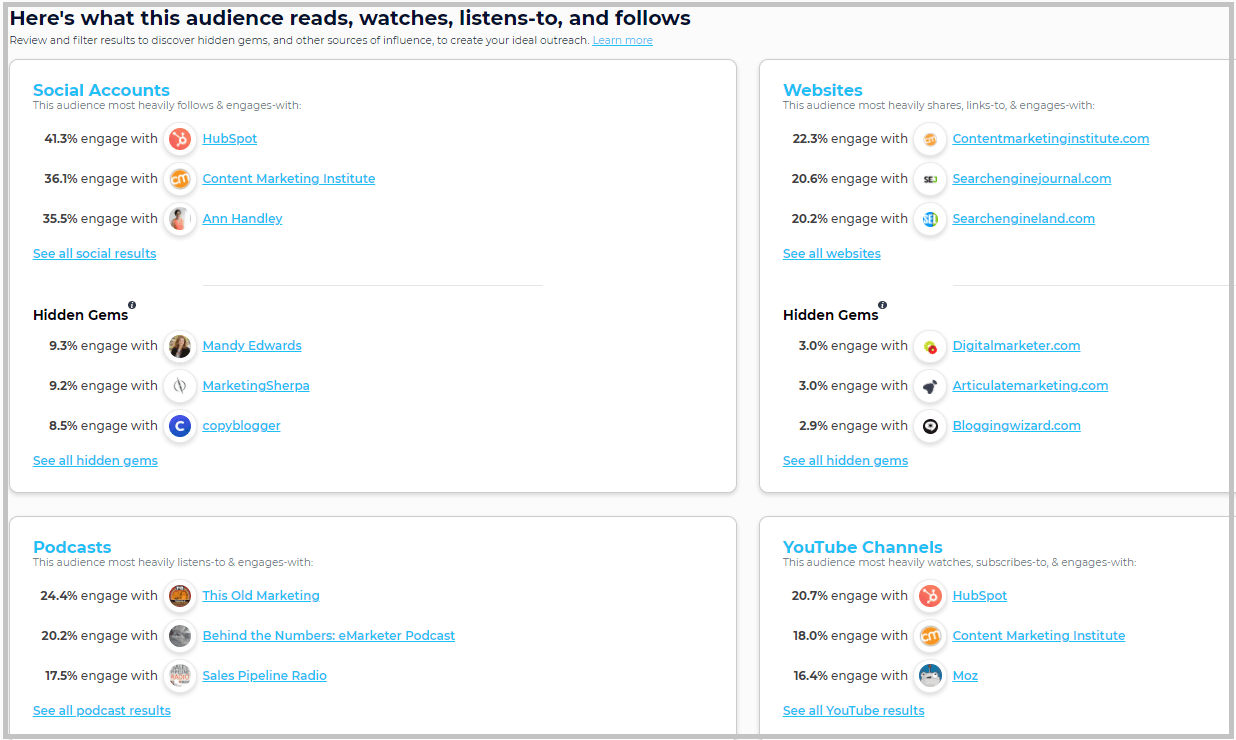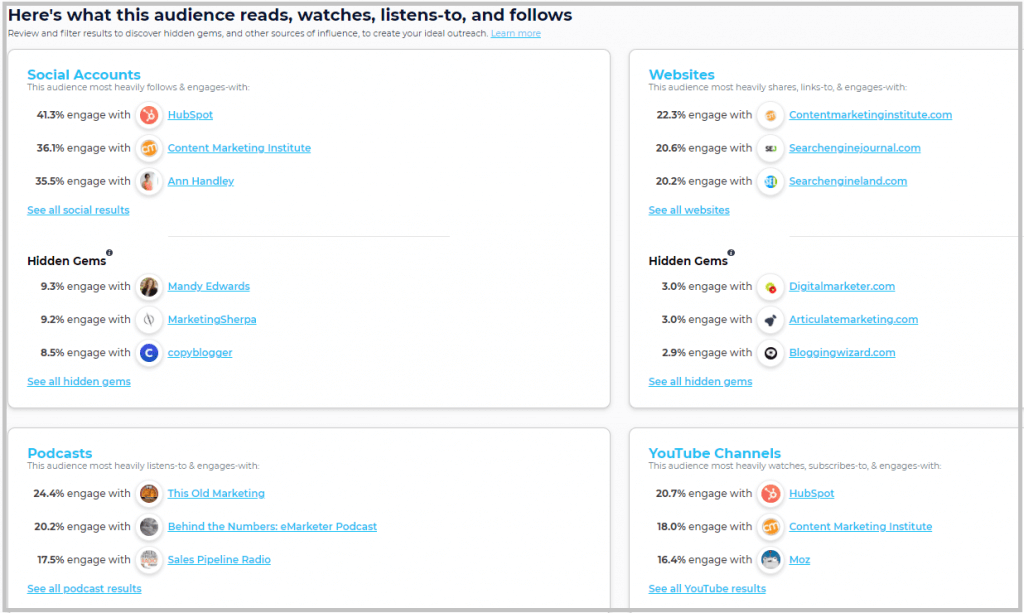 ➯ Who and Why of your core audience.
This is more of understanding your customer persona. From a content strategy perspective, understanding what your audience listens to, watches and reads will help you find the right content format and content distribution channel.
This understanding also impacts on creating content that grabs the attention.
➯ Influencers in your industry
The easiest and fastest way to reach a large potential audience and build brand credibility in your startup (especially effective for new startups) with content?
My answer would be involving influencers within your content strategy. As we move forward, we'll learn some proven ways to get this work done.
But the biggest mistake that you should be avoiding while influencer marketing is:
"Instead of targeting influencers, involve them within your content to get long-term support for your startup."
Now, it's time to move on to the strategic side of content marketing.
💡 Setting up the foundation
Topical authority is one of the most important factors to increase your search visibility and rankings.
Even in the SEO starter guide, it is recommended to cultivate a reputation for expertise and trustworthiness in a specific area.


Thanks to Google's smart algorithm, search engines rank web pages that have already built a topical authority.
The questions you might ask:
What is topical authority?
What does it mean to have high topical authority for my website?
Here are your answers in non-technical words.
Building topical relevancy or topical authority simply means writing content across SPECIFIC Topics instead of keywords.
For example, if you're selling nutrition only for women, then one of the primary topics could be: 'Nutrition guide for women.'
When john muller of Google gets asked about how covering a topic can help your site SEO, he replied:
"Yes, that's always useful. For search engines, you are building out your reputation of knowledge on that topic. For users, it provides more context about why they should trust you."
And, in the next step, your focus will be to answer almost every question regarding your primary topic.
Some of the possible questions could be:
Why do women need to follow different nutrition than men?
What nutrients do women need daily?
Healthy dieting tips for women
Nutrition needs during pregnancy and so on…
Your goal should be to show the search engine that you (your brand/your website) holds a strong authority on this specific topic.
And, covering every question regarding a primary topic is one of the best ways to do that.
Likewise, you may have multiple topics for your website.
Here's a simple step-by-step process of building topical authority for your website.
Identifying your primary topics
Considering your business type, you need to identify your key topics. In the first step, list down all the major services or product categories related to your business.
Next, narrow down the list by considering topics that have at least 20-30 subtopics.
In short, your primary topic should be broad enough to write multiple blog posts around it.
Looking at your service page or product category page will help you find the most relevant, broad enough topics.
Writing and internal linking strategically.
Now, it's time to show your consistency in the content creation process. The biggest benefit you'll get by writing about a specific topic is you'll generate more and more relevant traffic that may bring more business benefits to your brand.
Also, make sure that your subtopics are interlinked with each other so search engines can better crawl and understand your page's content.
You don't necessarily need to interlink each of your subtopics (blog post)
In that way, you'll build a strong topical authority over time.
SEO benefits of building topical authority and pillar page
We've already discussed how to choose primary topics for your website and how to write and interlink sub-topics or blog posts.
Next, we can even supercharge our effort to rank on very relevant search terms even if the search term is competitive.
Creating pillar pages is one way of doing this.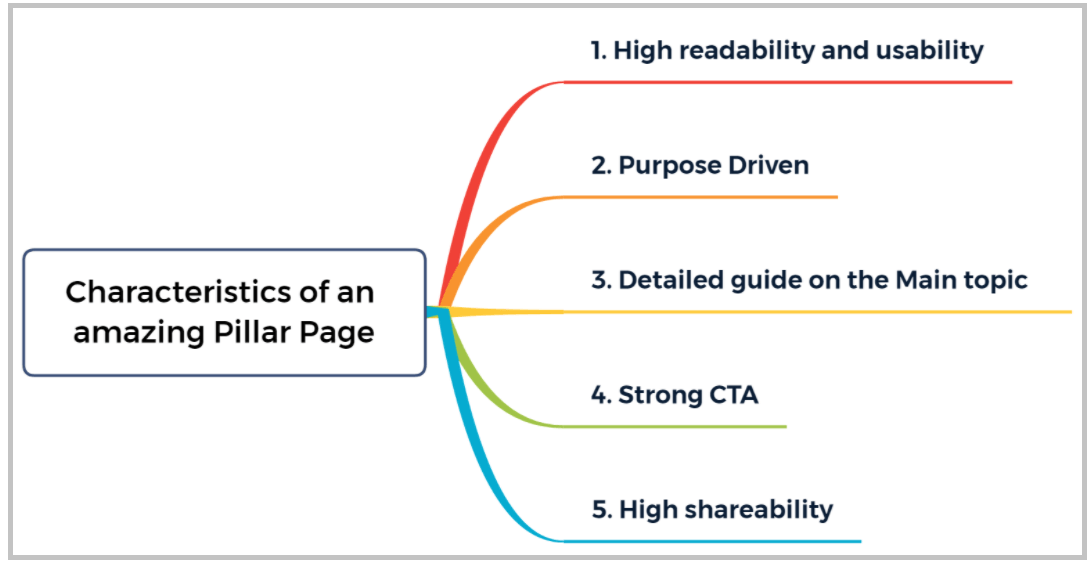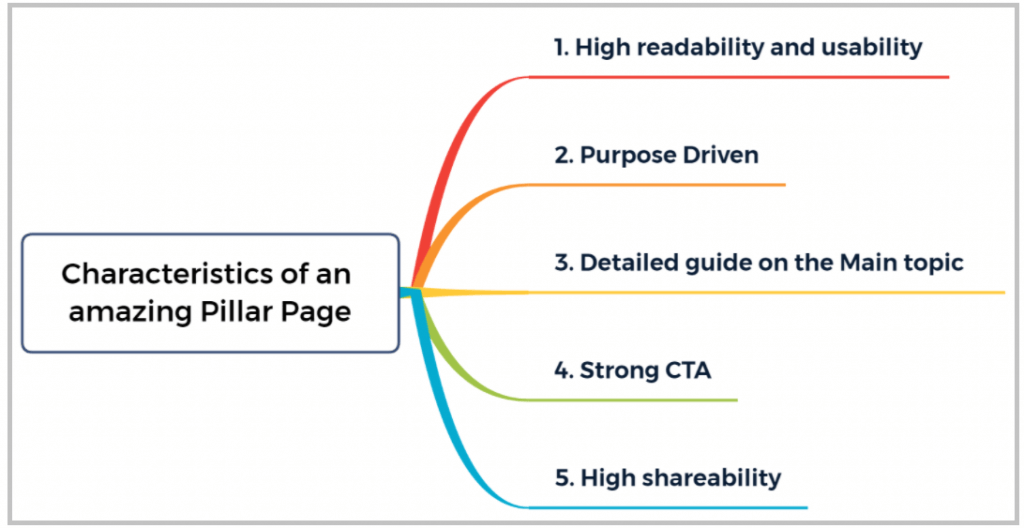 A pillar page is a web page that covers a broad topic instead of long-tail keywords. The key characteristic of a pillar page (usually) is that the webpage covers every question that readers may ask.
It's like covering a topic from head to toe.
Usually, these pages are lengthy (5000+) as compared to normal blog posts.
Here's what you can do.
Consider creating a pillar page for your primary topic and try to make it super in-depth that covers every query and doubt of the readers.
Next, you need to interlink your subtopics and the pillar page to get the most out of it.
These sub-topics are also known as topic clusters.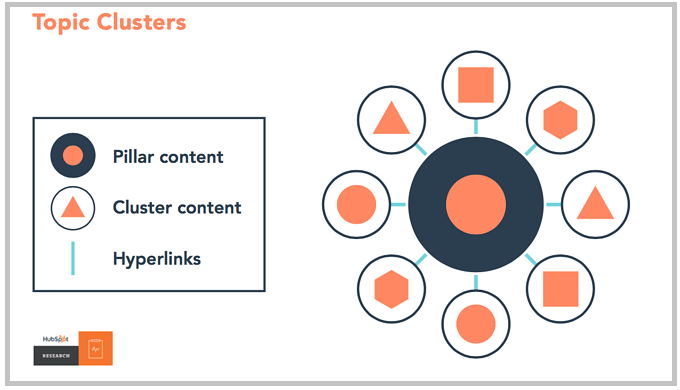 Image credit: HubSpot
I recommend reading my in-depth article on how to build topic clusters and pillar pages.
Using the same tactic, HubSpot ranked on some high competitive key phrases such as 'Customer feedback,' 'customer feedback software,' etc.
💡 Collaborative content marketing
In the early stage, every startup struggles to reach a large potential audience without spending on advertisement.
But we all know content marketing takes time to drive results.
So the easiest way to build authority in the niche and reach a large potential audience is collaborative content marketing.
The above image describes why it is so effective when collaborated with experts and influencers.
The term 'collaborative content marketing' referred by Andy Crestidona involves relevant influencers within your content strategy.
Doing expert round-up, guest posts, interview experts are some of the most popular ways to get initial traction without waiting for months.
➯ Contributor quotes
Contributor quote is the easiest way every startup can leverage to build credibility and reach a highly targeted audience.
Let's first look at an example of contributor quotes: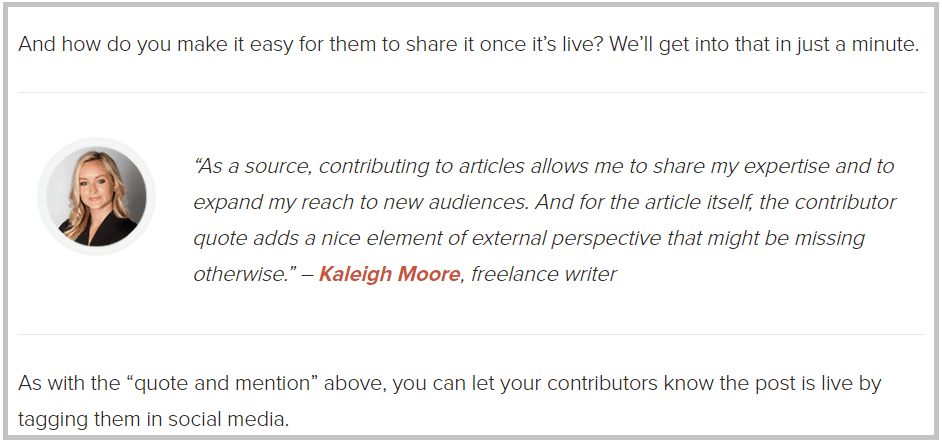 In simple words, before publishing any piece of content on your site, you should reach out to possible influencers or experts in your niche.
For example, if you're writing an article on 'nutrition guide for women,' you may make a list of possible nutrition specialists.
And by outreaching to them strategically, you will get plenty of contributor quotes for your next article.
Here's a step-by-step process to get the most out of the contributor quotes
Step 1. Creating a list of contributors
Not everyone will be interested in sharing their quotes, and it is absolutely fine.
But there is a way to help you get possible contributors who are more likely to contribute to your article.
And that is the author's profiles of big organizations.
Wondering why?
Because in most cases, these people are actively trying to build their brand by contributing to authoritative sites.
Surely, there will be tons of media publications or large organizations within your niche.
In my case, HubSpot, Content Marketing Institute, Semrush are a few of them.
Next, search for a relevant article to yours.
You'll get plenty of them.
Next, open any article and click on the author bio.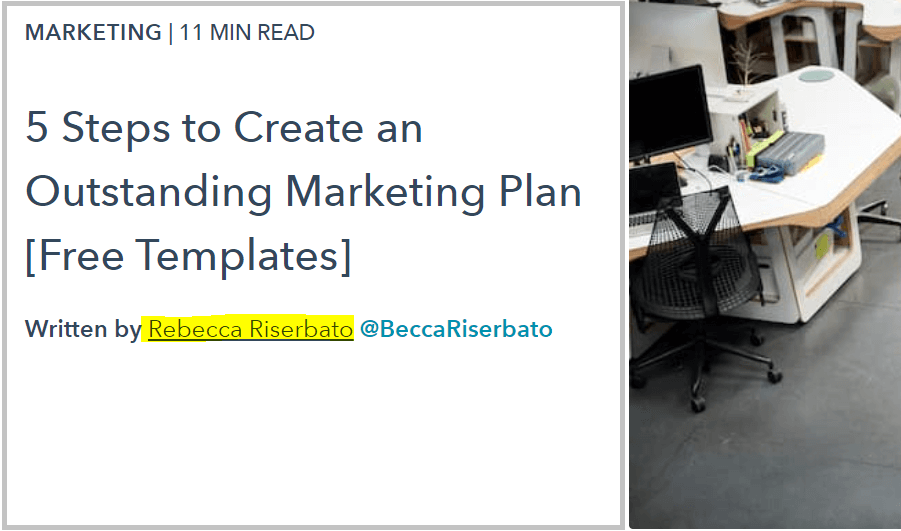 Now, you'll get the contact details (social media bios, website links) to reach out to them.


Likewise, you can follow the same process to find out other authors.
In fact, you'll get to see a dedicated page for contributing experts like the CMI blog in some cases.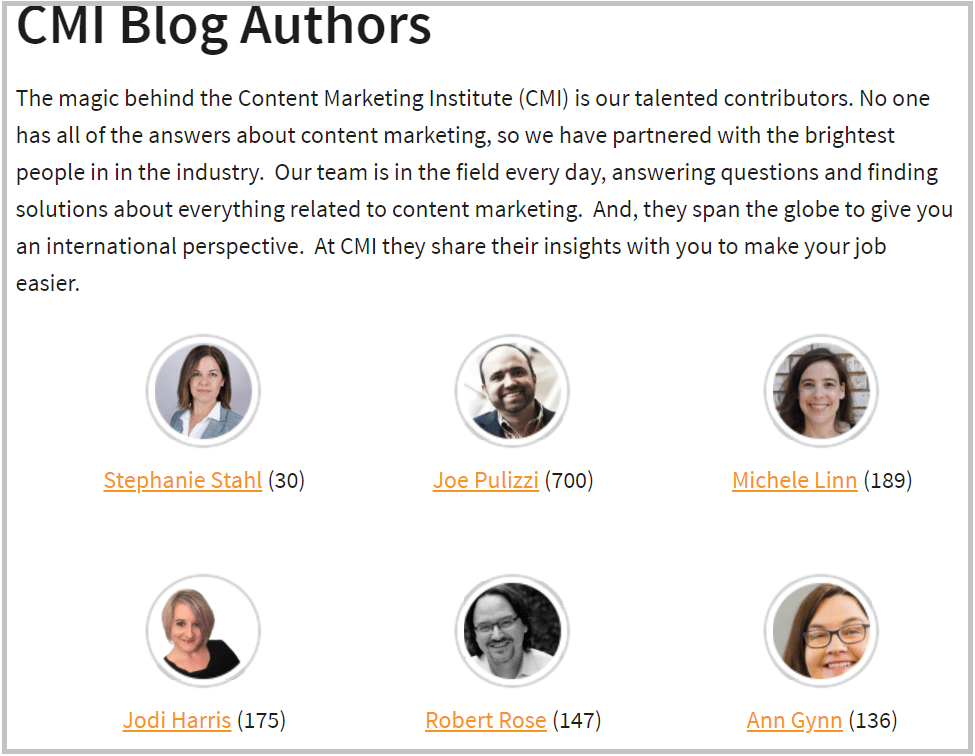 Also, note it down: The more famous influencer you try to involve within your content, the more difficult it will be to convert those influencers.
The below image is a great way of illustrating the situation.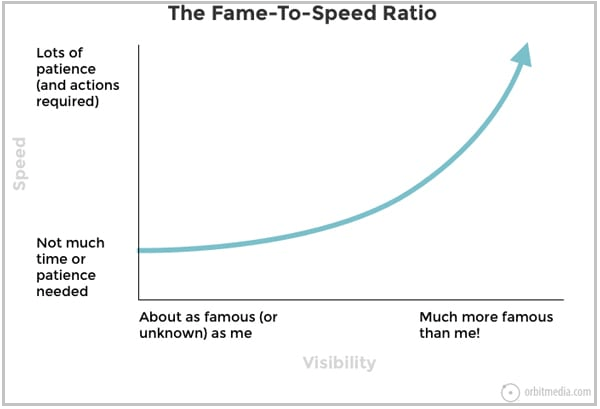 Image source: Orbit Media
[TIP: While choosing the authors, make sure that the author has expertise in the topic that you're writing about. For articles specific to SEO, you won't reach out to email marketing experts]
Step 2. Pitching with the right message
While pitching the contributor, ensure that your message is concise and to the point.
And the most important thing, forget about inviting at bulk.
Your email/social media message should have at least one element that makes the content very specific to that person.
Here's one of the emails that I sent to contributors.
Subject: Inviting you for an expert quote
Hi [name], I joined your webinar last Monday on [webinar topic].
I got so many insights on [learnings].
Quick question: Would you like to contribute (adding a small, relevant quote on the topic) to my next blog post?
Currently, I am writing an article on [content topic].
So, I was looking for contributor quotes to bring more expert insights on [content topic].
Your little contribution (at least 50-100 words) of sharing your thoughts on the topic would add a lot of value to my audience.
Here's the URL where I will be publishing the article: [Blog URL]
Let me know if this sounds okay to you.
Thanks, Rafiqul.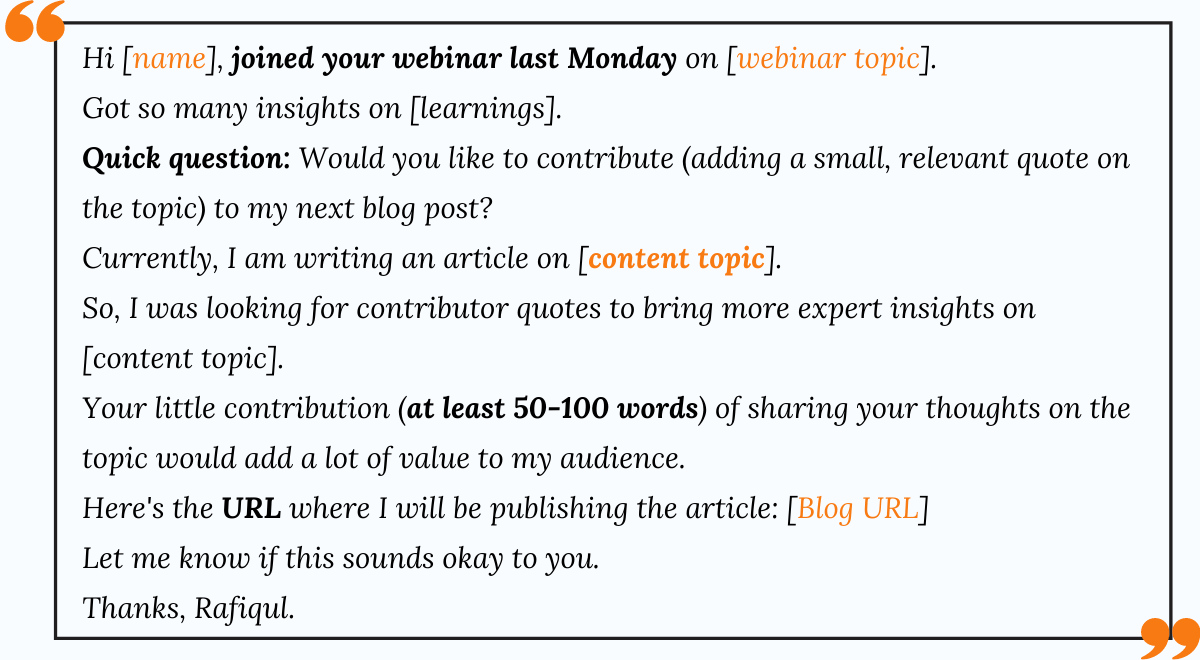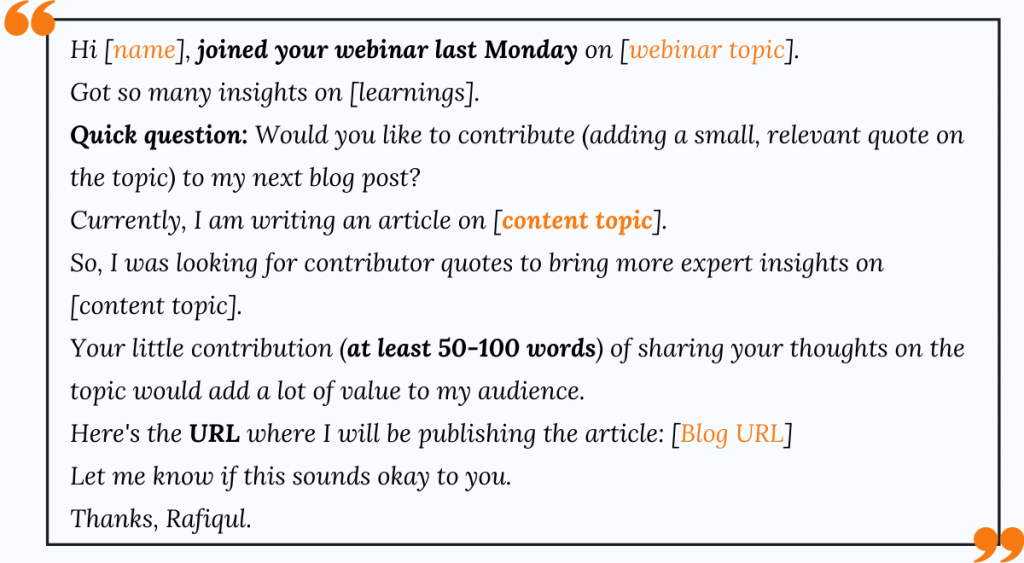 The point here is not to give you the best email template but to show you an idea of making your email/messages more personalized and to the point.
Step 3. Post publishing process
Sharing the article URL when it is live is not enough to get more attention from experts. You need to encourage them either to give a link back to your site or share your article across social media, newsletter or both.
One idea that worked great for me is: providing experts something shareable.
Along with the article URL, I share their quotes in an image format with a headshot image.
Here's an example from one of my articles: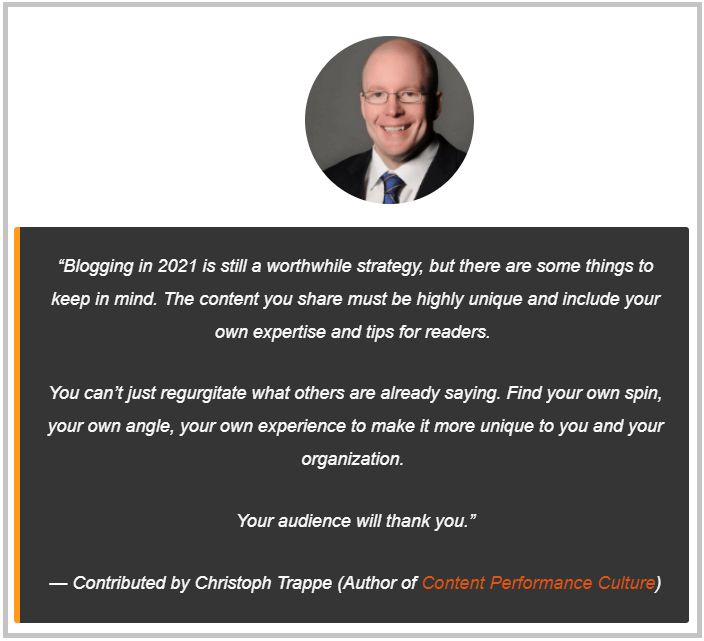 Usually, it's a human tendency to share or promote the work where there is some sort of contribution (even though it is 100 words).
And with this image, I am giving my contributors something to share on their social channels.
As a result, contributors are sharing my article (along with the image) with their audience.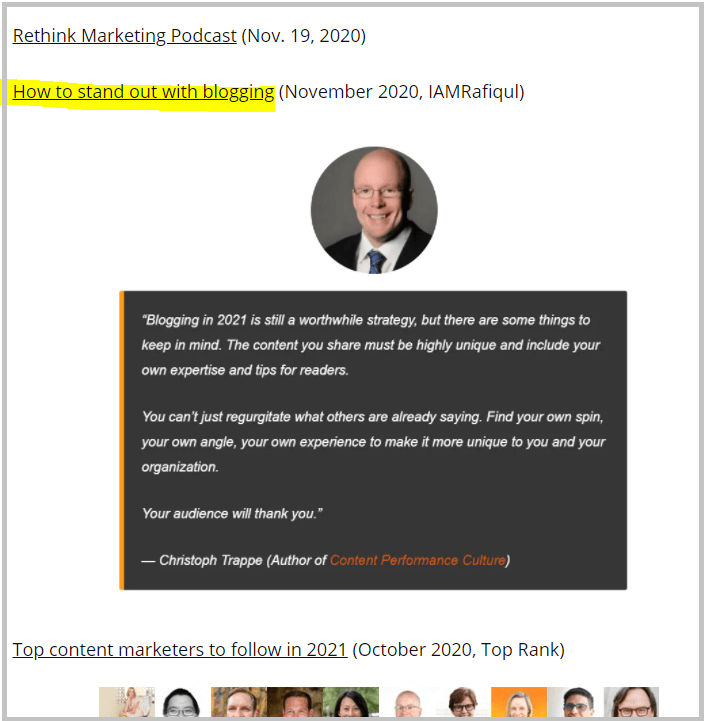 One secret SEO benefit of adding contributor quotes
E-A-T is already playing a huge role in Google's algorithm as we've witnessed so many losers and winners from the EAT update.
And one of the characteristics of improving your E-A-T is by showing Google and users that your website is a source of trustable information.
And showing Google a string connection between your site and industry experts is a sign of positive EAT.
As a result, you might see a long-term benefit, especially if your site belongs to the YMYL category.
YMYL- Your money, your life- website categories may impact someone's health, financial condition, and even happiness.
Example of YMYL pages: Financial sites, health-care industry, etc.
Let's understand how to use contributor quotes to boost up your brand in E-A-T;
'Contributor' is one of the schema properties listed in Schema.org. In your articles where influencers have contributed, you can add 'contributor' property in the structured data.
That means you're telling Google that industry experts contribute some parts of the content of the webpage.
And, this helps a lot in linking your site/brand with known entities.
As a result, your authority and credibility as a brand will increase over time.
I recommend checking out this in-depth article showing how to implement structured data.
And, that brings me to the next stage that is creating unique content to get competitive advantages.
➯ Guest blogging
Guest blogging is another way of leveraging collaborative content marketing.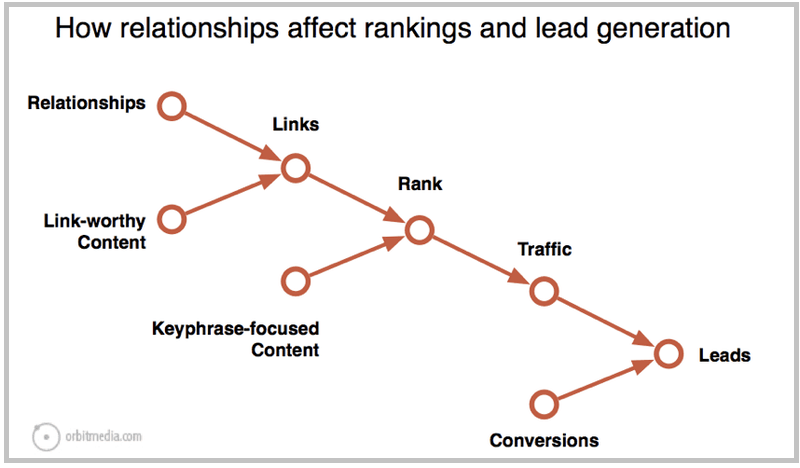 Source: OrbitMedia
If blogging is one of your primary content formats, then you cannot avoid guest blogging. Just like contributor quotes, guest posting on authoritative and relevant sites allows you to reach and explore a new set of audience.
Few points to consider before writing guest blogging:
Consider websites with at least higher domain authority than your
Don't just fall for DA (DA can be increased with many black-hat techniques). So, consider their previously written content and the past contributors to their sites.
Find relevant ones to your niche.
If you're allowed to choose a topic for guest blogging, check whether there is any article ranking on the 2nd or 3rd page. A little push or traction from the guest post will help your article in the ranking.
Add customized charts, graphs, or diagrams from your articles and add your webpage as the image source. In that way, chances are your links won't be removed.
Here's an awesome illustration of the approach of guest blogging (By Andy Crestidona)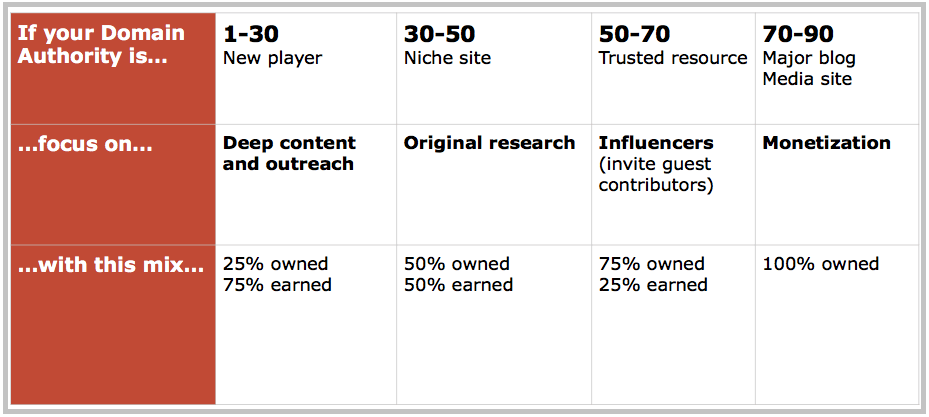 💡 Download your content marketing checklist and a 50 page eBook [PDF copy of this guide] packed with actionable content marketing insights that will show you how to build awareness, audience, and earn links for your startup 🔰
💡 Be the original source.
Performing original research-based content is one of the best ways to make your brand stand out from the competition.
Original research-based content means that your content/blog posts/whitepapers will be the only source of some interesting information.
For example, Orbit media perform annual research every year on blogging trends where they ask 1000+ bloggers to participate in a survey.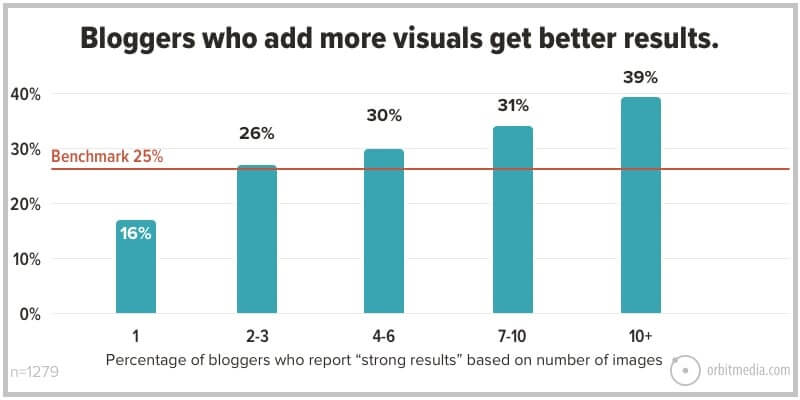 As a result, Orbit Media create a research report on current trends of blogging and content marketing.
Here, Orbit media is the only primary source of every data and trend found from the survey report.
Learn about the real estate SEO tools
➯ Key benefits of doing original research:
1. Original data attracts links
Brian Dean analyzed 5 million Google search results to create a research report on Google CTR.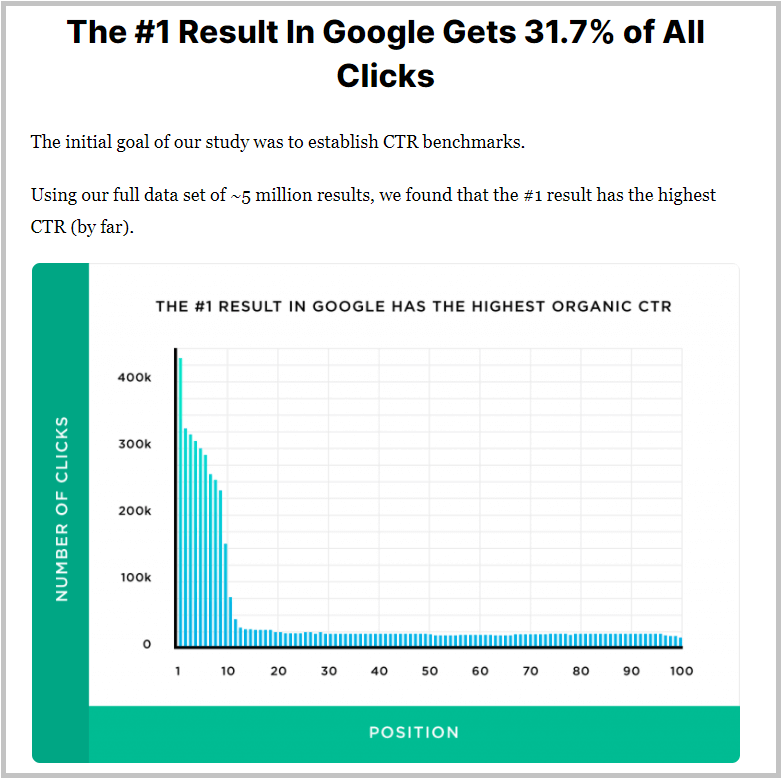 That single article has attracted more than 29,000 referring domains that include entrepreneur.com, forbes.com, neilpatel.com, Hubspot.com, and many popular brands and influencers.
In fact, creating research-based content is the most efficient link-building method, according to a survey done by SEO powersuite.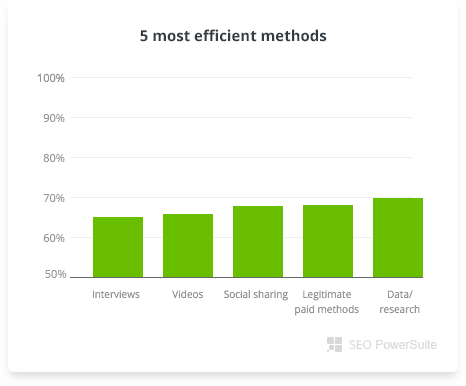 Another example from Orbit media also got some similar results from a link-building perspective.


You may not get similar results like these popular sites, but the chances of getting more links are higher with original research than other kinds of content.
Also, the same tactic can help you grab the attention of journalists and other influencers. We'll see exactly how to do this.
2. Become more credible
Let's face it: Most newbie startups will ignore putting so much effort into one content.
But those who perform research are the ones who get social shares, influencer shoutout, press mentions, and many more.
As a result, your brand earns trust and becomes more credible.
3. Get more leads
If link building is not your primary goal, this kind of research report is also a great tool to get leads by making the report gated.
Gated information means any information or content can only be accessed if the visitors sign up or subscribe to the site.
Here's an example: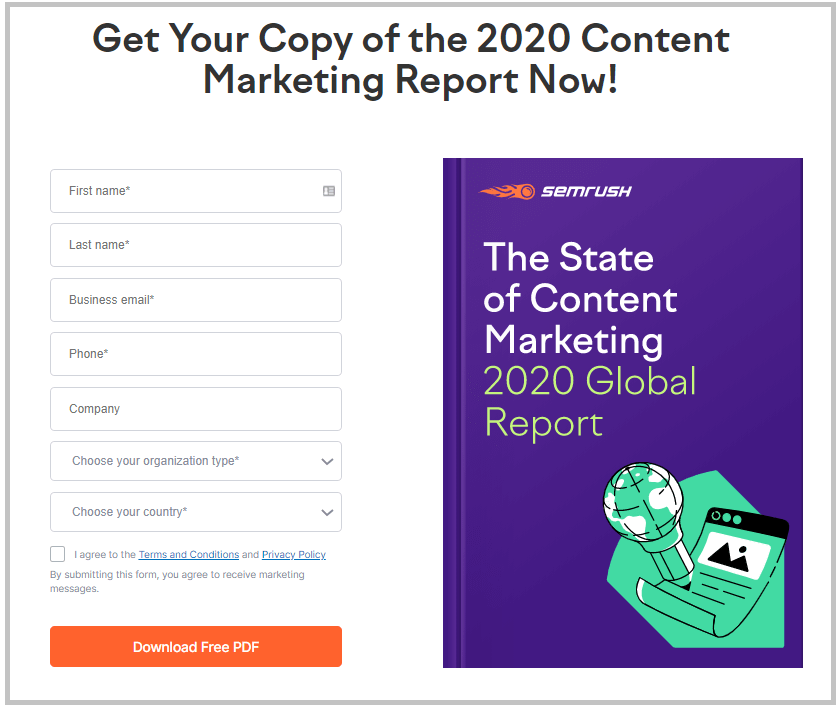 Content marketing state of 2020 by Semrush is a survey-based report (gated content). Now, depending upon your business goals, you may decide whether to make your report gated or ungated.
[NOTE: if your site is not as authoritative as Semrush or any other popular brands, then I highly recommend making it ungated]
Knowing the benefits is a different story than executing.
Here are the most important tips to doing original research the right way.
➯ How to create exclusive content with original research
1. Choosing the right topic
Andy Crestidona's way of finding a research worthy topic is to ask the following question:
"What do people say in your industry but rarely support?"
Image
Example 1:
last year during the pandemic, I've seen many predictions about which industries will impact most on digital marketing jobs and the most demanding skill set for a digital marketer.
Well, all of these were predictions without having any data or study supported.
I also looked out for the same information on the web, and I didn't see any thorough analysis.
As a result, I used monster Jobs and Indeed to conduct a study to understand the digital marketing jobs report of 2020.
Example 2:
One common question for bloggers is, "How long does it take to write a blog post?"
Some say between 2-4 hours or 3-7 hours, and more.
No data or research was showing the average time a blogger takes to write an article.
As a result, Orbit media surveyed 1000+ bloggers asking the same question.
Now, they do have answers that are backed with data.
2. Finding trending topics
Tools like buzz sumo and google trends are useful for getting insights into what's trending or what's getting more shared on social media.
To find trending topics, type your key term in Google trends.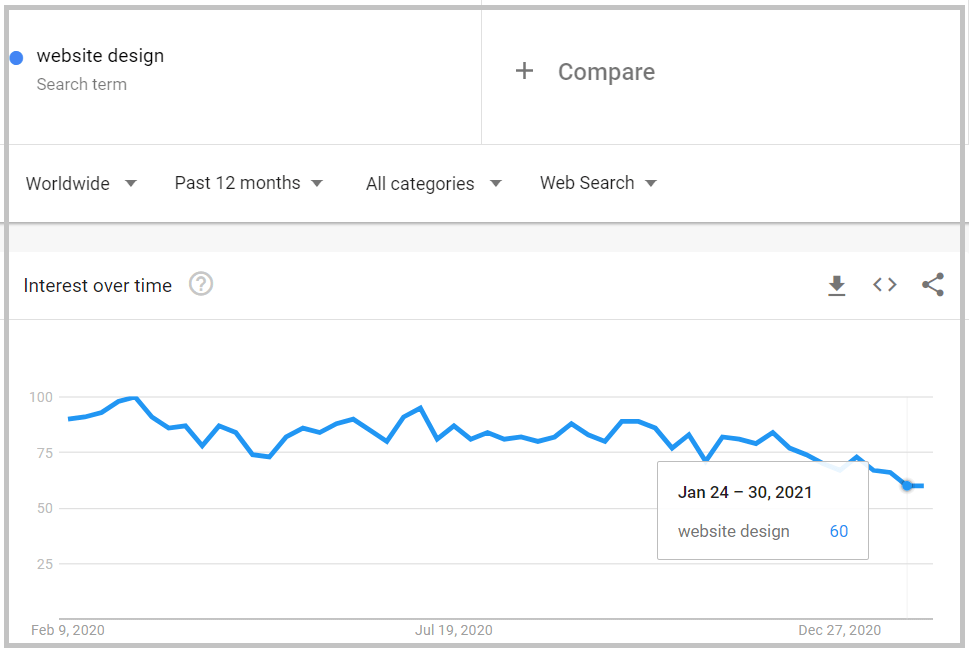 Next, look for 'related queries' to take inspiration from.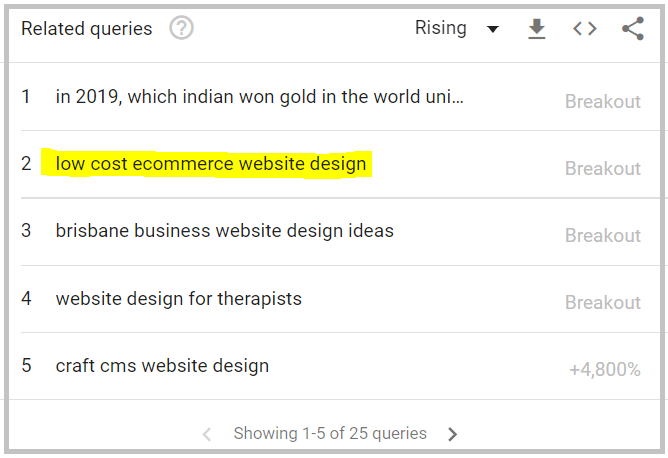 For example, a topic like "How much does it cost to make a ecommerce website" can be turned into a research report by surveying web design agencies.
Let's look into another example.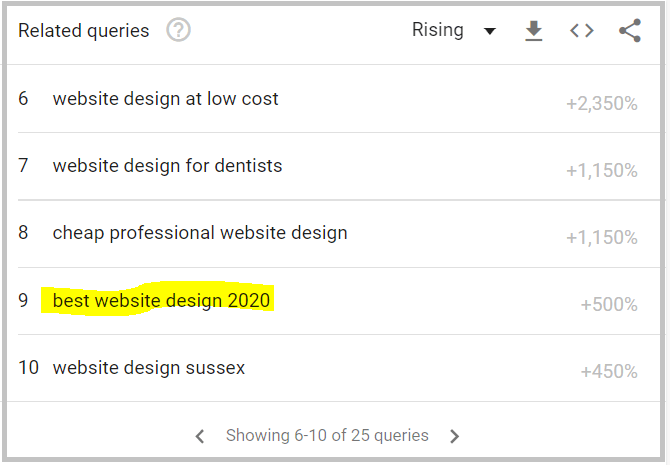 For the query, 'best website design 2020', one possible topic could be like:
"Elements of top 20 websites in [your industry]"
You got the point. Right?
2. Optimize your content for SEO
Optimizing for SEO is a completely different topic to cover. But, here, optimizing for SEO means making your research article accessible through Google.
When any journalist or bloggers look for possible data or stats, they usually use keywords like:
2021 stats for email marketing
Or,
Email marketing trends in 2021
Or,
Email marketing statistics
Make sure you optimize the title and your content to show up on the first page with these kinds of queries.
For advanced keyword research, use any premium tools like ahrefs.
3. Make your data skimmable
I learned this cool trick from Brian Dean, founder of backlinko.
When the aim is to attract more and more links, you need to make your data easy to access, specially for bloggers and journalists.
To do this, you need to create a separate section for key findings in your article (usually at the beginning).
Let's look at an example from my last year's content marketing jobs report: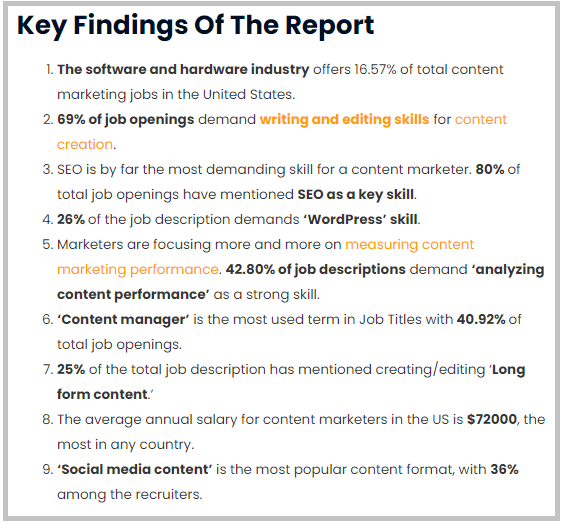 This will help bloggers instantly access the data that they are looking for.
4. Use visuals to improve user experience and drive more traffic
You'll have multiple data sets within the report. First of all, make sure that you've created a separate chart for every data set.
The below image is a good example of turning your data into visualization.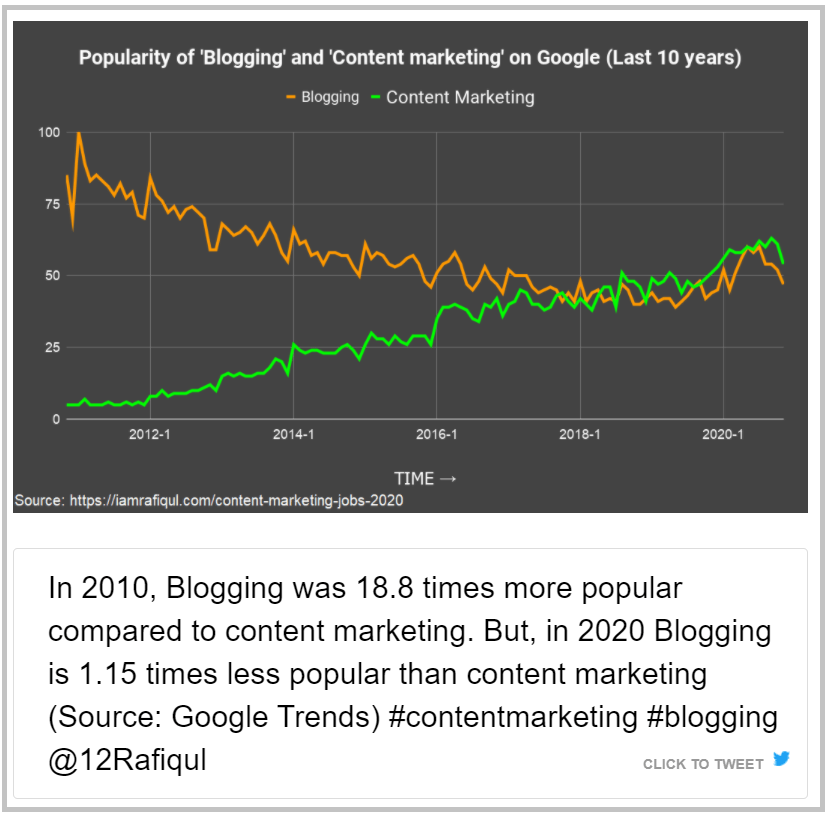 Usually, this will help you in:
Providing a better user experience:
No matter how much you simplify complex data, an image will always be a better option to consume the information. Also, it helps to reduce your bounce rate by making your content visually appealing.
Supercharge your content promotion:
Consider every visual (charts, graphs, etc.) as micro-content to be shared in social media to drive more traffic to the site and get more social shares.
Sharing your content one time doesn't make any sense for this amount of effort.
Even after the article is live, you need to schedule all charts and graphs from the report on social media for at least one week or maybe more.
Let me cite an example: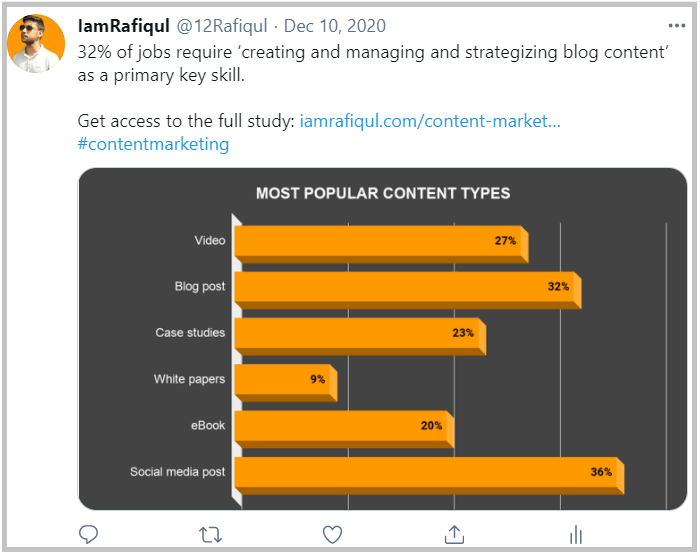 Another one for the same report.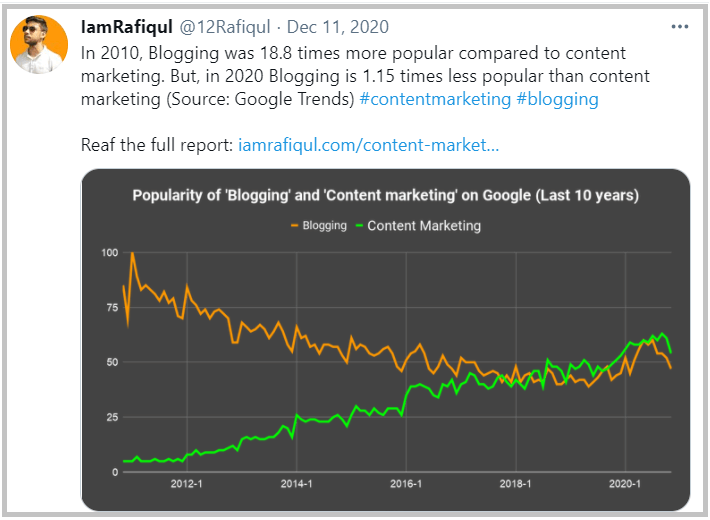 In that way, all of these charts and graphs are supporting the primary research report. Make sure you don't leave any chance to promote the content.
[Note: Another way of reaching a broad set of audience is by re-purposing your research report into multiple content formats like slide deck, video, infographics, etc]
5. Promoting your research report
From performing the research and data extracting to publishing the final report, It takes 10x more effort than a normal blog post.
It's obvious that you should go beyond average to promote your content as much as possible but with an effective strategy.
Here are some possible ways you can consider distributing and creating more awareness about your report.
Find relevant HARO questions.
Wondering the most preferred content types for journalists to accept for reporting?
It's 'exclusive research reports' (Source: CriminallyProlific).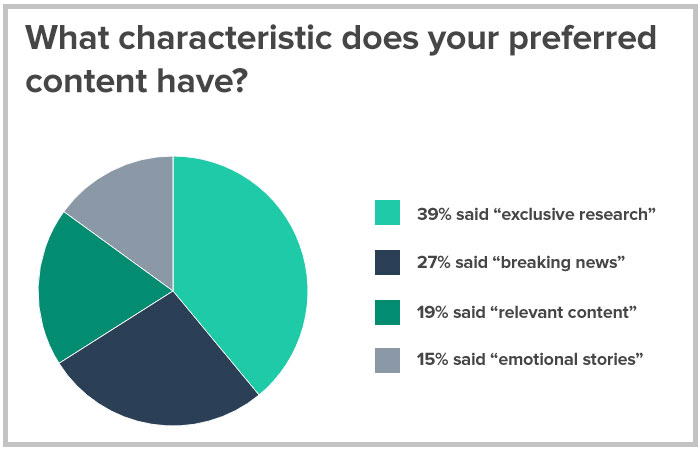 And HARO is a great place to start with.
HARO stands for Help a reporter out, a place for journalists to connect with influencers, content creators, bloggers, and industry experts.
In case you're unfamiliar with HARO, let me give you a quick intro.
Once you sign up for a HARO account, you'll receive two emails a day from journalists from different industries such as Business, health, entertainment, education, finance, and general as well.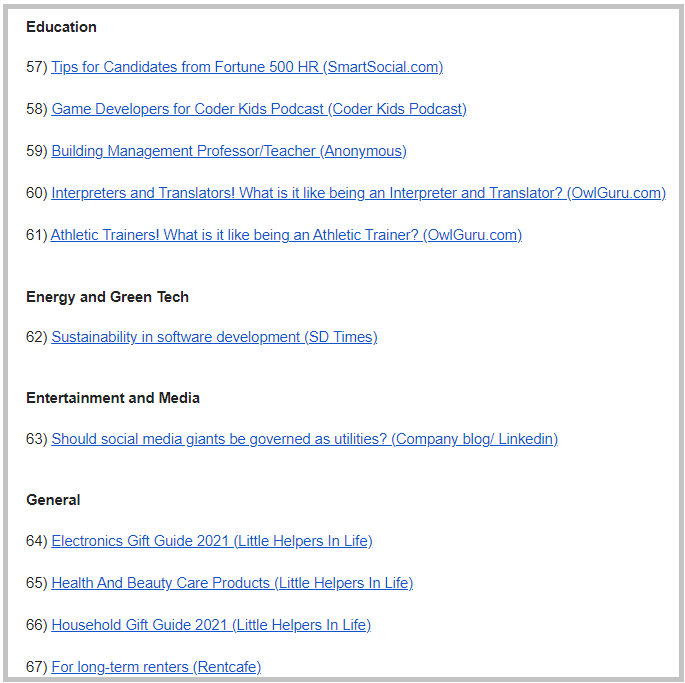 As a free member of HARO, you need to wait for the journalists' relevant questions or requirements.
All you can do is search for the HARO queries every day, and if you find any requirement related to any research report or the content topic, you may pitch to them.
For example, a study report on social media marketing makes complete sense for the below requirement.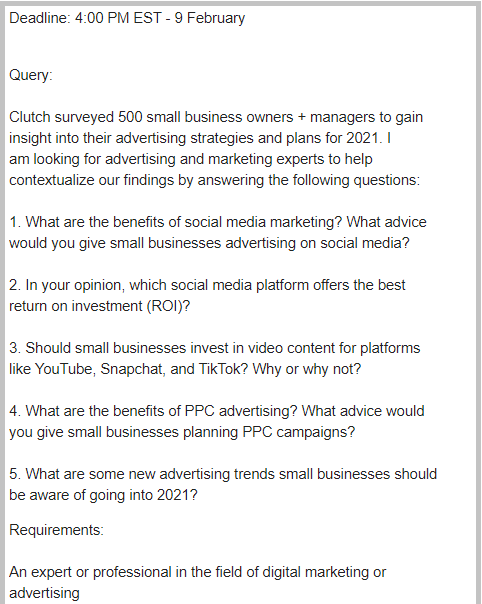 Consider maintaining the deadline and make your pitch short and crisp.]
Refer to these actionable insights on using HARO as a link building tool.
[Bonus tip: Copy URLs of already done research reports similar to your niche and topic and put it on Ahrefs. Next, look for the sites linked to the report and outreach them with your report. This is one way of bringing your work in front of relevant people to get more shares, links, and press release]
💡 Audience first approach for early startups
"The perfect target market for a startup is a small group of people concentrated together and served by few to none competitors"- Peter Thiel, the author of Zero to One.
First things first.
Startups that build an audience first and launch their product or service later manage to generate demand for their product launch.- Check grammar.
Let's take some real examples.
Unbounce, a landing page software company, started to build an audience through blogging even before launching their first product.
For almost a year, they created valuable content on landing pages, blogging, email marketing, conversion optimization, etc.
As a result, at the time of their product launch in the market, they were already getting around 20k visitors/month.
Another example is CMI (Content marketing institute)
In 2011, CMI built a loyal audience by giving valuable content consistently for almost 18 months before monetizing the audience.
In the below video, Rand has explained when and how a startup should consider community building.
The point is: once you have built a loyal audience (even before your product launch) for your startup, you'll find multiple ways to monetize the audience.
Let's find out how to get started with building an audience.
➯ Choosing the right platform
Where to start?
Should I create a Facebook group or LinkedIn group?
How about the traditional newsletter?
The right answer for any startup depends on several factors such as business goals, resources to run and maintain, SEO benefits, and control over the platform.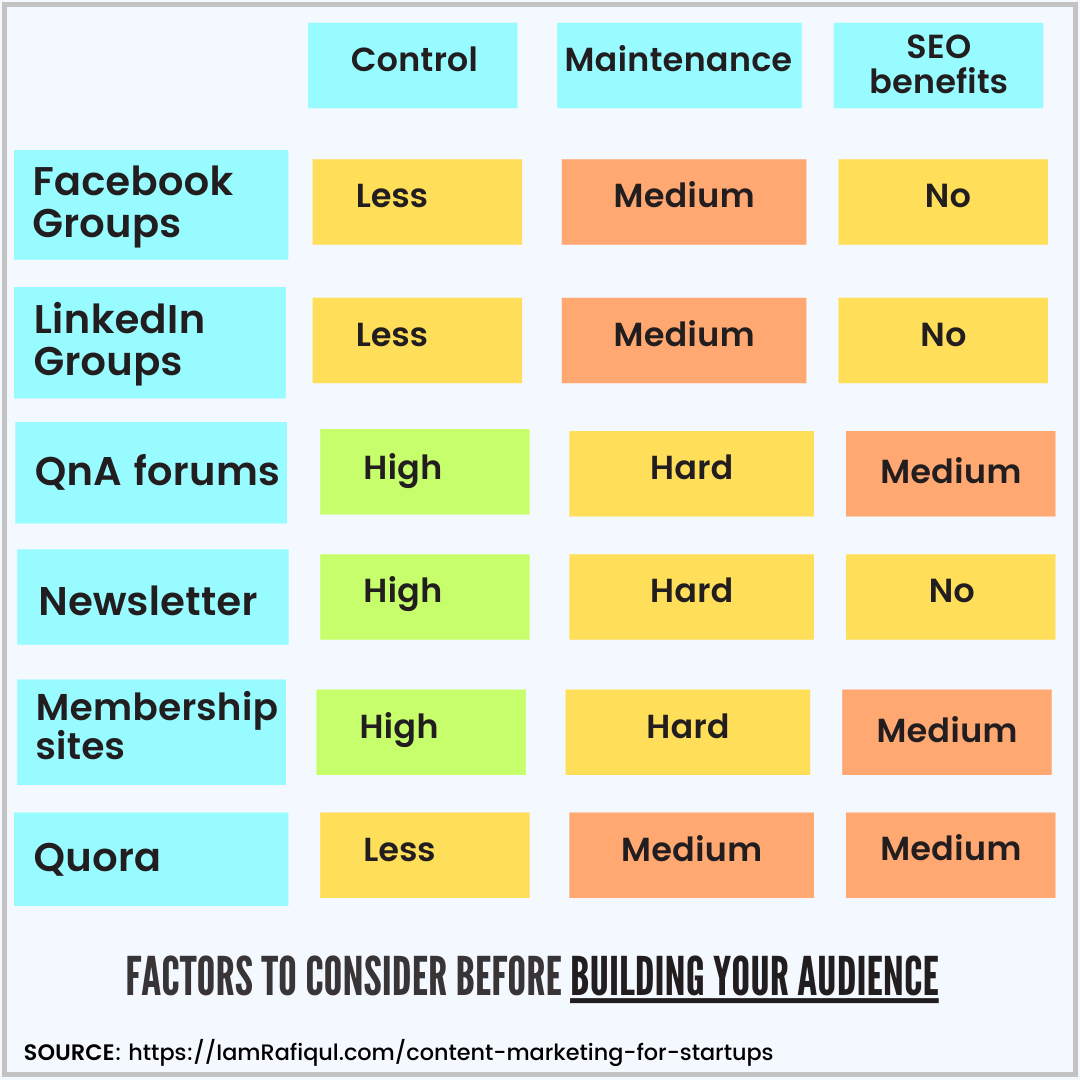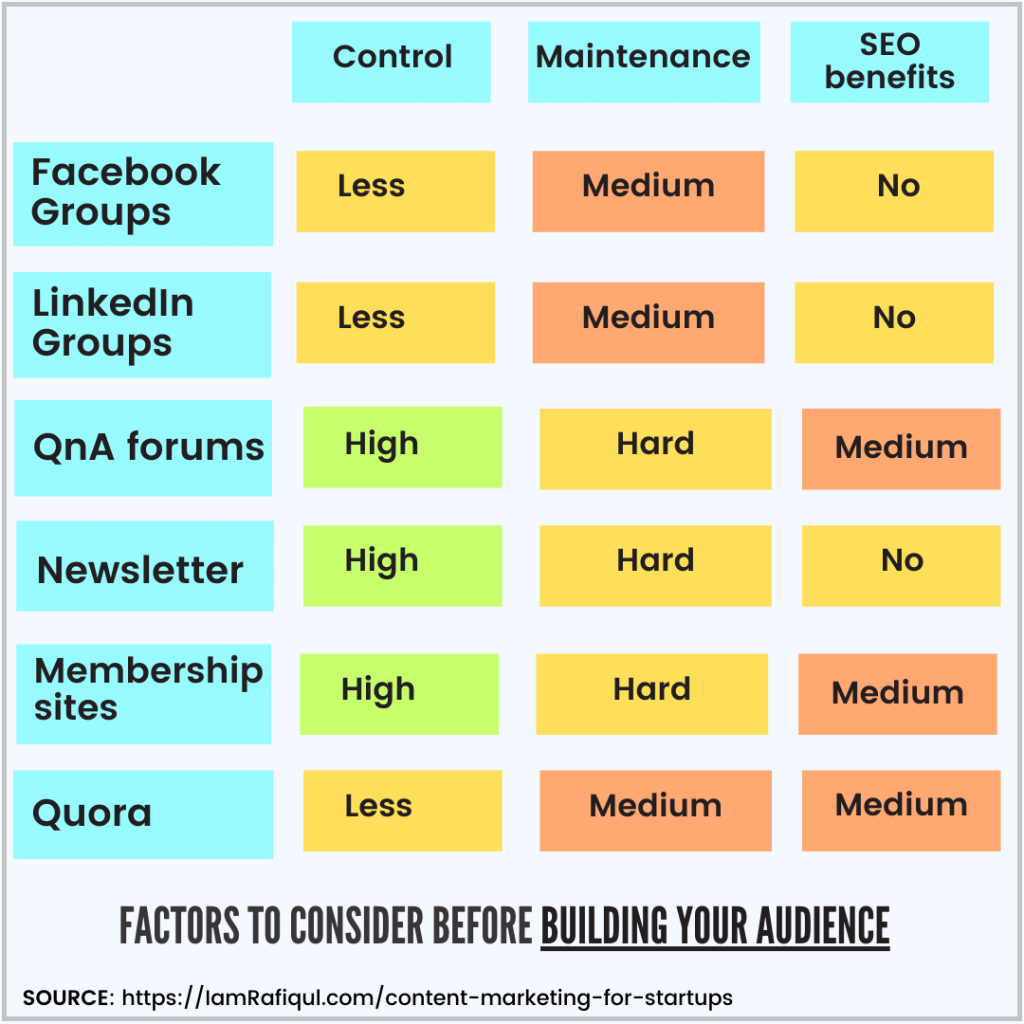 It is highly recommended to build your audience on your own land instead of third-party platforms like Facebook, LinkedIn, etc.
The reason is that you rarely get control of your audience.
No matter how engaging a community you have, if Facebook or LinkedIn changes their algorithm, you'll see a huge drop in the organic reach.
But what if you've already built your audience on any third-party platform?
Always consider driving them back to your own land.
For example, ask your members to subscribe to your newsletter or to join your free membership sites.
In that way, you'll be able to build an asset for your startup by growing and nurturing your community.
Most importantly, it's always better to start leveraging existing communities. From Quora to Facebook groups, you'll find so many relevant communities, a group of highly active members, where you can engage with providing unique content.
NOTE: Startups with urgency to get results from the community should avoid building an audience as it takes time organically. Instead, buying advertisements could be a possible option.
💡 Content strategy for buyer's stage
Usually, any prospect goes through three different stages (Awareness, Consideration, Decision). Consider the following example.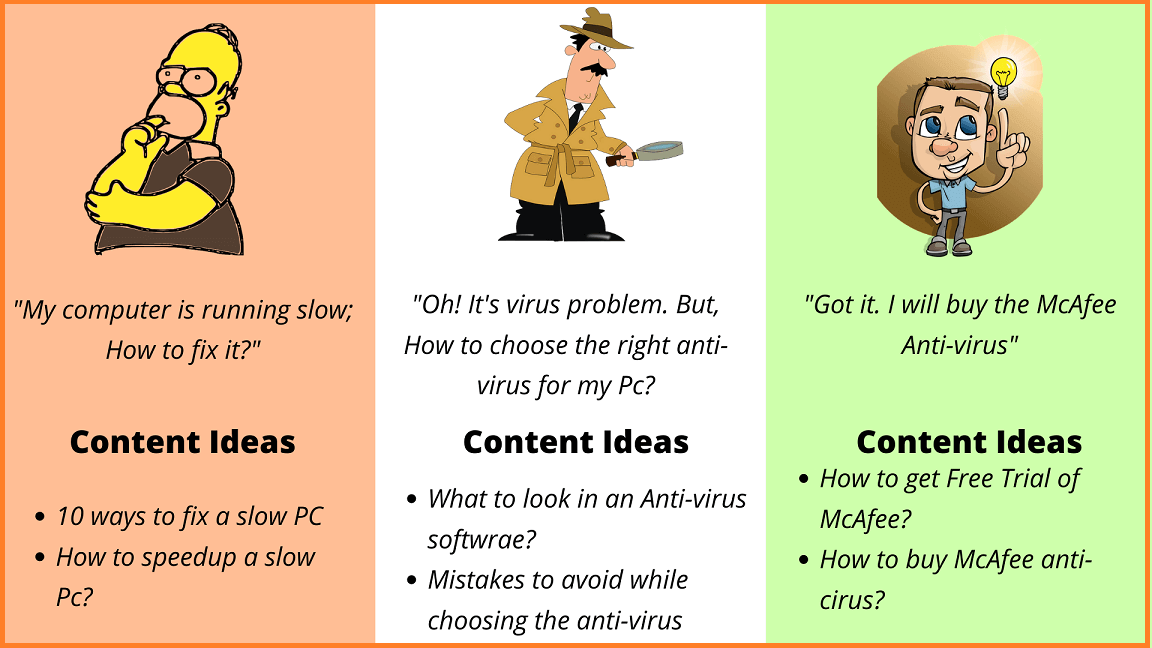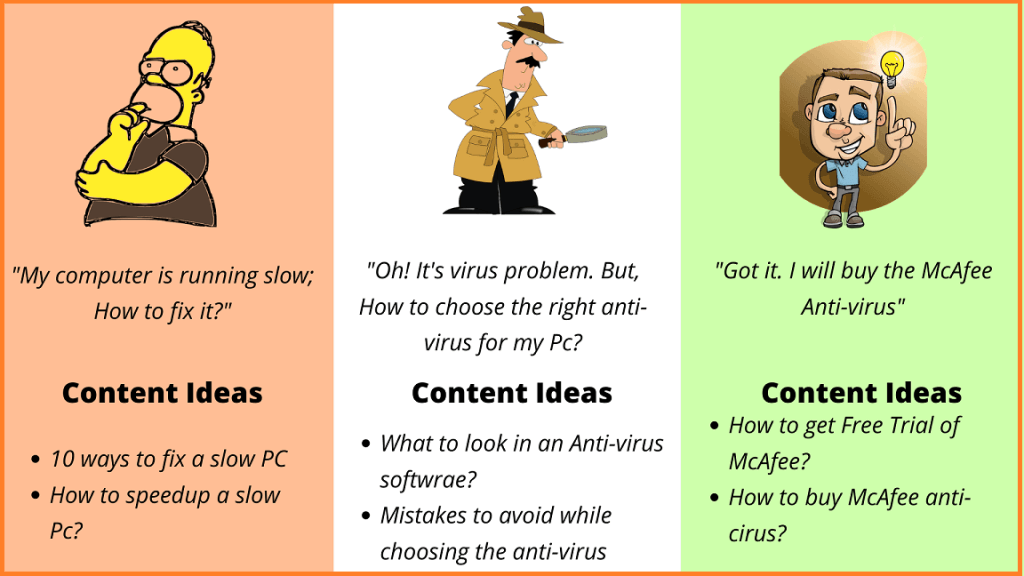 In the awareness stage, the prospect gets to know about the problem, and the chances are he/she will try to know more about the problem and the solution to it.
At the Consideration stage, they may look for the solution available in the market. Remember that the user has yet to take a final decision on buying any goods or service.
Thirdly the decision stage is where the prospect finally decides the right-fit solution for the problem/need or requirement.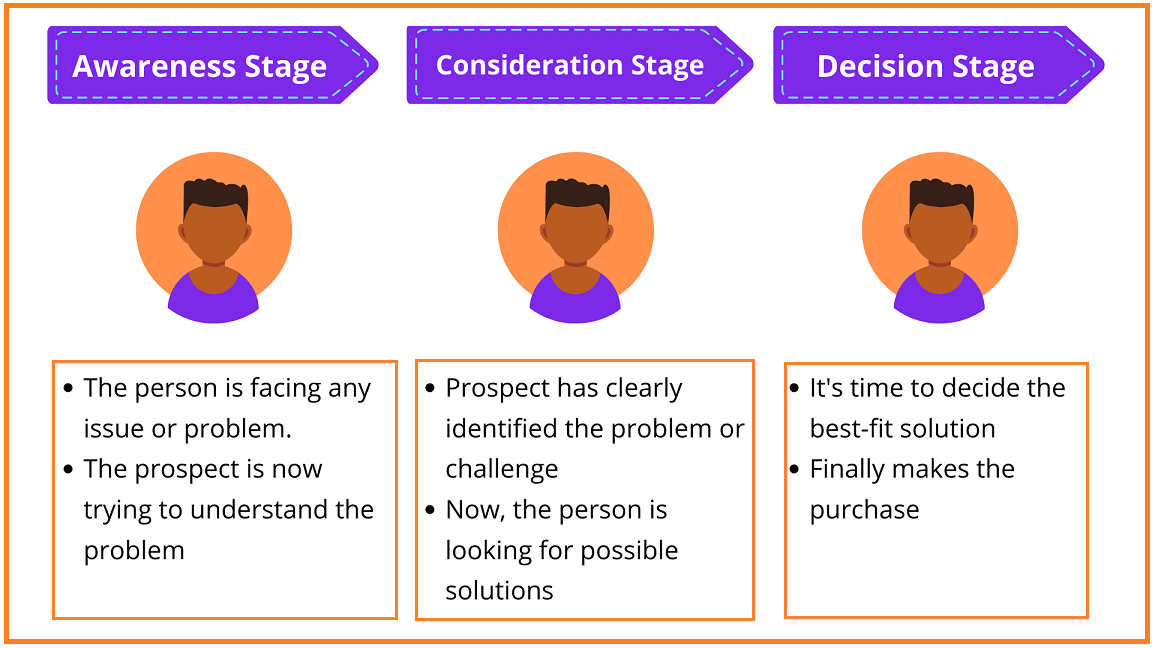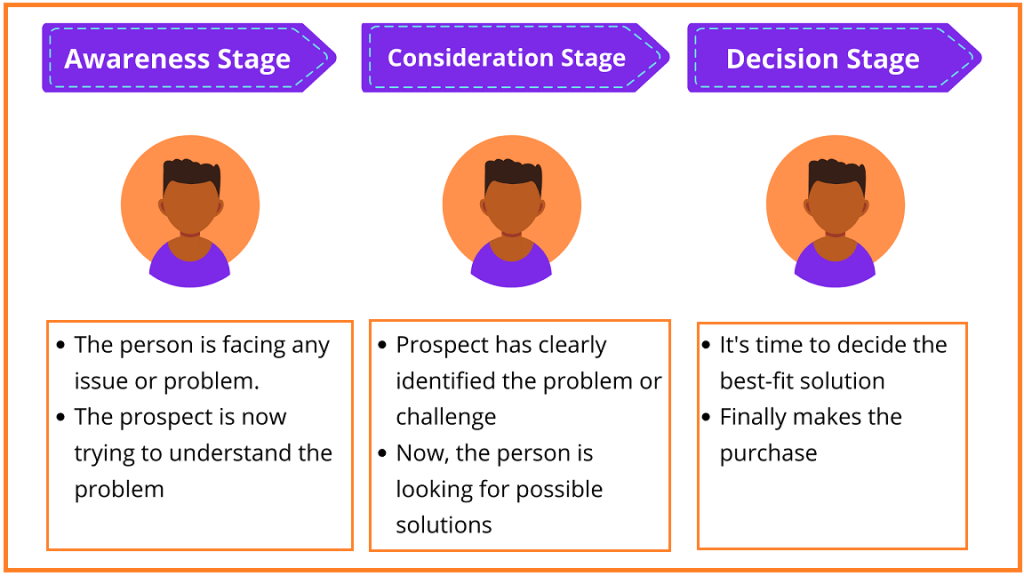 ➯ Why understanding buyers' stage is so important in content marketing?
No matter whether you have a service-based business or a startup that sells any goods, your possible audience will have many questions regarding your product and the problem it solves.
That means some part of the audience might not need your product right now (awareness or consideration stage) but may need it in the future.
Also, another portion of the audience may have heard of your brand and product before, so they might immediately become your paying customers.
By considering buyers' stages to create a content strategy, you'll be much more likely to reach a larger audience.
Here's what you can start working on.
1. Audit your existing content
Look at your content inventory and start categorizing them into three different content categories for buyers' stages.


You can use Google Docs, Google sheet or any other software of your choice.
In this stage, you'll just categorize the existing content based on the buyers' stages.
2. Identifying the content gap
In most cases, by looking at the table, you will understand whether you have a shortage or excess of content for any buyers' stages.
As a general rule, your content strategy should cover each buyers' stage so you can reach prospects from every phase.
[NOTE: For a startup in the early stages, consider creating more content based on the awareness stage as your first job is to reach more and more potential buyers and then to convert those into buyers.]
💡 10x Growth approach
In the 10x marketing formula, Garrett Moon has discussed the concept of content hacking.
Any startup looking to achieve business goals using content should adopt a content hacker's mindset.
He further explained the formula to become a content hacker:
"One metric that matters + Clear goal + Timeline = Content hacker"
Whether it is getting more traffic to your site, subscriber numbers, or an increase in sales, you should always have a single goal that matters most.
That means every content creation and promotion will have to align your primary business goal.
Having a timeline is super important to excel your content effectiveness and have an urgency to achieve the goal within the deadline.
Another important factor that almost every startup makes is creating content in every possible format.
You'll see brands that start podcasts, blogs, YouTube videos all at the same time.
As a result, it becomes harder and harder to create great content in every format. So, it's always better to maintain the consistency of creating great content in one format, and then you may repurpose them into many (if resources are available).
Refer to the below image that shows why creating great content consistently for multiple content formats is very hard to do, especially in the initial stage when the resources and budget are limited.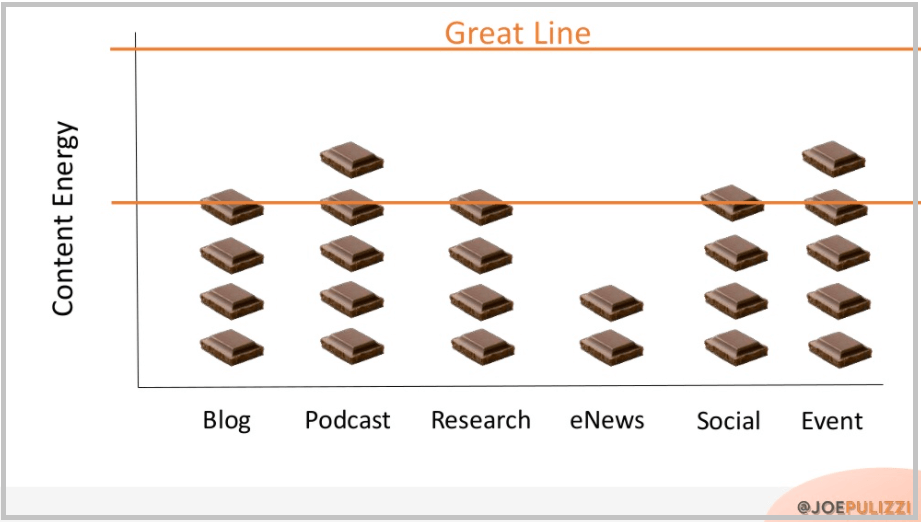 Image credit: Joe Pulizzi
💡 Measure, measure, measure
No matter how small or big a startup you have, you need to have a system to measure and test different ideas to excel in content effectiveness.
One easy way to kick-off the analyzing part, consider every stage of your marketing funnel, from the awareness stage to closing sales or retaining customers.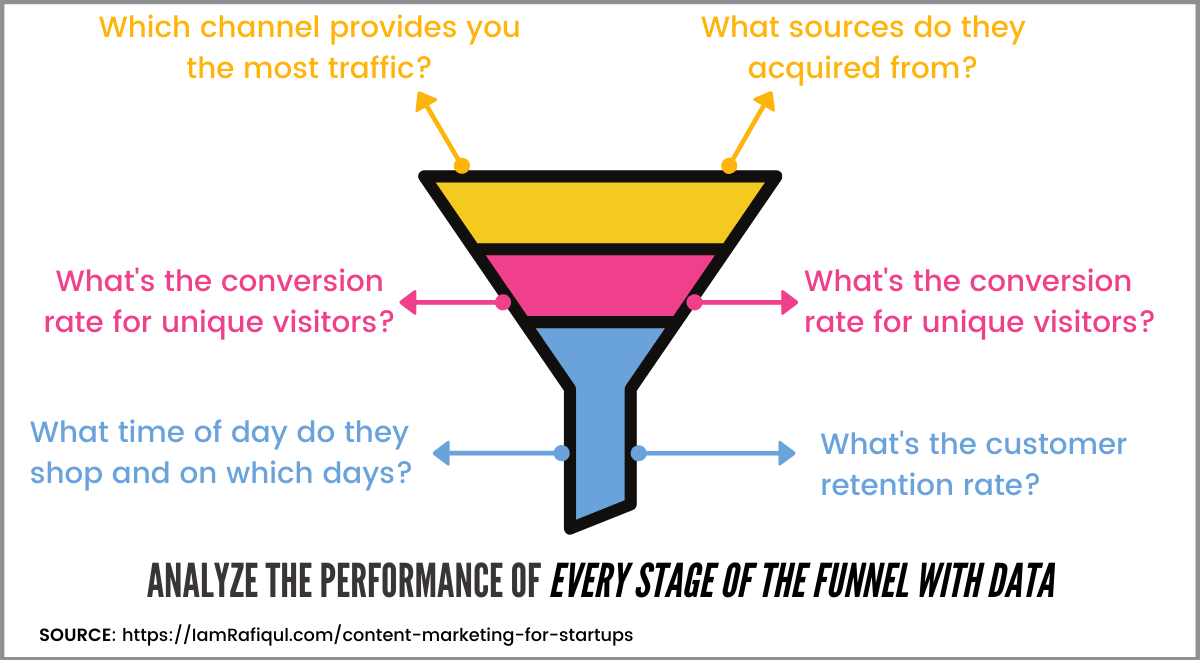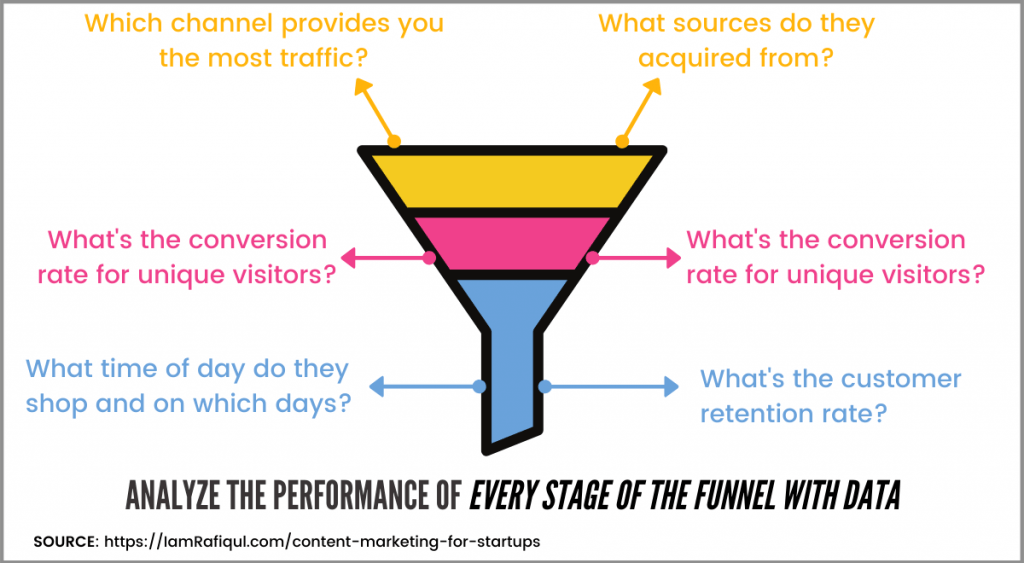 Choosing the right metrics for your startups depend on the business goals you have.
For example, customer churn rate is much more important to a subscription-based business than a service business.
Likewise, monthly traffic and content channels with the most and least traffic are more meaningful to an advertisement business.
Most of all, give more focus on the metrics that help in achieving business goals.
Below, some of the most important metrics are listed:
➯ Important KPIs for content marketing in startup growth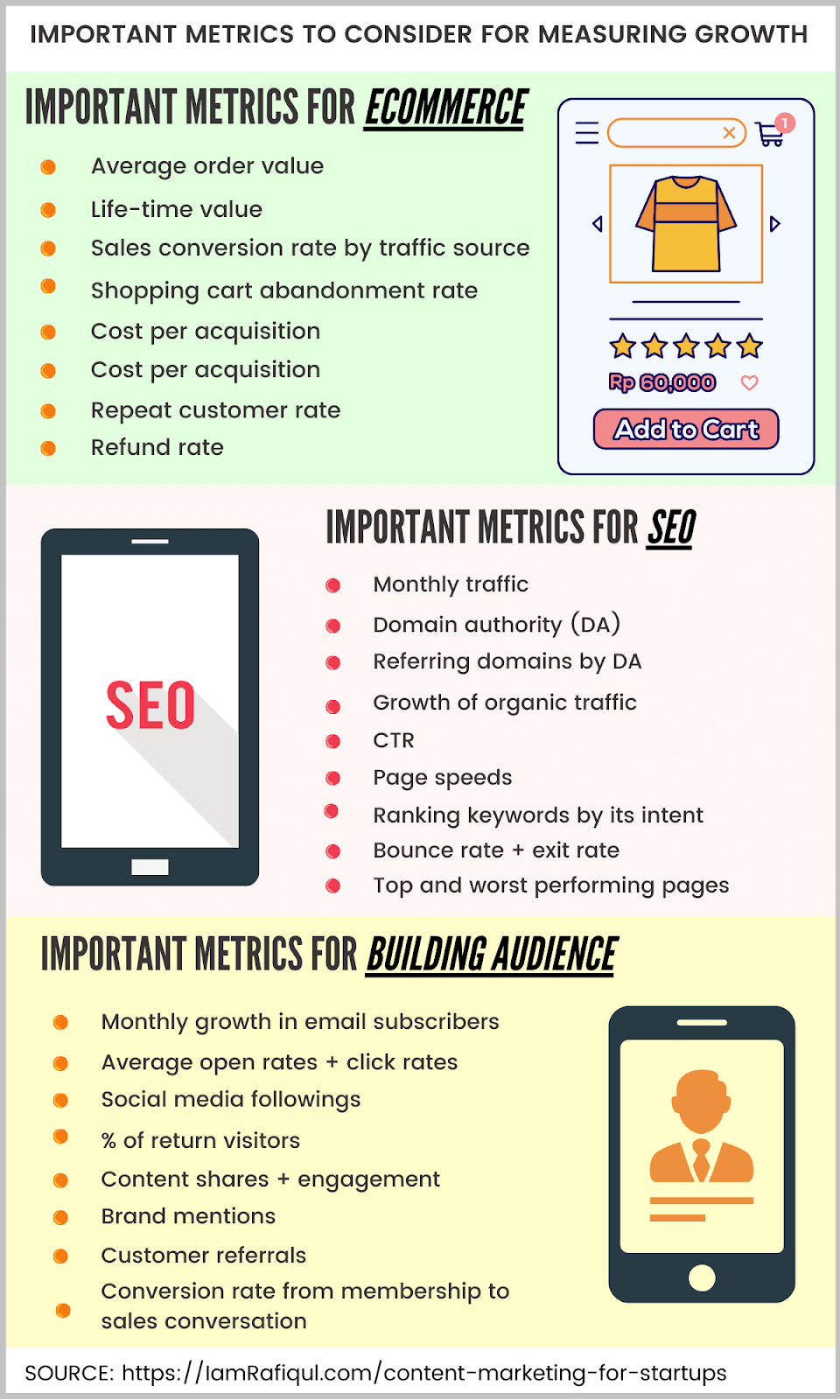 💡 Final words
Content marketing can be a time-taking investment for your startups, but tips and strategies shared in this guide will ensure that you get the most out of your content effort.
For an early-stage startup, here are my my final tips:
Start only when you're ready to invest in content marketing for at least 12 months (even without getting a positive ROI in the beginning)
Make your content strategy and stick with it.
Print your content marketing mission statement, share it with your team members.
Have a monthly review process to identify what's working and what's not
Creating quality content consistently is one way of building trust.
Think of building an audience first, monetizing the audience second.
Track every stage of your marketing funnel
Focus on one metrics that matter most
Want to grow faster? Implement collaborative content marketing.
That is all I have for this guide, but before you go, make sure you subscribe to the content marketing newsletter (Zero Spam) to get weekly emails that deliver content marketing insights and SEO updates.
Now, I have one question for you:
Which strategy or tactics has worked well for your startup?
Let us know in the comment.