Creating content frequently is not enough, if you don't focus on the quality.
In fact, there are more than 150 million articles on the web. The statistics also show that in every half second a fresh article is published.
So standing out in this competition is really hard and it becomes harder if you don't know how to write quality content.
When it comes to ranking everyone thinks about SEO, backlinking but there is more that you could do to create top-quality content.
Let's first define what a quality blog post is all about?
The first goal of quality content is to serve your audience. You just cannot write content for everyone and this is why identifying a target audience is highly essential even before writing a single word.
Let's see how a targeted reader should interact with your content.
Assume you've written an article on the topic of 'how to fix youtube video'.
So whenever your reader finishes your article, he/she must not have any further questions around that topic.
Yes, this is how your quality content should work, nothing less than that.
At the same time following SEO is also important.
The balance between quality content and SEO optimization is what you need to focus on before starting to create your own content.
Since there is no hard and fast framework for writing a blog post, you can always try new experiments with your content.
On the other hand, you can always take advantage of some proven techniques
Here are my 17 important tips based on my experience and detailed research, for creating quality content to rank better on Google and to solve your audience's query.
You can also watch the video on 17 Tips for creating quality content.
1. User-Friendly Url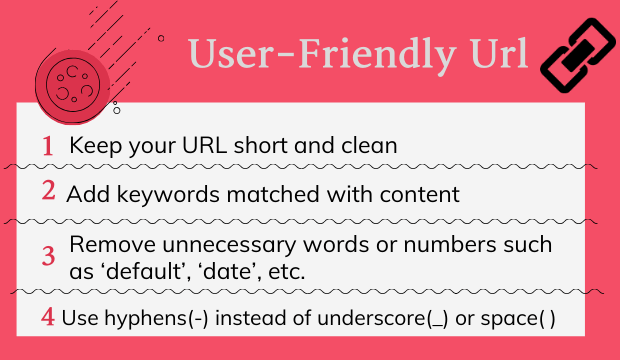 Let's hear from Google about SEO and User-friendly URL.
"URLs with words that are relevant to your site's content and structure are friendlier for visitors navigating your site".
This clearly indicates that adding words that match the content of your page in URL is considered as a green signal in terms of SEO.
So, should you include every matching keyword on the URL?
Obviously Not.
Let's forget about SEO for a moment. Just try to focus on what will be helpful for your readers to have an overall idea by seeing the URL.
Your visitors should have a basic idea of what your content is all about by just seeing the URL.
Let's see how a good Url looks like:
https://samplelink.com/video-editing-tips.
The example is clearly showing what would be inside of the URL. And this is all you need to do.
Pro Tips:
Keep your URL short and clean
Add keywords matched with content
Remove unnecessary words or numbers such as 'default', 'date', etc.
Use hyphens(-) to separate words instead of underscore(_) or space( )
Read more about Keyword Optimization.
2. Headline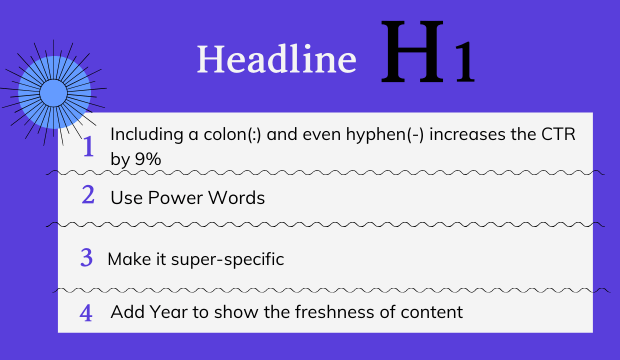 Okay, you have written a brilliant piece of content and even the page is also ranking on the first page.
But the fact is even ranking on the first page or even Top 3 rankings, doesn't assure you lots of traffic.
Wondering why?
It's maybe because your Title is not well optimized.
The headline of your content is the first thing that readers notice and based on that they decide whether it is relevant to them or not.
Along with the first impression, a well-optimized title tag is also necessary for one important SEO factor that is Click-through-rate(CTR).
Let's see how to write a better headline that people can't resist clicking on.
Here are some most important quick tips on improving CTR:
Including a colon(:) and even hyphen(-) increases the CTR by 9%
Study shows that including the year in the title tag also shows improvement when the content topic needs a fresh update. This reflects the sign of fresh content.
Use power words in your headline. Examples are Best, Top, Quick, Fast, Easy, Proven, Updated, and many more.
Make it super-specific. Don't try to be general to get traffic.
Get a complete guide on writing the powerful headline.
Add Year to show the freshness of content
3. Introduction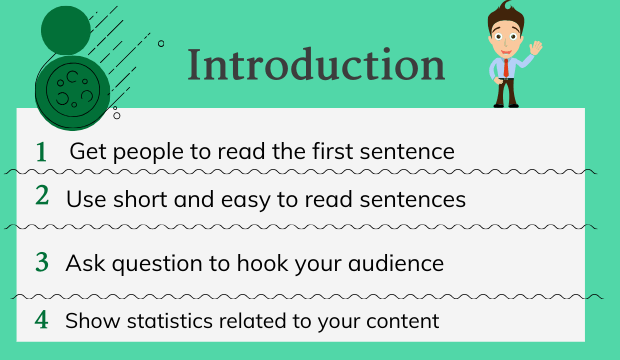 You only have a few seconds in the beginning to hook your audience. The aim of your first sentence is to get people to read the next sentence. Not more than that.
Tips to write a better intro:
Ask an obvious question that your reader is already having in their mind. An introduction like "Do you really want to get rid of acne in 7 days?" is a great way to hook your audience when your target users are dealing with acne.
Show statistics related to your content. Make sure the statistic is highly relevant to your content and readers as well.
Another way of hooking your visitors is to start with a controversial sentence. Make sure you have enough data and statistics backing up your statement, otherwise it might go against the content.
Give useful and relevant information at the beginning but make it incomplete. That way you'll be able to create curiosity in the readers' minds to read the next paragraph.
4. Long-form content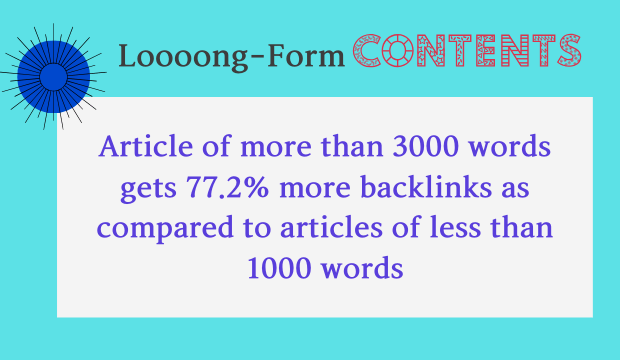 Shortform content is almost dead. Even the officials of Google also prefers contents that are in-depth.
A study of Buzzsumo and backlinko shows that article of more than 3000 words gets 77.2% more backlinks as compared to articles of less than 1000 words.
So, next time before writing an article, make sure, you're covering every query and question around the topic.
That way you won't have to extend the length of your content unnecessarily.
So what's the ideal length of content?
Well, there is no rule that says about the ideal length. But making your article in-depth by covering all the relevant points will help to perform better in the search engine.
Learn more about keyword Optimization
5. Topical relevance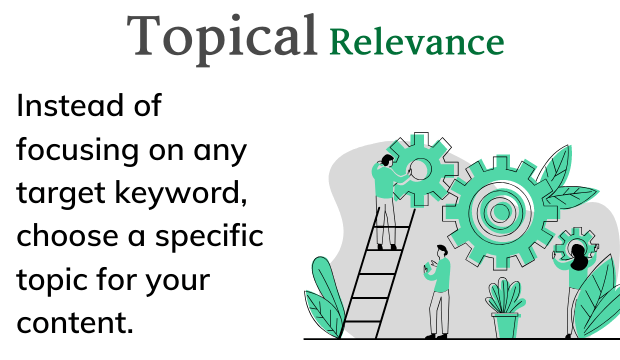 Again, topical relevance is the new trend in SEO. Because the evolution of SEO has shifted to Specific topics from just keywords.
Instead of focusing on any target keyword, choose a specific topic for your content. This is the technique that has helped HubSpot to grow its traffic exponentially.
Don'ts: Targeting a single keyword
Do's: Covering a super-specific topic
6. MultiMedia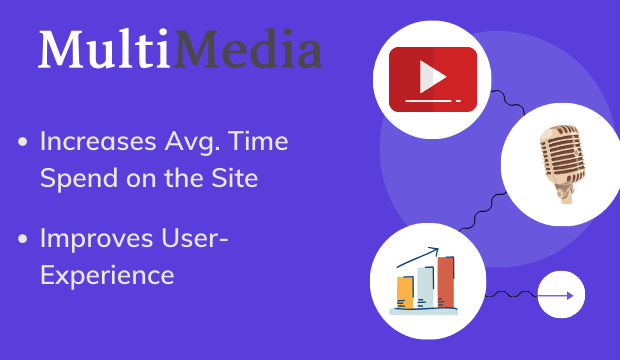 From business owners to bloggers, everyone wants to engage with their audience as long as possible.
when it comes to using blogging as a business platform then you must learn how to engage with your audience.
It has mainly two benefits
First, engaging your visitors for a long time will give you a low bounce rate, which is a green signal for an SEO perspective.
Second, the more you're able to engage with your content, the more you get connected with your customers.
So how to do it?
There are many ways but one of the easiest and effective ways is to include many multimedia.
Remember not everyone loves to read text-based content. So by adding lots of images, videos, or even embedding podcasts will increase the average time spent on your site.
In some cases, you can also add more than 20 images if it's needed.
It makes your content more optimized and user-friendly.
Here's the gist:
Add lots of high-quality images to support your content
Include quotes from influencers of your industry
Embed youtube videos only when it is relevant to your content.
Also, embed podcasts if you have.
7. Conclusion Part
Just like the introduction, the conclusion is also the best place to encourage your readers to take action.
You really don't want to waste time creating your content that doesn't excite your readers to take action.
Your goal of the content doesn't stop by just providing pretty awesome content. In fact it just starts from here.
Let's understand this from a business point of view.
If you're running a business blog, then you might want to take your readers from the awareness stage to the consideration stage.
Or even the consideration stage to the decision stage.
Even you can introduce your product or service in the conclusion only if the article was about a problem that your product can solve.
Keep your conclusion relevant to your conclusion.
Then what do you need to do?
Just simply add CTA(call-to-action).
Decide where do you want to take your reader once they finish reading your article.
Is it to check out your product page?
Asking for comment
Promote your other blog posts
Or
Is it to share your blog post?
Whatever it could be add CTA depending on your goal.
8. Infographic
Want to make your blog posts stand out in the competition?
Add high-quality infographics into your blog posts.
The study also shows that blog posts that contain infographics are most likely to be linked by other websites.
You can use online tools like Canva, inform, or infographia.
Either free or premium, these tools provide a huge collection of infographics template that you can use effortlessly.
Benefits of adding Infographics:
Gives users a better experience
Creates engagement
Get more links
From a business point of view, you can always showcase your services or products in the form of infographics.
That way it looks more interesting and obviously makes it different from others.
9. Add Oxygen to your Content
The shorter paragraph always works. Remember writing for a blog is quite different from academic writing.
The more blank spaces will be there in your blog posts, the more easy will be to read it.
As a general rule, paragraph not more than 2 to 3 sentences makes abetter content in terms of ease of reading.
Blank spaces in a blog post work like an extra amount of oxygen to your content.
10. Write to your friend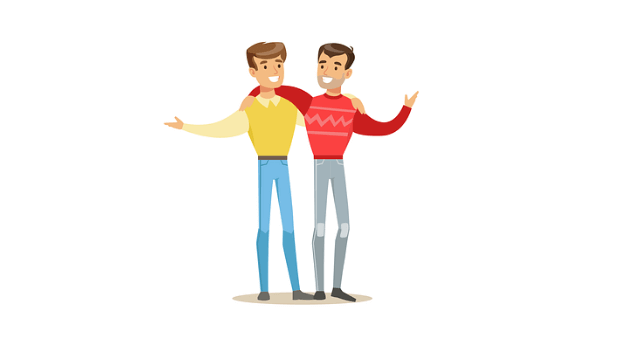 Isn't it awesome if your content could directly talk to your readers?
Well, if that is possible, then surely you're going to get more conversions and better engagement.
Until we find any device to help you with this, let's use 'you' and 'I' in your article.
Yes, this is one of the most common yet effective ways of getting connected with your readers.
Write your content like you're talking to your friend.
11. Readability Test
One of the easiest ways to check whether your blog post is easy to read or not is to run a readability test.
Hemmingway application works by identifying harder to read sentences gives you an alternative solution for that as well.
This tool also gives your content a grade level so that you can understand the readability score.
A grade level of between 4th grade to 6th grade is a good score that ensures a better readability performance for your readers.
12. LSI keywords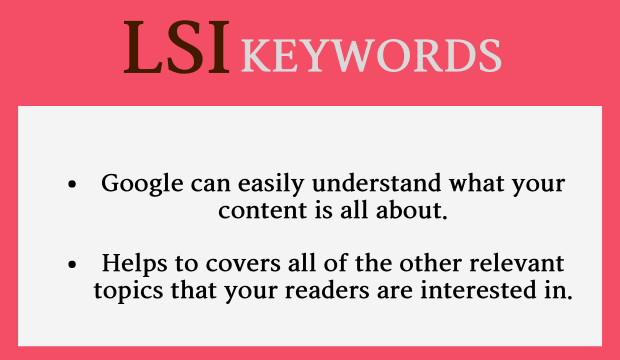 Adding LSI keywords to your article has mainly two benefits.
First it helps to improve your SEO score as Google can easily understand what your content is all about.
Second, it helps you to create content that covers all of the other relevant terms and search queries.
Let's find out how can you use LSI keywords to rank better:
Take help from Google's autosuggestions. This means just type your keyphrases on Google but don't click enter. You'll see a list of other related keywords that users are asking.
Likewise, whenever you search for a query on Google, you may notice that at the end of the page, there is a section called 'related searches'.
What you need to do is take most of the relevant terms that match your blog topic and include it in the content.
Don't just sprinkle these keywords just for the sake of doing it.
Instead add these LSI keywords as a subtopics or even in the overall content but in a natural way.
It must look natural.
Another way of adding LSI keywords is by using a tool called LSI Graphs.
By just adding the key terms, you'll get tons of keywords relevant to your key term.
13. Give all that your readers want
As I've stated earlier, reading your content, your readers must not have a single doubt on the topic.
I know it's not that easy to understand what your audience actually wants.
Wait! Maybe it's not that hard as you're thinking.
An online tool, called answerthepublic can help you in this. By just typing the key term of your blog topic, you'll get tons of questions around the topic that your target audience is actually searching on the web.
That way you'll learn what are the questions that you should cover in your next blog posts to give your audience all that they want.
[Pro Tip: Using these questions as sub-headings is also giving your content an SEO advantage.
Don't just add every question in your subheading. Instead add the most relevant ones and make it look natural with your content.]
14. Originality sits at the top
Original content doesn't always mean plagiarism free content. Sometimes people write content just for the sake of it. And as a result they end up paraphrasing other's similar content.
This may fill up your content list but it really doesn't add any value to your business.
One of the goals of writing for business is to attract readers and to do that you need to be authentic and honest.
Write content that you're an expert at. Yes, sometimes taking help from other content is absolutely fine.
So try to write content with your uniqueness instead of following someone else's copy.
15. Nothing beats Storytelling
Adding more and more information is good but if you really want your readers to remember your content then you can't afford to ignore storytelling.
From a child at school to Boss at the meeting, everyone loves to hear stories.
Let's how you can leverage storytelling in your content.
You can start your content with a success story so that people feel it's trustworthy to invest time in reading your article.
Likewise, sharing your own story if it is relevant to your topic is also a tactic to make a connection with your audience.
Get a clear Idea about how to integrate Storytelling in content marketing
16. Out of topics? Read this…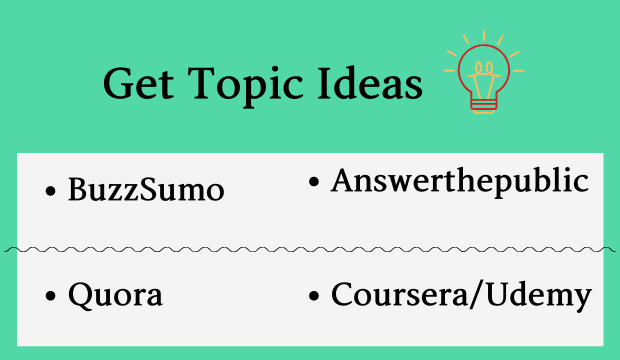 Writing for more than 3 years, I can say that running out of content ideas is not an uncommon problem.
So how to deal with this?
Go to the forum and see where your target customers are spending most of their time.
Places like Quora, Reddit works well. There you will find your industry-related questions asked by your target audience. Then look for the questions that get the most number of views or answers.
Now create an in-depth article covering those questions.
Another way of finding topics is to take help from BuzzSumo.
From BuzzSumo, you'll get to know about topics that are trending. This will also let you know the number of shares each article gets on different social media platforms.
Want more content ideas?
Try platforms that offer courses just like Coursera, Udemy, Skillshare, etc.
This is one of the most unconventional ways to generate content ideas for your blog post.
You'll get access to some of the proven topics that people are highly interested in.
Search for best selling courses in your niche and you'll find a ton of courses.
Look at the titles and table of contents so that you can understand what are the topics to cover.
17. Internal linking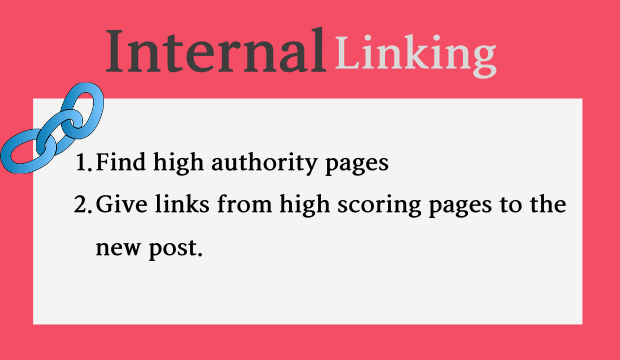 Internal linking can help you in boosting new pages on your site. Everyone does interlinking at some level in their site but if you do it strategically, it will be more likely to be benefited.
What's that strategy?
Go to any SEO tools like Ahrefs and look for the pages of your site that have the most authority score.
Next, you need to interlink from those high authoritative pages to new pages or the pages that you want to boost the ranking.
But! Don't overdo it. Don't just put links to every new blog post that you publish. It might even hurt your ranking.
The best way to do it is to internal linking to relevant pages.
Think about user experience. And interlink to high relevant pages for your users.
This has two major benefits.
First, Interlink from a high authority page to a new page will boost the authority and importance of your new page.
Second, indexing your new pages becomes easier for Google.
Things to try.
Find high authority pages
Give links from high scoring pages to the new post or the post that you want to boost in ranking.
Conclusion
Let's highlight key notes from the blog post.
FACTORS
DETAILS
1. User-friendly URL
Short & clean sentences,
Add related keywords,
Use hyphens (-),
Don't use underscore (_) or space( )
2. Headline
Include colon(:)/ Power words, year,
Make it specific and relevant to the topic
3. Introduction
Short sentences,
Ask questions,
Add statistics
4. Long-form content
An in-depth article gets more engagement and links.
5. Topical relevance
Dont's: Targeting a single keyword,
Do's: Covering a super-specific topic
6. Multi Media
Add lots of high-quality images,
Include quotes from influencers of your industry,
Embed youtube videos, podcasts if you have.
7. Conclusion Part
Add CTA,
Take your reader to the next buyer's stage
8. Info-graphics
Canva, Infographia, Infogram, etc.
9. Blank spaces
White spaces within your content work as oxygen to readers.
10. Writing tone
Use 'You' and 'I' instead of 'everyone'' and 'We'
11. Readability Test
Hemmingway App
12. LSI keywords
Google autosuggestionLSI Graphs
13. Cover all questions
Answerthepublic.com
14. Originality
Don't copy others.
15. Storytelling into writing
Add success stories
16. Content Ideas
Buzzsumo,
Answerthepublic,
Quora,
Coursera/Udemy
17. Internal Linking
Give links to your new post from high authority pages of your site
One of the key aspects of creating content is to attract and delight existing readers. And there is no better way to do this than creating high-quality content.
These 17 tips are most likely to improve your content in various ways such as SEO score, User experience, and so on.
Don't be limited to only these tips, as there are many more ways to create engaging content as well.
But give it a try and see how does it work for you. Also, it is also not necessary to leverage all of these 17 tips in each and every blog post. try to mix up to see the result.
I am curious to know how many of these tips you have already followed in your blog post. In fact if you have something more to cover, please let me and my audience know about this.
If you've liked the article, do share it. This motivates me.
Read More, Learn More…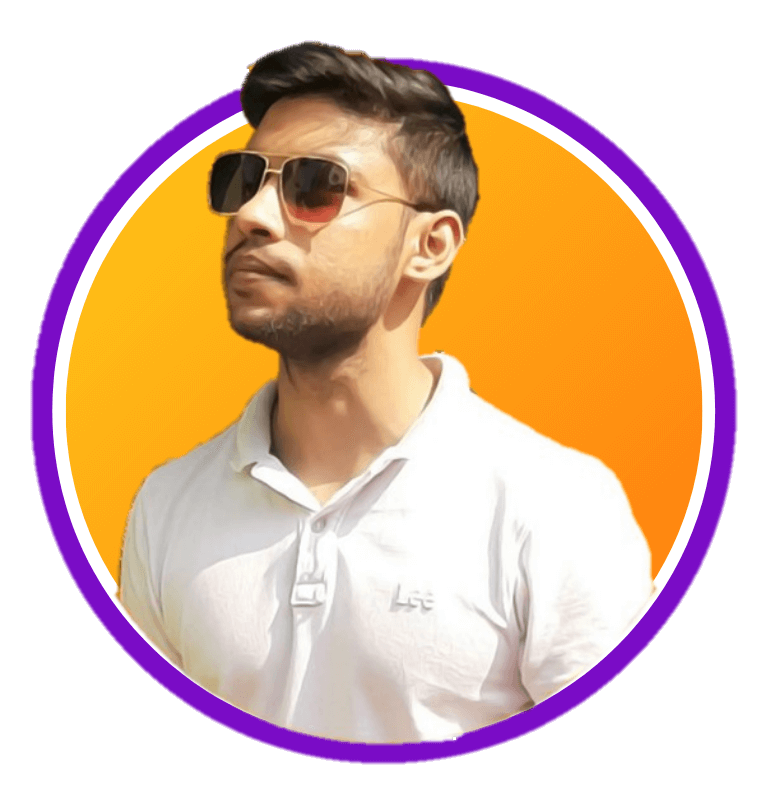 Sk Rafiqul Islam is a content marketing practitioner with 3+ years of practical experience. He spends most of his time helping businesses to build a loyal audience with content marketing. He is also running a tech career blog called 10Pie and content marketing VIP, a bi-weekly marketing newsletter. In his free time, he loves reading books and playing football.