Unbounce, a software company, started blogging for business, even before the launch of its first product in the market.
Sounds interesting, huh?
Let's hear more from Rick Perreault, CEO, and founder of Unbounce:
"If we had not started blogging at the beginning the way we did, Unbounce would not be here today… Our content still drives customers".
Thanks, Rick.
The fact is quite clear.
Blogging has a huge potential when it comes to attracting new customers, getting more leads, and improving brand awareness.
But
It works well when you have a rock-solid blogging strategy.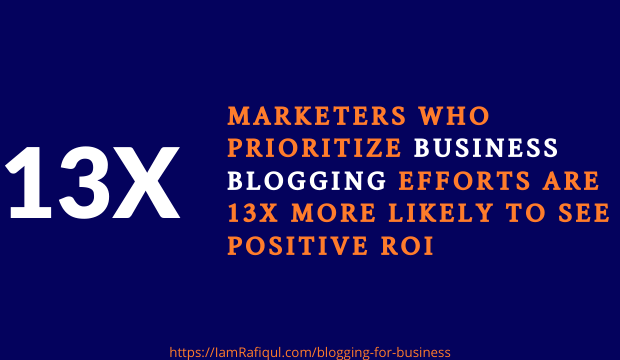 Just consider a few of the business blogs that you've visited recently.
You may have seen an infrequent update in blog posts, no content strategy for the buyer's stage, and the list goes on.
Read more: Content marketing Jobs report 2020 [Annual report]
The opposite result you'll notice when it comes to companies like HubSpot and Moz.
Okay, before jump into the blogging strategy to grow your business, let's first understand why it is necessary?
It mainly holds two benefits.
First, it will help you in building authority as you're regularly creating content around the queries of your customers.
Second, it will help you to rank better in search engines for keywords related to your industry.
Think about the phenomenon this way.
With adding one more content to your blog, you are increasing the chance of getting showed up on google.
So what?
The more search visibility you get, the more visitors will come to your site.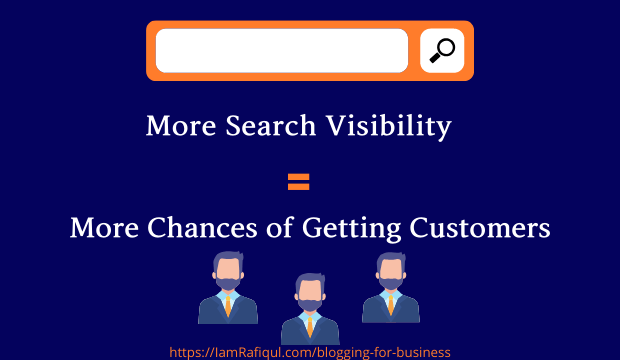 So what?
When you get more traffic for relevant search queries, the chances are you will see a wave of new customers.
Now, That's pretty awesome, right?
That brings me to the first strategy of blogging for business.
1. Content Strategy for building your business blog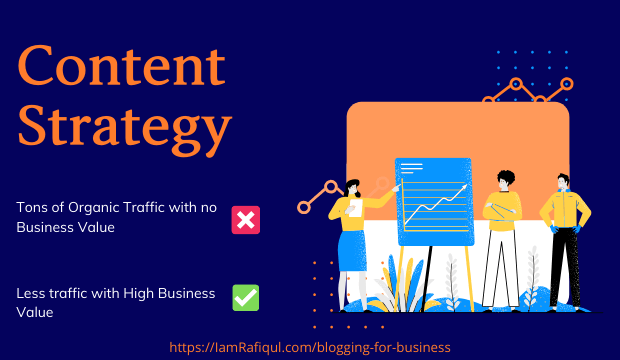 One common mistake that most of the business blog commit is that they only focus on getting more and more traffic.
Search volume is a good KPI but its not the most important.
Then, what is it?
RELEVANCY.
Let me explain.
Assume you are getting tons of traffic from Google. But when you're tracking the conversion rate, the improvement is negligible.
In this case, does getting massive traffic from Google is helping your business to get more sales?
Not really. It's because you don't have any content strategy that is relevant to your service or product?
So how to create a proper content strategy that will bring explosive growth in business?
Here it goes.
Every buyer goes through three different stages. These are:
Awareness stage
Consideration stage
Decision stage
Awareness stage
The awareness stage is when the buyer identifies the problem that they are facing. In this stage, the buyer most probably will try to research the problem.
To add value to the buyers from the awareness stage, you can try several things to bring them to the next stage, which is the consideration stage.
Most popular choices are listed below:
How to post
In-depth article
eBooks
Infographics, and many more.
Consideration stage
Once the buyer identifies their problem, its time to go for the solutions, after researching the problem, buyers have identified the issue.
Now, looking for solutions is the common trait of buyers from consideration stage?
Since your business has the solution to their problem, it is the best time to introduce your product or service.
Content types that work well for the consideration stage are:
Case study
Success stories
FAQ articles, etc.
Decision Stage
Even after knowing the solution, there is one space that you are yet to focus on.
That is which solution is best for me?
It is almost true for every industry that there are multiple options for solving any problem.
For example, I need a voice recorder mic, and obviously, there are various brands available in the market. So choosing the best one comes under the decision stage.
So how can you leverage content strategy for the decision stage?
As far blogging is concerned, you can create a free eBook covering all the important aspects of your product or service.
Since the buyer is getting value from each of the stages, it is more likely to be attracted to your product at the end.
In this case, by creating content for your ideal buyer, you're not only adding value to their life, but you're building trust as well.
Great, I got the point.
But can you please give me an example so that I understand well?
Here it is.
Let's consider a graphic design company that only allows its customers to create amazing infographics. Let's name the company Infomake.
Awareness stage: So, in this case, the content ideas for the awareness stage could be like these:
What is an infographic?
Why is Infographics important for creating visually appealing blog posts?
What to include in an infographic?
Why is infographic effective?
Consideration stage: Since the buyer now has understood the role and importance of infographics, he/she might be looking for the options to create one.
And here the buyer comes to the consideration stage. Again, your task is to provide value to the buyers based on their queries.
Here it could be like:
How to create infographics?
Best places to make infographics
Best tools to create infographics
Notice that buyer from the consideration stage is more likely to look for the solutions available in the market.
By introducing the product or offer of Infomake could help buyers to understand its usefulness.
Decision stage: At this stage, providing a free trial is suggested. As the content is a concern, creating an in-depth article on how to use Infomake is one of the ways to convert your customers from the decision stage.
[Pro Tip: You can use Answerthepublic.com to get to know the queries that your buyers have around the service or product. And categorize all of these queries into three segments, as mentioned here. Now, start creating content based on the buyer's stage.]
Here comes my second strategy of blogging for business.
2. Topical Relevance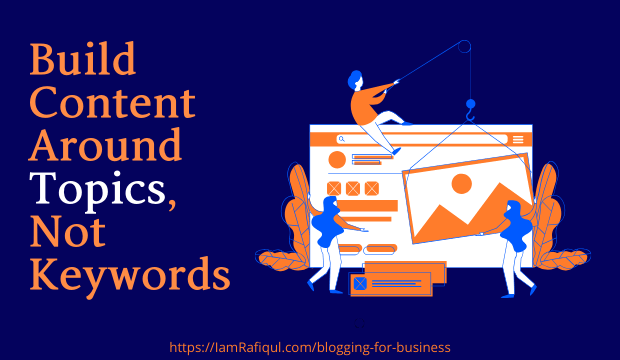 It's 2020, things have changed in terms of SEO and Keyword research tactics.
If I have to make a gist of what is one major thing that changed over the past few years, then I would prefer saying:
The SEO industry has shifted from keyword-optimization to topic optimization.
Here's what does this means?
Years back, most of the bloggers used to create content by targeting only keywords. But just like Google's algorithm, search queries are also changing.
Nowadays, the search box is not only a platform to get some general information about a few keywords, but also to get solutions to some complex problems.
People are now comfortable with getting highly relevant information when they search for any complex topic, thanks to Google algorithm
This is the reason why writing a blog post by targeting one keyword is not the best way to deal with it.
Instead, you should focus on building topical relevance.
That simply means creating content around topics instead of keywords.
Still, confused? Let me help you.
Blogging is just a keyword, whereas how to learn blogging could be a possible topic.
So instead of writing your next blog post by focusing the single keyword "Blogging", you should cover a topic like "how to learn to blogging".
So how effective is this strategy?
Even the HubSpot team has also leveraged this technique to rank higher in the search engine.
HubSpot's director of sales acquisition, Howells-Barby also stated that the primary strategy of the Hubspot team is to build content regarding topical relevance.
First, the team has to identify the key topics around the software and services, HubSpot provides.
The next step was to cover each of these topics through detailed blog posts.
Well, the idea is simple.
Topical relevance is all about creating content that covers a topic, not only a keyword.
Suggested Reading: keyword optimizing strategy for Topical Relevance.
But what topics to cover for acquiring more customers through blogging using this topical relevance technique.
I mean you just can't write about pet foods when your business is around the software.
There has to be a proper way to generate topics for creating content.
Here presenting you my suggestions to gather ideas for topical relevance:
Option 1: Find topics around your business. If you're selling beard oil, you need to cover every query or topic around beard oil.
[Note: Don't forget to categorize your content ideas into three different stages, as mentioned in the first point]
May be your target buyers would have questions like:
How to grow a beard using oil?
How to use beard oil?
Best beard oils available in the market.
I hope you got the idea.
Most importantly, don't forget to cover a topic in every content that you publish.
Don't go for targeting a single keyword anymore. It's time to evolve.
By considering these topics, you will find more targeted and qualified traffic to your site.
That way people, who are actually interested in beard oils will be your site visitors.
As a result, the conversion rate will also increase due to the relevant traffic to your product.
Option 2: another way to build many relevant topics is to subdivide a major topic.
Let's say you find a topic such as a beard oil for hair growth.
What you can do is just simply search for the questions that poeple have around this specific topic.
That will help you to create lots of content topics that are relevant and targeted for your product as well.
Tools to use to get the questions people are asking about your broad topic:
Answerthepublic
Quora
Reddit
Buzzsumo
Again, there is one more way to get question ideas that are your won sales team.
Your sales team is the one that directly engages with your potential customers. So getting help from your sales team will help you a lot.
This is how you can create better content that not only ranks in google but also help your ideal buyers to know more about your business.
And this brings me to the last but not least point, which is how to write better content for humans and Google as well.
3. Search Intent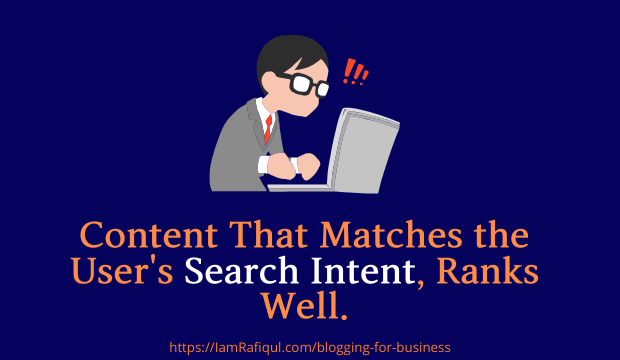 Raise your hand if you want your blog post to rank on the first page of Google.
I knew you too want.
Though there are hundreds of factors that decide the ranking of a page, still there is one basic yet vital rule of ranking on Google.
Most of the business blogs fail not because they failed to create quality content but because they target the wrong keyword/topic.
I know it sounds horrible when I am talking about targeting a keyword or topic.
It's simply because no one knows what's right or wrong when it comes to ranking on Google.
But by studying thousands of pages that are ranking well on Google, several conclusions can be drawn.
And search intent is one of those.
Here I am going to show you what mistakes most of the business blogs commit and how to fix it.
Want to rank high on Google?
Want to know which keywords to target?
Yes, search intent is the primary factor that decides whether you should invest your time, resources, and energy to write a blog post on a particular topic or not.
Let's understand what search intent is all about?
Let's see what Google says about search intent.

Search intent is nothing but to understand the why behind every search query.
Let me help you with an example.
A few days back, I was looking for foods that help to boost the human immune system, as the strong immune system is the preferable solution for COVID-19.
So, I searched with the term "foods to boost immunity".


And here's what I've found.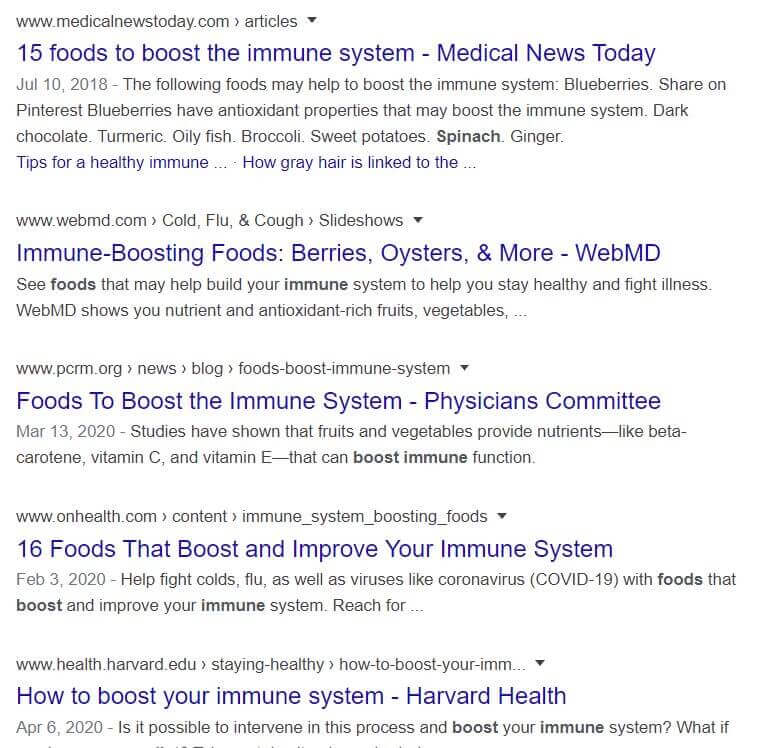 As I 've already said, to understand search intent, you need to understand why the user is searching for that term.
So, in this case, I was searching because I wanted to know what are the foods to eat to boost the immune system.
That means I was looking for the information.
So the search intent for my keyword 'foods to boost immunity' was about informational search intent.
Similarly, every search query could be categorized into four parts, such as:
Informational (when the searcher is looking for information. Example: 'foods to boost immune system')
Navigational (When the searcher is intended to visit any specific website. Example: Iamrafiqul.com)
Transactional (This is also considered as a buying intent as the searcher is looking to purchase. Example: Nike shoes)
Commercial (whenever the search query is towards a specific product or service. Example: Moz SEO course )
Search intent is important than ever before as Google is now more improved to provide the best user experience with every search query.
How should you consider this into your blogging strategy?
After choosing the target keyword or any specific topic, make sure you check the SERP results to ensure that you can match the user's search intent.
Here's exactly how to do it:
Let's again consider you are selling beard oil.
And you can choose 'beard oil' as your next blog topic.
So let's check whether you should choose this keyword for your blog post or not.
Here's how the SERP result looks like: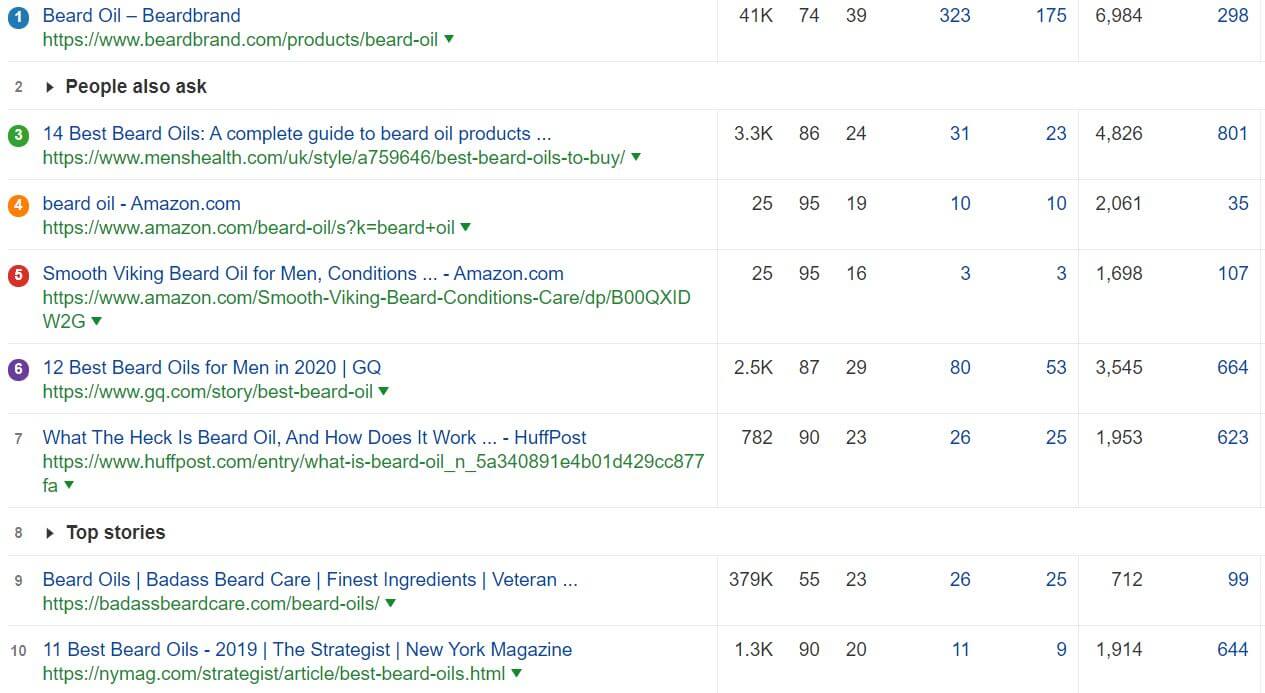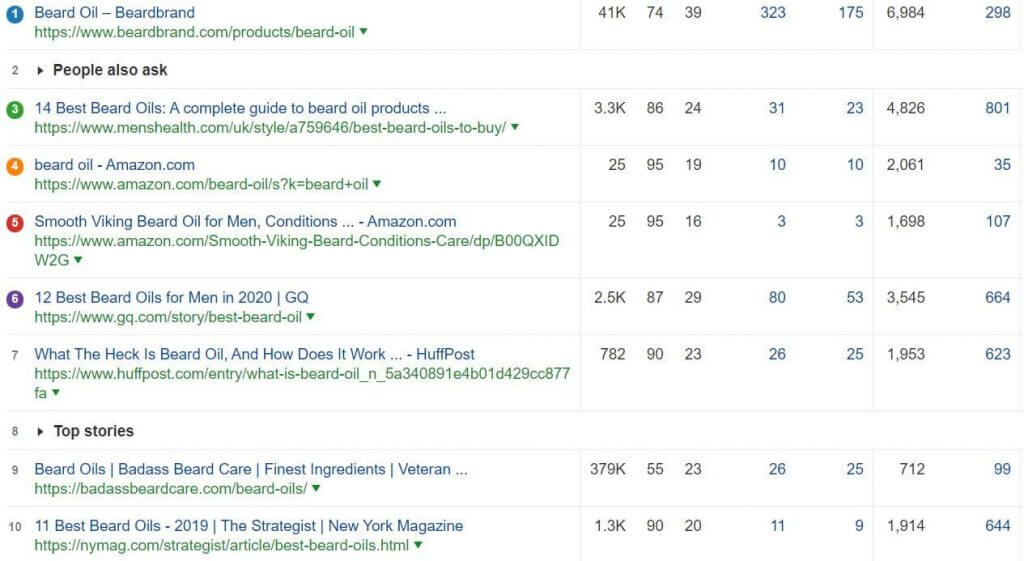 I found 9 out of 10 results were the eCommerce pages. This indicates that the keyword belongs to the transactional category.
So do you think writing an in-depth article on this topic going to help you in the ranking?
Absolutely not.
Instead, you can go for making a product page for the keyword, beard oil. This might help you in ranking as compared to writing a blog post.
Even you can also go with a detailed video covering all the queries regarding beard oil, as Videos are also featured on the first page.
Last but not least Tip:
Along with search intent, also look for the content format. Just notice all of the pages that are ranking on the first page.
And identify what's the common pattern among the top pages.
For example, it could be how-to guides or list types or even a product page as well.
Whenever you check SERP results, notice what the content format of most of the pages ranking on the first page is.
Conclusion
Blogging for business or any other purpose, you must have a long term vision and also a solid strategy as well.
Most of the strategies that I have discussed in this article are well tested and trusted by big giants like Ahrefs, HubSpot.
Building a strategy is not rocket science at all, but implementing and keeping eyes on the progress could be one of the challenges.
Either you can build a team to make sure your business blog is up to date with relevant contents, or you can hire any freelancer.
Always remember to consider blogging as a long term strategy; otherwise, you might end up frustrating with no result.
Are you ready to implement these strategies of blogging for business? And also let me know if you've any other to share with me and my audience.
Please let me know if you've started your blog for the business till now in the comment section.
In case you have any query or problem regarding the business blog, you can always contact me at [email protected]
Read More, Learn More…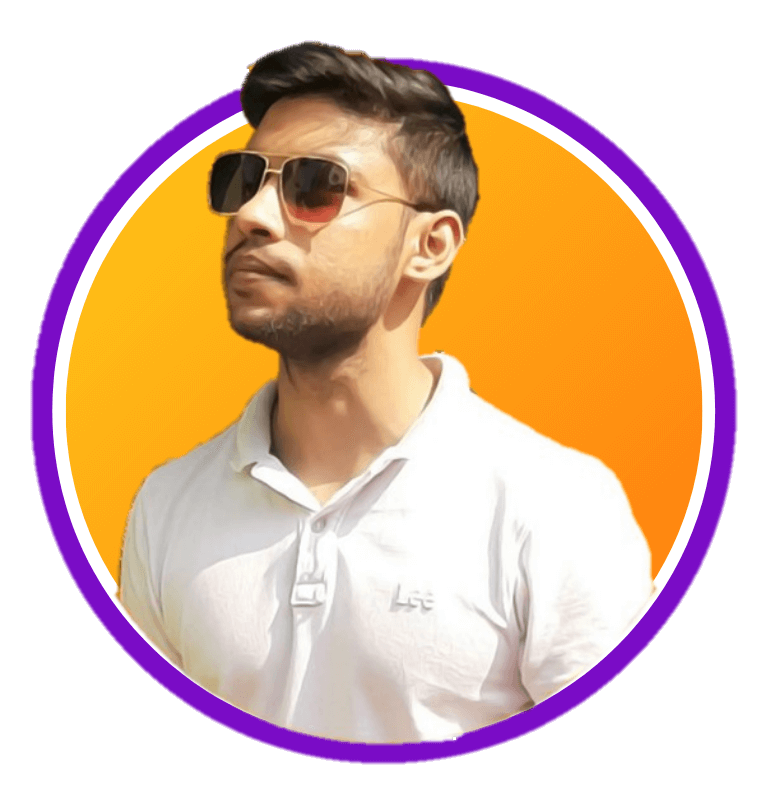 Sk Rafiqul Islam is a content marketing practitioner with 3+ years of practical experience. He spends most of his time helping businesses to build a loyal audience with content marketing. He is also running a tech career blog called 10Pie and content marketing VIP, a bi-weekly marketing newsletter. In his free time, he loves reading books and playing football.