The popularity of the search term 'Content marketing jobs' has increased 2.98 times in 2020 compared to 2010.
Now, this clearly indicates two things.
Marketers are more actively investing in content marketing.
Content marketing has opened up more job vacancies all over the world.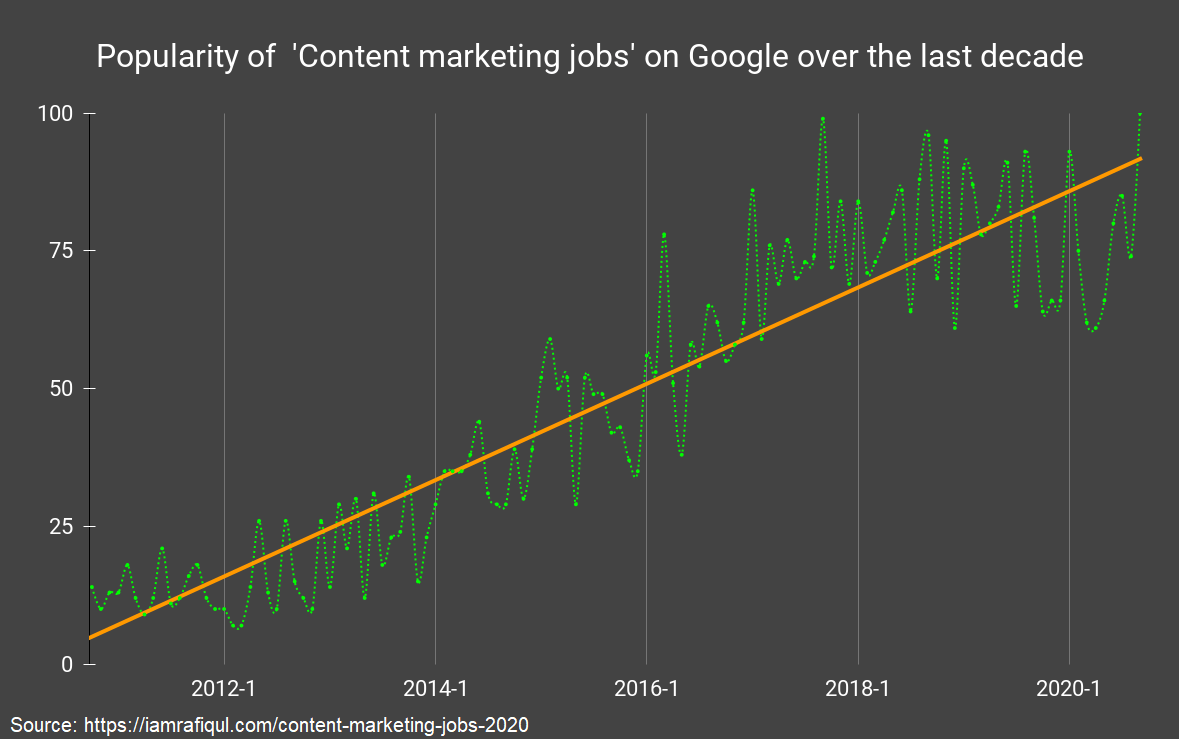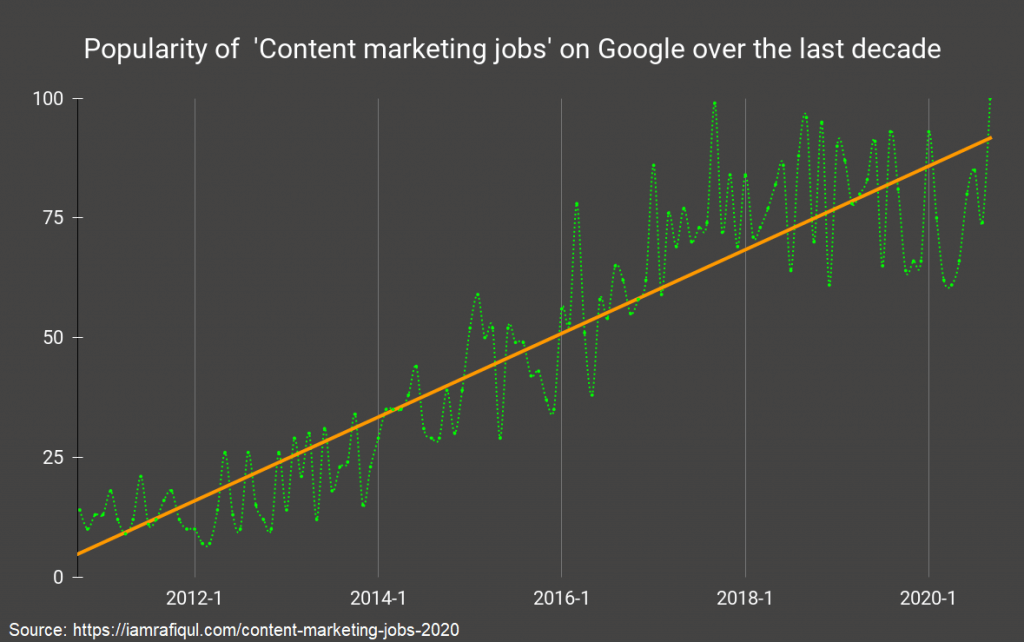 So, to better understand the current state of content marketing jobs, I did quantitative research.
I've analyzed 5514 content marketing jobs from sources like the LinkedIn platform and Glassdoor.
As a result, I've got data-driven answers to the following questions:
Which industries are actively hiring content marketers?
What is the average annual salary for content marketing jobs?
What are the most used keywords in job titles?
What are the most demanding skills for a content marketing position?
Which content formats are often used in the Job description?
Before we deep dive into some interesting data and takeaways, let me share the source of these gathered data.
Primary sources of data:
Glassdoors
LinkedIn
Google Trends
Key findings of the report
The software and hardware industry offers 16.57% of total content marketing jobs in the United States.
69% of job openings demand writing and editing skills for content creation.
SEO is by far the most demanding skill for a content marketer. 80% of total job openings have mentioned SEO as a key skill.
26% of the job description demands 'WordPress' skill.
Marketers are focusing more and more on measuring content marketing performance. 42.80% of job descriptions demand 'analyzing content performance' as a strong skill.
'Content manager' is the most used term in Job Titles with 40.92% of total job openings.
25% of the total job description has mentioned creating/editing 'Long form content.'
The average annual salary for content marketers in the US is $72000, the most in any country.
'Social media content' is the most popular content format, with 36% among the recruiters.
Along with that, I've also added key takeaways with each of the findings.
So, you don't get stuck on understanding what these data indicate and how to get benefited from this.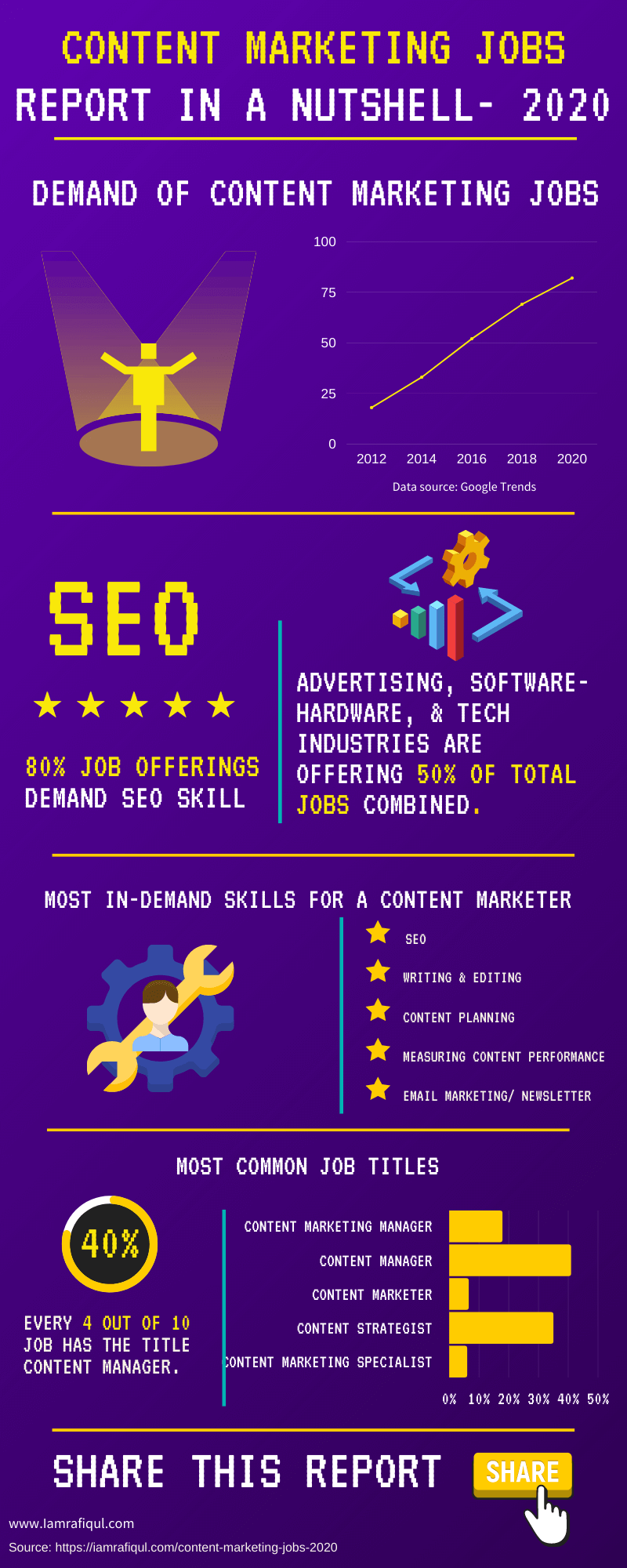 1. Industries actively hiring content marketers (in the US)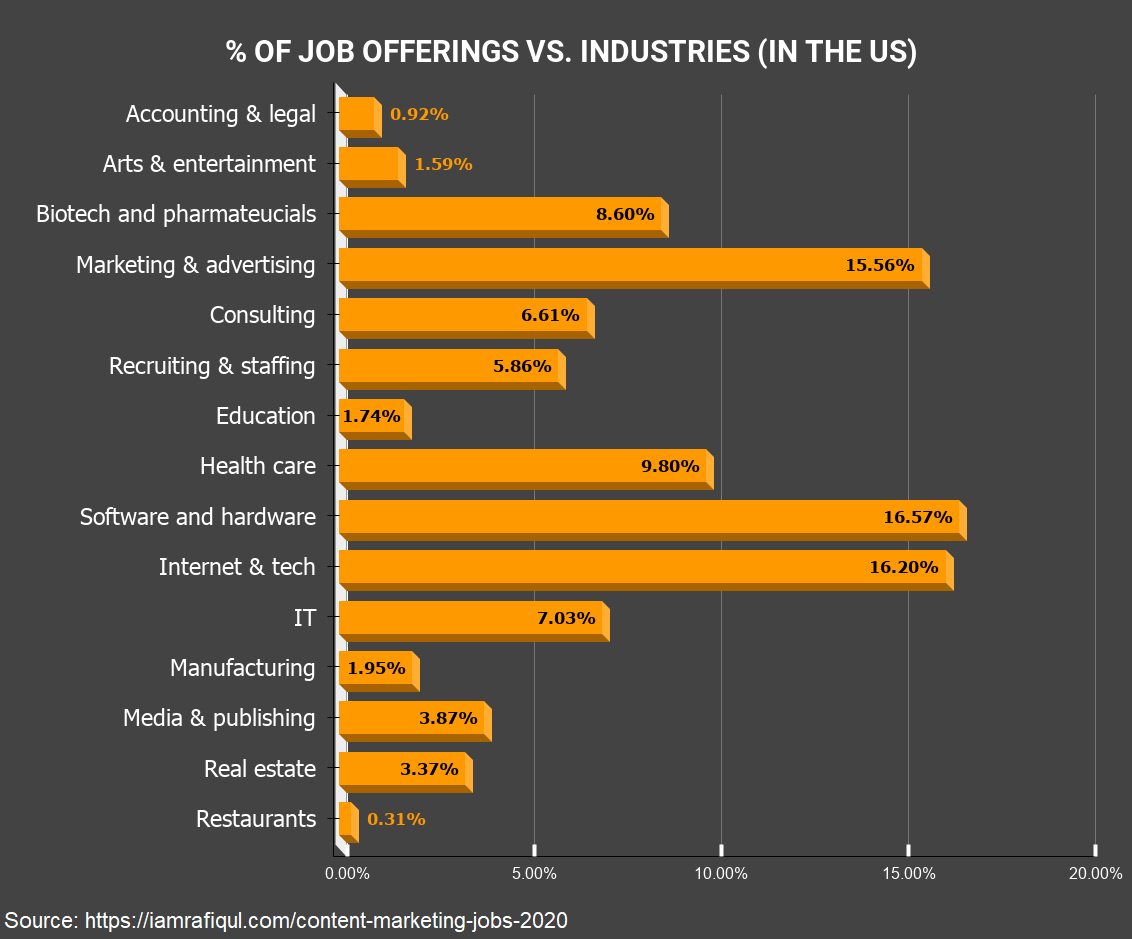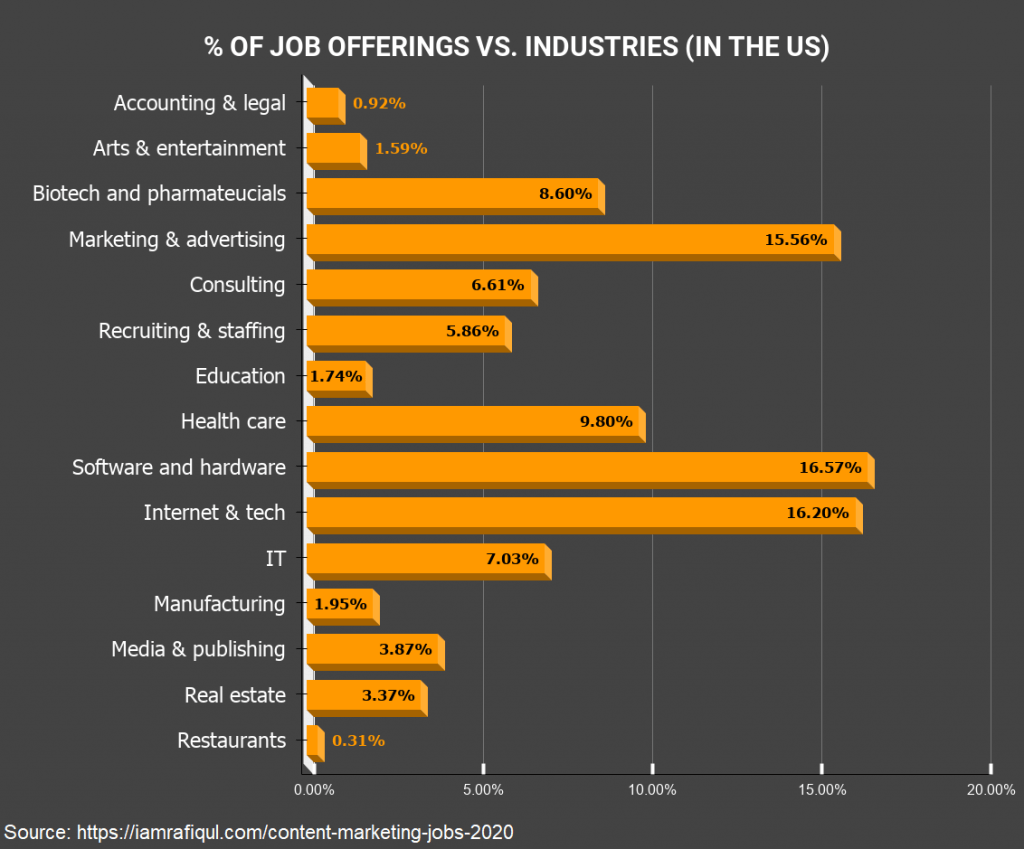 Every 1 out of 2 content marketing jobs in the US belongs to either marketing or software-hardware, or Tech industries.
The data shows that Marketing & advertising, software & hardware, and Tech industries share almost half (48.33%) of the total job openings in the United States. This also indicates that these three industries are more active in the content creation part than others.
Surely, one thing that surprises me most is the education sector's position in the United States.
Due to the pandemic, the e-learning industry is booming right now and is expected to grow by $12.81 billion between 2020 and 2024.
For that reason, it is preferred to say that we're going to experience a huge demand for content creators and content marketers in the education industry.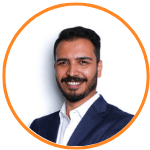 Most companies will be forced to become media companies themselves rather than relying on media companies. Companies are quickly realising the power of content and what it can do to their brand and how cost-effective it can be along with having total control of the brand perception.

I am guessing you will start seeing a lot of editorial roles in companies who will take care of creating content for the company on a regular basis which means it will open a lot of opportunities who are in the business of creating content be it text, videos, images or audio.

Considering the world is moving remote first, you can be anywhere in the world and start grabbing these opportunities if you have the right skills and experience.

— Contributed by Sanjay Shenoy (Co-founder of PixelTrack and Blogger at SanjayShenoy.com)
---
Learn about optimizing your content marketing strategy for mobile devices
2. Most common job titles
'Content Manager' is the most common job title in the content marketing field.
Though we're only focusing on the content marketing jobs report, there are few other job titles within the parent category.
So, to understand the popularity of different job titles, this data was collected.
Based on the data, 40.92% of job titles have the keywords 'Content managers', most of all.
It's a little surprising to see that only 6.58% of job titles have the terms 'Content marketer.'
Here's the full breakdown of the data.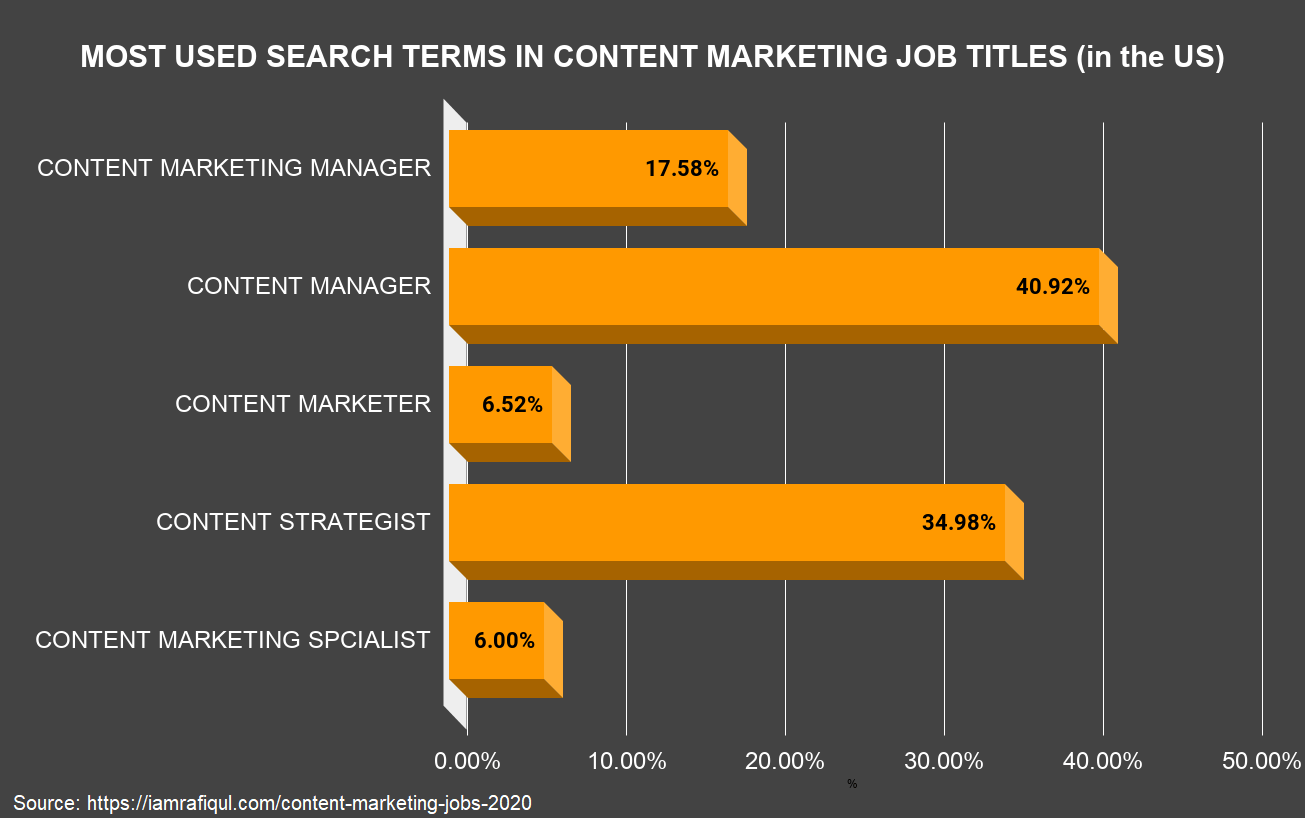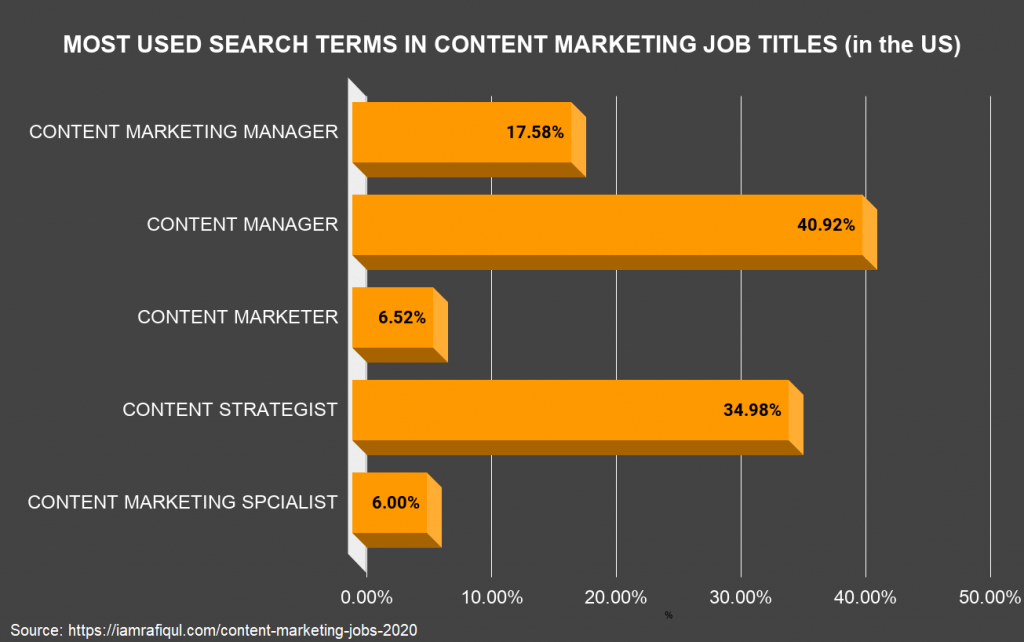 Relevant Read: Top content writing companies in India
3. Content marketing salary breakdown in different countries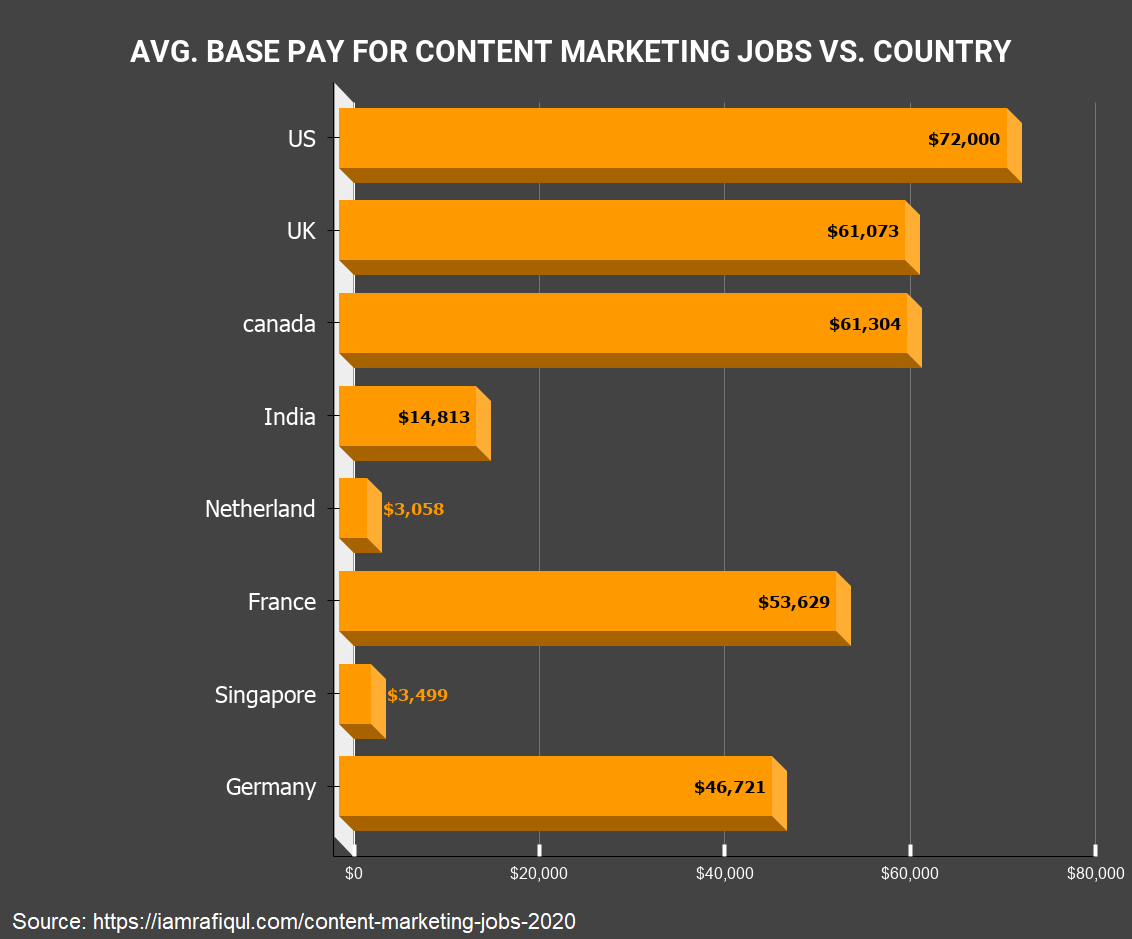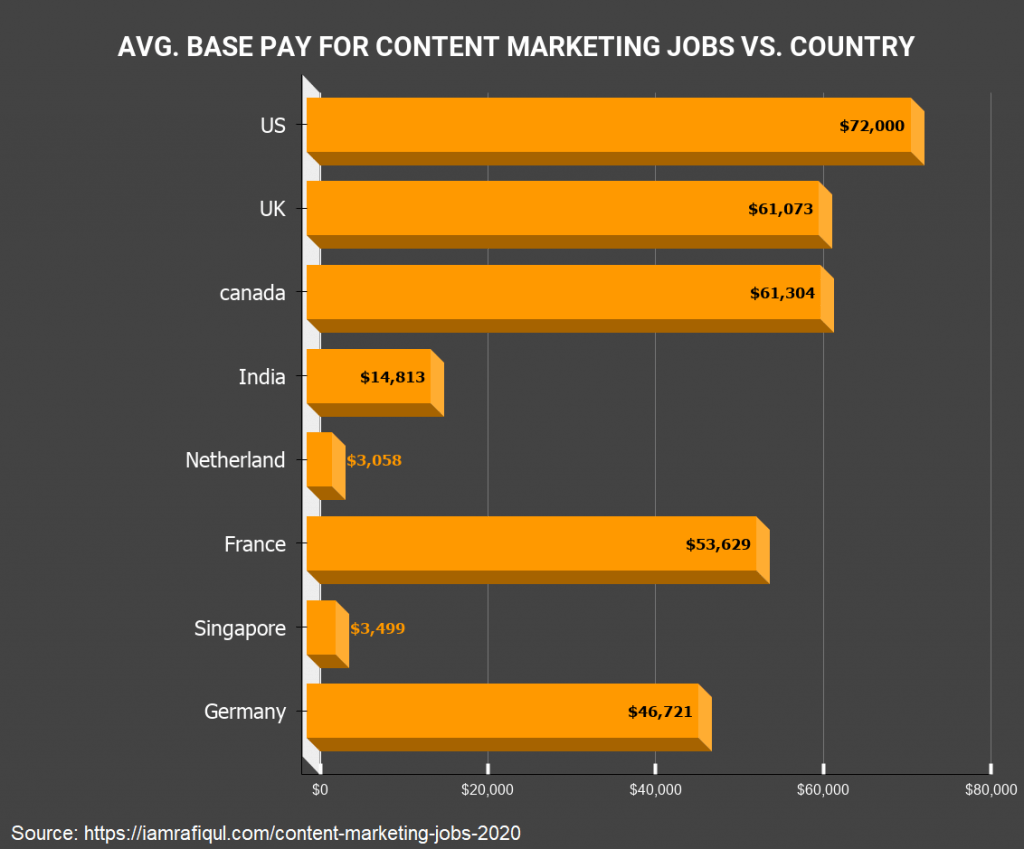 The average base salary in the United States is 4.86 times higher than the same in India.
The United States, Canada, and the United Kingdom are the top three countries in terms of the highest average base pay for content marketers.
That means, if you're looking to upgrade your career in this field, you may consider applying in any of these countries for a higher pay scale.
[Because of the lack of data on glassdoors and LinkedIn, it wasn't possible to understand the average pay scale of other countries]
Relevant Read: Top content marketing examples that will inspire you
4. Key skills mentioned in content marketing job descriptions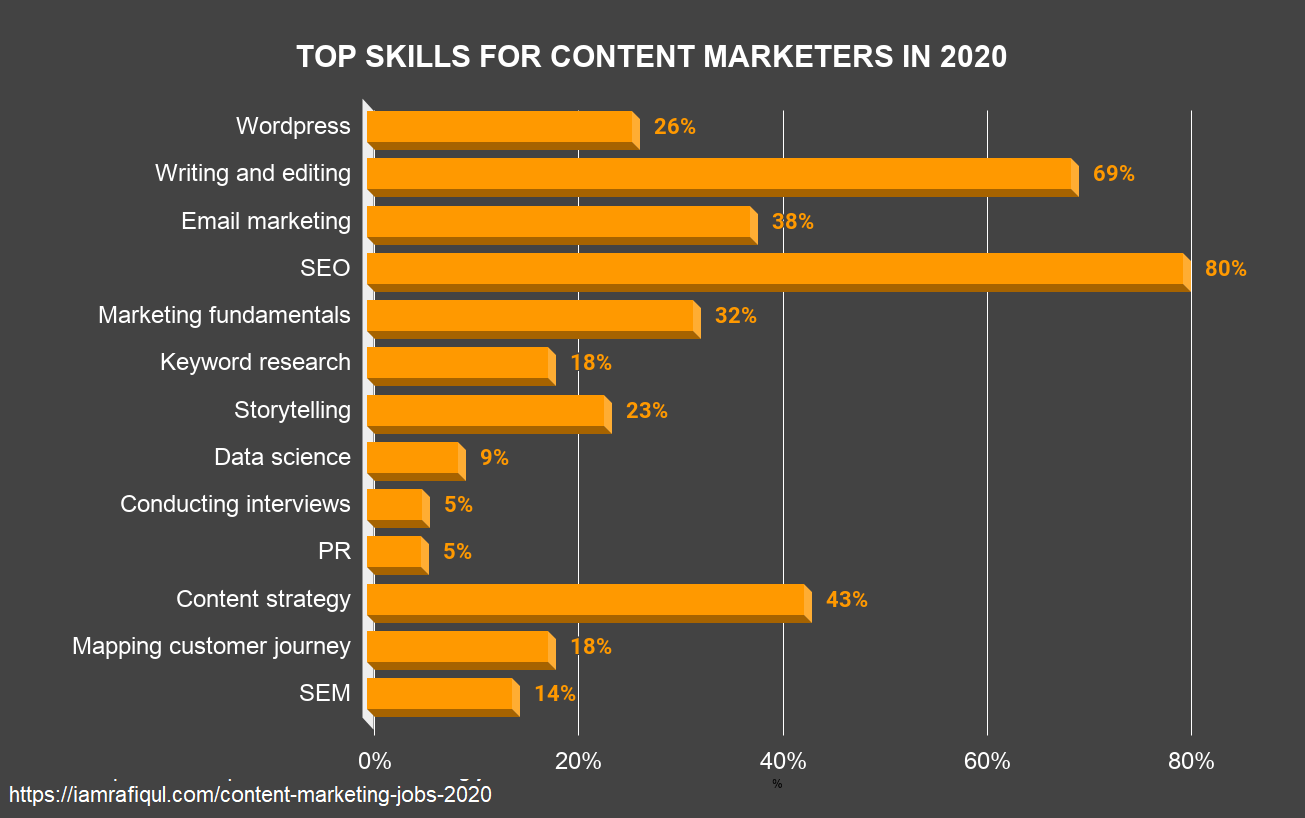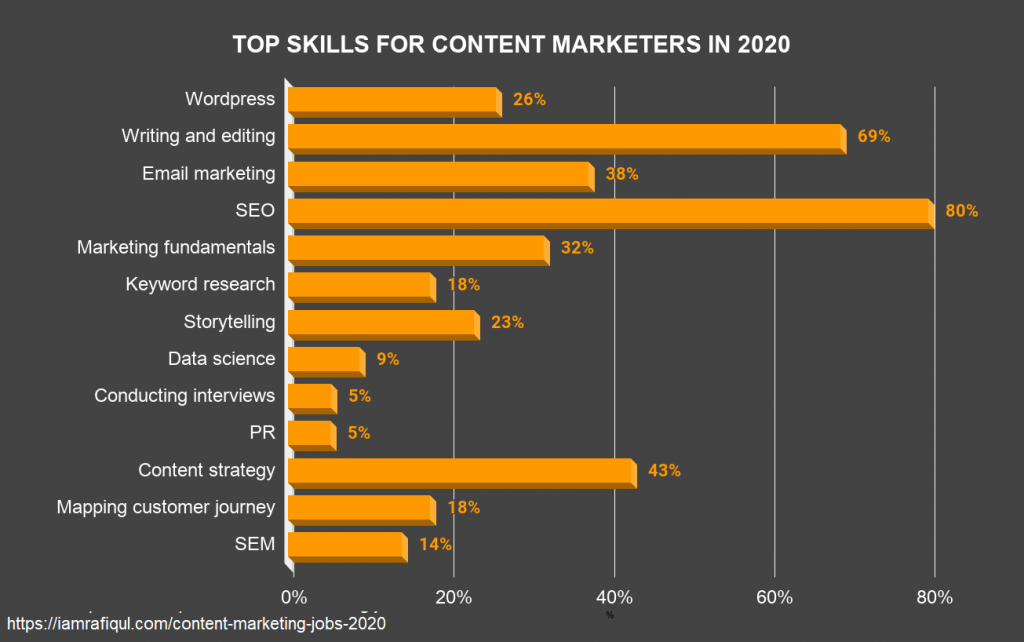 Every 8 out of 10 content marketing jobs in the US require SEO as a key skill. This literally reflects the importance of SEO.
Also, people who say that SEO is dead need to reconsider their statement.
Another interesting fact is the role of writing and editing content. Since content is the center point of content marketing, content creation has a significant role for all marketers.
The data shows that 69% of CM jobs require some writing and editing skills for content development.
One of the best takeaways from this chart is that every digital marketing (including influencer marketing, content marketing, email marketing, etc.) requires a strong grip on marketing fundamentals.
32% of job descriptions demand having knowledge and understanding of 'Marketing fundamentals.'
If you're someone who is going to start your career or want to upskill yourself, make sure that understanding marketing principles is the first step, not the last.
Also, WordPress is by far the most popular CMS, with 26% of mentions.
Also read: B2B Content marketing trends 2020
5. Most in-demand content types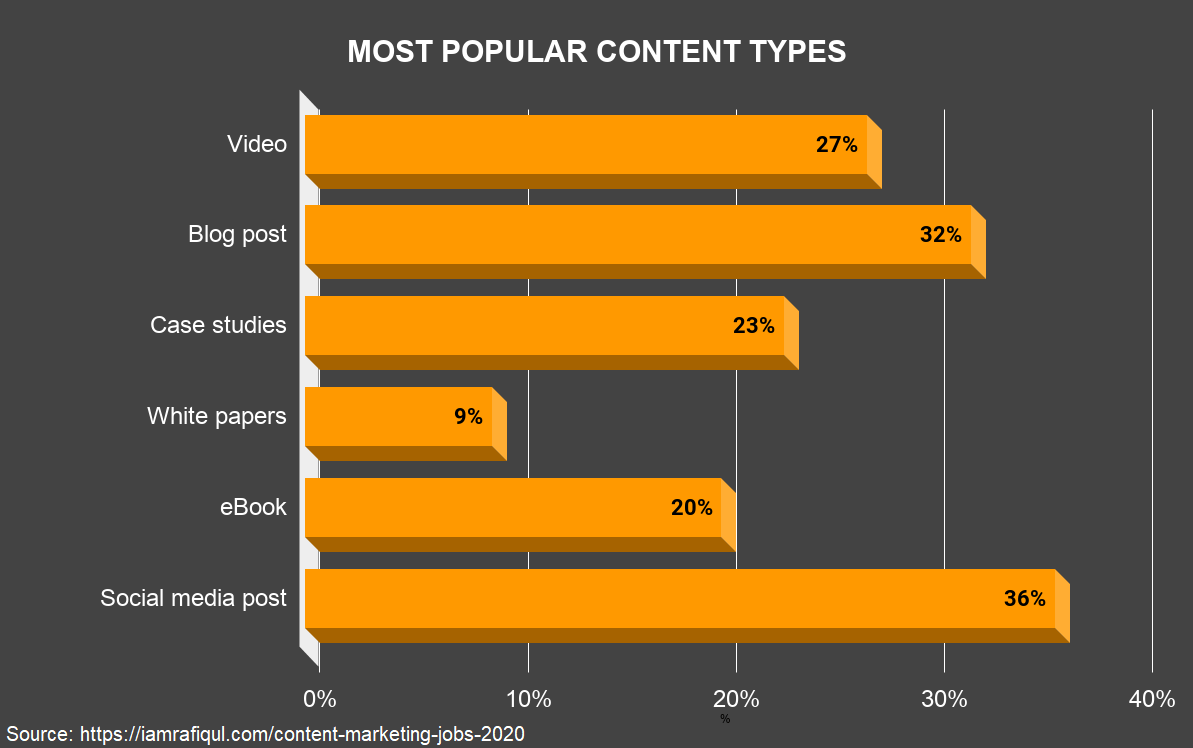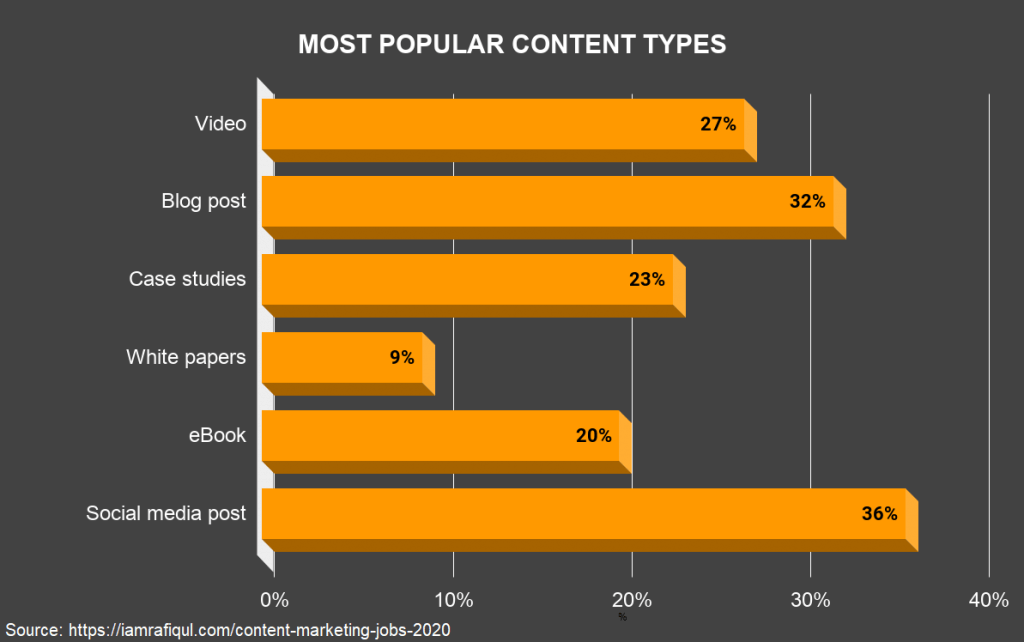 32% of jobs require 'creating and managing and strategizing blog content' as a primary key skill.
This chart isn't about understanding the most popular content format but understanding what type of skills most of the recruiters are looking for.
The chart also suggests what type of content creation most of the firms are focusing on.
Though video content is currently one of the most consumed content formats, it is not the most demanding skill to have as a content marketer.
Still, there is no significant difference between the mentioned blog posts, video content, and social media posts.
Surely you cannot skip the social media strategy from your resume as this is the most mentioned content format for marketers.
6. Trending skills for a content marketing role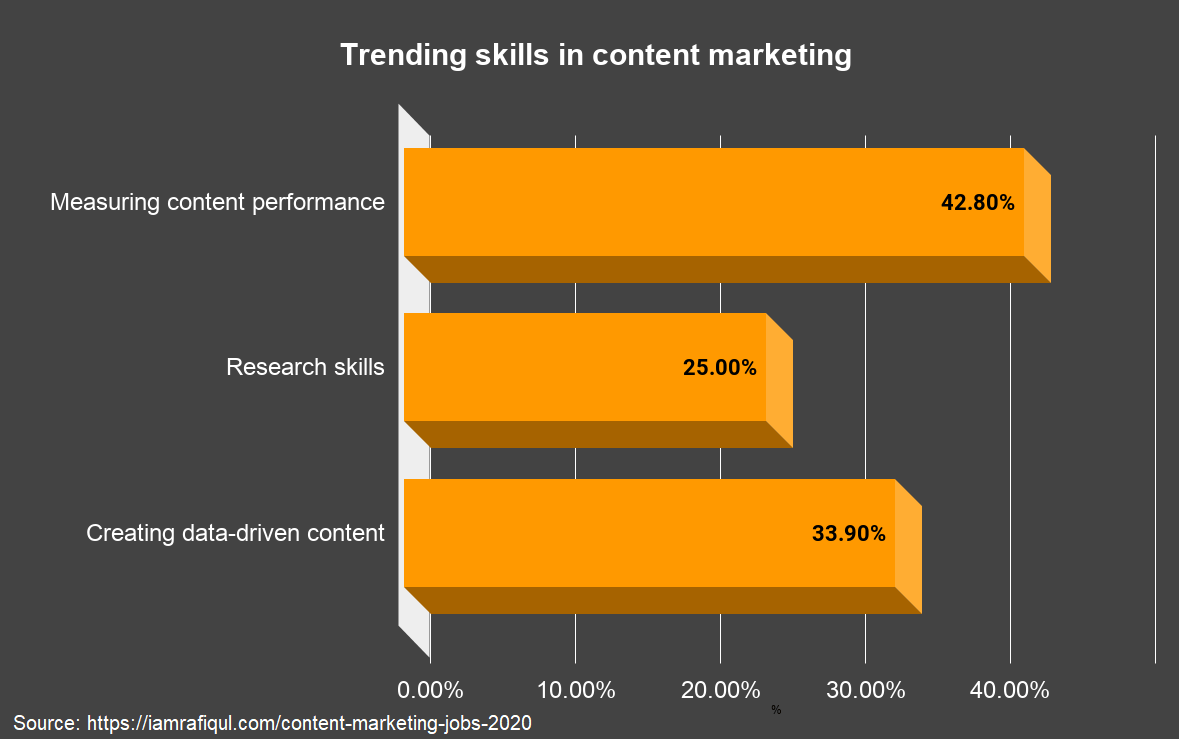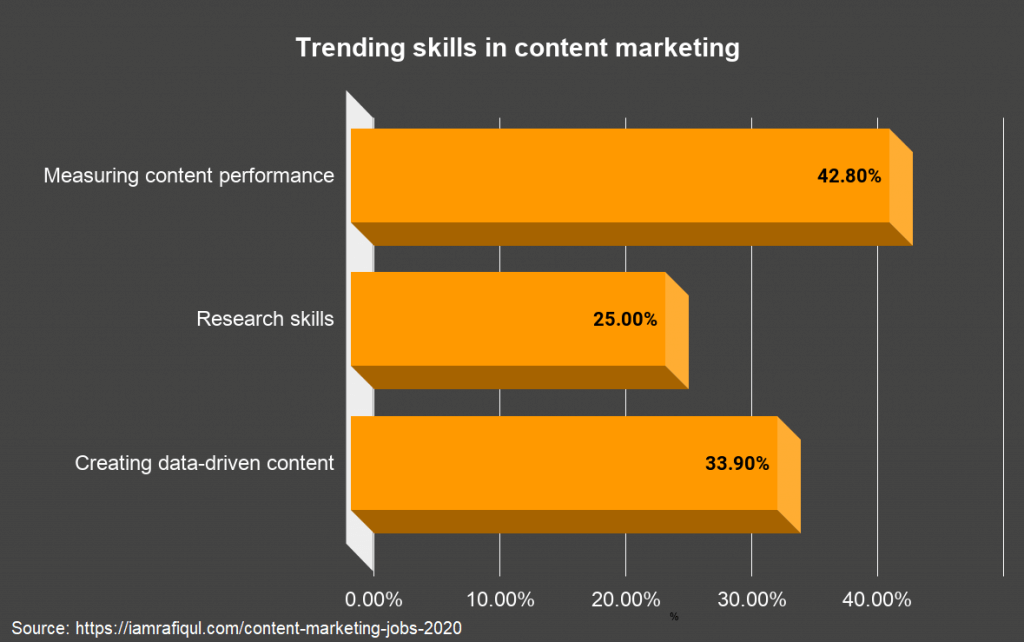 Content marketing is shifting towards data-driven content marketing.
Most of the content marketers would love to see the focus on measuring content performance.
The 2015 study of CMI states that only 21% of content marketers successfully measured and track their content marketing.
So, this data clearly reflects the shift towards a data-driven marketer.
The recent data I collected from the job description is that almost 2 out of 5 content marketing roles demand a strong grip on content measurement.
Another interesting data from the above chart is that marketers and brands focus more on creating research-based and data-driven content.
Though there are many advantages of creating unique content (with unique data sets and research), this tactic is one of the best links for getting links to your site and building credibility in the industry.
The key takeaway will be learning more and more about how to conduct market research and data visualization.
Data for marketers help to optimize, track, test different aspects. But turning those complex data into visually appealing and easy to digest stories is the real challenge.
And you should learn that as a content marketer.
7. Future scope
What's the future of content marketing and its demand?
Though we cannot predict the future accurately, we can definitely assume based on the previous patterns.
This is what I did here.
Obviously, content marketing's popularity is growing year after year (At least based on Google Trends data).
To add more context to the topic, I compared two search terms on Google trends to understand a relevant topic's growth.
One is "Content marketing," and another one is "Blogging."
And, here's what result I got from Google trends: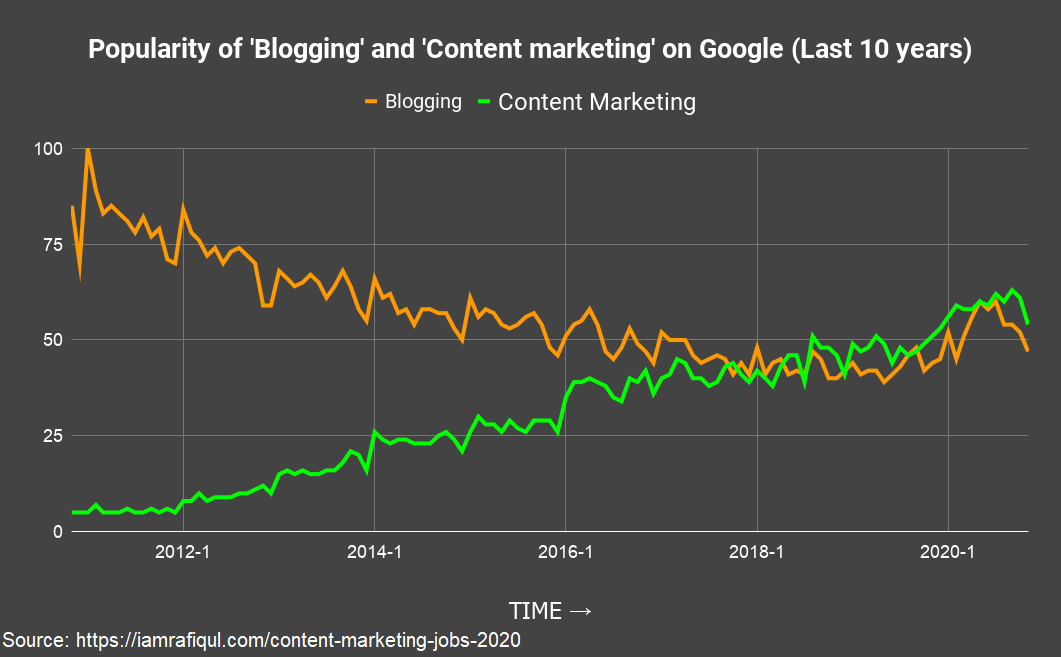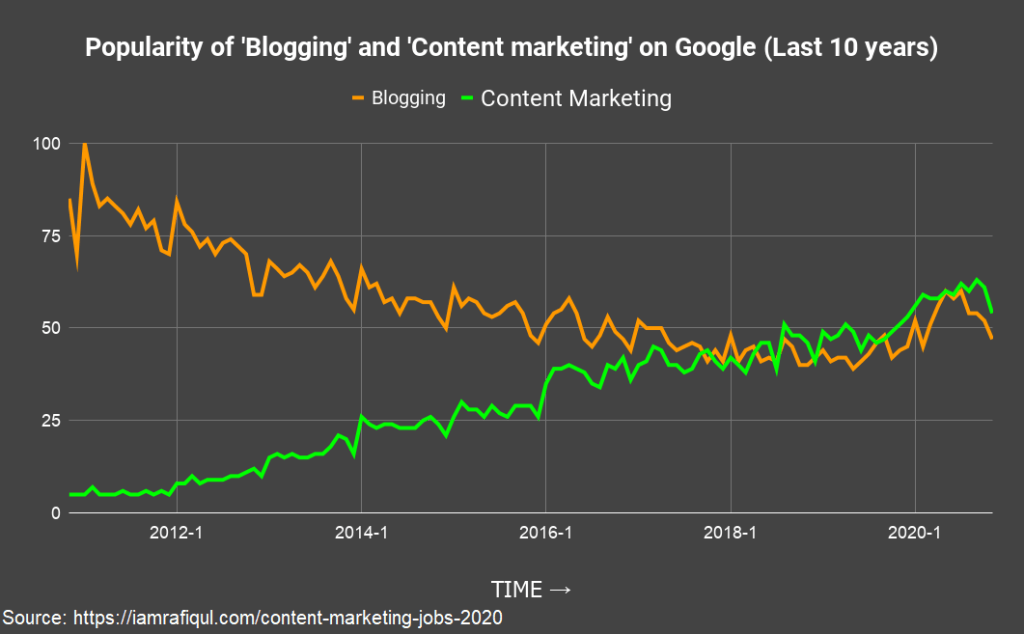 Before having any final call, I would suggest you not consider this chart as measuring the effectiveness of these two search terms.
Instead, try to understand the trends all over the web and what people are more interested in.
This clearly indicates that the demand for content marketing is not going to fade away anytime soon.
If you're into content marketing or want to start your career in this field, this data will give you an overview of the market.
Final words
This research was done to help every content marketer understand the current market better with data.
Still, few more relationships, such as job experience vs. salary, could've been added to this research. But due to the lack of data, it wasn't possible in the first place.
As planned, I will try to do this kind of research every year to provide you with the latest updates and trends in the content marketing field.
Please share your thoughts on the research, and if you have any suggestions to make this even better next time, please let me know in the comment box.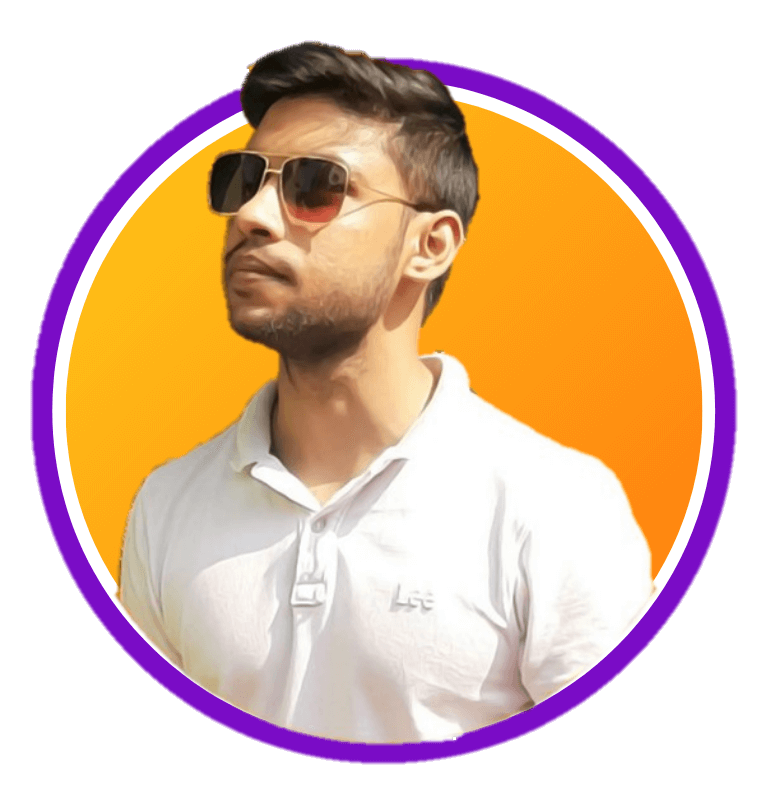 Sk Rafiqul Islam is a content marketing practitioner with 3+ years of practical experience. He spends most of his time helping businesses to build a loyal audience with content marketing. He is also running a tech career blog called 10Pie and content marketing VIP, a bi-weekly marketing newsletter. In his free time, he loves reading books and playing football.