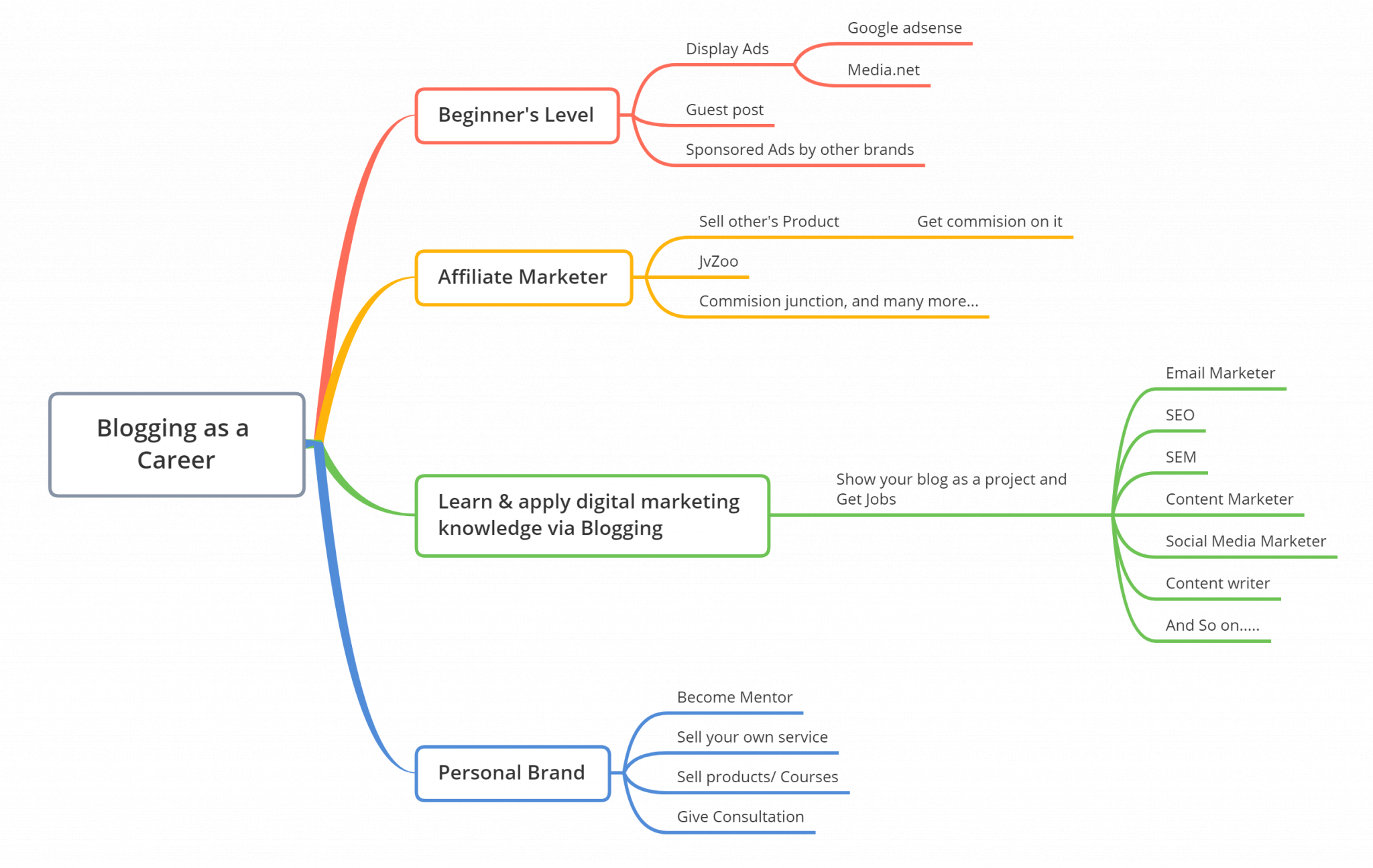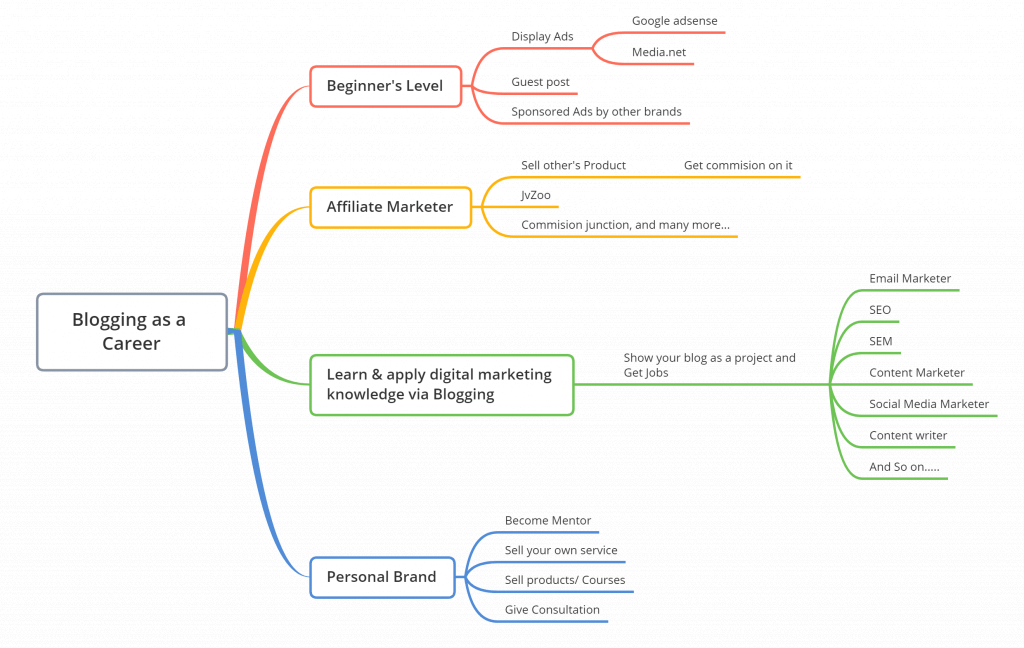 Should I start blogging in 2020 even after knowing that the competition is high?
Can I make money through blogging?
Is blogging going to give me my dream job?
I have already started blogging but don't know how to get the most out of it.
If any of these queries you have in your mind right now, then you can't be at any better place than this.
Before I start I want to ask you a simple question:
Will you prefer learning a new skill that can bring so much value in life in terms of satisfaction, jobs, career, status, and many more.
If your answer is Yes, then this article will open up your mind.
People often underrate the power of blogging, just because they do find it very competitive.
The fact is, blogging is competitive and it also takes a lot of time to grow your blog from scratch.
But there are lots of other things that can benefit you.
Before I start explaining my points lets see what are the career opportunities in different fields of digital marketing.
Since digital marketing is a broad topic, I have divided the total opportunities into various categories. These are:
Content writing
Content marketing
Social media marketing
Email marketing
Affiliate marketing
SEM(Search engine marketing)
And the list goes on…
After considering these categories, I searched only on Google just to see how many vacancies are there for these categories.
This is what I found when I searched for the vacancies.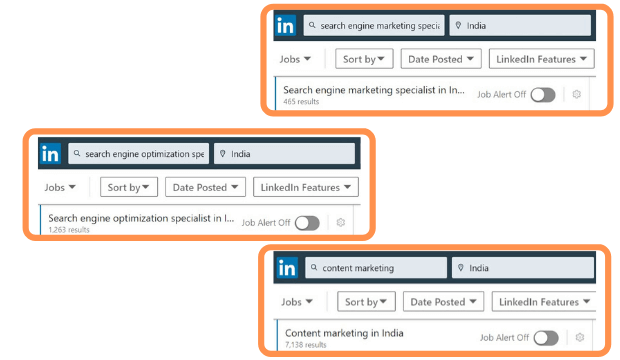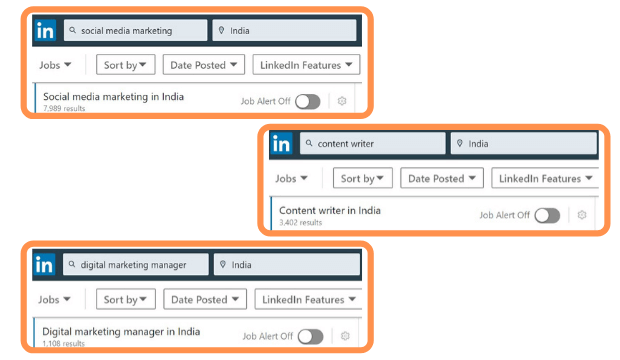 [Note: I searched jobs only for the location of India on LinkedIn]
| | | |
| --- | --- | --- |
| No. | Category | No. of Vacancies in India(Only in LinkedIn) |
| 1 | Content writer | 3402 |
| 2 | Content marketer | 7227 |
| 3 | Social media marketing | 7989 |
| 4 | Email marketer | 4662 |
| 5 | SEO specialist | 1263 |
| 6 | SEM expert | 465 |
| 7 | Digital marketing manager | 1108 |
| Total | – | 26,027 |
No. of Jobs Available on LinkedIn for India
As you can see, there are more than 26027 nos of jobs are available. I am not even considering other job portals.
Let's say only 10% of these jobs are giving a good salary, preferable location and other benefits that you are looking for.
And guess what, 10 % of the total number(= 2602) still looks greater than many of the government job vacancies in India.
Not only that I also didn't look for the remote job options from foreign countries.
On top of that, these all are for the people who don't mind working in a corporate world. There is still a large scope for making money through your blog, affiliate marketing, etc.
So, what's my point?
This article is not to demotivate you from preparing for government or any other jobs, but to show you different opportunities that are existing right now.
So, till now you've seen the opportunities that are existing in 2020 related to the digital marketing fields.
But!
How to get started?
Is it possible to learn all at once?
I know these are some valid questions.
But there is one thing that you can do to make a better tomorrow in terms of jobs, status, etc.
Blogging is what can help you in getting practical experience in different digital marketing fields.
When it comes to learning, you can either learn by knowing or you can learn by doing.
And blogging helps you in learning by doing.
Deepak kanakraju, who is now India's one of the top digital marketers, also started his journey from blogging.
Let's say you want to become a content writer or a social media expert.
Then how will blogging help you in learning this?
First, see the below image.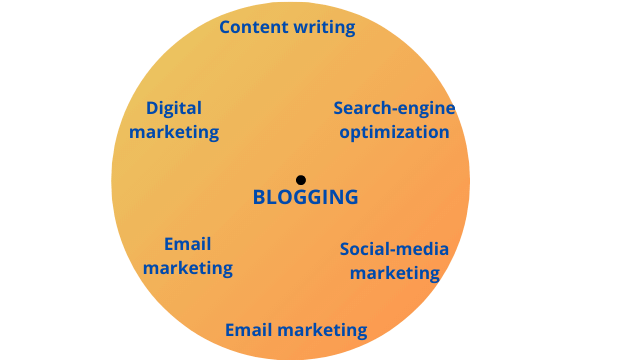 Blogging could be considered as a basic and central part of most of the digital marketing streams.
And most importantly, you can actually implement your learning on your blog as well.
Blogging is no rocket science and anyone just like you with a laptop and a good internet connection.
That's all.
Just like engineering, you don't need to go to the top institute for learning digital marketing or blogging.
Anyone from anywhere can learn and also apply it directly on their blog as well.
But why does blogging is the best way to start learning more about different fields of digital marketing?
Will just starting a blog is enough to start learning?
Let's identify how one can start a blog and apply all the learning on the blog.
Here's a detailed guide of how to start a blog
Step 1: Start Blogging to Learn Content Writing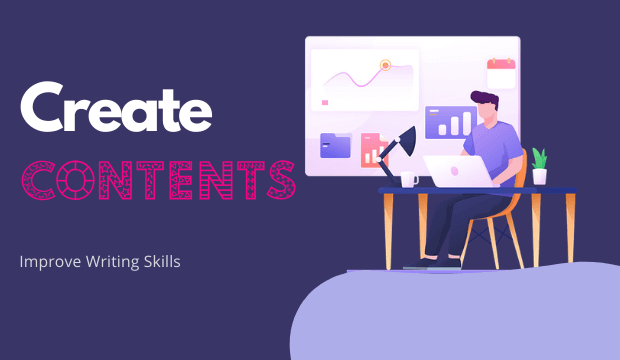 A blog is nothing without content. Hence content plays a primary role in defining its success.
And it's obvious that anyone who starts a blog will also start writing things that they know about.
This is where you'll learn about writing.
Well, writing for an academic paper and writing content for the web is totally different.
You might take a few months to learn more and more about writing content that actually engages people.
Hence starting a blog not only teaches you about blogging but also helps you in improving your writing skill.
Can you guess one more important benefit of this?
You can also get content writing projects as well.
Just imagine two guys with similar writing skill, have applied for a content writing job. One has lots of degrees whereas the other one has a live project to showcase.
What's that project?
It could be his/her personal blog as well.
Just because the second guy has actually implemented all the learning, he/she is more likely to crack the project.
Even kind of similar thing happened to me. It's still happening.
Whenever I talk with clients about any projects on content writing, without wasting any time, I start sharing my experience of blogging.
And it works.
It gives you more confidence and authority in your work.
People who want to hire content really doesn't care how much you know, they only care about what you can do.
So, showcasing your blog as a project could be a rock-solid idea for you as well.
Want to Improve your Content Writing Skill?
Read this: 11 Proven Steps to Improve your writing skills.
Step 2: Learn & Apply SEO on Your Blog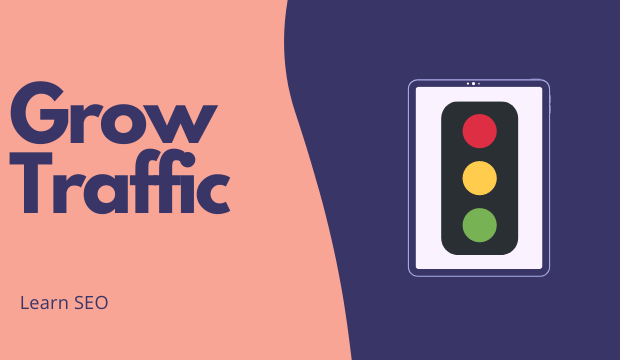 Since you've started your blog, you want some visibility as well. Everyone loves to get traffic from Google.
In fact, getting more and more traffic from search engines is one of the primary goals of starting a blog.
But how will you get so much traffic?
You'll learn SEO.
What's SEO?
It's nothing but optimizing your blog and article in such a way that Google loves your content.
Is it hard to learn SEO?
Not at all. You don't need to be an expert in any of the fields.
As a beginner, your task is to understand how does this works.
Here knowing what SEO is not enough. You need to be able to bring results to showcase someone your skill.
How will you do that?
When I started my blog I was creating content about civil engineering topics. After almost three months I saw one of my blog posts was ranking on the first page of google for a popular keyword, bar-bending schedule.
So that will happen to you as well or even better.
I just took the screenshot of my page ranking on the first page. If anyone was curious about my SEO knowledge, I used to show them that picture.
Yes, within a few months you will not become an SEO expert.
But you'll learn enough to become an intern at some reputed company.
And again, your blog will support you for showcasing your skill.
Step 3: Run Paid Promotion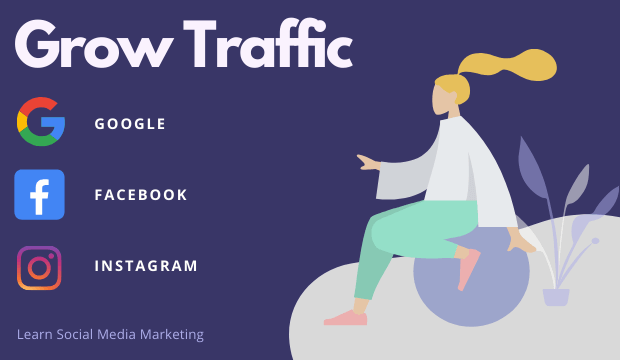 At first, maybe you won't get any traffic at all or very less amount of traffic from search engines.
In that case, you can run paid ads on Google or Facebook Ads.
Why do I need to spend on Ads?
To get the traction when you're just starting out. And if your aim is to practice the learning then why not run a Facebook Ads.
This will help you in several ways such as:
Your blog will start getting traffic
You'll learn the basics of paid promotion.
Again, you can tell your clients that you have already run a paid promotion for yourself.
Having practical experience will give you edge than a guy who just learns and learn.
This is what social media marketing (SMM) and Search-engine-marketing (SEM) is all about.
Again don't try to be expert in all when you're just starting.
Starting a blog is the best way to learn and apply most of the concepts of online marketing.
Step 4: Start Blogging to Learn Email Marketing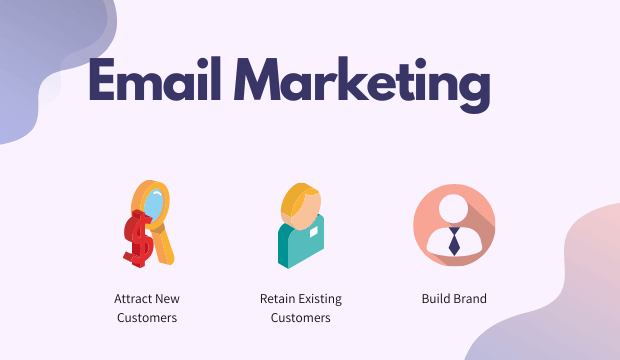 Once you start getting traffic to your blog, you'll understand that retaining your existing visitors is as important as getting new visitors.
So how can you do that?
You can add email subscription forms to your blog. This will help you to collect emails from your blog visitors.
There are free tools available in the market which you can leverage in your blog as a beginner.
So the next time you publish a fresh blog post you let your email list know about the update.
This will help you in mainly two ways:
Your blog post will get an initial boost in traffic through your email list
Your will start engaging with your readers with relevant content.
Even you have launched any product on your blog, you can start promoting your email list.
In online marketing, an email list is nothing less than an asset.
So this is where you'll start learning more about email marketing.
You can even showcase the numbers of email subscribers on your blog to any of your clients as well.
If you're thinking to get a job in online marketing, this will also help you in landing your first job as well.
What if I don't want to be a part of the corporate world?
Harsh Agarwal from shoutmeloud.com also started his journey from blogging. And since then he has managed to become India's top blogger.
The reason why I told you this because people don't understand the role and impact of blogging.
You can build a personal brand through your blog.
Affiliate marketing is also a great source of income when it comes to blogging.
Get a job in digital marketing
If you start small with a blog, you can scale your opportunity in the long term.
Learn Email Marketing step-by-step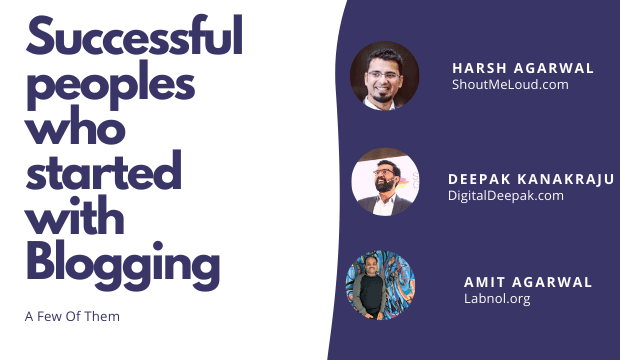 Conclusion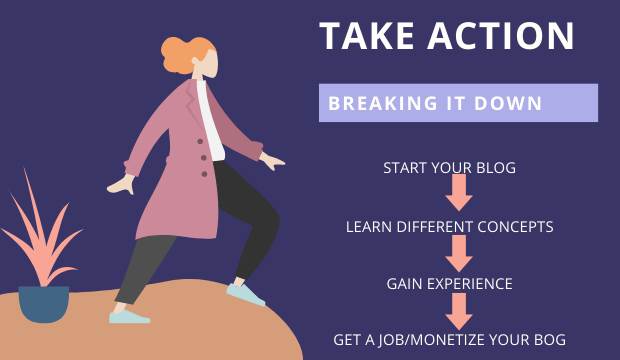 Before you start your Blog, read this: Blogging guide.
Starting a blog is not that difficult. It can take a few hours to launch your first ever blog even if you have no experience.
Information is available on the internet for free, one thing that you need to pay is for effort and a few bucks for buying hosting and domain.
Learning is not a solution. Even you may have learned something new from this article. But very few people will actually take any action at all.
Here is one last suggestion for me regarding blogging.
Start blogging only if you can give your attention, focus, effort, and few amount of money without expecting any in return for a few months.
If you only start for the sake of making money online, you'll end up saying blogging is a scam.
But once you start getting results, there is no way that can stop you to make money.
Start learning.
So, Are You Ready To Start Your First Ever Blog?
Comment below your thoughts.
I'll answer each of your questions.
Read More, Learn More…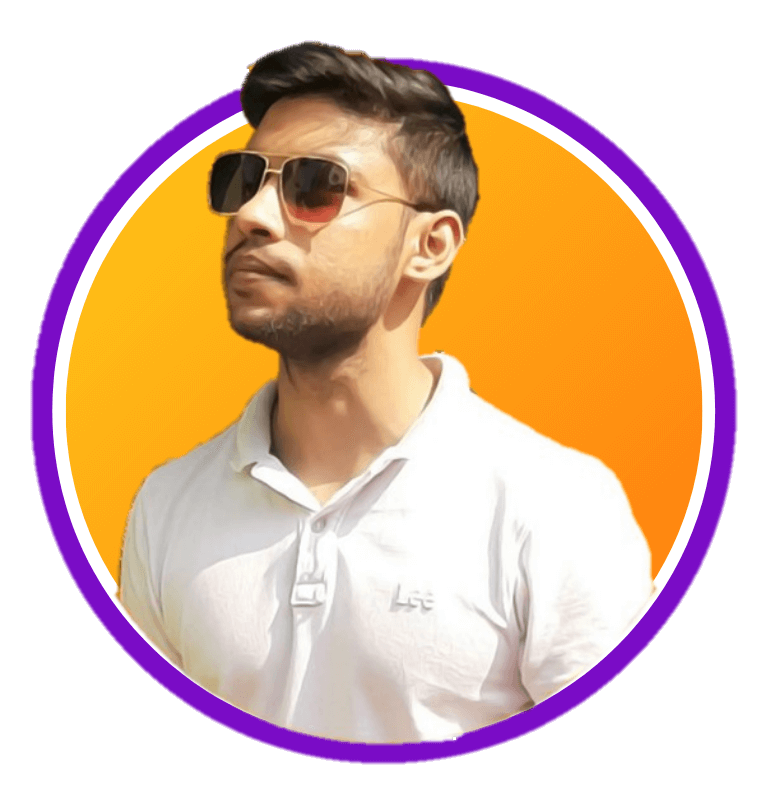 Sk Rafiqul Islam is a content marketing practitioner with 3+ years of practical experience. He spends most of his time helping businesses to build a loyal audience with content marketing. He is also running a tech career blog called 10Pie and content marketing VIP, a bi-weekly marketing newsletter. In his free time, he loves reading books and playing football.