Creating a blog and writing just a few articles could've worked in 2010 but in 2021?
A big No!
Factors that will definitely have high priorities in 2021 and so on are:
User experience
The user interface or visually appealing or branding
Content formats
Content quality
Site navigation
Personalized content
And so on.
Too much to do, huh?
But to stand out from the ocean where more than 1.8 billion websites exist on the internet, you need to make sure that your blog has all the elements that people pay attention to.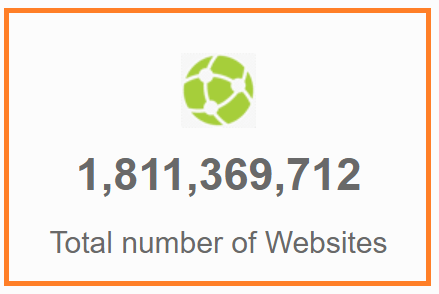 And, this is what you're going to learn today.
Best of all, I'll be sharing the results of a study where I asked active blog readers on social platforms about 'elements of a great blog'.
Before we start, I suggest you download this Actionable Guide for FREE (+Bonus Gift) so you can access this PDF whenever you want.
Let's deep dive right in.
Creating content strategically
Here's the key advice
One of the easiest ways to structure your blog is by considering:
A broad topic (can be defined as the niche of your blog)
Subtopic (a topic that is one of the parts of a broad topic)
Let me illustrate an example to understand this method.
Assume a blog that mostly talks about content marketing and paid advertising. Here, both of these are broad topics for the blog. Next, if you consider any of these topics and figure out sub-topics, then you'll get to see like this.
(Considering 'content marketing' for this example)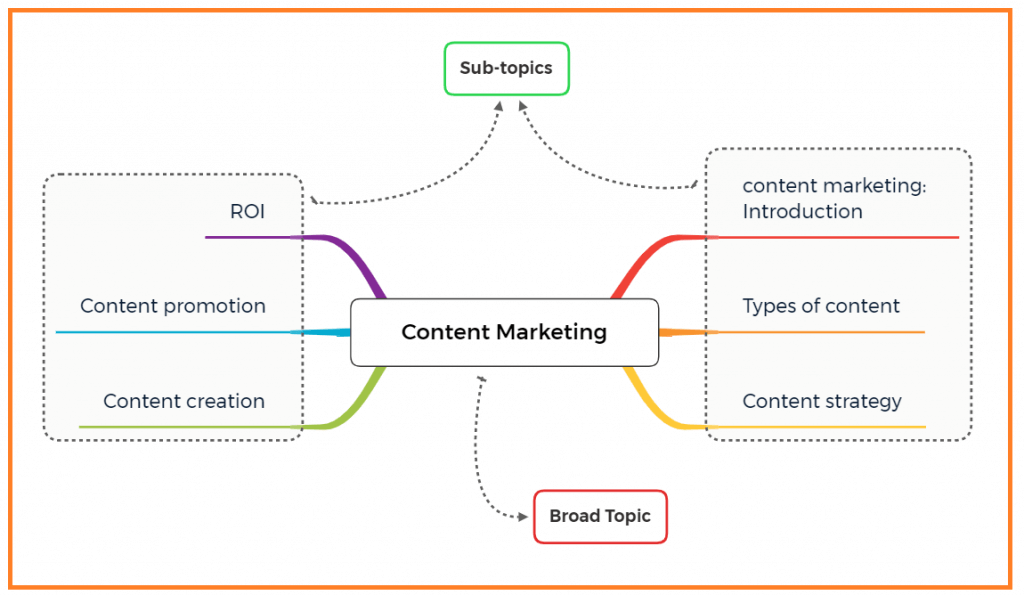 From the above image, you can observe that each of the sub-topics are actually a part of a broad topic (that is content marketing in this case).
Must read article for you: Content marketing audit
You can also consider this as a jigsaw puzzle, where the broad topic is a complete picture whereas the sub-topic is a part of that complete picture.
Now, the most obvious question will be why is this approach so important?
The first reason is your blog will have content in a structured manner. And, that will be helpful for your users as well.
Here's an example that follows the same approach.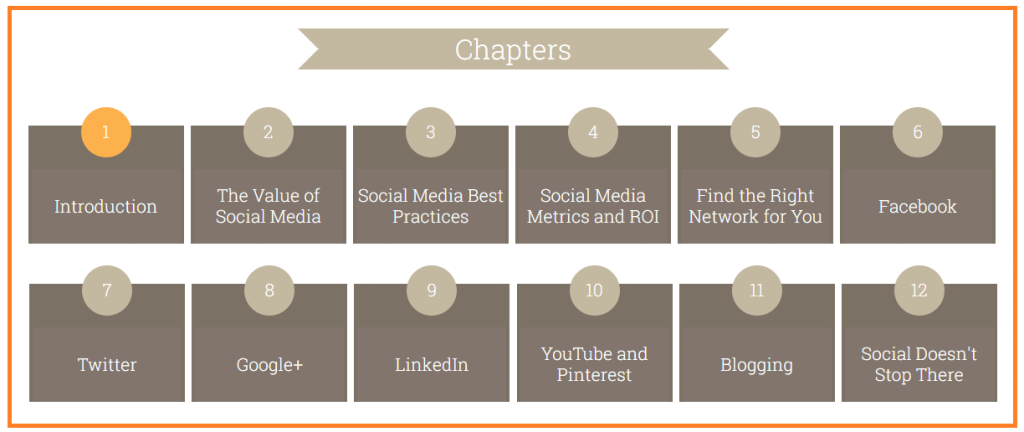 This is a 'beginner's guide to social media' created by Moz. As you can see, each of these chapters is a blog post created individually, but when assembled together just like a jigsaw puzzle, we get a complete picture.
In this case, the complete picture is Moz's 'beginner's guide to social media' whereas every blog post in the series is just a small piece of the guide.
Now, from a user's perspective, this approach makes it easy to navigate content structure and also gives your readers a better user experience.
The second benefit that you'll get is from content repurposing. Once you've covered most of the sub-topics under a broad topic, then you can easily use this as an eBook or even as a Book.
If you try to write an ebook on social media guide from scratch, then it would take your few weeks. But following this method, every piece of the blog post (sub-topics) is a chapter of your ebook. Ebook is just one way to repurpose your structured content. Other possible ways are repurposing the same content into video series or even courses.
The third reason for following this approach is related to SEO. If you've ever heard of resource pillar pages, then you already know how helpful will be for your site's SEO.
A resource pillar page is one of the types of pillar pages, where you try to help readers to understand or solve a broad topic by adding relevant internal links.
Here's an example of a resource pillar page.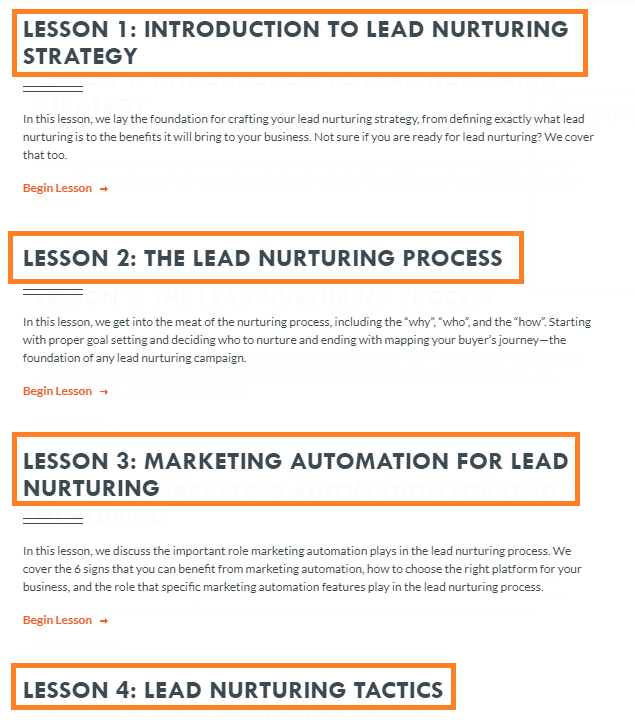 This resource page covers a broad topic (lead nurturing) by adding relevant internal links (related to the topic of lead nurturing).
To improve user experience, you can also add a brief about each of the subtopics along with the link to your relevant articles.
The reason why pillar pages are so popular is Google rewards web pages that are structured to help users' problems. Also, this approach is pretty useful to dominate the search terms that are hard to rank on the first page yet matters most to your business.
I would also recommend you to go through the guide on the pillar page and topic cluster to deep dive into this.
To make it easier, here's a recap of this approach.
Step 1. Start defining broad topics for your blog (could be multiple topics)
Step 2. Figure out sub-topics (make sure you cover the broad topic completely) for each of your broad topics
Step 3. Start writing blog posts based on your selected sub-topics
Step 4. Once you're done with subtopics, you can do the following things:
Create a resource page aiming to target any broad topic where you'll interlink to all of your blog posts
Structure your content (blog series) for better user-experience
Repurpose your content to create a lead magnet (ebook, video series, etc)
But having good content isn't enough as you also need to have a solid plan to promote it to your audience as much as possible.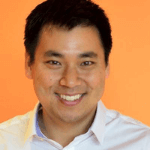 "Finding the perfect time to publish your campaigns is one of the keys in order to stand out. Having good content is important, but so is finding the perfect time to publish your posts.

It's important that you read up on current trends so you'll have a pulse on what's happening around you. Create stories around it that are relevant to your audience. Promote it across all your social media channels, reach out to your media contacts or you can even run social media ads to promote your stories.

— Contributed by Larry Kim (CEO of Mobile Monkey, Founder of WordStream)
Smart ways of getting content Ideas
If you're just starting out, then you may have some handpicked content ideas. But most of the time I see people getting no clue about what to write about for their blog.
Obviously, you'll get some great content ideas from Buzzsumo, Quora, Reddit, and other platforms.
But I would like to add one more approach here to get proven content ideas that work, that is from social groups. For the past 7 months, I am leveraging social groups especially Facebook groups to get insightful feedback on what content to create for my blog.
As a result, I am got some crazy conversion rate for my email newsletter.

After a few days of publishing one of my blog posts, I got this crazy conversion rate. This is the screenshot for one of my blog posts '130+ content marketing resources' and the best part is I didn't get that content Idea from any Q&A forums but from the Facebook community.
Here's the post I shared with a few groups, where I was talking about some important areas in content marketing.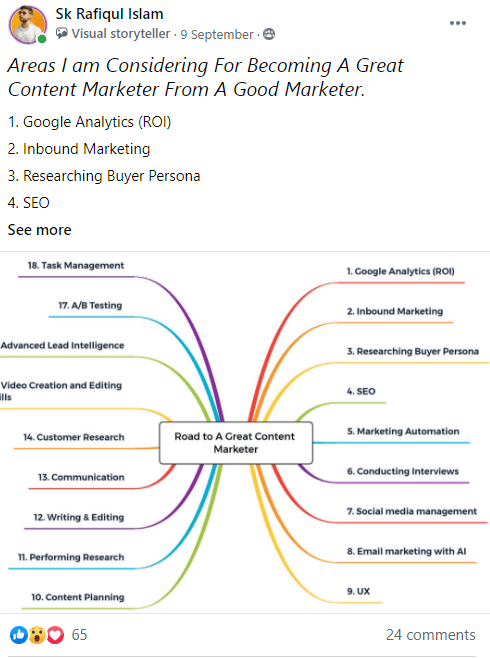 And guess what?
Many people commented as they wanted to get the source to learn about different areas of content marketing.
Not kidding. Here's the proof!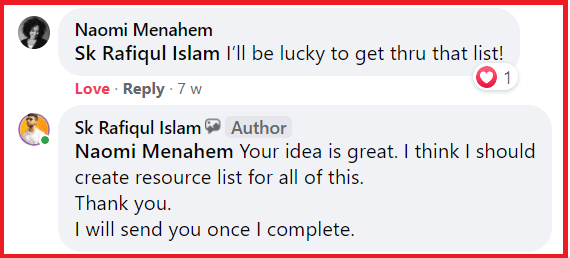 This is how powerful Facebook groups could be for your blog. Before joining some groups within your niche, let me share my personal experience on how to get the most out of social groups.
Step 1: Start searching for relevant groups for your blog. Always make sure that each and every group you're joining are highly relevant to your blog/niche. Even though the number of followers is as less as 2,000, you'll see a better engagement than many large groups.
In shorts, go for relevancy first, quantity second.
Step 2: Share content. Before getting people's attention, you need to provide value to the group members. It could be from any small tip to recommending a book to the group members. Either way, you're creating value.
Step 3: Look for the posts that get maximum engagement. Not every post you share will get hundreds of likes and comments. But once you see the above-average engagement rates (Like, comments), consider that as a powerful topic.
Step 4: Follow the above step for other's posts as well. The idea is to observe topics that people think interesting to talk about or comment about. It could be your's or someone else's
Step 5: Already have an idea? Test it. Now, what most people will do is just write about the topic and ask people to comment on their thoughts on this.
💡 130+ Free Content Marketing Resources
I'll send you my personal spreasheet of 130+ Free resources on SEO, Content writing, digital strategy, UX-UI, Auditing content strategy, and many more.
But there's a better way to do this, and that is running polls on groups.
By default, our brain tends to choose simple and easy options. So, instead of typing a comment, most of us prefer just checking an option from the poll options.
Here's what I mean.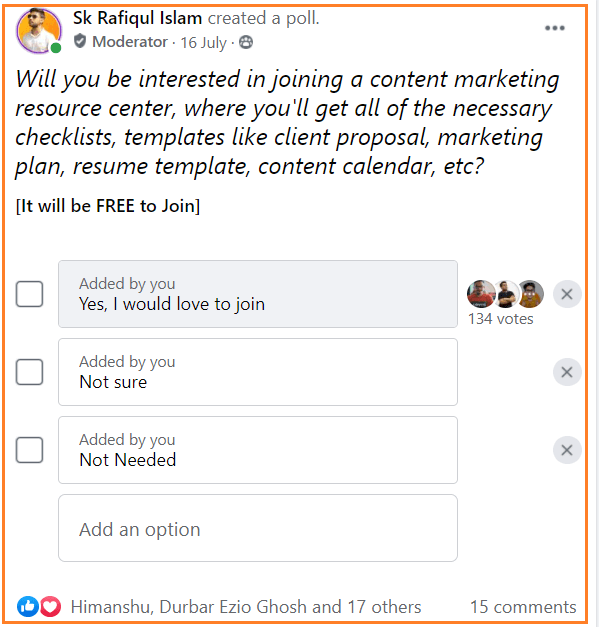 This is the response I got from a small-sized group of around 2k members. Just imagine what if I've written this as a question and asked people to comment?
It is almost next to impossible to get at least 50 people to comment on that post from this group (At least, I've never seen on any of my posts from this specific group)
So, make sure you leverage polls whenever it is right for you.
Along with this, you can also get insightful data from Q&A forums, BuzzSumo as well.
If you're serious about building a content brand from scratch, then the book 'Content Performance Culture' will show you how to do this.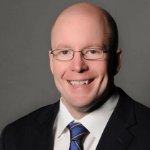 "Blogging in 2021 is still a worthwhile strategy, but there are some things to keep in mind. The content you share must be highly unique and include your own expertise and tips for readers.

You can't just regurgitate what others are already saying. Find your own spin, your own angle, your own experience to make it more unique to you and your organization.

Your audience will thank you."

— Contributed by Christoph Trappe (Author of Content Performance Culture)
You can also enjoy the audio version of the book for free. Here's the first chapter for you.
Creating a blog that holds people to your site
Nowadays, a great article isn't just about words. It takes so much to hold a visitor to your site. From making your blog posts easy to read to visual appeal, all matters when it comes to user experience.
Here, I'll be sharing some of the ways you can optimize your blog posts for better engagement.
Stealing proven title ideas
If you're creating content in any format then you know the importance of a content title that gets people to click on the title.
In fact, by just optimizing the H1 tags of the title tag of the blog post, Neil Patel has increased the organic traffic by 85% and that too in just 3 days.
But a good headline isn't just applicable for blog posts, it is applicable for YouTube videos, Podcasts, and even social media posts.
For the past few months, I was following a different approach to get great headlines for my blog posts.
In fact, that same approach has helped one of my blog posts to get an 88% EMV score.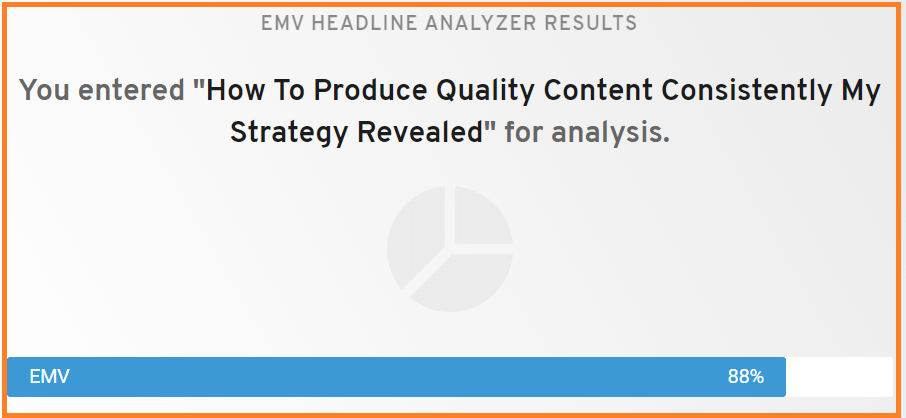 Here's my secret step-by-step process for you.
Step 1. Write down the name of top sites (At least 5) in your niche.
Now, when it comes to deciding on a top blog, look for the domain authority and the monthly search traffic.
Wondering why?
Because we're looking to steal title ideas from sites that are already proven and loved by the audience.
Also, make sure that all of these sites have an active blog (creating content consistently). The more blog articles they have, the more choices we get.
For example, if I am into the copywriting niche, then I would surely look to the copyblogger's website that gets thousands of traffic,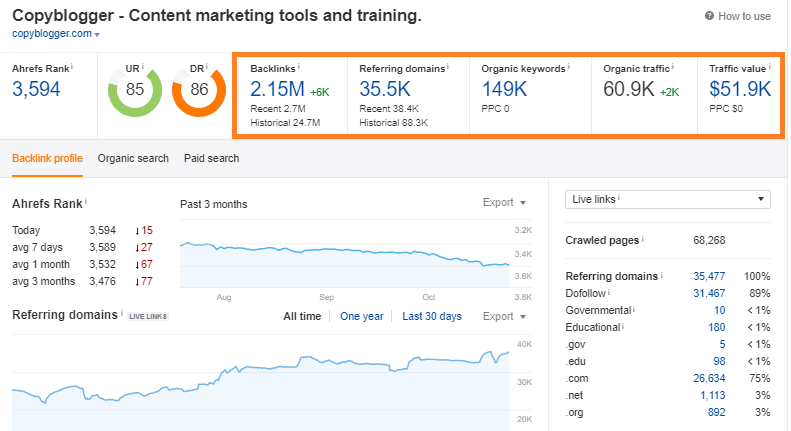 and has almost 4,000 blog posts.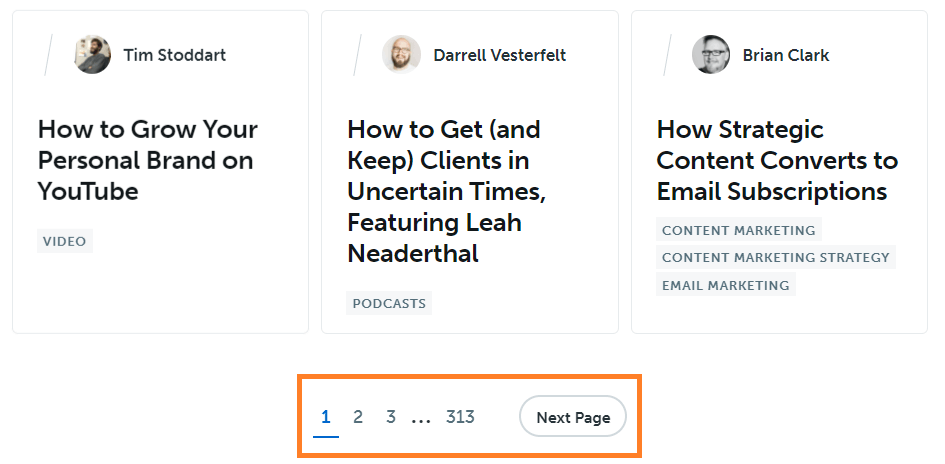 That is a massive library. Let's move to the next step
Step 2. Go to the blog section.
In most cases, you'll find a section called blogs or articles for the blog posts.
Step 3. Click on the search bar and type your keywords.
In case your listed blog doesn't have any search bar then you may need to look for another one. But you'll get my point here.
Now, before typing a search term, determine the type of blog post you're writing.
Some of the most common types of blog posts could be:
How-to guides
Lists
Template-based
Resource
Guides
And others.
Now, once you get the idea about the blog post, type relevant keywords on the search bar.
Here's an example.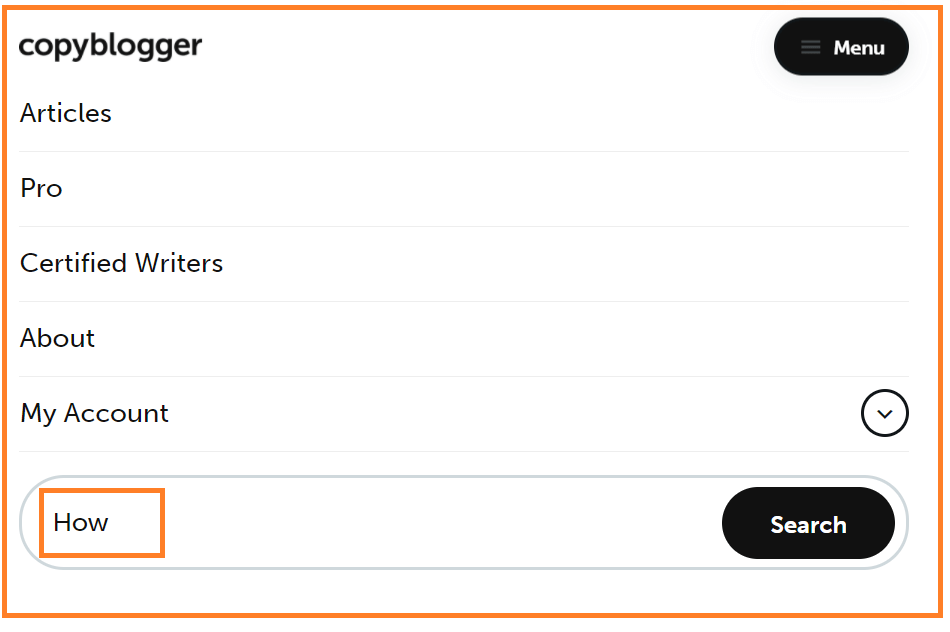 And, here are some of the results that you can use for your 'How-to guides.'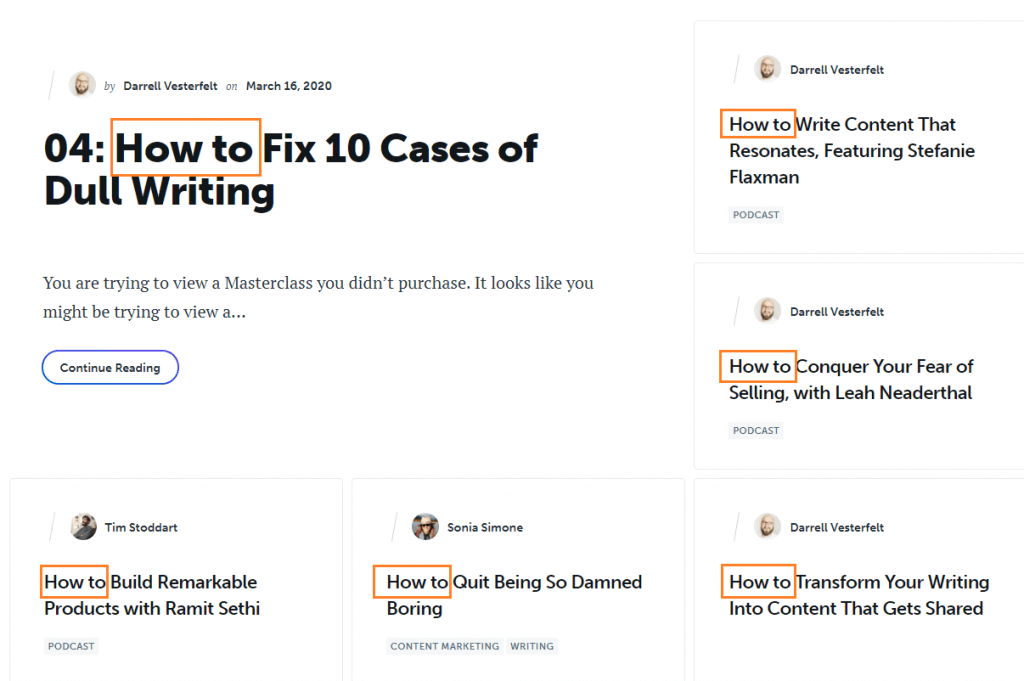 Let's try with another one. This time with 'types of' that you can use for list type articles as well.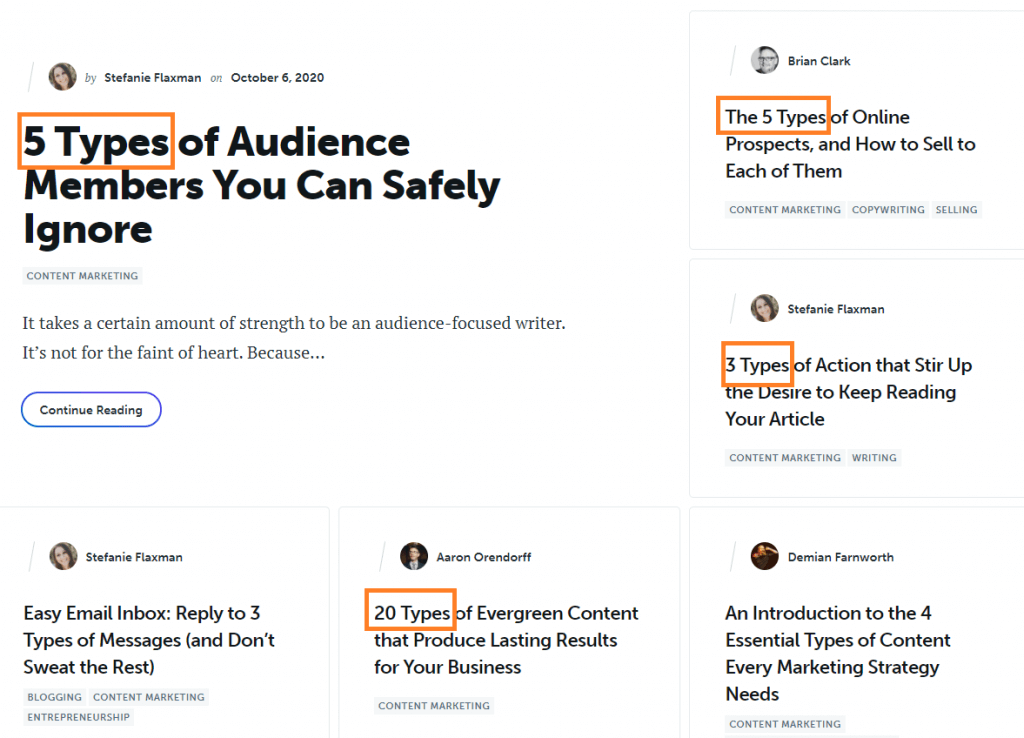 This is how you can easily get tons of great and proven title ideas for your next blog post. Let's move forward to the next tip.
Here's a how-to video to show you the exact steps to get hundreds of Titles Ideas in a few seconds.
Breaking down every single step
The idea here is to show your readers every single step of a complex task. For example, if someone is reading an article about how to buy a domain, then the reader should get every single step to buying a domain from a registrar.
That means from finding domain names to clicking the buy button, the article must cover every aspect of that problem.
Here's a great example from backlinko.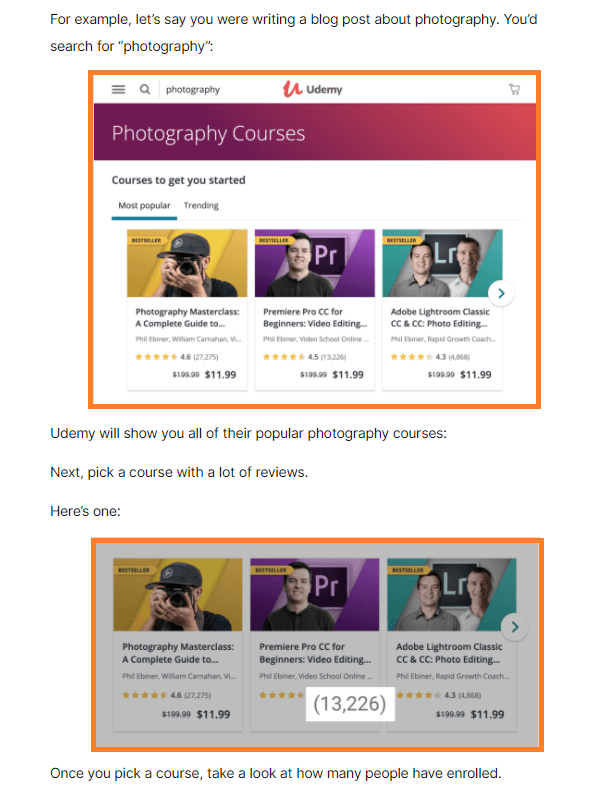 Instead of just sharing the idea, Brian has decided to take his readers through each of the steps in the process.
This is one of the best ways to make a user-friendly blog post. When people are visiting your page, it's your job to make sure the reader doesn't have to search for the topic on the web again.
This is how detailed you should be in your article.
Also, a great benefit you'll get is in terms of SEO.
Here's an official update from Google that talks about writing in-depth content.

You can still visit the official page to know more about the full information.
But what most people do is they just write down the steps or ideas instead of showing the exact breakdown.
And, unintentionally, it means to say to your readers, "Go, find it yourself."
This is what you must avoid offering an exceptional user-experience to your readers.
It's not just about text anymore
It's no hidden fact that people on the internet are skimmers. Most of them will try to find the key points from the article and do a quick scan.
That is why it is so much harder to hold someone's attention for a long time. To get your reader's attention, your page must have interesting, easy-to-read, and attention-grabbing elements.
Some of them are:
Relevant: Check out this web hosting guide to start your blogging journey
💡 Receive actionable content marketing insights, free resources, and the latest updates from the content marketing world every Monday for free.
Building your brand from day one
For SEO and your blog, branding is more important than ever before.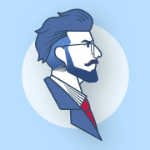 Focus On Brand Building Right From the Beginning.

What people usually do is create amazing content, optimize it for Search Engines and then wait for months if not years to get organic traffic on it. There is nothing wrong with this approach but hundreds of other people are also doing the same.

Then, how can you make your blog stand out and get that needed attention? By building it a brand instead of just leaving it as another random blog.

People want to read more from brands as they feel connected and look at them as an authoritative source of information. The fan base waits for their next articles to be published and then they consume it and also share with like-minded people.

Obviously, it is not a one day game to build a brand but it is always good to start building it from day one

— Contributed by Himanshu (Founder of The Ranking Machine)
We'll talk about building your brand in-depth in some other article but I would like to add one small yet effective tactic you need to use for brand awareness.
And, that is consistency in brand colours. In fact, brand color increases brand awareness by 80%.
Since I'm not the right guy to teach you about choosing the right brand color for your business, leaving a great resource for you to know more about this.
But the point is to make sure you're following the same color palette everywhere. EVERYWHERE. From social media to featured image of blog posts, from site logo to social media post.
Here's what I mean by that.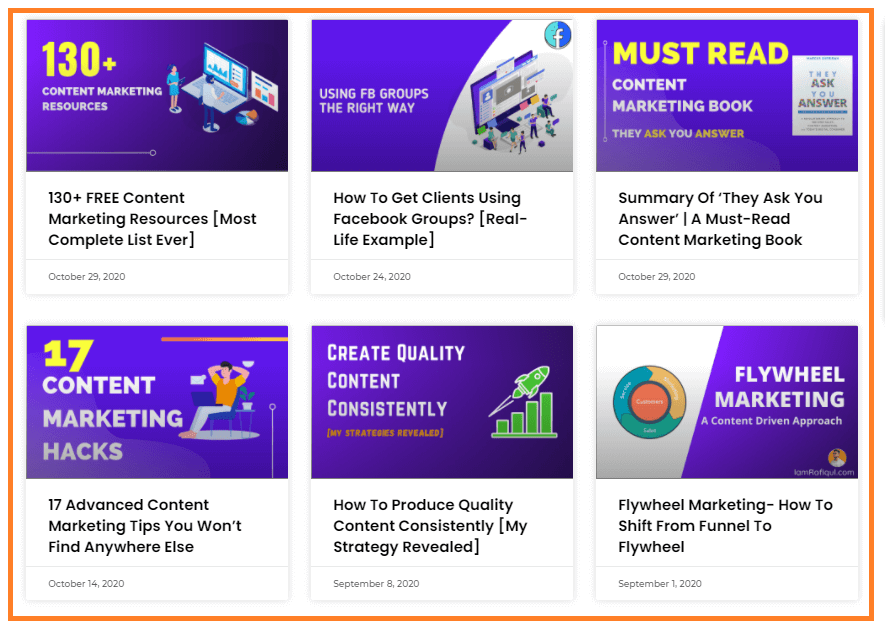 You'll see every time I publish a new article, I try to match the same color palette equally.
The most important benefit you'll get is brand awareness. It's obvious you'll create blog posts. And, the more people will see the same color palette with your content, the better your audience will recognize you.
If you're ready to nd your time to learn how to use blogging for your business, then I highly recommend you go through the Free course on blogging for business offered by Ahrefs.
Be very relevant
Remember the last time you read any blog post. Was there any exit pop up or any email sign up form within the blog post?
I guess yes.
Most importantly, did you see any irrelevant exit pop as compared to the article that you were reading?
For example, if you're reading an article on content writing but at the time of exit, you see an exit pop-up with a PPC checklist. That is irrelevant and you should avoid that.
Let me share a real example.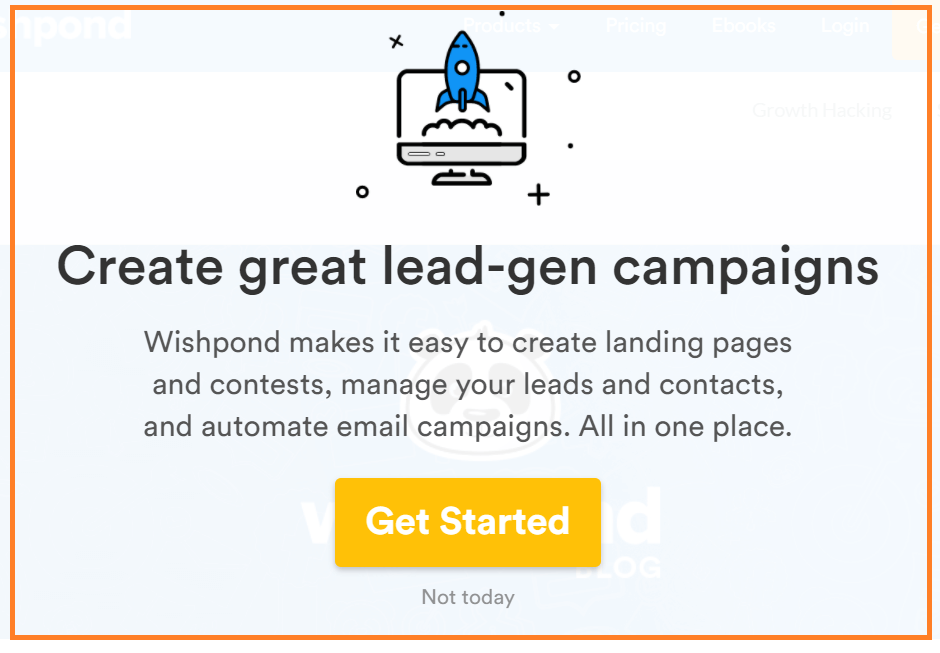 This is the pop up that I got to see when I was reading an article on the topic of Blog 'Tips to optimize for search engines'.
Now, what do you think about the relevancy of that pop-up?
This doesn't make much sense to someone who is more interested in blogging and SEO.
Even though there are chances of conversion, you can make it a lot better by adding relevancy to your content.
The first thing you need to do is create a lead magnet (if your goal is to get leads) for every major topic of your blog.
If you write more specifically about blogging, SEO, and content strategy, then you need to have lead magnets for each of these categories.
Even better if you make your offer more relevant to each of your blog posts.
For example, a content strategy template for a blog post about 'documenting content strategy' would be more relevant for your reader.
As a result, you'll see an above-average conversion rate.
Here's the original article: Get 130+ FREE Content marketing resources(Spreadsheet included)
Elements of a good blog post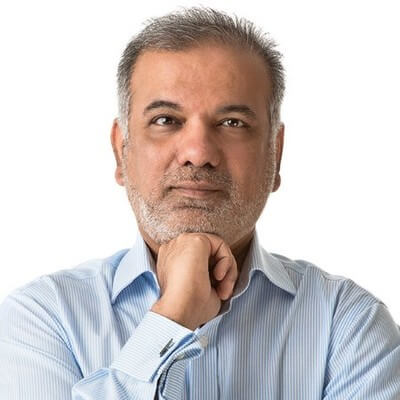 "For a blog to stand out and most importantly rank on Google, I believe it needs to have the following key elements.

Firstly your blog has to add value for your reader, if your content isn't interesting to your readers then no one will read it!

Secondly, your blog needs to have icons, images and infographics included as part of the blog. This helps the blog to look good and helps to break up large amounts of text, making it more reader friendly.

Thirdly, make a video to go along with your blog, this can be a video of you reading your blog or shorter videos than go into more detail on specific parts of your blog. Video adds an additional element to your blogs and makes readers more engaged and more likely to read more of your content. Combine all of these factors and your blog will have no problem standing out in 2021!"

— Contributed by Uzair Kharawala (Google & YouTube Ads Expert)
Before we deep dive, let me share some of the insights I got from active blog readers my social platforms.
Here are some of the screenshots of the comments that clearly describe the elements of a good blog post.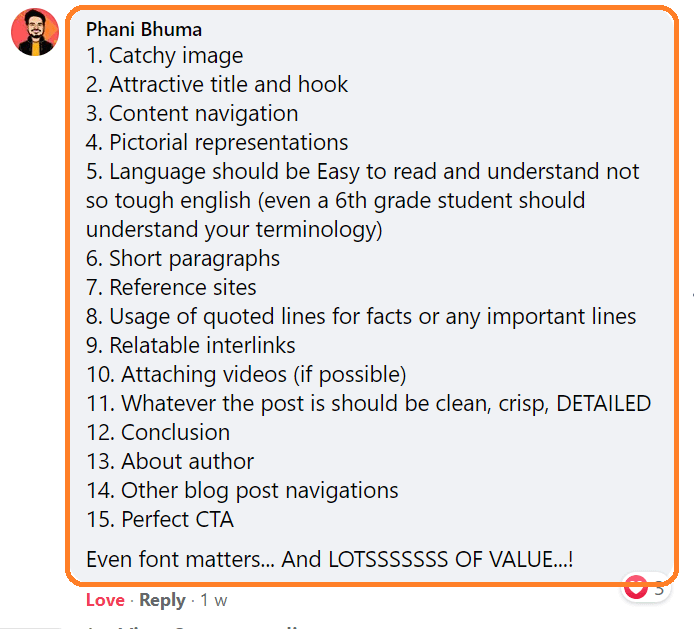 One more.

And, one last.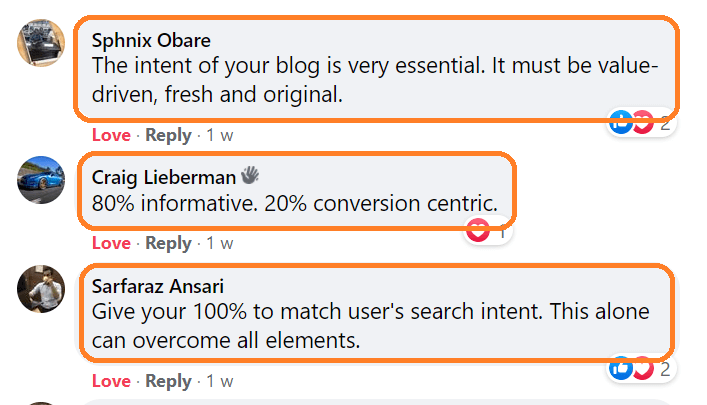 To make this easy to consume, I have created a list of 10+ elements to make your blog stand out, most of them are voted by the audience.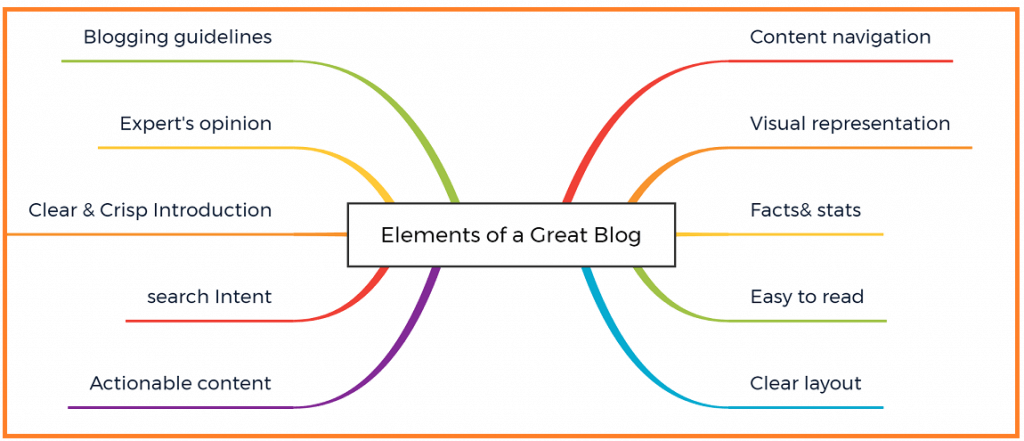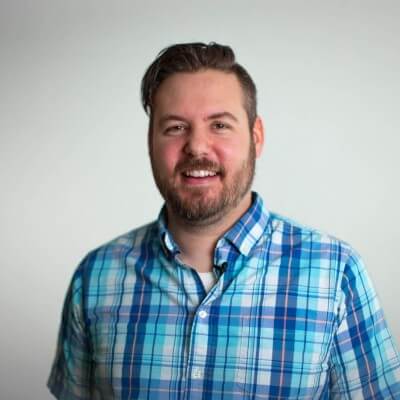 "To have your blog stand out in 2021, it needs to be really good. You need to be noteworthy. This means sharing expert knowledge, and providing next-level value. For example, I know two women who have a blog about college admissions. They learned everything you can imagine about the subject helping their children get into top-tier colleges and then pay for it.

So they have unique knowledge to share – stuff that you can't find anywhere else on the internet. Another example is a religious blog that I follow. They write lessons on church subjects for kids. When I want to teach my kids about these subjects, I can use their lesson outline, coloring page PDF, video, and suggested activity. All for free.

Now, that's next-level content! There are various marketing techniques to help your blog standout with SEO, social media, and email. But none of that matters if you don't have a foundation of content excellence."

— Garit Boothe (SEO Expert & Content Marketer)
1. Content navigation
It's always recommended to fill your navigation with items that your audience is looking for. Yes, there are many ways to design the navigation of your site, and Mind Mapping could be one of them.
For example, if most of your audience is interested in knowing more about the blog and the owner (About me section), but you have added the 'about section' in the footer with a tiny text.
This makes your users hard to find the information that they are looking for.
To get rid of this scenario, first, you need data to make decisions about what's important and what's not.
Here is how to track the performance of your navigation bar.
First, go to your google analytics dashboard.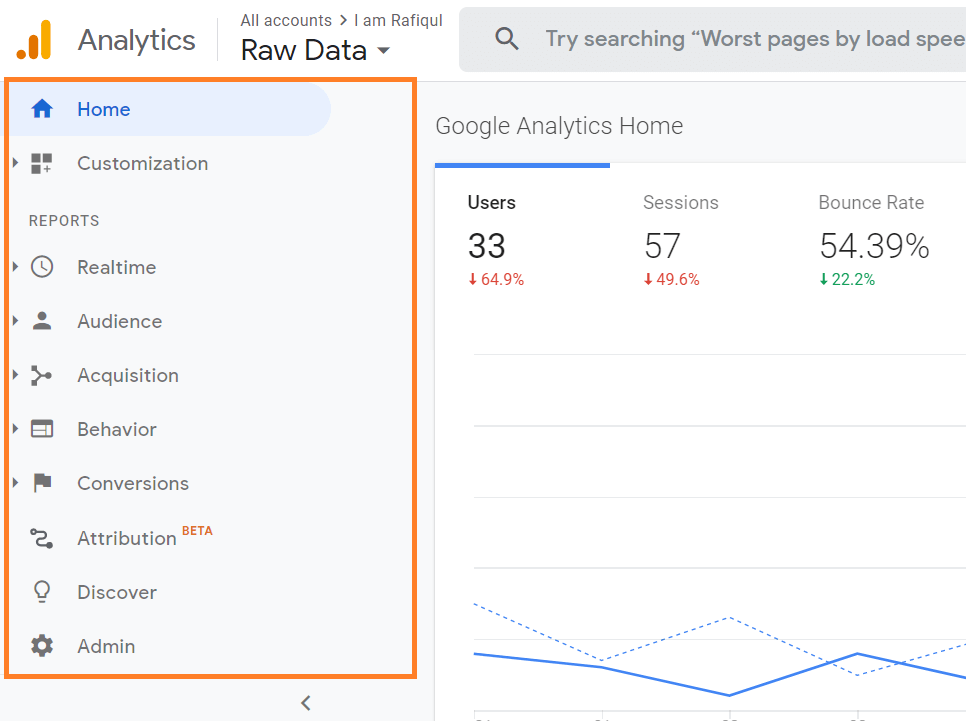 Second, go to the 'behaviour' section from the left-hand side menu and click on 'all pages' (under the site content section).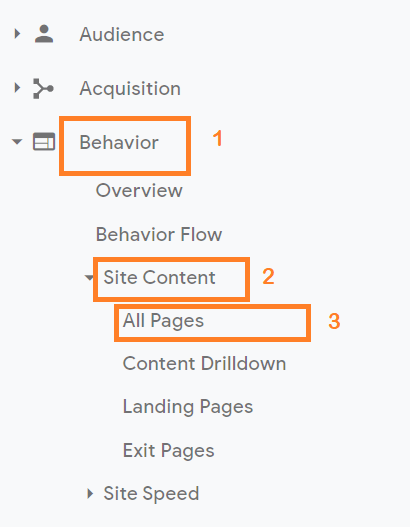 This will show your user's behaviour on your site. Now, to make it more specific, click on the home page (represented by /).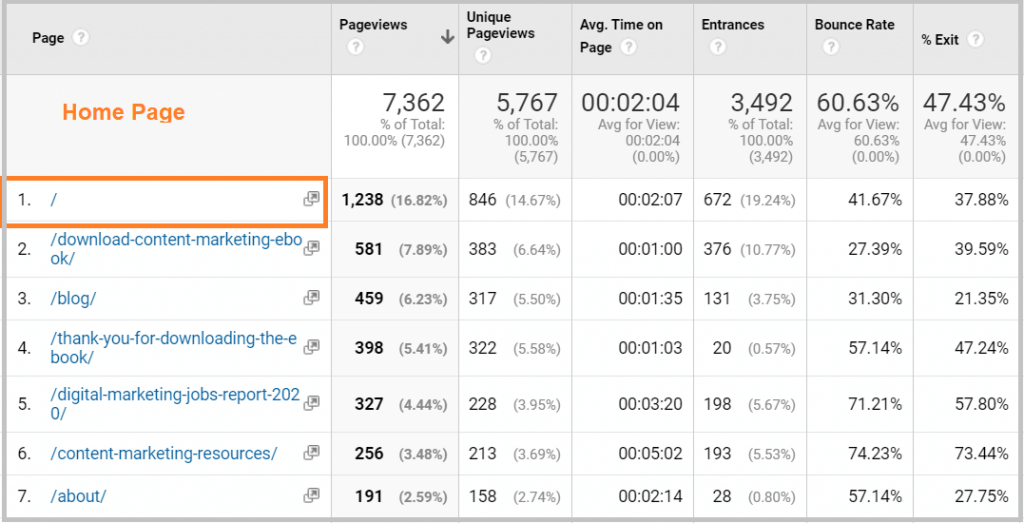 Next, click on the navigation summary.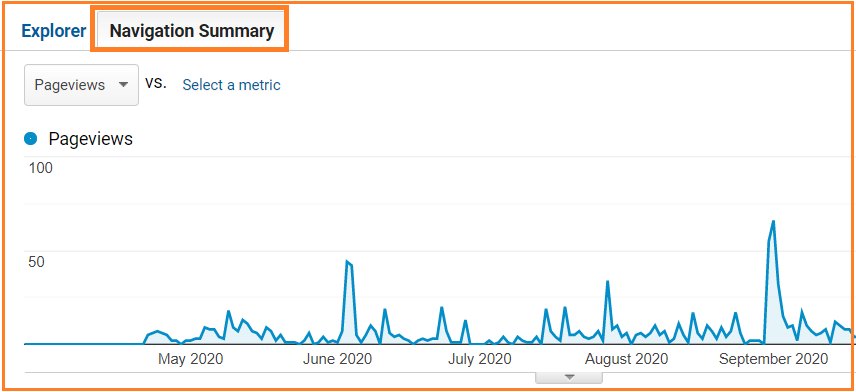 That's all.
This data will tell you the performance of each of your items on the navigation bar.
In case this looks complex to you, have a look at the below image.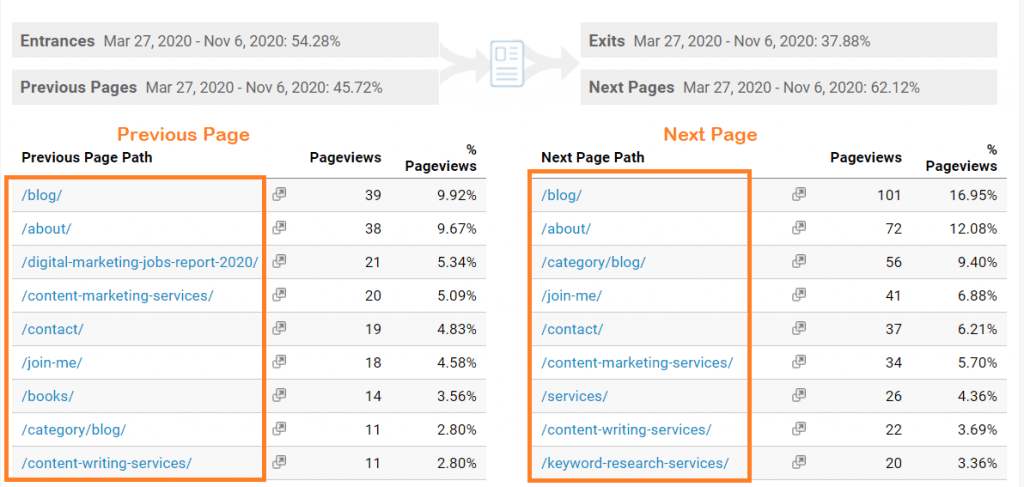 That means your home page is the current page and both of these below sections tell you where they came from and where they go to next.
That way you can understand what items people are clicking most of the time and which items are getting ignored.
If you're still confused, then refer to the below video, where I've explained every step to track the performance of your site's navigation bar.
2. Visual representation
To hold someone long enough on your site, you need to have good content along with good visual representation/images.
The best practice will be to add graphics to explain your point in content, not just to make it more visually appealing.
Now, you don't need to hire any graphic designer to design your mockup in the beginning.
The easiest way is to use a screenshot and also a Mind mapping software.
Tools for screenshot
Snipping tool (an in-built tool for windows)
Lightshot
Mind Mapping software
MindNode (for Mac users)
X Mind
Mindmeister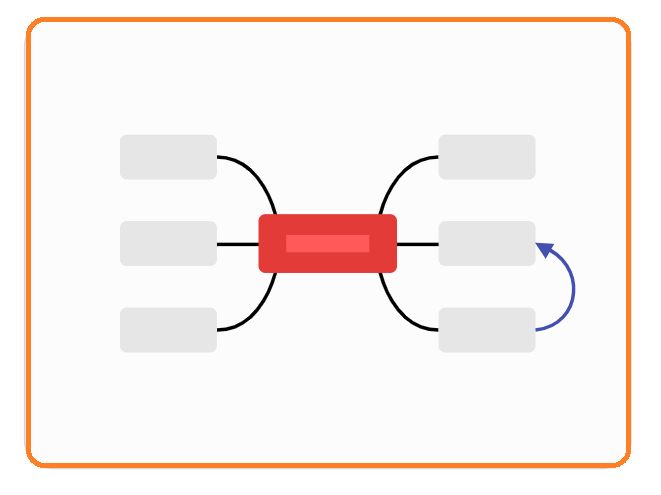 3. Facts & statistics
Though facts and statistics have a significant role in SEO, it also gives your users to trust your point or example.
It's no surprise why stat-based articles get so many backlinks.
So make sure, before claiming any data on your content, you link to the source. That way you can get links from other sites and get more credibility as well.
Here's a most recent example from Orbit media. The annual study of blogging was full of new research, statistics.
As a result, this single blog post has generated over backlinks from 2,000+ referring domains.

4. Clear layout
A clear layout comes with simplicity. It's better to remove almost everything that distracts your users from the blog post.
But if you're someone who monetizes their blog with Adsense or any other advertising platform, then you might find it difficult to make your site clean.
In this case, at least try to minimize the number of display ads on a single page.
5. Easy to read, easy to understand
Yes, this is the most common tip every blogger gets, but it's totally worth mentioning.
If you're a beginner and want to check the readability of your content by using tools like Hemingway App, Yoast SEO.
There is famous research on readability that studied the 2016 US presidential primary campaign.
After analyzing interviews and speeches of Trump and other candidates, it was found that even people with a fifth-to-ninth grade of education can easily understand Trump's language.
On the other hand, the result was a ninth-grade level for other candidates.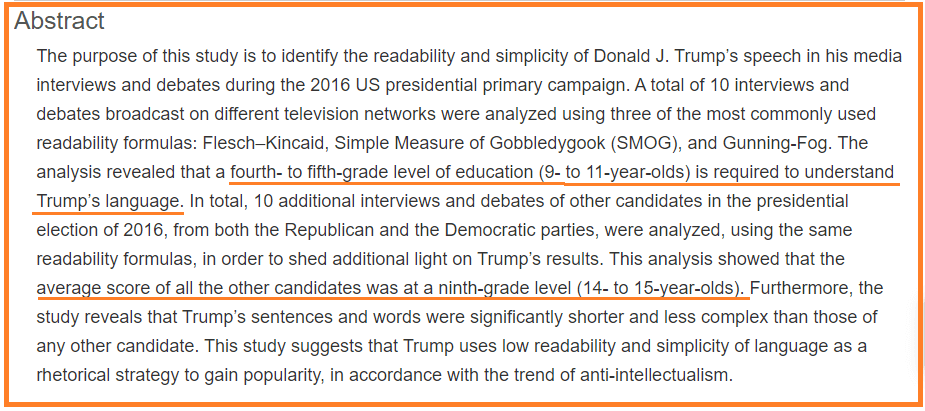 Even though you're not a candidate for a presidential campaign, using easy words and short sentences will help your visitors to consume your content.
6. Actionable content
The most important sign of actionable content is that it not only shows users what to do but also gives a clear idea about How to do it.
To deep dive into understanding how to create actionable content, have a look at this article on creating actionable content.
7. About author section
Adding an author section in your blog post is an easy way to get known by your users. It gives your personal brand a little more exposure. One thing to remember is that you may not need to add an author section when your blog is your portfolio or the domain name similar to your name. In that case, your 'about me' page of your site plays a more important role than the author io after every blog post.

8. Search Intent
This could be the most important element in this list as Google also gives serious attention to the search intent.
I found this definition from Ahrefs crisp and to the point.

The easy way to understand the search intent of any search terms?
By manually looking at the SERP results.
Here's what you can do.
Before writing to get SEO benefits, then you'll probably target search terms to rank on the first page.
Let's take an example of 'Apple' (the idea of this example to help you understand how search intent works, not to rank).

Now, before clicking enter, write down, or think in your mind about the possible search results.
In this case, we can get results of 'Apple fruit' or the 'tech brand Apple' for the keyword 'Apple'.
Here are the SERP results.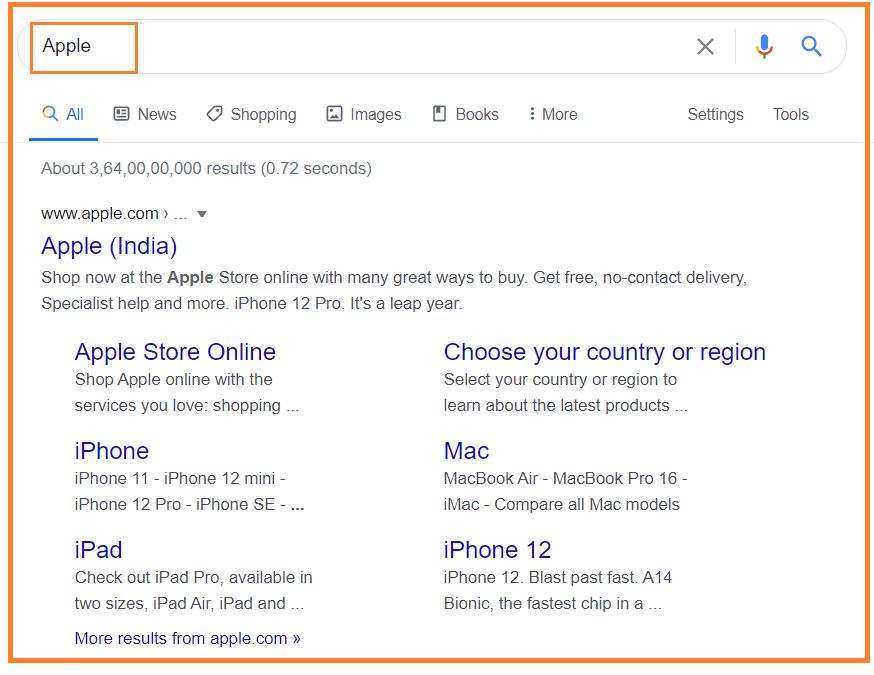 There is no single page ranking on the first page that talks about Apple as a fruit. That simply means, when people are typing 'Apple' on Google, they mean to see results related to the Apple brand. This was a simple exercise.
So writing about Apple considering that you can rank on the first page, is a waste of time.
Even if the difficulty level to rank on that key term is easy, it's not possible to rank just because your web page isn't fulfilling the search intent.
I hope you got my point.
9. Introduction
The Book Adweek copywriting handbook (By Joseph Sugarman) talks about the most important purpose of a sales page.
Can you guess what it is?
It is to get people to read the first sentence.
Here are the exact words from the author,
"All the elements in an advertisement are primarily designed to do one thing and one thing only: get you to read the first sentence of the copy."
A similar thing happens for a blog post as well. Once you get people to read the first sentence, you actually have a chance to get that reader to read the next sentence.
That way you can also leverage storytelling into your content.
A study by LinkedIn Technology Marketing Community, "57% of what makes content compelling is storytelling"
Now, the author also describes some key factors to get people to read the first sentence.
Make it super short (eg: it's easy, I never expected, etc.)
Short, easy to read, and almost incomplete sentences (the reason for making it incomplete is because your job as a writer is to get people to shift from first to second sentence. Second to third, third to fourth.)
Also, apart from that, you can also leverage some of the tested introduction formats such as:
Interesting or shocking statistics.
Asking a relevant question to engage the visitor from the beginning
Debatable question (eg: Content marketing is dead)
10. Expert's opinion
Most probably you've already seen expert's opinions within a blog post just like this one.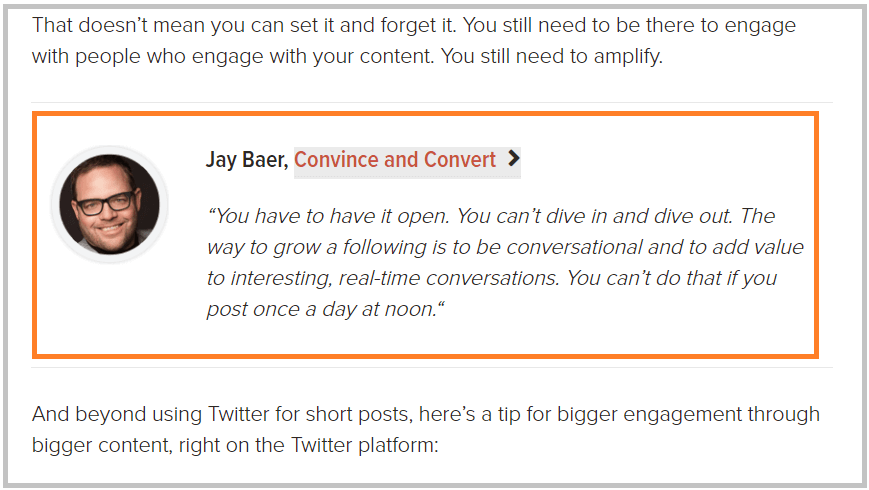 So, what's the purpose behind this?
Is it only because of getting more popularity or more social shares?
Though these could be the possible purposes, adding expert's opinions helps you to get initial traction for your blog post.
Normally, what we do is choose a topic to write about, then after writing the article, we hit publish. And the last step is to promote it as much as possible.
Yes! We do promote only after publishing the content. This is the same mistake I made for a long time.
So consider getting contributions from experts or people having followers related to your niche.
Once you're ready with the content just mail each of the contributors and ask them if they can share your article.
In most cases, people like to share.
Here's a real case study from a not so popular blog.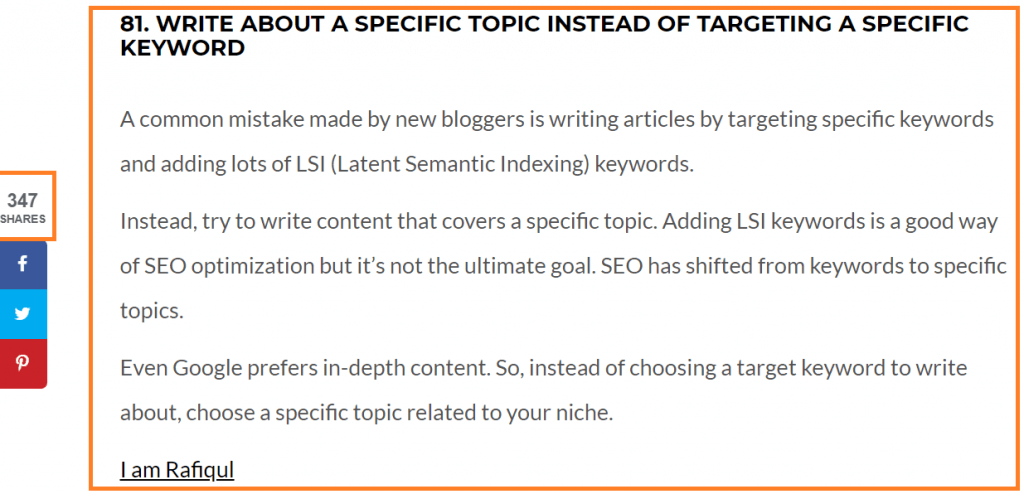 This is a blog post about '99 ultimate tips for beginner bloggers' and the best part is all of these 99 tips were contributed by bloggers.
As a result, it got 300+ social shares.
Just imagine what if they have written this all on their own.
This is why you should consider this tactic to get an initial hike.
In that way, even before hitting the 'Publish' button, your blog post is ready to meet new people.
11. Blogging guidelines
Last but not least, the tip on this list is blogging guidelines. If you've ever tried to write a guest post for another website, you may have already seen a blogging guideline for writing.
Here's an example.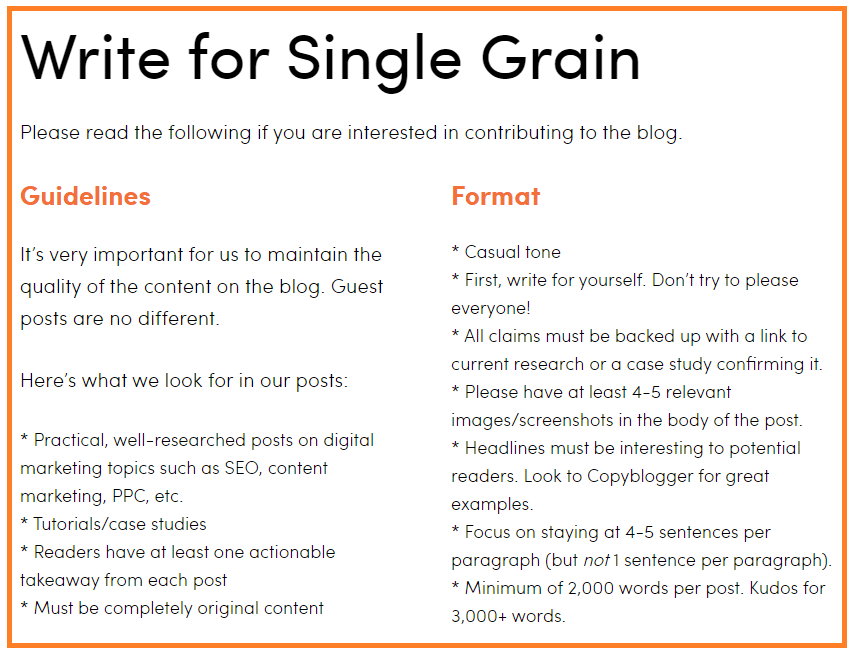 In simple words, blogging guidelines basically gives you a brief idea about how to write a better article.
It could be anything like:
Adding relevant external links
Featured image
Writing for a specific audience
Understanding the tone of writing
And many more.
So if you're a beginner, then this could be a great place to get ideas about how to write better blog posts.
To get a clear picture, here's a step by step process that you may consider.
Start with writing down the top 10 blogs in your niche.
If you're already following some of them just write it down.
To make it more intense, search on google with 'Top blogs in (your niche).'
Here's an example.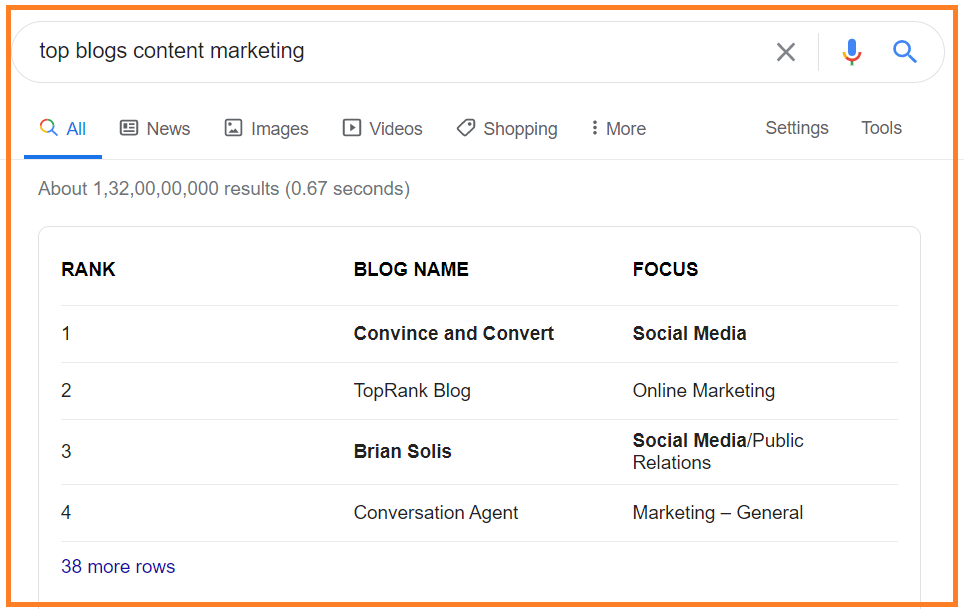 Next, manually visit their blog and look for "write for us", "blogging guidelines", etc.
Not everyone blogs accept guest posts and it's okay.
Only a few of them will do our job.
Once you find the guideline section, you'll see a list of ways that you can write better match their standard.
This is what you need.
If you're just starting, here are some of the guidelines that you should consider to improve your writing and researching skills.
Download some of my favourite blogging guidelines that may help in making your better.
Last resource I have for you is a definitive guide by Ahrefs on SEO Copywriting. You'll love it.
Final words
Just like human's attention span blogging has changed from what it used to be in 2010. Now, holding people to your site is harder than ever before as people scan content instead of reading.
That is why you should focus on visual appeal and branding along with user-experience and quality of the content.
Considering this approach, I have made this ultimate guide to standout your blog in 2021 and beyond.
Now, is your time to answer this simple question.
What according to you is the most important factor to create a memorable blog in 2021?
Make sure to add anything if I've missed anything crucial.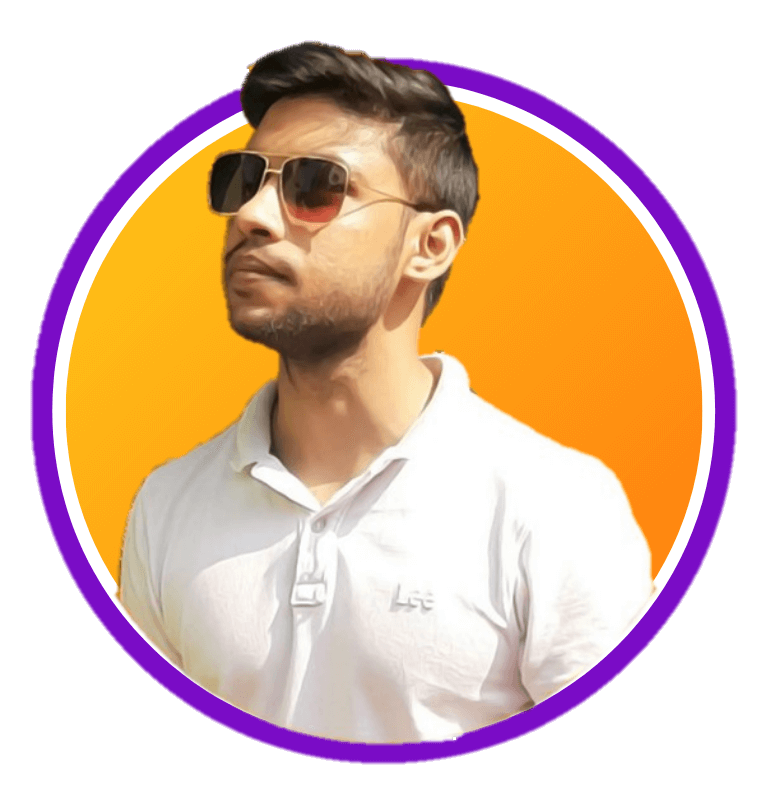 Sk Rafiqul Islam is a content marketing practitioner with 3+ years of practical experience. He spends most of his time helping businesses to build a loyal audience with content marketing. He is also running a tech career blog called 10Pie and content marketing VIP, a bi-weekly marketing newsletter. In his free time, he loves reading books and playing football.