Content marketing is one of the best ways to drive traffic, generate leads, and even build an engaged audience.
But the real question is HOW.
In this guide, I'll share 7 great content marketing examples in India that you can implement in your industry.
The best part?
I will also breakdown:
Results they achieved
Why does their content marketing strategy work
Key takeaways for your business
Before we jump into the examples, let's quickly review the basics of content marketing.
Quick Navigation
What Exactly Is Content Marketing?
Content marketing is the practice of creating and promoting relevant, useful, or entertaining content through various content platforms to drive business goals.
Generally, business goals refer to any of the following:
Site traffic & higher rankings
Lead generation
Increasing Sales
Customer retention
Here's an illustration to understand the content marketing definition: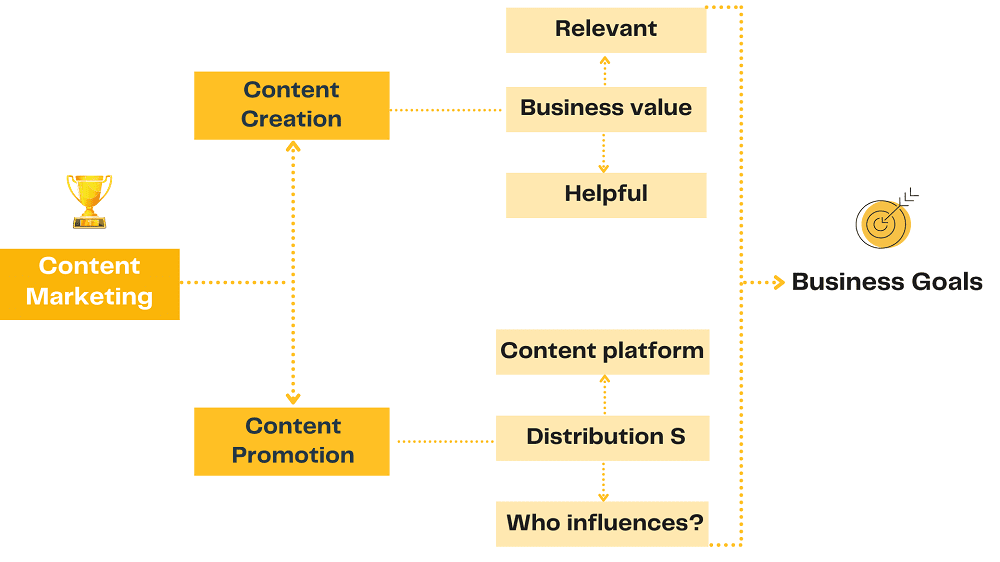 Note: Involving experts/influencers who influence your audience in your content strategy can also be a part of the content promotion strategy. To learn more about the implementation, read my article on collaborative content marketing.
Let's jump right into the real examples.
Example 1. Zerodha's Content Hub
About The Business:
Zerodha is the largest stock brokerage firm in India, with over 6 million clients. The company was founded in 2010 and now dominates the search results for the stock market and investing-related queries in India.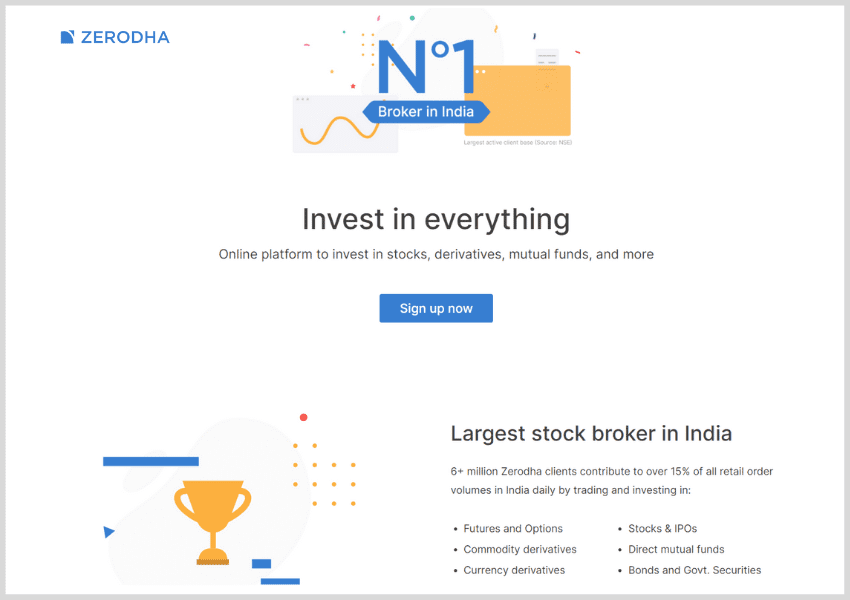 Results achieved:
Zerodha launched Varsity, a platform dedicated to providing stock market and financial education.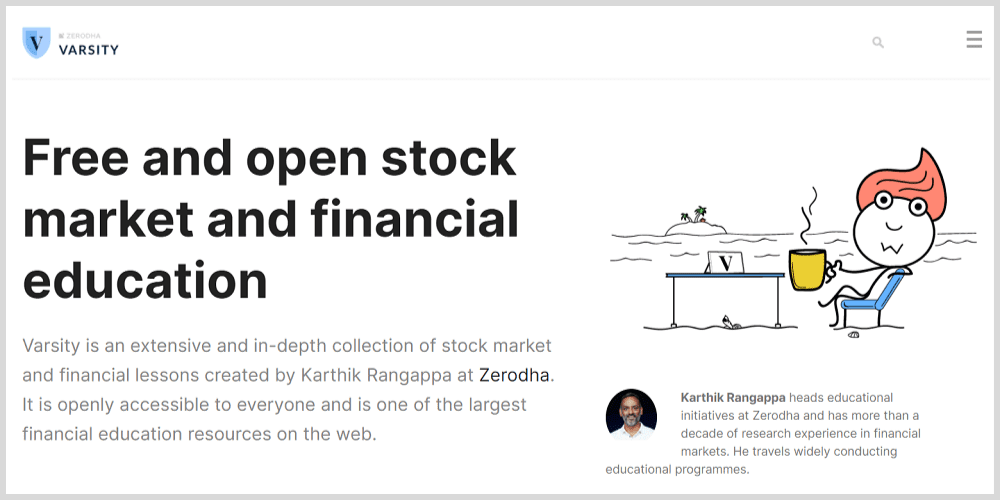 Currently, the subdomain https://zerodha.com/varsity is getting over 224k site traffic per month.
Also, the content hub has generated 72.3k backlinks from 1.41k different domains.

Why Do They Work?
1. Content organization →
Let's start with the content structure of Varsity.
Zerodha has strategically structured the URLs to organize 11 pillar pages and 760+ blog posts on different topics. The first thing you'll notice is that these pillar pages and content clusters are under different sub-folder to create a structured and organized content hub.
For example:
Pillar pages → https://zerodha.com/varsity/module
Content clusters → https://zerodha.com/varsity/chapter
This helps the users and the crawlers to understand the structure and important pages of the site.
Here's the visualization of the content structure: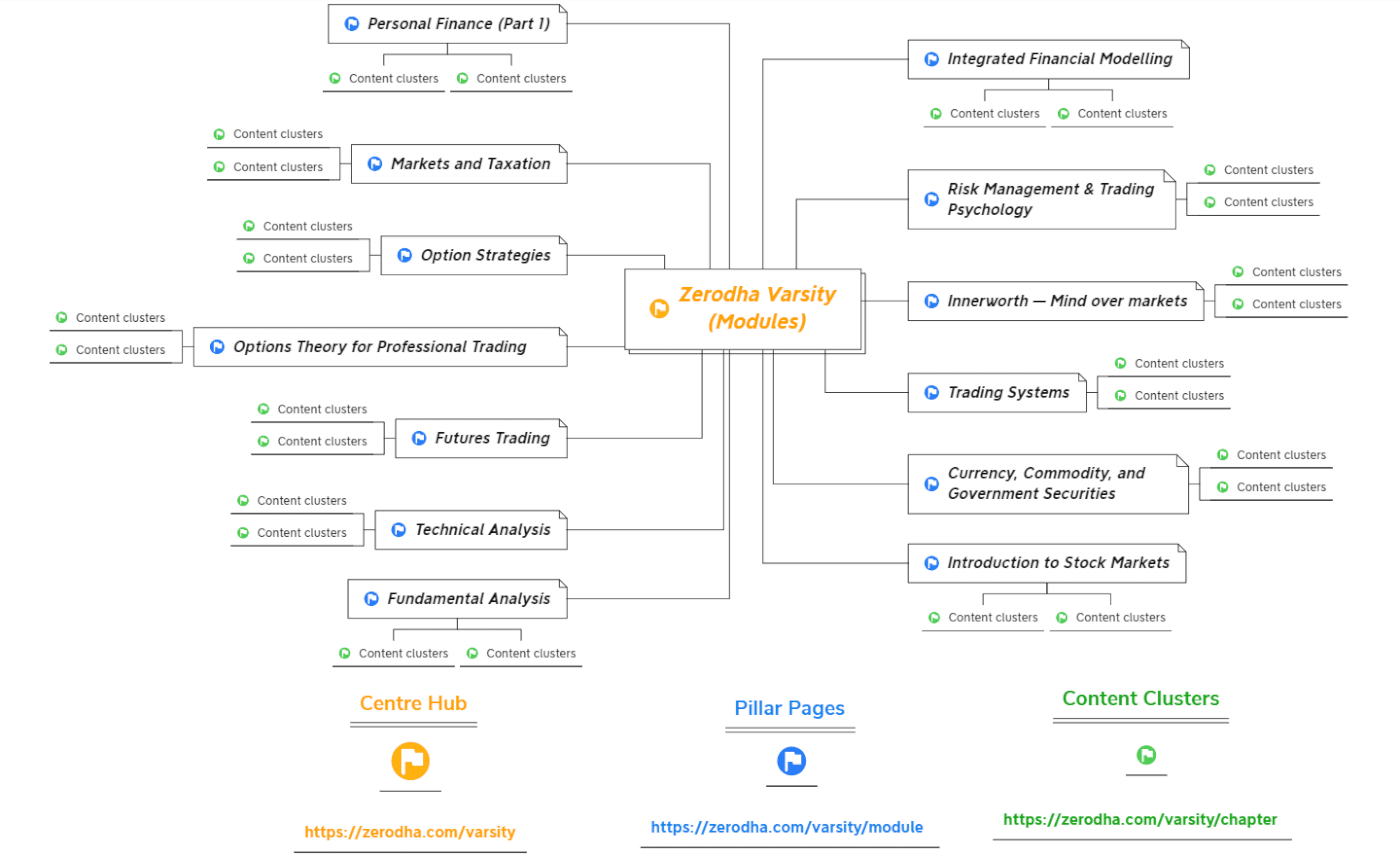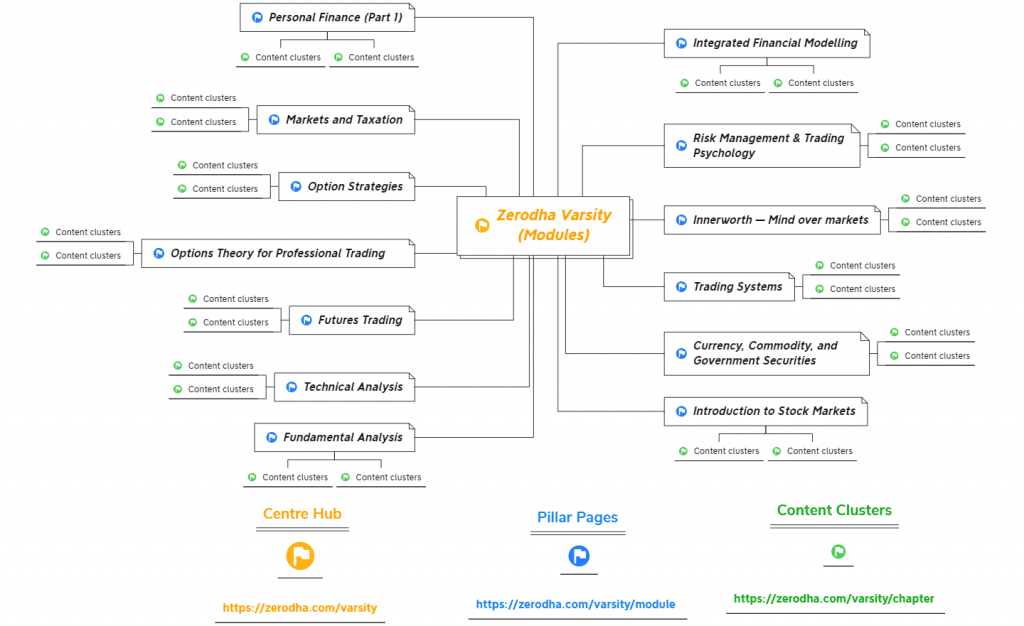 2. Content in Regional language →
Not only in English, but Zerodha has also focused on creating content in Hindi.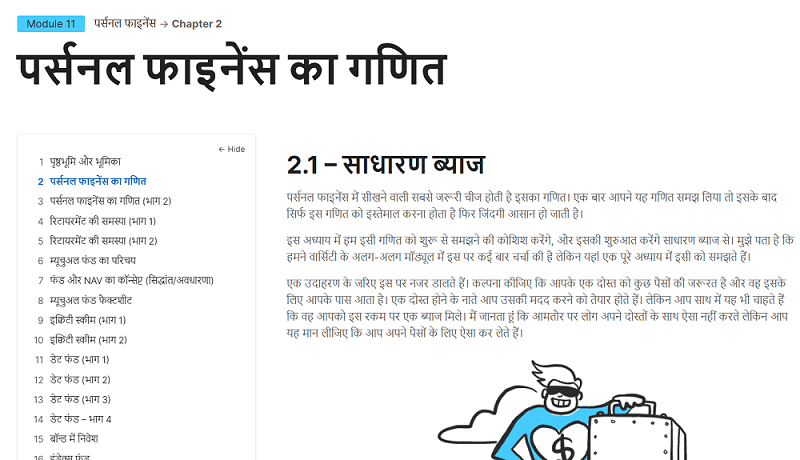 The benefits?
Less competition
Lack of Hindi content on financial education from credible sources
Long-tail-keywords
Comparatively easy to rank higher
Look at the below results:
The Hindi keywords (Mutual fund return and types of chart) have less competition and are also relevant to the business offerings.


In fact, 6 out of 11 content hubs in Zerodha Varsity are in the Hindi language.

This is a smart way of competing in a high-competitive niche.
3. Building SEO optimized pillar page →
If you're unfamiliar with topic clusters and pillar pages, here's the brief overview:
A pillar page is a type of web page that covers a broad topic relevant to your business. And, the pillar page also links out to topic clusters.
Here's an example of pillar page and topic clusters: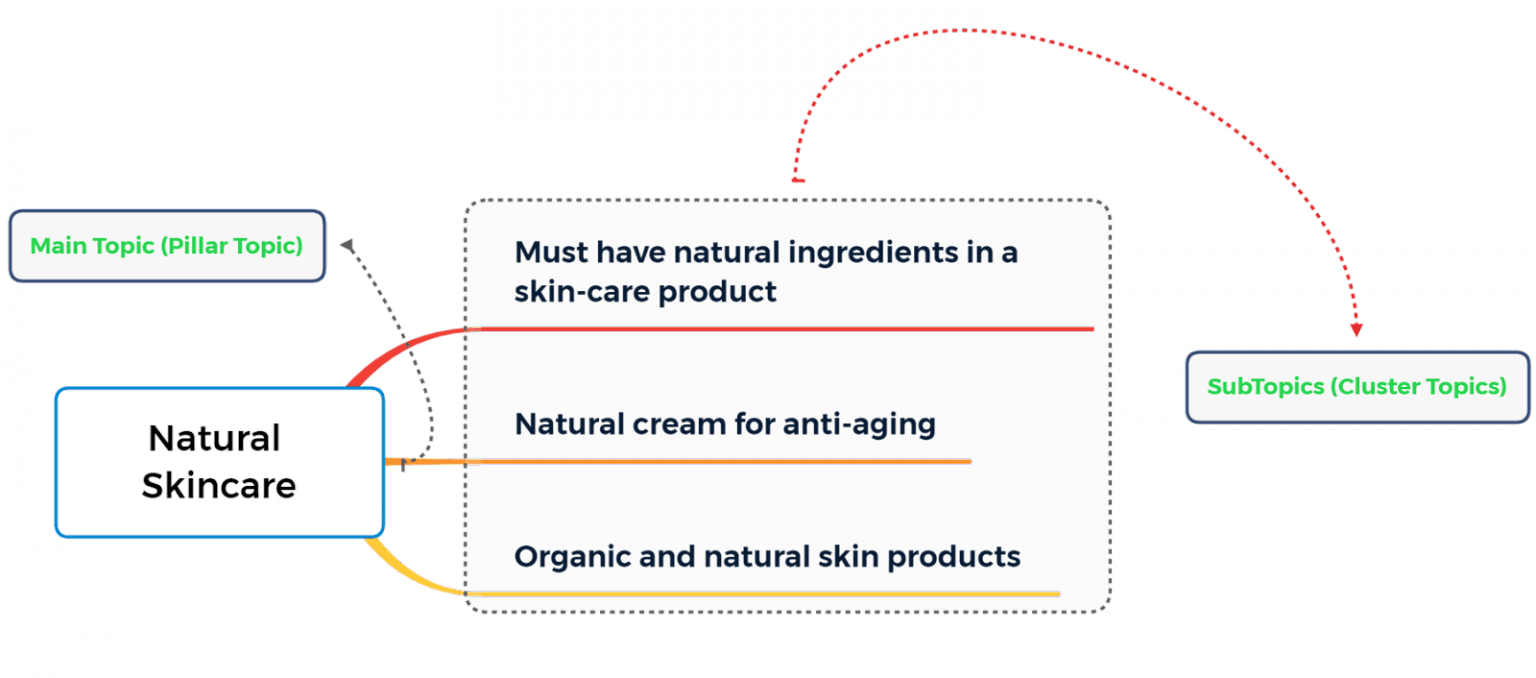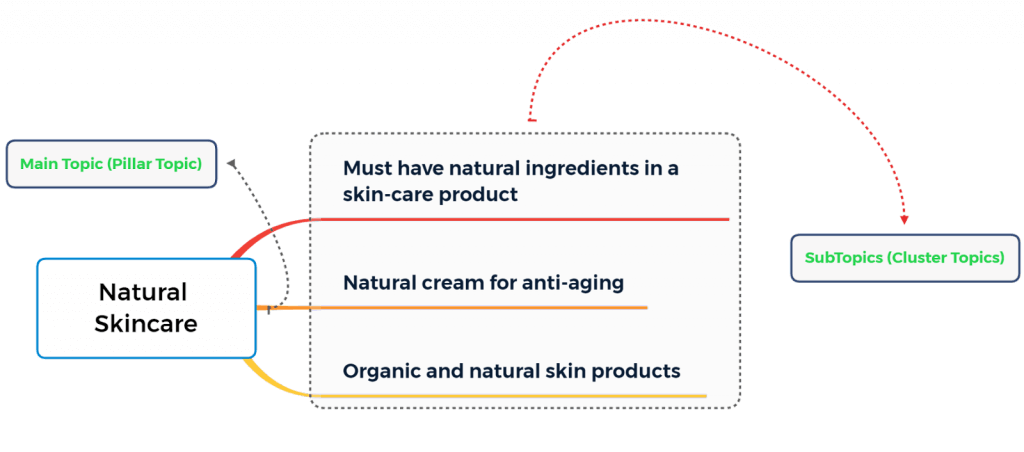 The goal of the pillar page and the topic cluster is to build topical authority and rank higher on competitive, broad keywords.
This also provides a great user experience as the reader will get all the relevant information from your website.
But here's a catch.
Not all pillar pages have to be long-form content. In fact, pillar pages of Zerodha Varsity are the opposite.
Instead of creating a giant page on a specific topic, they have added a short description of each topic cluster.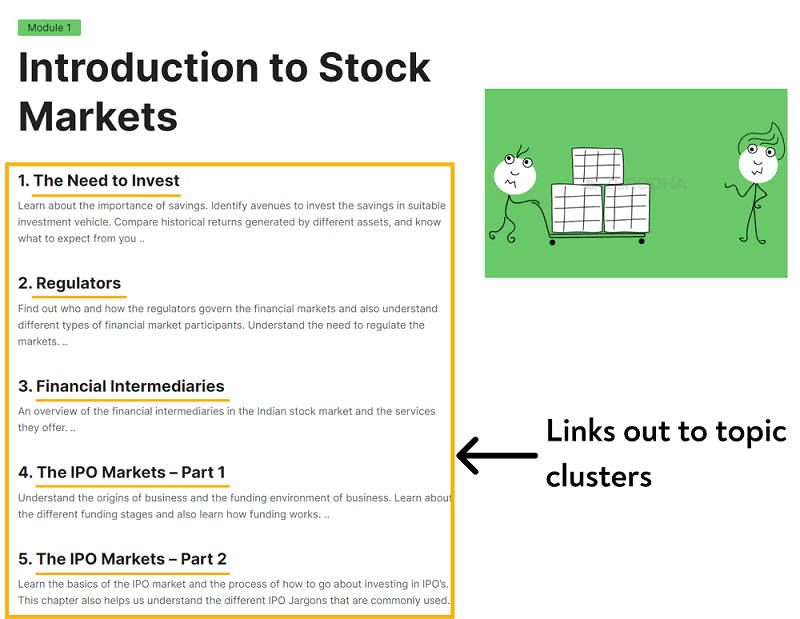 We call this resource pillar page. And it still works in many cases.
For example, the pillar page on 'Introduction to stock markets' is getting 3,900 visits per month and backlinks from 44 different domains.
4. Internal linking →
Internal linking is one of the most underrated ways to boost website performance. And Zerodha Varsity has done a great job.
The first thing you'll see is the use of breadcrumbs for content clusters.
For example, breadcrumbs help to add internal links between the pillar page and topic clusters.


This way, the link juice will transfer the high authority pages to the low authority ones.
To take it to the next level, every content cluster is connected with each other.
Here's how: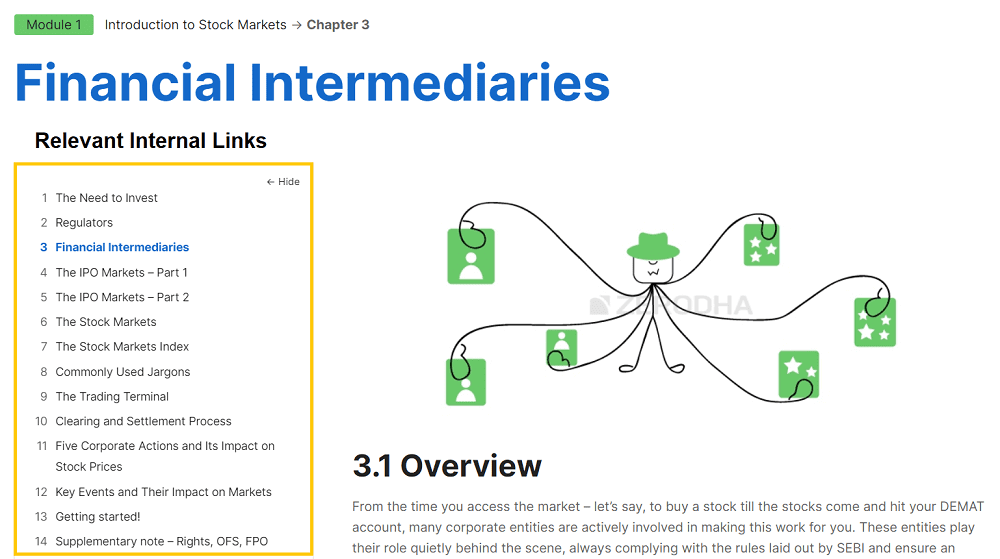 Overall, if we try to visualize the internal linking structure of Varsity, we'll see that every content cluster page and the respective pillar page are linked with each other.
The internal linking strategy of Zerodha Varsity looks like this: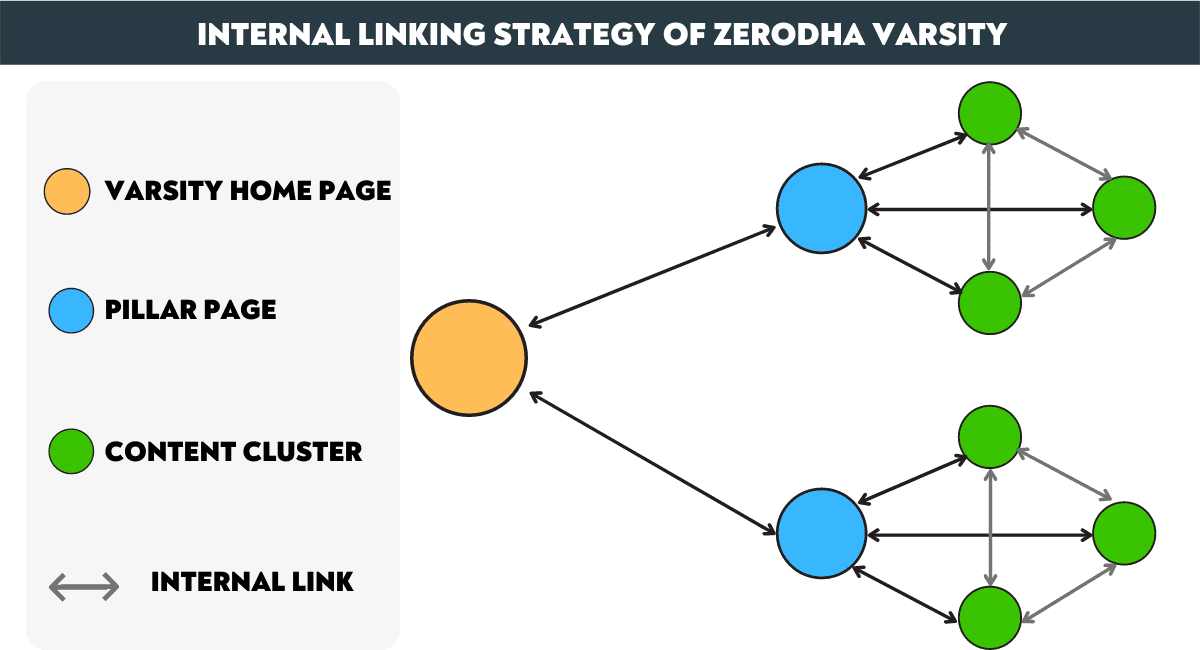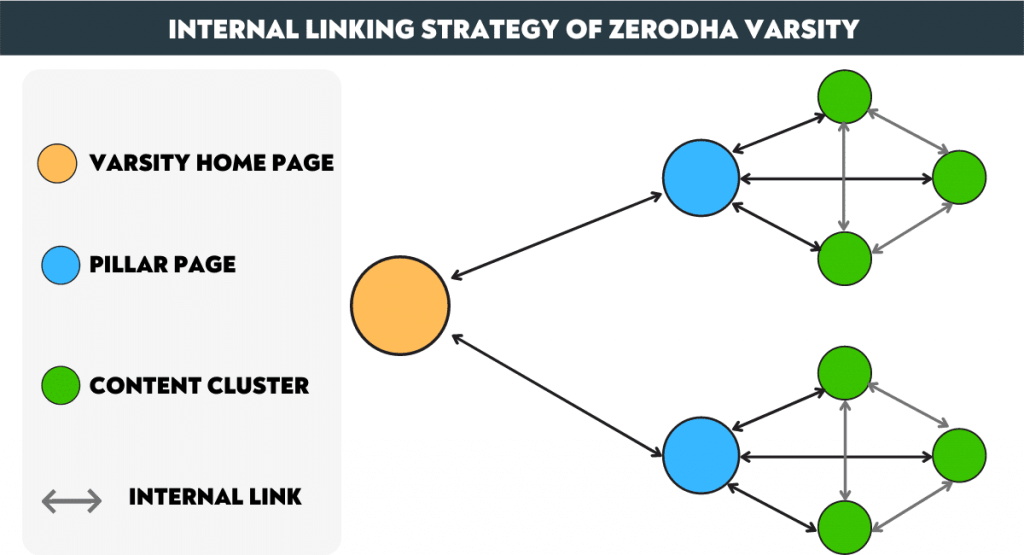 Key Takeaways
For a content-heavy website, organizing content and web pages by using subfolders is good for users and SEO as well.
Instead of randomly publishing blog posts, try to categorize your blog content into broad topics or modules. This way, users can easily navigate the website even if you have a large website.
Topic clusters and pillar page concepts are a great place to start with. To get better results, focus on strategic internal linking for each pillar page.
You don't always have to compete on English language-based content. Look for opportunities in regional content. Mostly, you'll find a targeted audience and low competition.
With this, let's have a look at the next SEO-driven content marketing example.
Relevant Read: Complete Guide on Mobile Content Marketing
Example 2. Holidify's SERP Domination
About The Business:
Holidify is an online platform for travellers from India. They provide educational information about planning your trip across thousands of holiday destinations (mostly in India). Also, Holidify provides hotel booking services and holiday tour packages.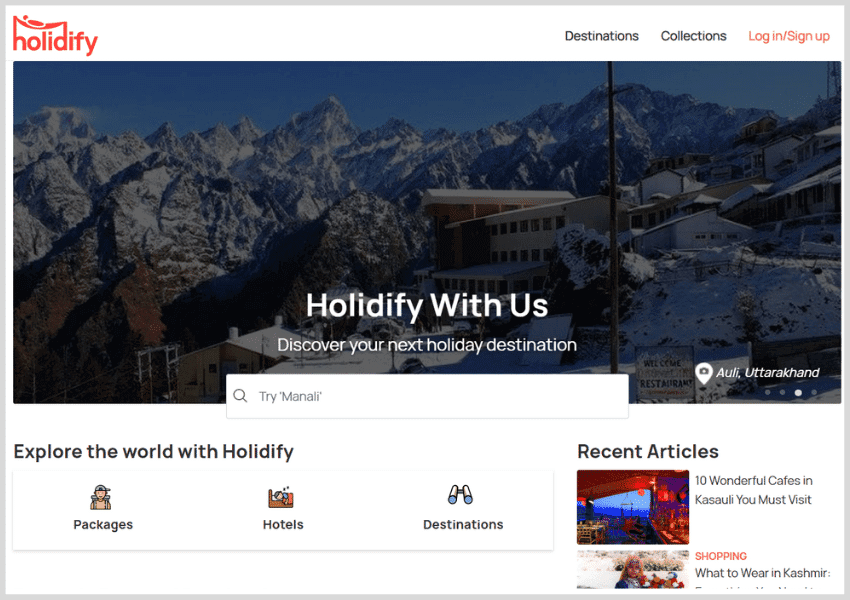 Results achieved:
Holidify has managed to build a huge content empire that gets around 4.2 million visits every month.

Not only that, but the number of referring domains has also increased by 444% in just ten months.

So what's the secret that made holidify one of the leaders in the Indian travelling industry?
It's because of the content marketing approach.
Holidify is dominating the SERP for queries like:
Places to visit in _____
Things to do _____
How to reach [name of the place]
Best time to visit _____
Here's a more detailed breakdown of search terms dominated by Holidify:
| | | |
| --- | --- | --- |
| Types Of Queries | No. Of Keywords Ranking On The First Page | Top Pages |
| Places To Visit In | 4000+ | Places To Visit In KolkataPlaces To Visit In Darjeeling |
| Places To Visit In India | 800+ | How To Reach ShimlaHow To Reach Kedarnath |
| Best Time To Visit | 1000+ | Best Time To Visit GangtokBest Time To Visit Leh Ladakh |
| Things To Do | 800+ | Things To Do In AlibaugThings To Do In Daman |
This is simply possible by creating a ton of SEO optimized pages that match the search intent and needs.
To understand the exact reasons, let's break down the content strategies Holidify used to get this big in search results.
Why Do They Work?
1. Scaling SEO content →
Holidify has created over 6,000 web pages for a single type of query, and that is 'places to visit in _____'.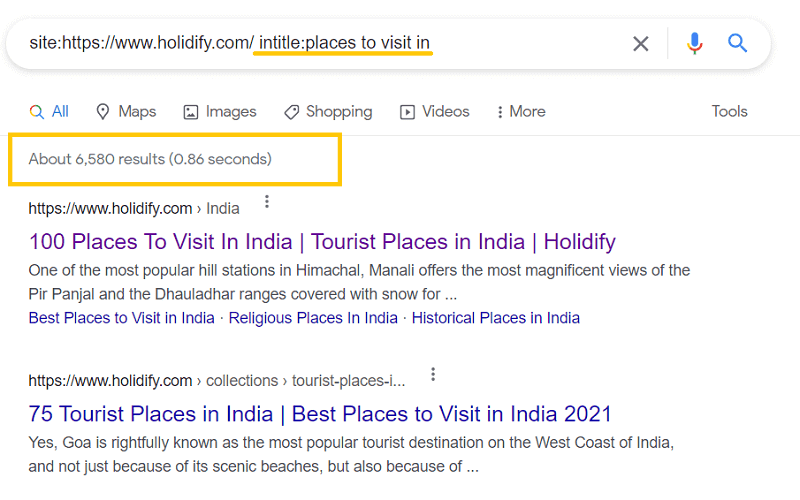 But the question is, how did they find so many keywords/topics to target.
And, the answer is wildcard content strategy.
Wildcard content strategy is a way of finding a large number of search queries from a single templatized content format.
An example:
The templated content format for Holidify was 'best places to visit in ____.'
Now, with the help of wildcard content strategy, they got content ideas such as:
'Best places to visit in India'
'Best places to visit in Goa'
'Best places to visit in Delhi', and so on…
One way to find wildcard content ideas is Google autocomplete.
Just type the templated content format (relevant to your business) and wait for Google to suggest keyword ideas.
Here's an example: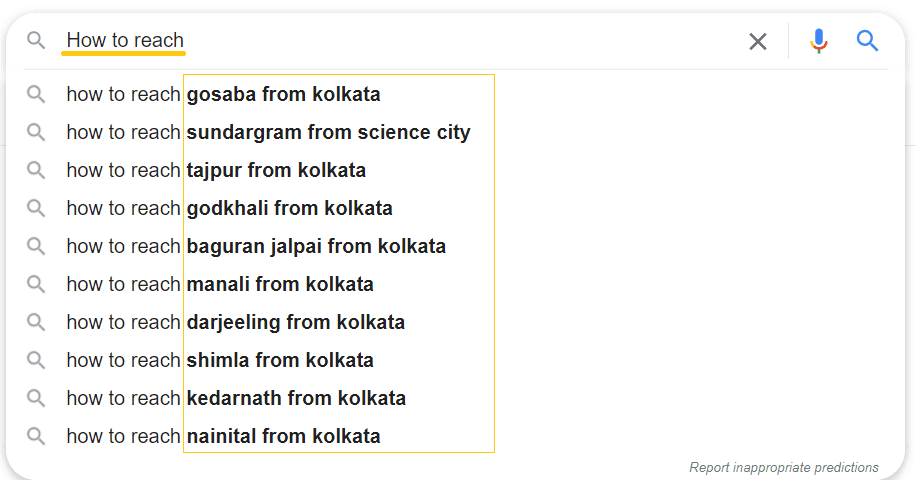 Here the templated idea was 'How to reach [place X] from [Place Y]'. Now, by using wildcard SEO, I can also find a large number of content ideas.
This will help to scale the content creation process.
Another way to find wildcard content opportunities is using any of your SEO tools (Here, I will use Ahrefs).
Type the same templated content format and select the country.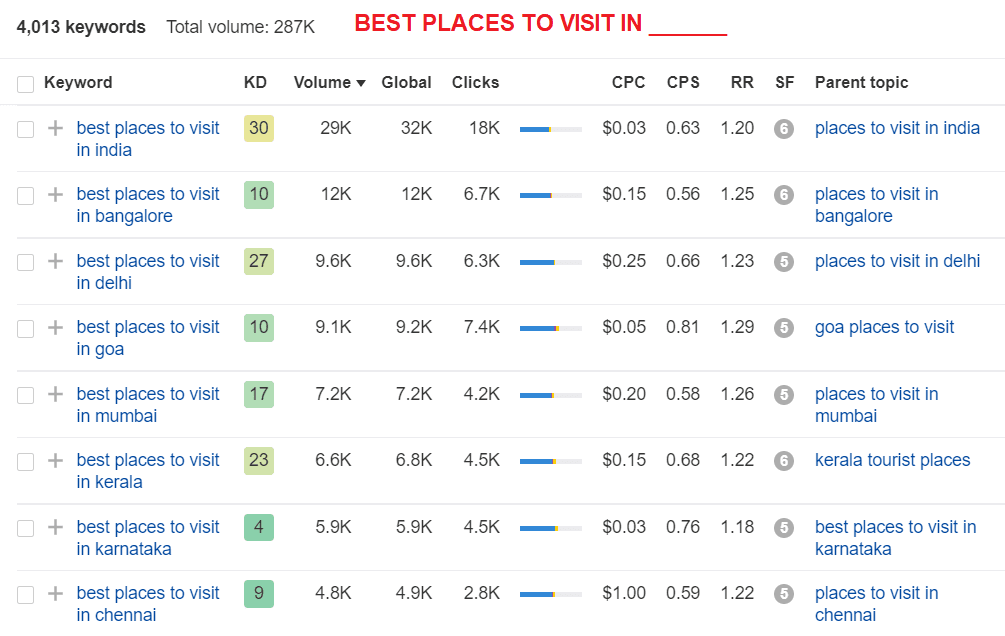 As you can see in the above screenshot, I've generated over 4,000 content ideas in a few minutes in this simple way. Next, I can also filter the list by keyword difficulty and search volume to get a refined and relevant list of keywords.
2. Matching search intent →
Matching search intent is about understanding the WHY of the user's search queries and providing relevant information that feeds users' needs.
Again the webpage on 'best places to visit in India' is a great example of matching search intent.
The intent here is to find the best places for travelling, plan the trip, and maybe find the hotel packages.
This is why Holidify built a content hub for almost every possible location in India.
For almost every travel destination, Holidify helps users by:
Planning tour packages and trips
Finding the right time to plan the trip
Knowing about visa policy and more.
This is how it looks like:

For every travel destination, these navigation elements will show the relevant content customized for that place.
Asides from matching searcher intent, it also helps in internal linking and structuring the content hubs.
Key Takeaways
After a certain growth, it is important to scale the content creation process. And, this is where wildcard content ideas can be helpful.
Find a list of hundreds of content ideas and sort them by search volume, keyword difficulty, and search intent.
Study the SERP well and understand the search intent behind these queries.
Think beyond long-form blog posts. Focus on making the searcher job easy to find the important information as quickly as possible.
Relevant Read: 13 Point Content Marketing Checklist
Example 3. Indeed's Data-Driven Content Strategy
About The Business:
Indeed is one of the largest websites for job listings in India, available in over 50 countries. With Indeed, employees can search for jobs, and employers can post their job requirements. They also publish educational resources regarding interviews, resume writing, finding a career path, and more.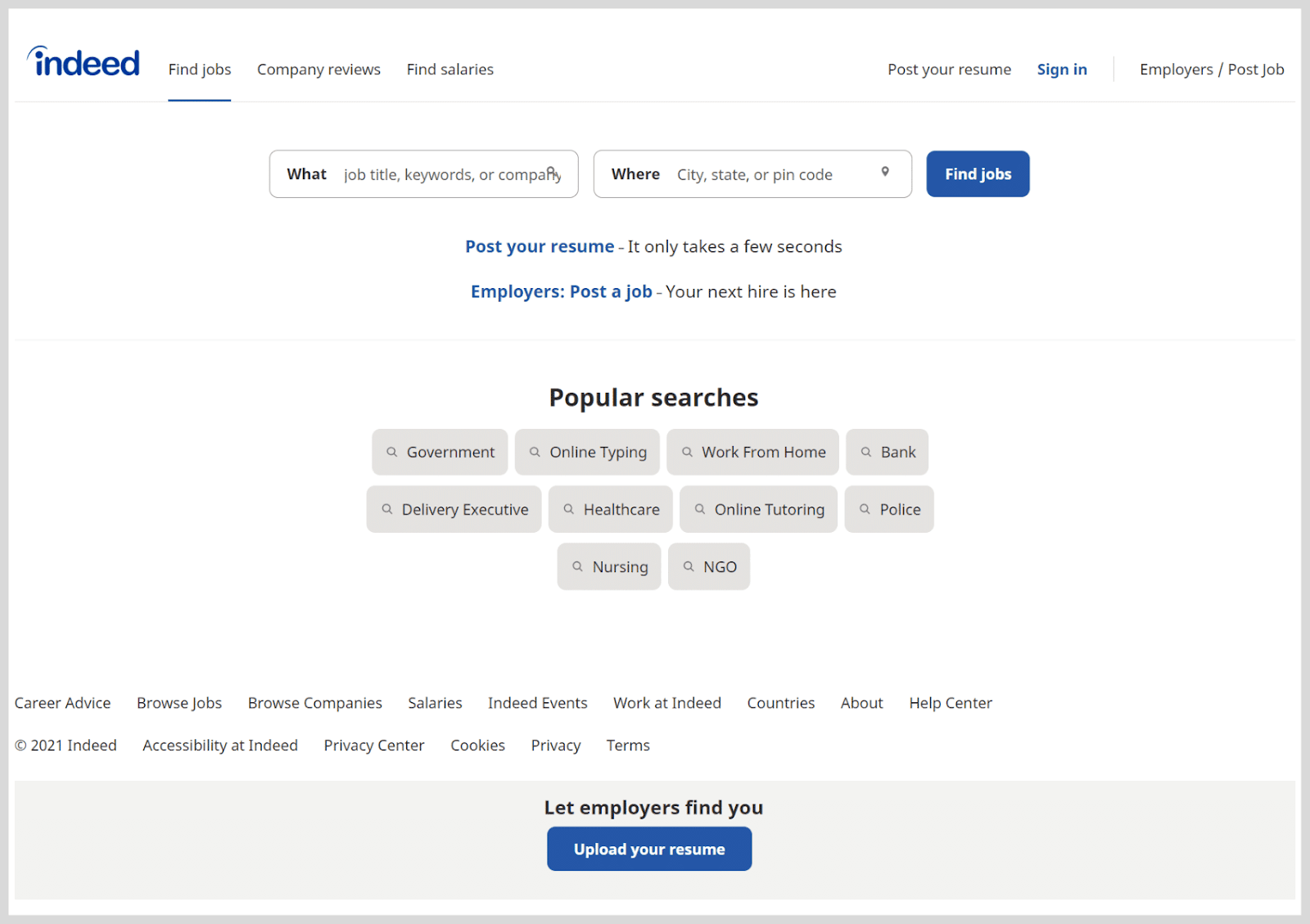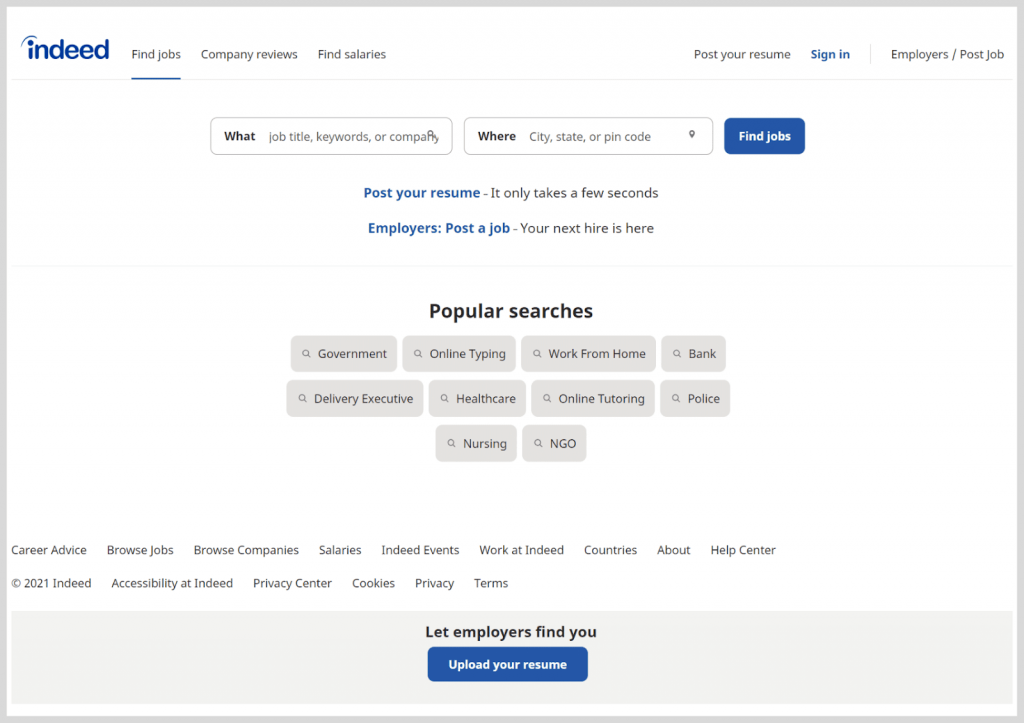 In this guide, we'll see the .in subdomain (India specific website) of Indeed to study the content marketing strategy.
Results achieved:
If you search for queries like architect salary, accountant salary, computer engineering salary, Indeed ranks in the top 5. There are nearly 5,900 salary-related queries for which Indeed is ranking in the top 10 positions.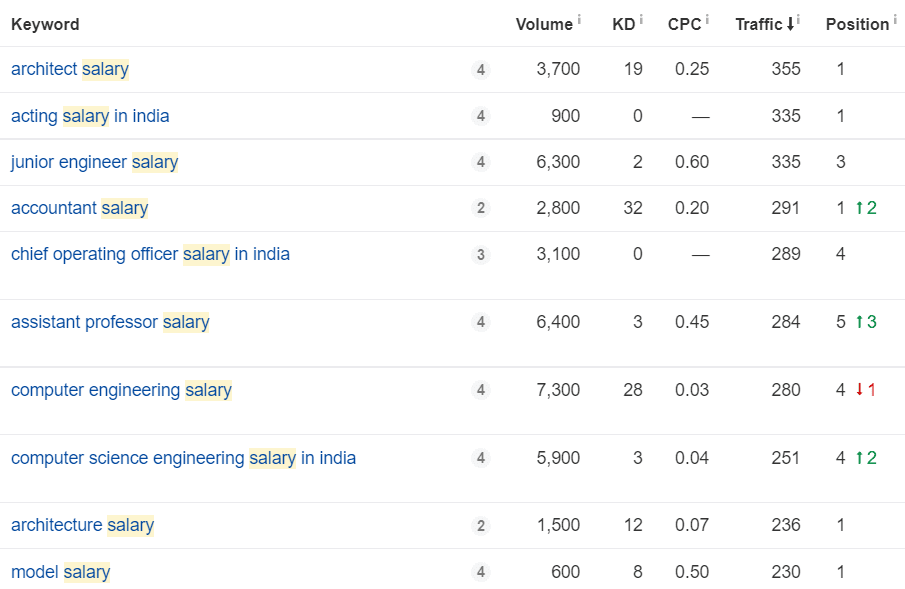 These specific web pages have acquired more than 1,100 backlinks from 322 different domains such as fortune.com, simplilearn.com, Newstimes, and others.
Not only that Indeed has gone from 0 to 89,000+ organic visits per month in less than 12 months.
That is how powerful the content strategy of Indeed is.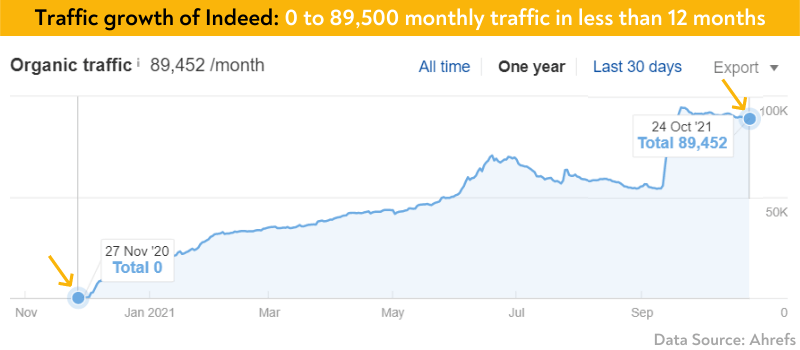 Let's find out the secret behind this huge growth of search traffic.
Why Do They Work?
Link-worthy content →
First, have a look at the typical salary page from Indeed: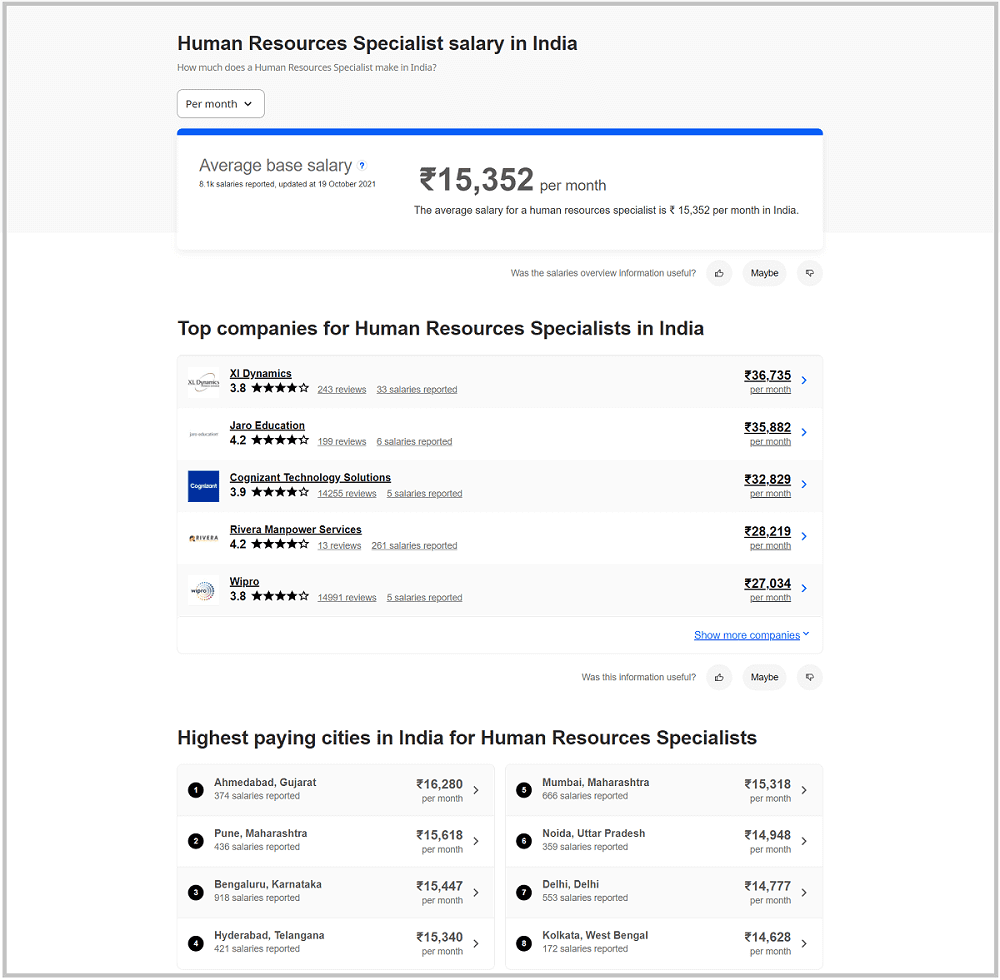 As you can see, this is an example of data-driven content.
When it comes to creating data-driven content assets, Indeed has one big advantage over other individual competitors.
And, that advantage is the access to a large dataset generated from employees and employers. For example, the average salary shown on any of these pages is the data submitted by employees.
Here's how Indeed define their salary estimates:
"Salary estimates are based on the number of salaries submitted anonymously to Indeed by employees, users, and collected from past and present job posts on Indeed in the past 36 months."
Benefits of creating data-driven content:
You become the exclusive source of data. This helps in getting mentions and citations from bloggers, journalists, etc.
Feeds the users' intent.
Data from users, surveys, experiments make the content more credible and trustable.
This is why we also call this link-worthy content.
Along with salary pages, the company is also doing great in using user-generated content.
For example, employees get a chance to share reviews of their present or past companies. This helps Indeed to build a large number of reviews along with ratings.
The result?
Top 5 positions in over 16,000 search queries related to company reviews.
Key Takeaways
To create link-worthy content, focus on becoming the source of reports, statistics, survey results, etc.
Surveys, user-generated content, access to the exclusive dataset or even compiling publicly available data are some of the ways of creating data-driven assets.
If your company has access to these exclusive data or statistics, you can scale the process of creating thousands of pages with programmatic SEO.
Some examples of link-worthy content ('Be the source' content):
Every year, I publish a digital marketing jobs report by studying data from Indeed, Glassdoors, Payscale, etc.
Buzzsumo analyzed 100 million articles and created a research report full of exclusive and interesting data for marketers.
Example 4. SmallCase's Newsletter Content Marketing Strategy
About The Business:
SmallCase is a modernized way of investing in stocks and ETF baskets with your preferred broker. Building a diversified and low-cost long term portfolio is easier than ever before, thanks to smallcase.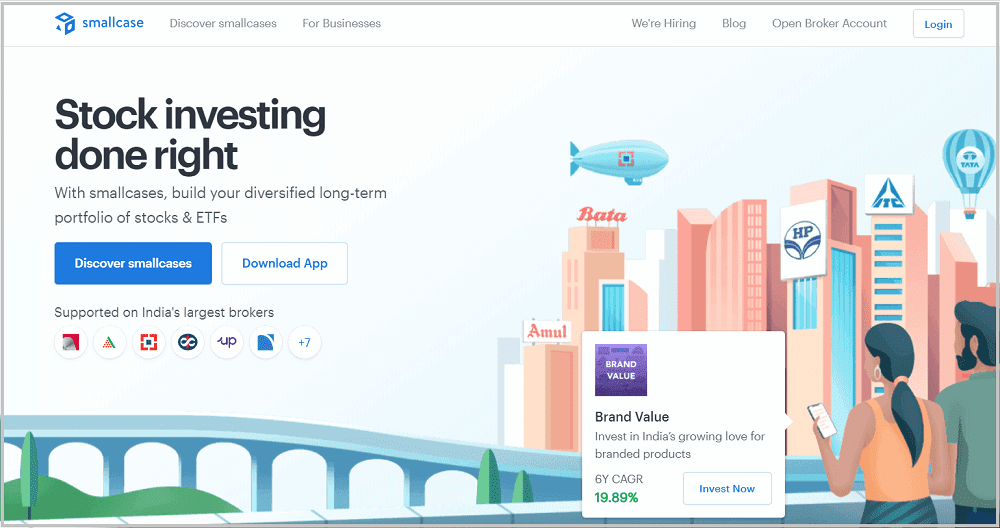 Relevant Read: Core marketing features and concepts
Results achieved:
Smallcase has seen a huge demand in terms of search popularity, especially after the pandemic.
Have a look at the search popularity of 'Smallcase' in the last 5 years: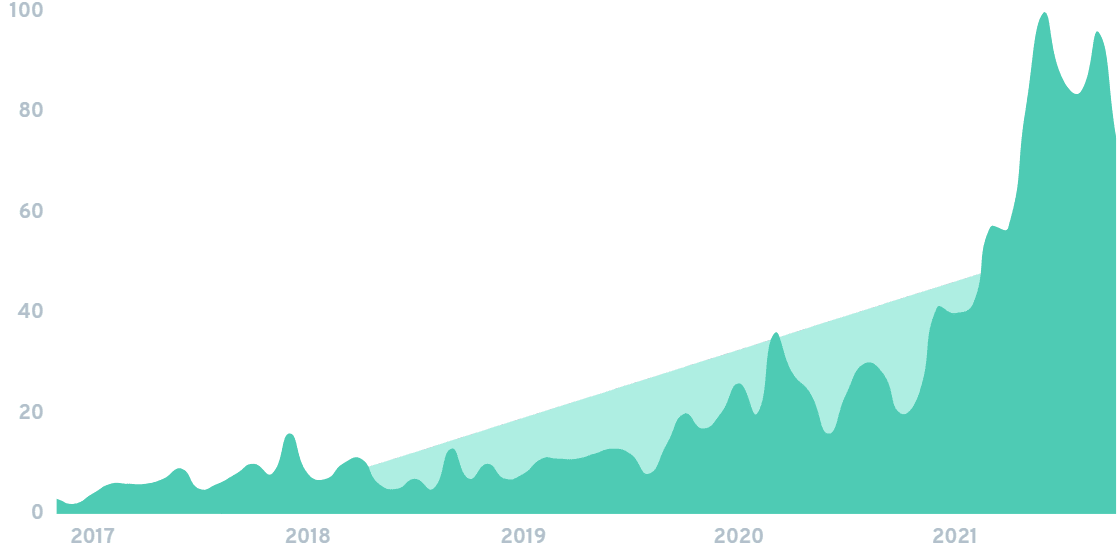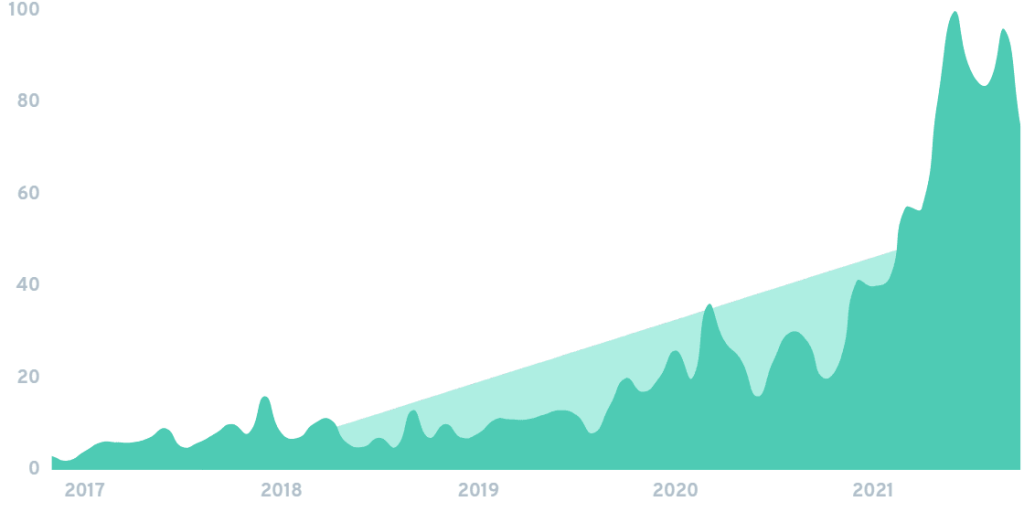 Some possible reasons:
A great product that makes investing real easy
Creating brand awareness by providing educational content
The Smallcase newsletter is one of the great examples of delivering educational, useful and relevant content consistently.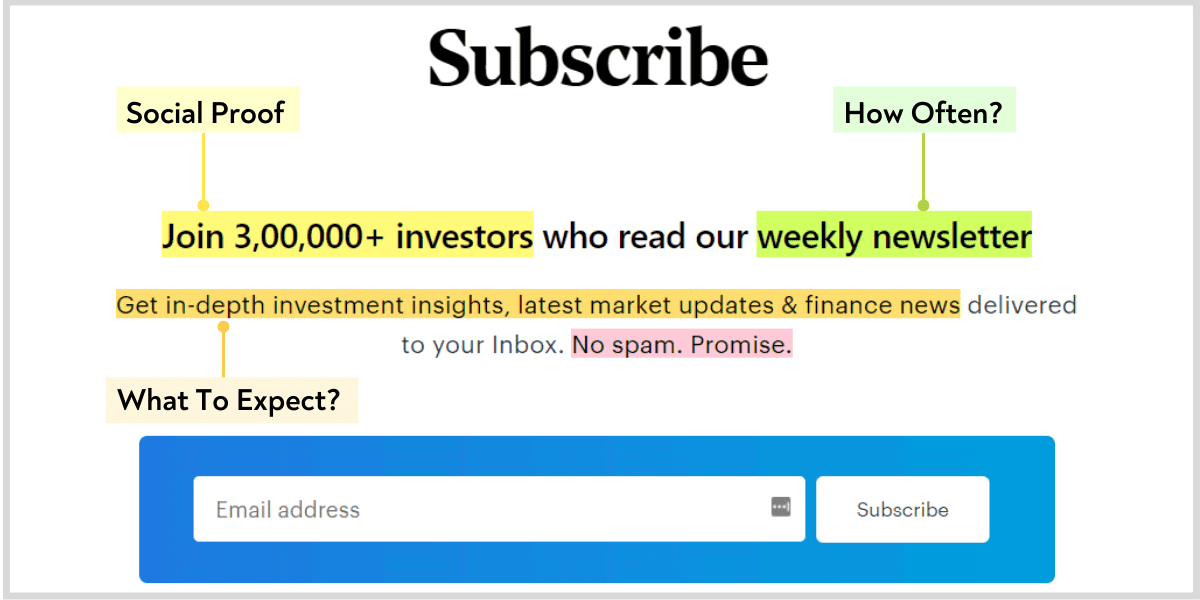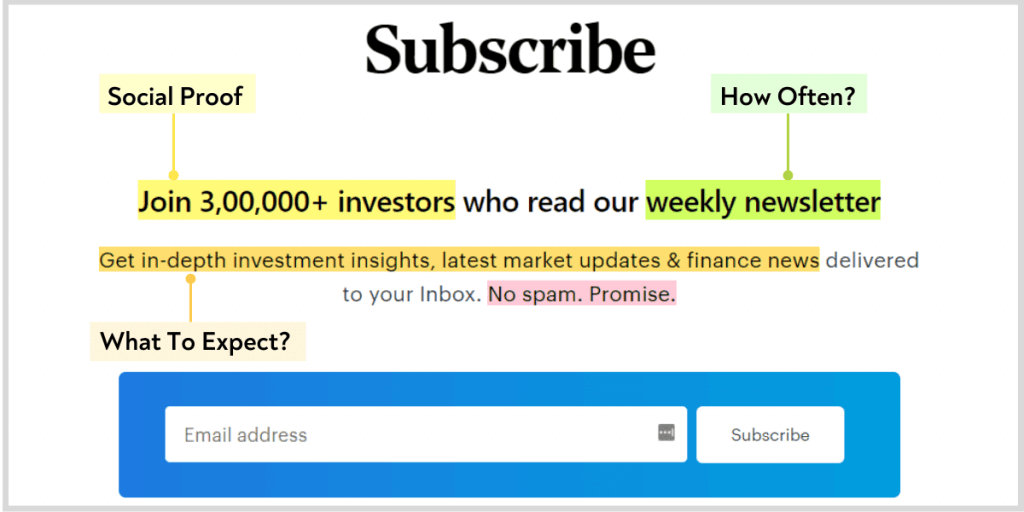 Every Sunday, Smallcase delivers an insightful newsletter to over 3,00,000 investors.
And, they are doing this for 80+ weeks straight. Isn't it awesome?
Let's break down each element of their content marketing program.
Why Do They Work?
1. Education before promotion →
Most businesses and B2B brands use a newsletter to send occasional sales messages or special offers to their prospects.
In this case, the Smallcase newsletter is the opposite.
Three core reasons behind the success of their newsletter:
It makes the investor more knowledgeable about the market. Hence help in decision making.
Consistency helps to stay top of the users' mind.
It doesn't seem like a sales message or promotional content.
Here's how the weekly newsletter feels like: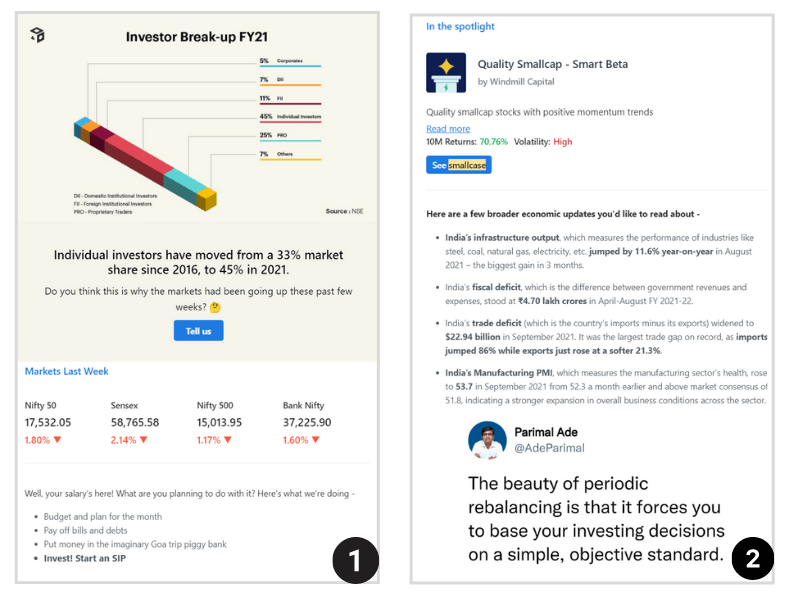 Obviously, in the end, conversion matters the most for a business to survive. And, the newsletter does this well by their product with the informational insights. We call this product-led content approach.
Definition of the product led content →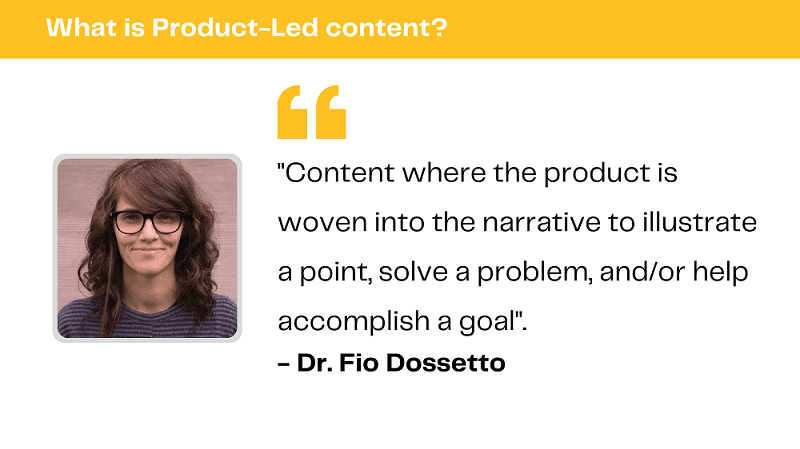 In this case, the newsletter shares the performance of one of their Smallcases. Here's the example: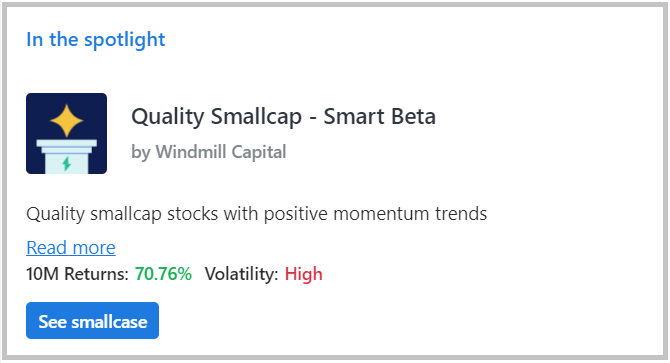 Even though Smallcase is promoting its product indirectly, investors are more likely to click on either 'Read More' or 'See Smallcase'.
2. Content distribution strategy →
One of the biggest mistakes that brands make is they focus more on creating more content and less on distributing existing content.
Here, the story is different as the newsletter content is well repurposed on different content platforms such as Twitter, Facebook, Instagram, etc.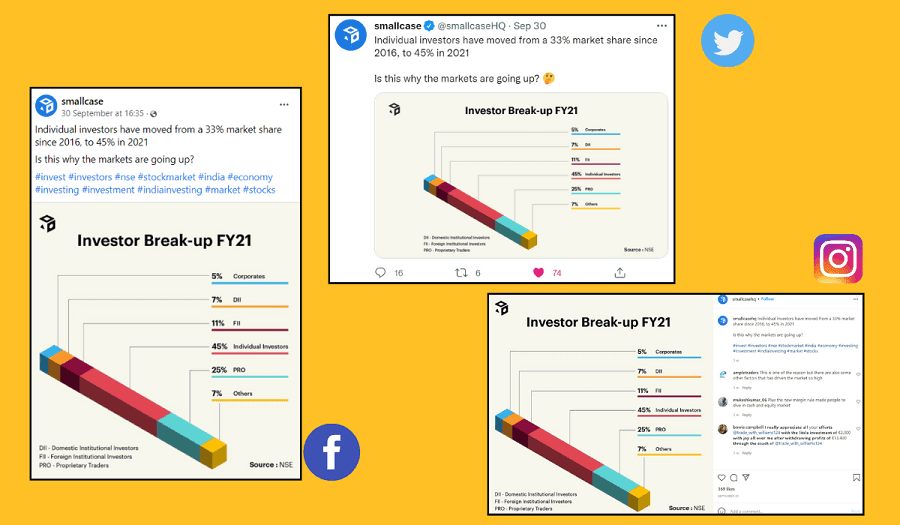 Example of repurposing content on different content platforms.
The benefits?
Recycling existing content on multiple content platforms increases the effectiveness.
Brand awareness on social media profiles
Saves budget and resources to create additional content for each platform.
Not only that, but they also publish their newsletter on the website to make it accessible for all.
Key Takeaways
Newsletter is still one of the best ways to have the most control over your audience. Think of starting a newsletter that just doesn't send promotional content but also educational and relevant content.
Be consistent. The study by Joe Pulizzi says that it takes around 12-18 months of consistent delivery of helpful content before seeing any significant growth.
Always have a content repurposing strategy. Instead of creating more and distributing less, focus on distributing more and creating less content.
Relevant Read: Learn How To Grow And Monetize Your Email Newsletter
Example 5. Zomato's Content Marketing Program
About The Business:
Zomato is India's largest Food Delivery, Dining and Restaurant Discovery Service provider. From ordering foods from nearby restaurants to online booking of restaurants, you get all the options at Zomato.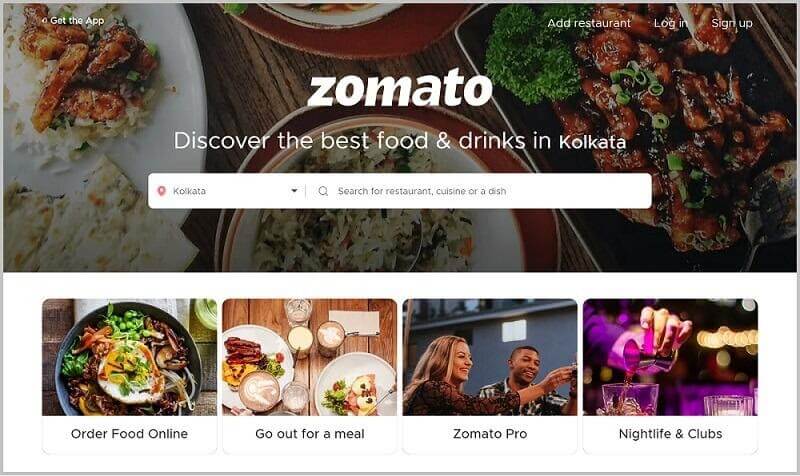 Results achieved:
Zomato is one of the most entertaining brands on social media because of the creative content (which we'll discuss later in this guide).
Here is the followers count of Zomato on different channels:
Twitter → 1.5 million followers
Instagram → 555k followers
Facebook → 1.9 million followers
Not just social media, the brand also has a huge presence on SEO. Zomato is globally getting over 21.8 million search visits per month.

Let's understand the reasons behind their successful social media and content marketing program.
Why Do They Work?
1. Social media posts on trending topics →
Zomato never fails to leverage any viral or trending topics.
For example, when social media platforms like Facebook, Instagram, and WhatsApp were down, their creative team posted something like this: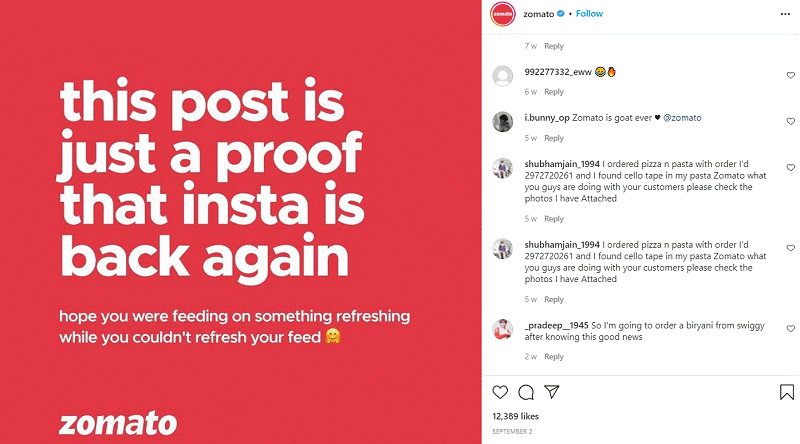 One thing that distinguishes Zomato's social media posts from the rest is that they create content to promote their brand and entertain their core audience.
Here's another example: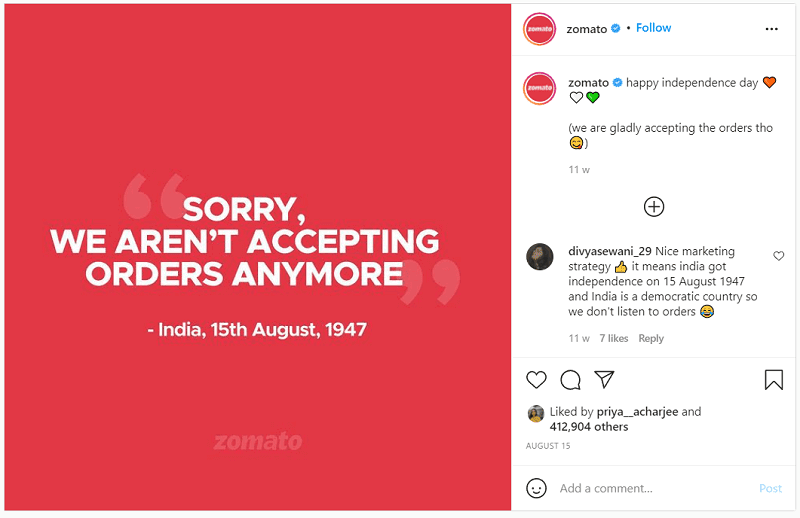 2/ Creating promotional yet entertaining content →
Almost every brand we see online promotes its product or services in a way that sounds like advertising.
But that's not the case with Zomato.
One example that got viral on social media and many marketing communities of India is the 'Biryani CV'.
Let me show you the email that Zomato sent to its audience: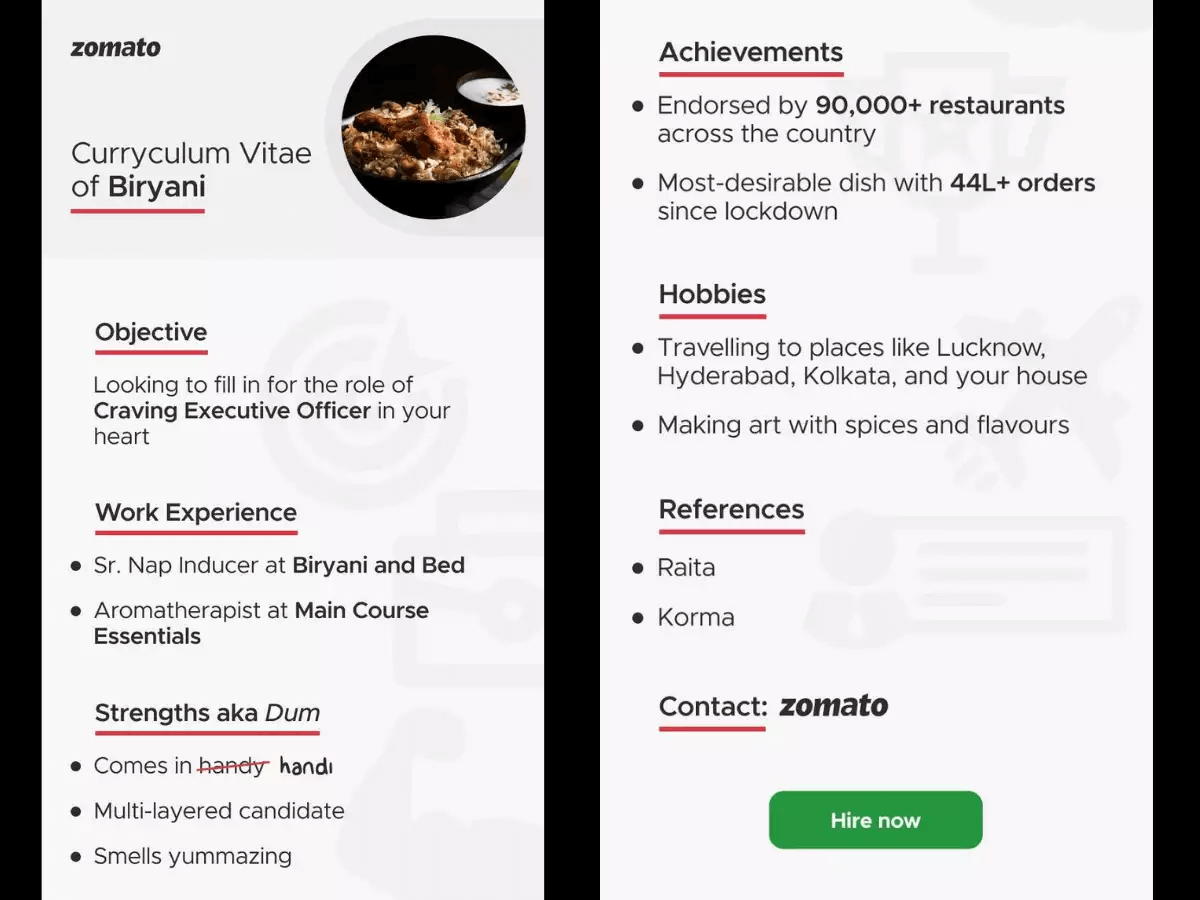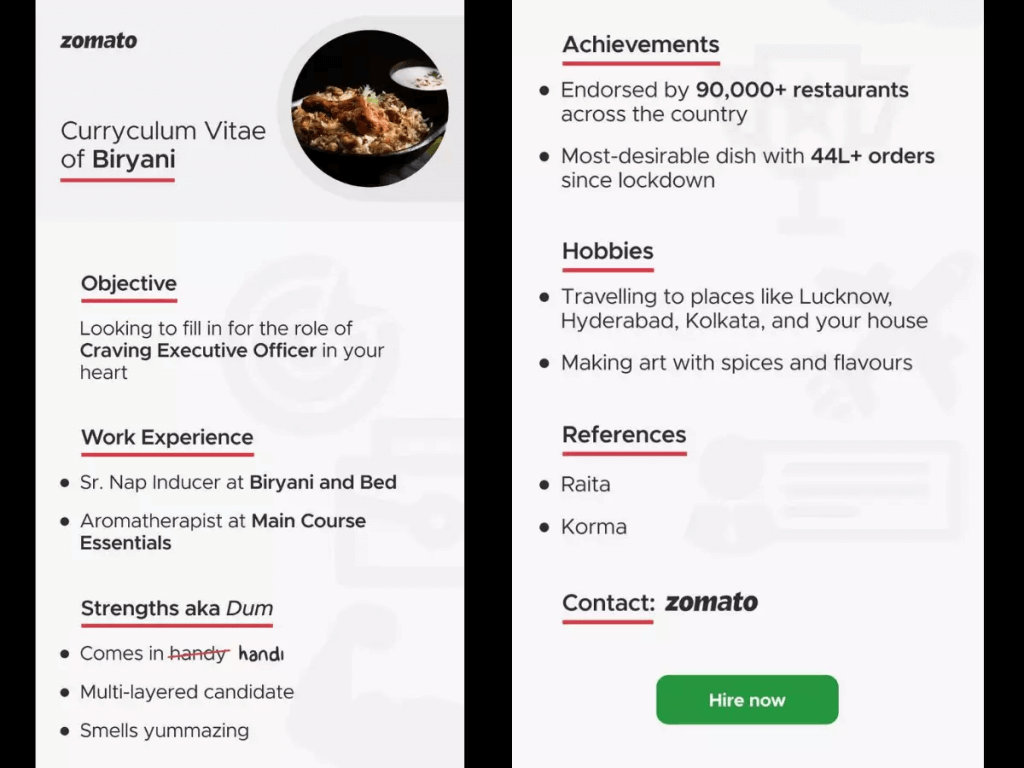 Instead of saying the order now, it took a creative approach and made a CV of Biryani. And the call to action was 'Hire now'.
Isn't this a crazy idea?
Let's also look at the SEO strategy of Zomato.
3/ SEO at scale →
Currently, Zomato is serving multiple countries such as India, the United States, Australia, and more.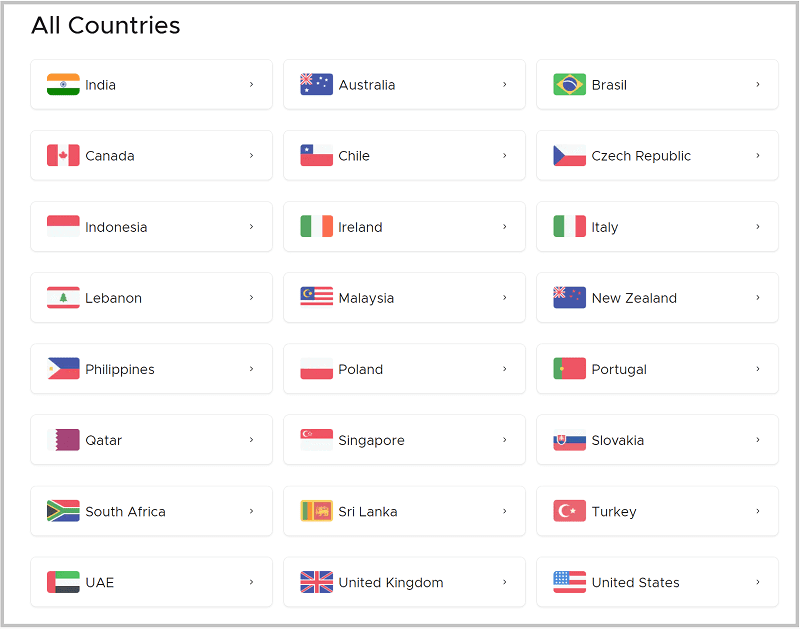 Most of the site traffic comes from queries like 'restaurants near me', restaurants near [place name], etc.
Here's the catch.
Zomate has created 'top restaurants' pages for multiple countries, cities, states, and even almost every specific location.
An example:
For a search query 'restaurants near park street' with a monthly search volume of around 200, Zomato ranks in 4th position.
[Park Street is a small area of Kolkata]
And there are hundreds of places like these in Kolkata alone. So the cumulative search volume for these queries is huge considering multiple countries and states.
When searched on Ahrefs, I found 6,000+ queries 'restaurants near [place name]'. This is how Zomato is mainly getting millions of high-intent traffic.
Key Takeaways
Focus on creating either educational or entertaining content. Make sure not to become too promotional. Otherwise, the audience won't feel connected.
Moment marketing is also a great way to turn viral topics into brand awareness. Study the social media profiles of Zomato and see how they align humour, fun, and strong brand opinion with trending topics.
If you're into the listing or directory website category like Zomato, research the regional market. By targeting location-specific queries, you compete with fewer brands and get high-intent traffic.
Example 6. Bewakoof's eCommerce SEO strategy
About The Business:
Bewakoof is India's one of the leading online brands for men and women clothing. Currently, the brand also added new product categories such as accessories, beauty care, and footwear.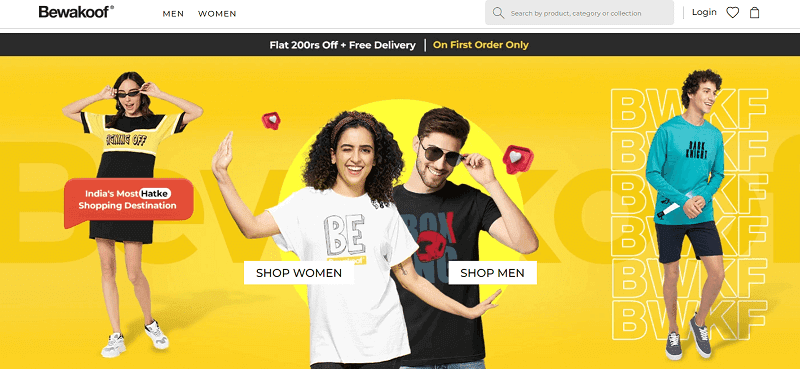 The company was founded in 2021 and is now competing online with eCommerce giants like Amazon, Myntra, etc.
Results achieved:
Over 54% of the site's traffic comes from search, according to Similarweb.

That indicates how strong their SEO strategy and the brand value is.
Currently, Bewakoof's site gets over 1.4 million search visits every month and has 154k+ backlinks from almost 2.82k different domains.

Let's break down the eCommerce SEO-focused content marketing strategy.
Why Do They Work?
1/ Product categorization and hierarchy →
The flat site architecture of BewaKoof is what every eCommerce brand needs to learn. The most important pages, such as category and sub-category pages, are internally linked from the navigation.
That means most of these pages can now be reached within three or fewer clicks.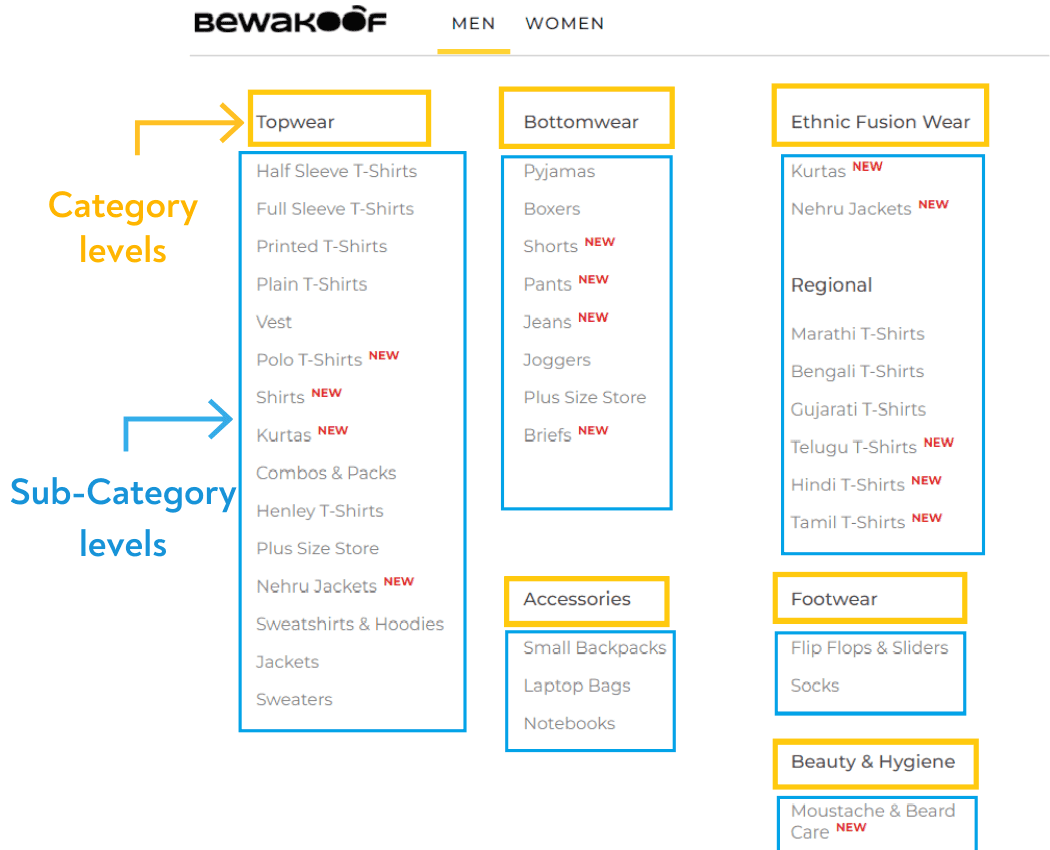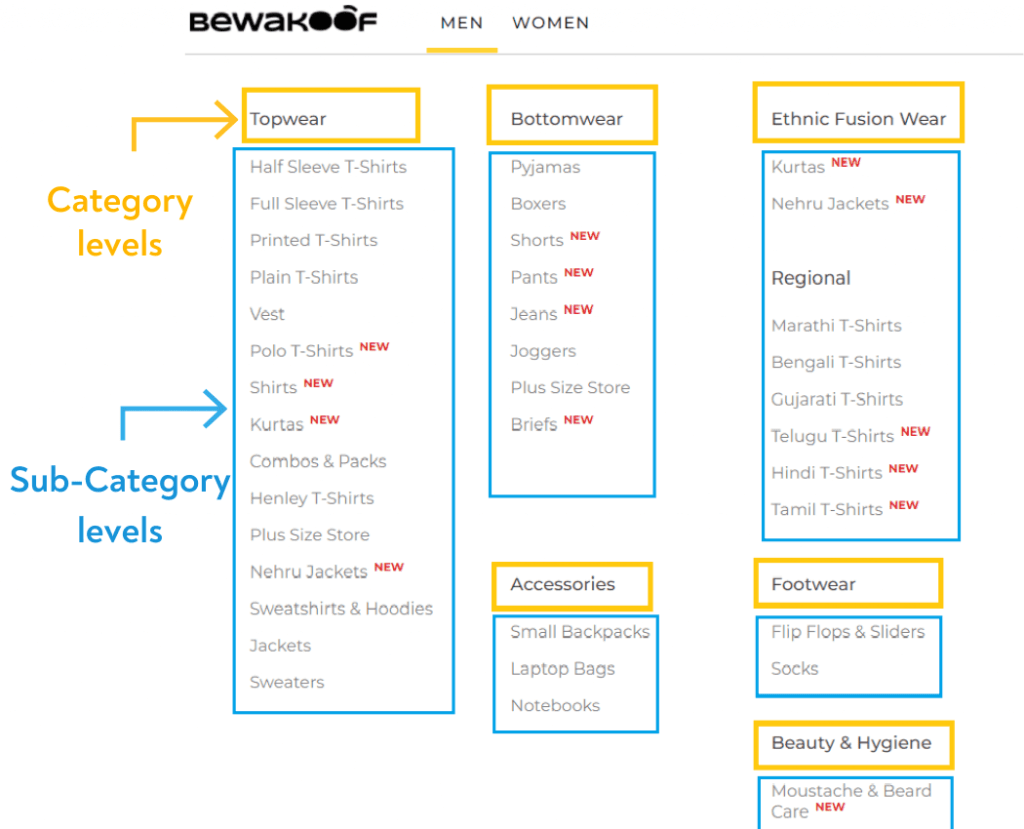 Other benefits of creating flat architecture are →
It helps search engine crawlers to find important pages easily.
It passes the link juice from category to subcategory level.
Better user experience as any user will reach the desired page within a few clicks.
2/ SEO optimized category pages →
For an eCommerce site, category pages play an important role in driving high-intent traffic. In this case, the team has optimized the category pages by adding SEO optimized content at the bottom of the product listings on the page.
Here's an example: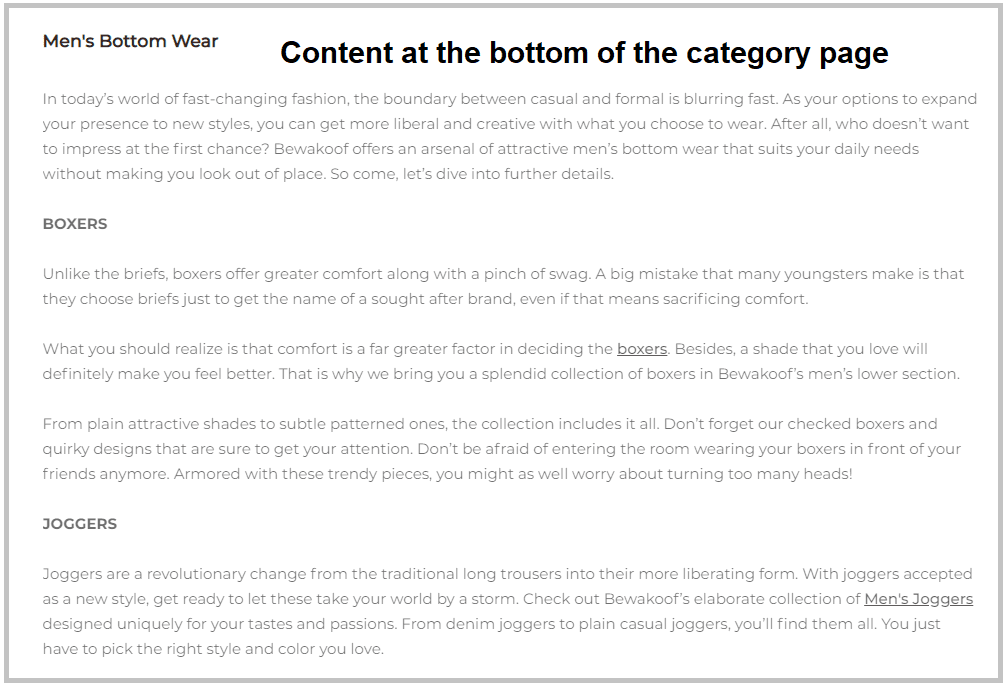 This helps the search engine to better understand the purpose and intent of the category page.
Note: Make sure that you don't add too much content on category or subcategory pages. Otherwise, it may confuse Google to understand the page intent.
3/ Internal Linking from product pages →
Internal linking is an underrated way of making your site SEO friendly and easy to access for crawlers.
Bewakoof product pages improve the internal linking structure by adding:
Breadcrumbs
Recently viewed products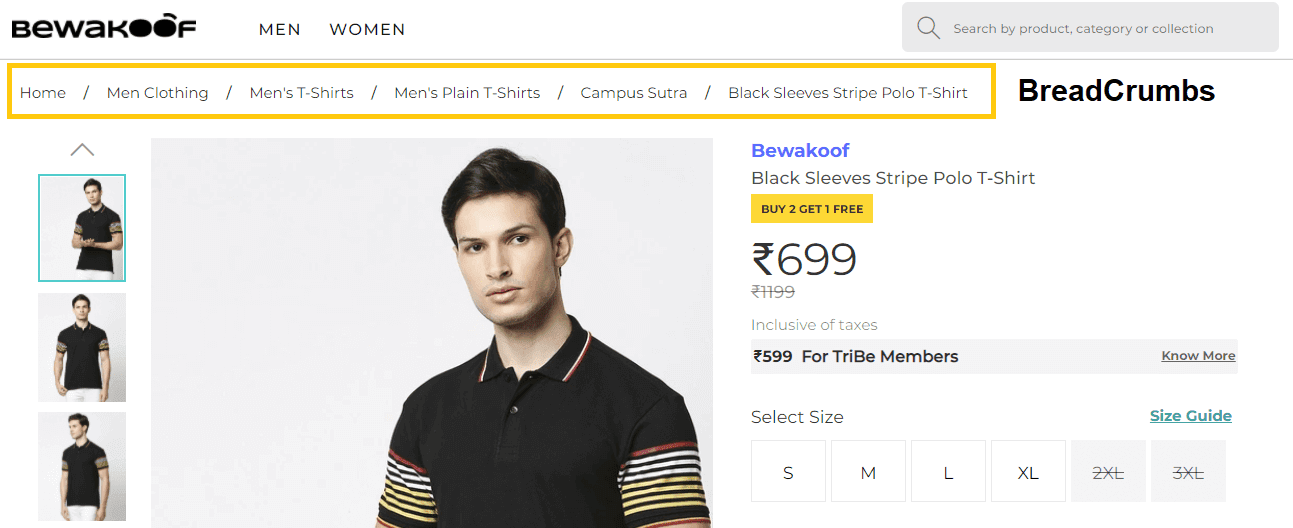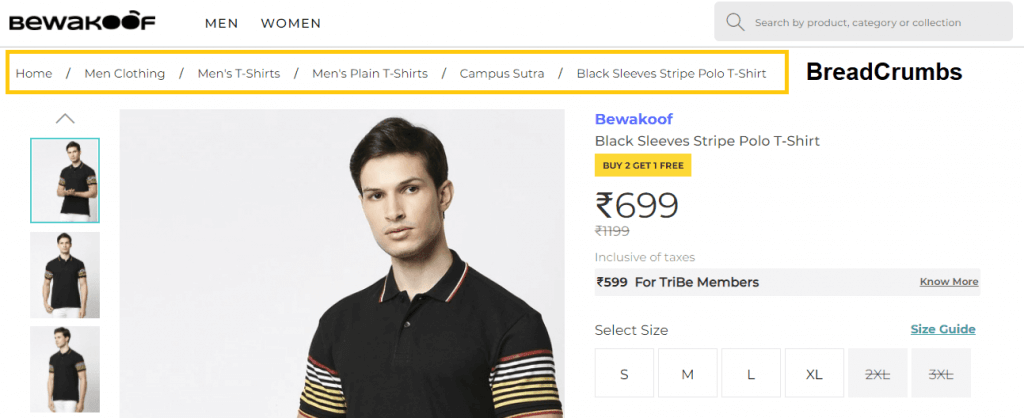 4/ Blogging strategy →
Many eCommerce clients only want to focus on creating product and category pages to drive high-intent traffic.
But top-of-the-funnel content can bring more traffic to the site that can be nurtured for future sales.
This is what Bewakoof is doing with their blog. All of their blog posts have one simple CTA, 'Shop at Bewakoof.com'.
Their blog content is roughly getting over 300k search visits every month and also generated thousands of backlinks.


If you're also running an eCommerce store, think of building a blog or content hub around it.
Here are some of the benefits:
Acquiring natural backlinks over time: Category or product pages are rarely linked by other sites as they seem promotional. But an informative article can do the work.
Generate top-of-the-funnel traffic, which you can nurture to promote products.
Key Takeaways→
If you're running an eCommerce store, focus on technical SEO as well. For a larger site, improve the site architecture, internal linking, optimizing product and category pages.
Create a blog around your niche and start targeting low competition keywords.
Have a plan or conversion-optimized blog structure to bring users from the blog section to the product page or get them into your email list.
Example 7. Amul's Creative Content Marketing
Amul is known for its creative approach to social media content creation. Amul takes advantage of creating content on trending topics and festive seasons as well.
Here is one of their recent tweets cheering the Indian cricket team for WorldCup T20.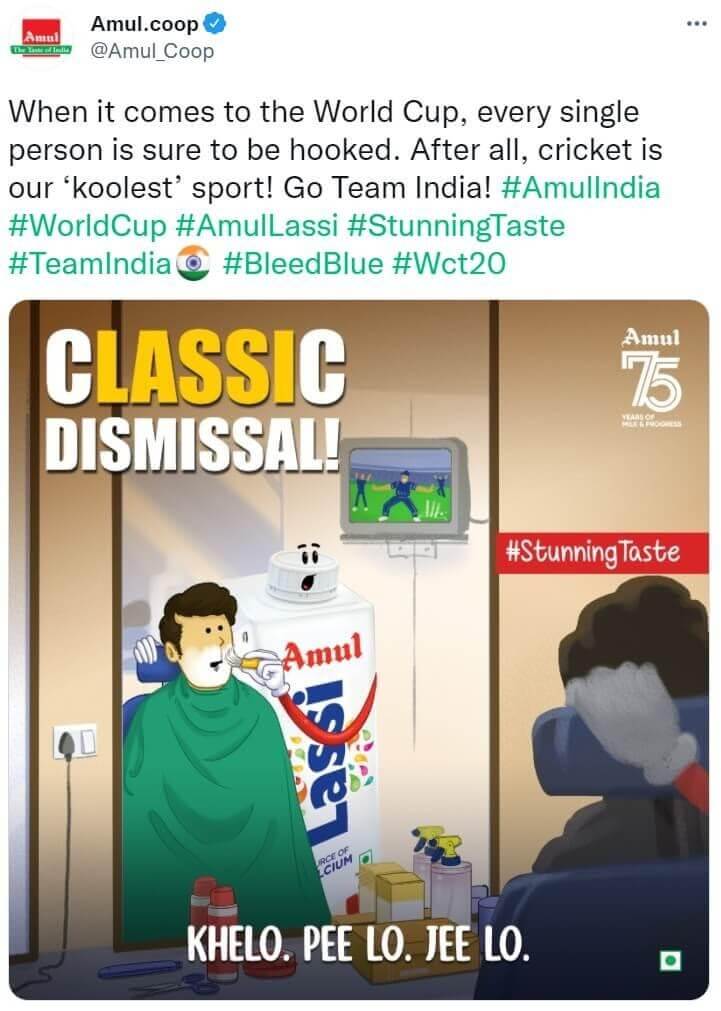 The best part is you can look at almost all of their famous social media creatives on their official website.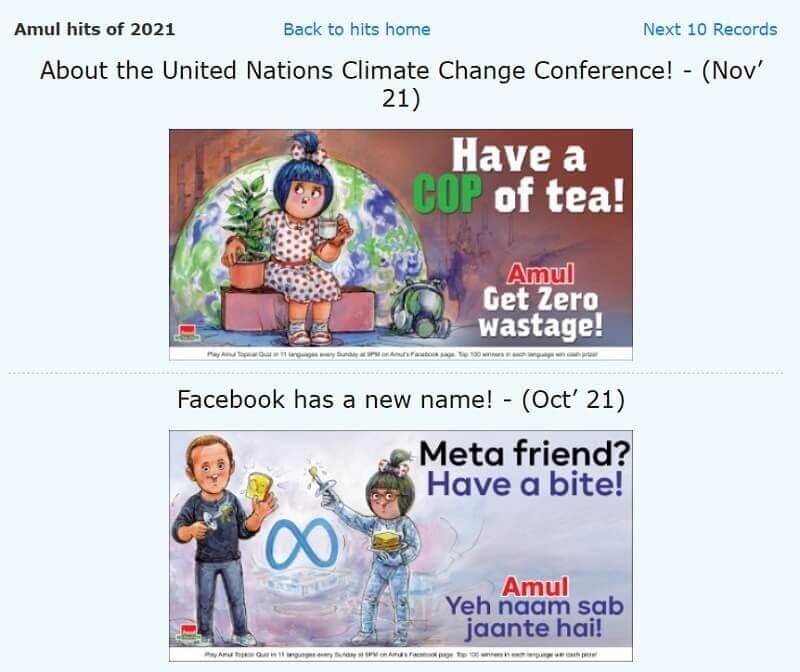 This is a great resource for the social media creatives team to learn how to take advantage of trending topics to build brand awareness.
Final Words
Content marketing is surely a great way of growing your business and generating sales by building an audience. But it is overwhelming to decide where to start in content marketing.
I hope these content marketing examples of India have provided you with some actionable insights that you can implement this year.
Did I miss anything? Let me know below.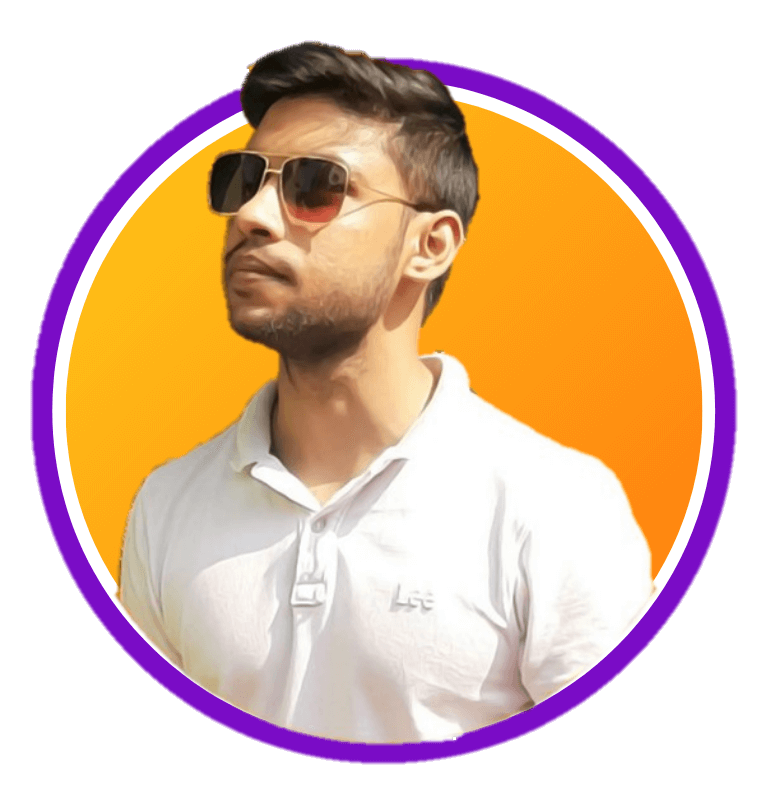 Sk Rafiqul Islam is a content marketing practitioner with 3+ years of practical experience. He spends most of his time helping businesses to build a loyal audience with content marketing. He is also running a tech career blog called 10Pie and content marketing VIP, a bi-weekly marketing newsletter. In his free time, he loves reading books and playing football.